Discover more from The Playbook By The Signal
A weekly newsletter that goes beyond the headlines and gives you all the necessary signals you need to understand India's sports and gaming industries better.
Over 9,000 subscribers
Is India ready for licensed sports merchandise?
Brands such as FanCode, The Souled Store, and playR are trying to bridge the gap between original but expensive team jerseys and cheap counterfeits
Good evening!
Welcome to The Playbook, a weekly newsletter on the business of sports and gaming. If someone shared this newsletter with you or if you've found the online version, please hit the subscribe button below — it's free! You can unsubscribe anytime.
It's August 4 today. In two months, the ICC Men's World Cup begins in India. But there's still no sign of the tickets. When the tournament schedule was rather belatedly announced about a month ago, I immediately booked an Airbnb in Chennai for India's opening match against Australia. Hopefully, I'll still get to go. But considering there have been reports that tickets booked online will also have to be collected physically, I'm really wondering whether it's all worth the effort. Luckily, my Airbnb is cancellable up to a week prior to the dates.
If we Indians ourselves are being inconvenienced to such an extent, I can't imagine why any foreigners would want to travel to India to watch this World Cup. Especially with dates to some of the games, including the marquee India-Pakistan clash, still being changed.
In case everything does work out, I'll have to figure what to wear for the game. A regular blue t-shirt won't do. It's the World Cup, after all! Adidas is selling the official India jersey for ₹4,999 ($60). There's also a slightly watered-down replica at ₹2,999 ($36), and an even more watered-down "fan jersey" for ₹999 ($12).
But in case you don't like any of the Adidas jerseys, there's also other official Team India merchandise you can buy.
Merching on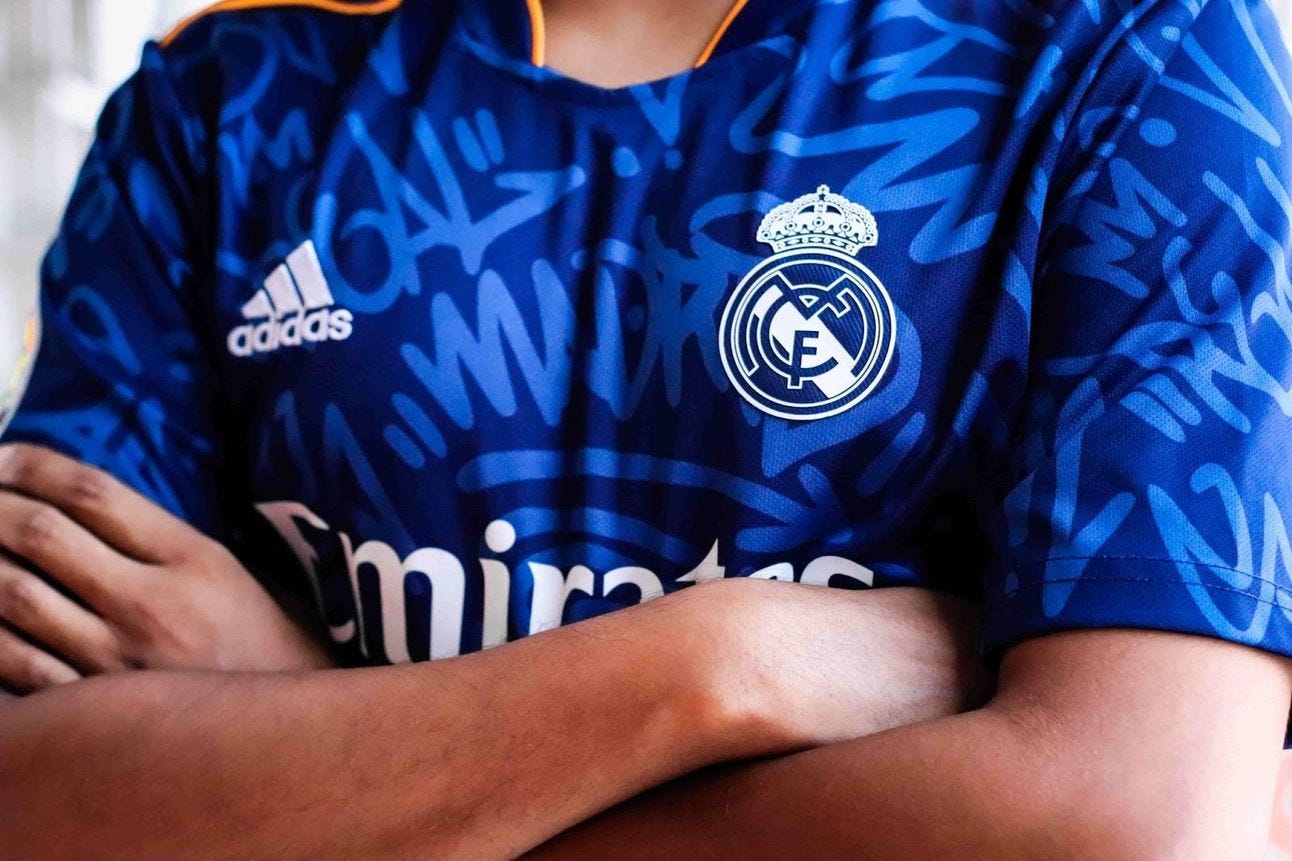 Photo credit: Simon Reza/Unsplash
About a month ago, FanCode Shop, the merchandising arm of sports content and streaming platform FanCode, announced it had signed an exclusive partnership with the International Cricket Council (ICC) to curate fan merchandise and accessories for the World Cup. As part of the deal, FanCode will build and operate the ICC's online store, along with managing retail outlets across all stadiums during the World Cup.
If you browse through FanCode Shop, you'll find India-branded t-shirts, with the Board of Control for Cricket in India (BCCI) logo, selling at ₹599 ($7) after discount (MRP ₹999). There are also polos, vests, sweatshirts, joggers, shorts, and accessories such as coasters, mugs, and fridge magnets. Since FanCode is an ICC partner, you'll get merch of all participating teams in the World Cup, but the number of India products obviously far outnumbers the rest.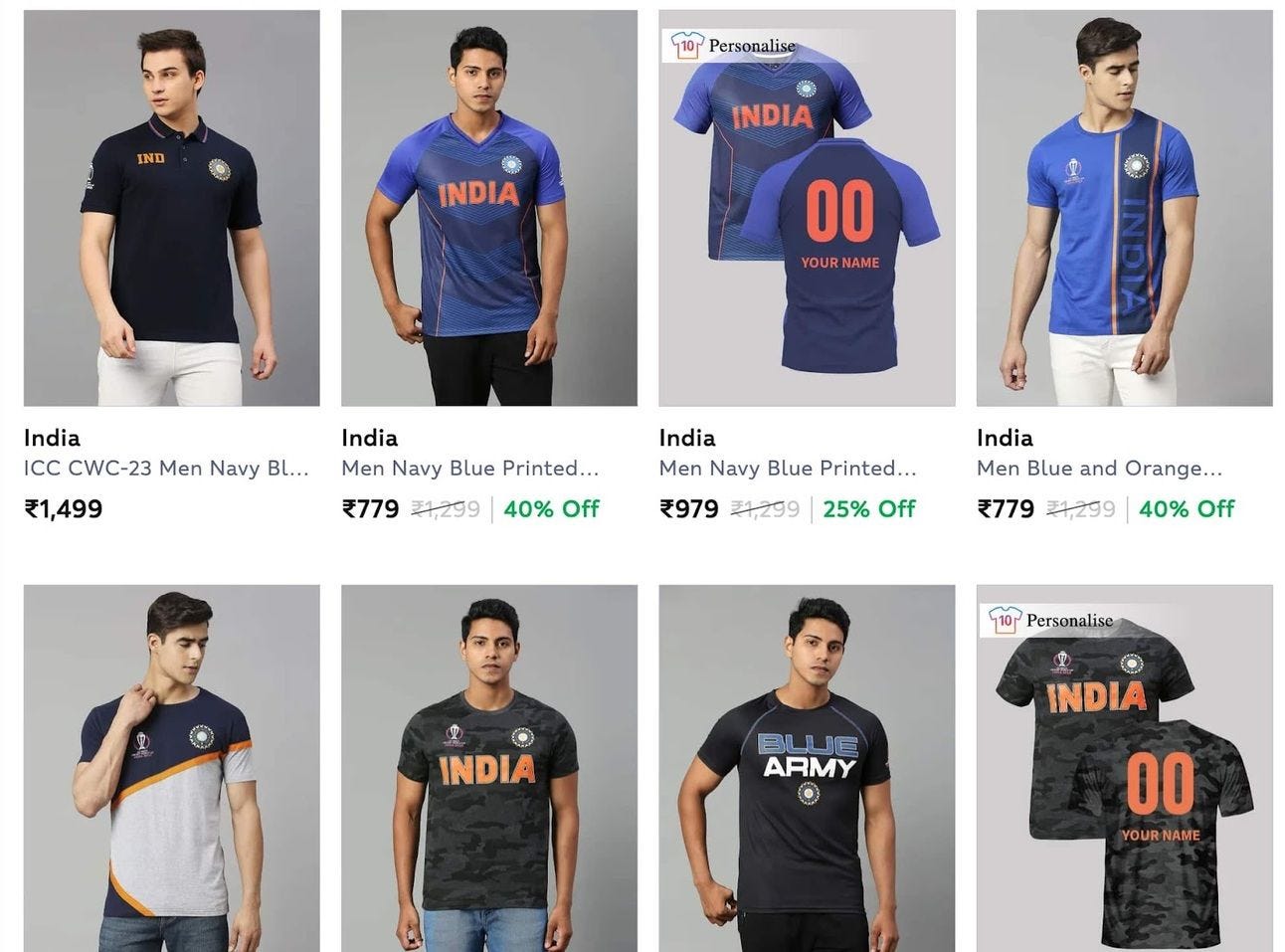 Screengrab from the ICC's World Cup 2023 store operated by FanCode
FanCode, which launched in March 2019 as a sports content platform, set up a merchandising arm about 18 months later, just ahead of the 2020 Indian Premier League. It launched with a bang, signing up six out of eight IPL teams. Today, FanCode Shop sells merch of all 10 franchises. It's also got contracts with local and international football clubs, NBA teams, and Formula One manufacturers.
FanCode isn't the only player dabbling in this space. One of the early entrants was The Souled Store, an e-commerce platform that specialises in licensed merchandise. Starting with pop culture (superheroes, cartoon characters, movies, and TV shows) in 2014, the company expanded to sports merchandise around 2017, when it signed up with two IPL franchises. In the last six years, it has added merch of international football clubs and even esports teams.
But most of the action in this space has been in the last two to three years, with brands such as playR, Shop The Arena, and Dudeme popping up. They're all trying to fill the gap in the market between original jerseys sold by brands such as Adidas, Nike, and PUMA for a few thousand rupees that are unaffordable to most Indians and the fake, low-quality counterfeits that are abundantly available outside all cricket stadiums on match days for as low as ₹200 ($2.4).
India's sports apparel market was worth ~$580 million in 2021, and is expected to reach $2.2 billion by 2029, per Maximize Market Research. In terms of licensed sports merchandise, it's a $33.5 billion industry globally, per Grand View Research. India-specific figures aren't available. North America currently commands a 52% market share.
"There was a large gap to serve customers designs that they liked with the quality they can trust," says Harsh Lal, co-founder of The Souled Store, which is currently selling the Kolkata Knight Riders and Lucknow Super Giants replica jerseys for ₹899 (~$11) after discount (MRP ₹1,999). It also has t-shirts, polos, and vests that are cheaper.
Replicas, the watered-down versions of the jerseys that players wear, are the most popular item, accounting for around 80% of playR's IPL business, according to co-founder Ravi Kukreja. playR, which has licensing deals with four IPL franchises, sells replica jerseys in the ₹999-1,799 ($12-22) range.
Kukreja says the only way to deal with the threat of fakes is to bring down the price disparity between them and the originals to whatever extent possible and, at the same time, offer decent quality. "You have to give fans performance fabrics at an affordable price. At the end of the day, they're sitting in the stands in 35-40°C temperatures, so they still need technology in terms of sweat release, etc."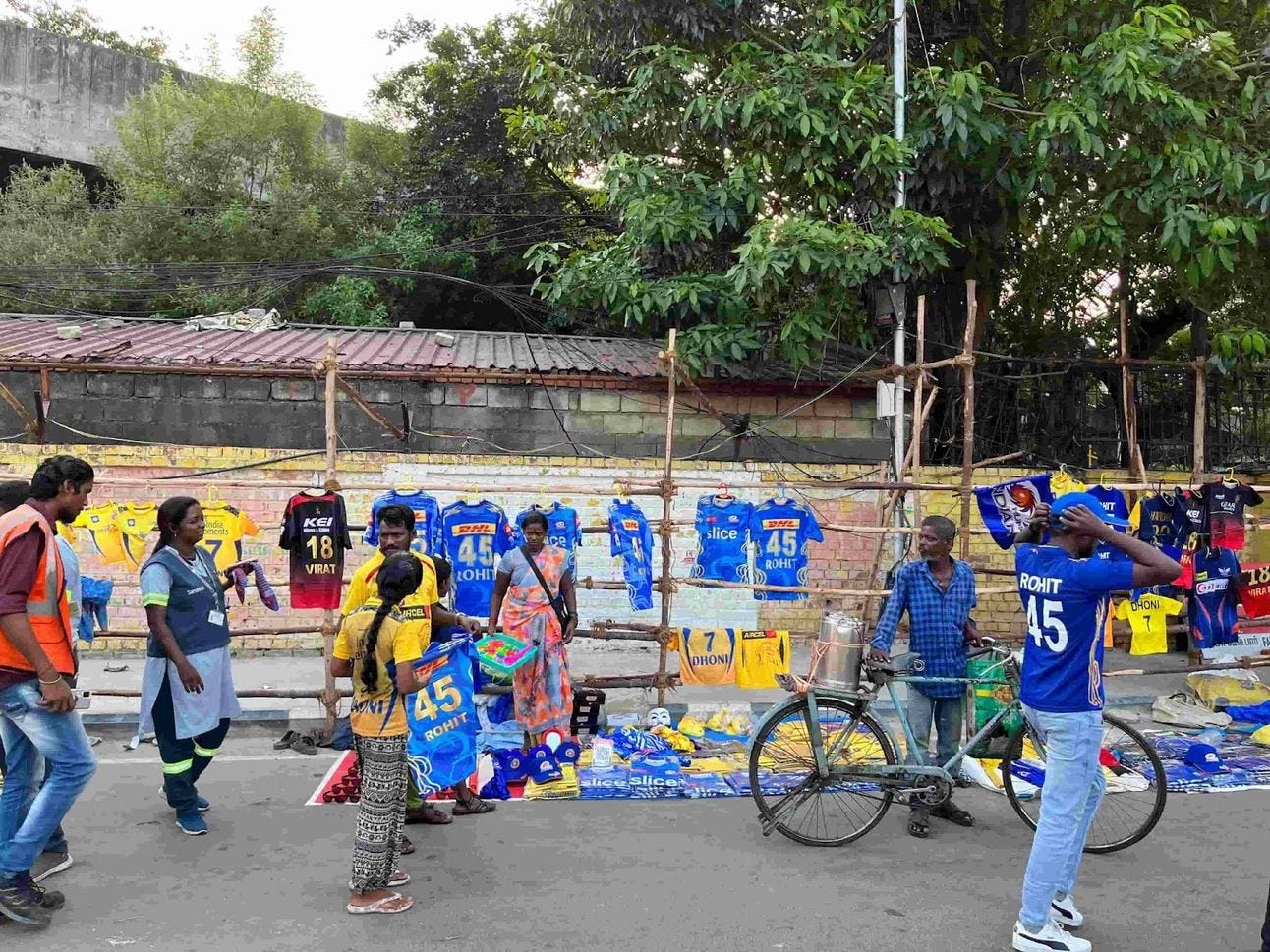 Fake IPL jerseys selling outside Chepauk Stadium (Photo credit: Jaideep Vaidya)
Brands such as Adidas and Nike even sell the player jerseys. For instance, the Manchester United home authentic jersey, which is described as "identical to the one worn by the players during official matches," is retailing at ₹7,999 ($97) in India. None of the IPL teams do this because it's not affordable in India and unviable to make a business out of it.
"The player jerseys use different technologies and fabrics," says Kukreja. "It's more about tailoring and customisation than merchandising, so it's a completely different structure." He adds that replicas have almost the same design as the player jerseys, with only the fabric and construction being different. "As per BCCI guidelines, you need eight points of differentiation between a player jersey and a replica. For instance, the Mumbai Indians player jersey has a gold tipping on the collar, but the replica doesn't have it."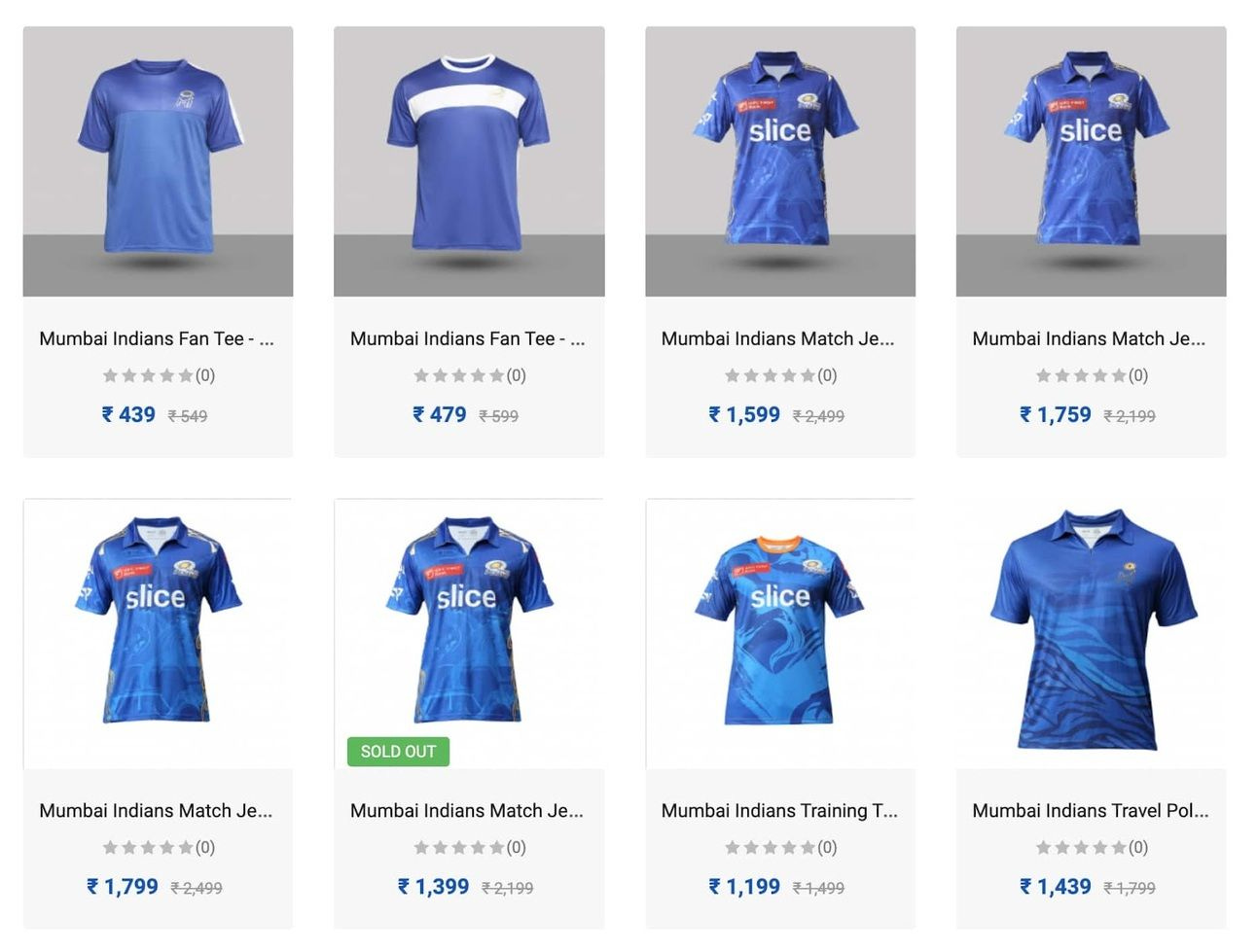 Screengrab from playR's website
Indian brands mostly import performance fabrics and get the jerseys manufactured locally through partners. T-shirts and other merchandise are completely sourced and manufactured locally. "For garment and accessory manufacturing in India, there are more than enough companies that do a very good job," says FanCode co-founder Prasana Krishnan.
While licences for the replica jerseys are mostly exclusive, contracts for other merchandise are largely non-exclusive. For instance, Mumbai Indians has 10 different merchandise partners, but the jersey rights are only with playR. "Our licences for jerseys and cricket equipment is global exclusive. Only certain fan merchandise is non-exclusive," says Kukreja.
With non-exclusive contracts, it's all about distinguishing yourself from competitors. The Souled Store tried to do this with customisation and creating a curated experience that goes beyond the transaction and gets fans genuinely excited about the product and the association, says Lal.
"For example, when we tied up with Chennai Super Kings, every jersey would come in a customised CSK box and you'd get a certificate saying, 'Hey Jaideep, thank you for supporting our men in yellow and being a part of the #Yellove army. We hope to see you at the stadium soon.' And it was signed by MS Dhoni."
However, Lal believes that non-exclusive deals isn't the right way to go, at least initially. He thinks IPL teams should first create loyalty and demand among fans by working with one partner and solving for consistency, quality, and fan experience. Once there is a large enough market, teams can then have a larger set of licensed merchandise partners covering different categories or distribution channels.
FanCode's Prasana, on the other hand, says that licensed sports merchandise is still a nascent market in India, so having lots of partners is not a bad thing at this stage. "Do you really need full exclusivity for making coasters and notebooks? It's difficult for a single company to manage the whole range of products, from premium garments to shoes to sports equipment to accessories."
According to Prasana, design is a crucial distinguishing factor. While a category may or may not be exclusive, the designs are exclusive to a brand. FanCode has an in-house design team and also works with external designers. The second distinguishing factor is the platform itself. Since FanCode is primarily a sports content and streaming platform, Prasana believes its ability to reach out and connect with sports fans "is second to none".
Some of these brands also help IPL teams manage their own online stores. FanCode does it for Kolkata Knight Riders, Rajasthan Royals, and Punjab Kings, while playR is the engine behind the CSK Shop. "We are catering and doing the logistical support for our merchandise that's sold there, and we are promoting it," says Kukreja. "We also have a supply agreement with FanCode. We manufactured for them during the T20 World Cup [last year]. For this World Cup, we have a distribution deal with Adidas for Team India, under which we supply their products to academies, institutions, corporates, etc."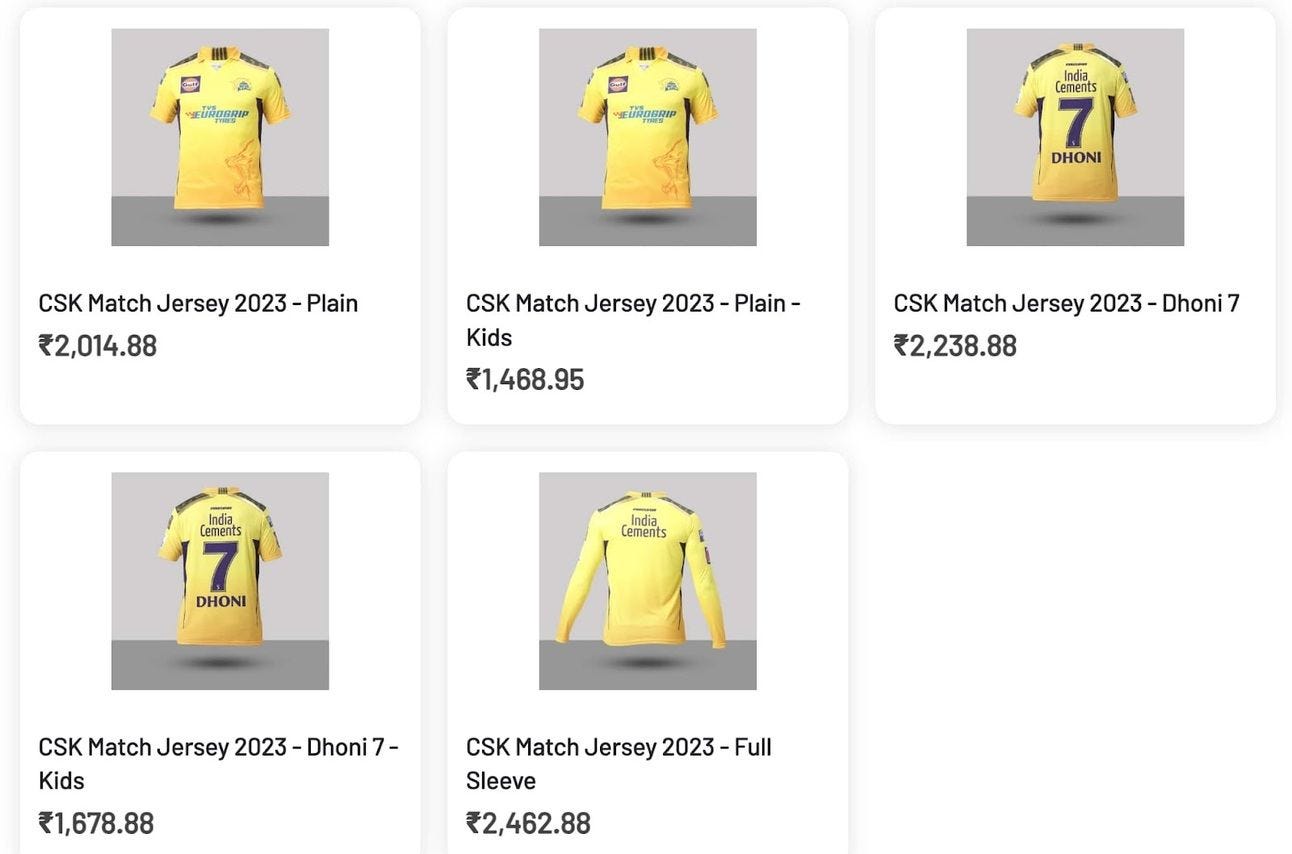 Screengrab of CSK Shop
playR's parent company iCOREts is into tech solutions. It's the licensing partner for a US-based POS (point of sale) and inventory management company called Retail Pro, and is also a distribution partner for other brands. iCOREts earned about $2 million last year and has already crossed $1 million in revenue in the quarter ended June 2023, per Kukreja. It made a gross margin of 40%.
Asked how it fared during IPL 2023, Kukreja says it "could have done better". One of the things brands still have to figure out is how to keep customers returning to the platform once the IPL, which is a 45- to 60-day tournament, ends. "Teams are doing a lot to have connections with the fans throughout the year, but they could do more," he says.
The Souled Store's Lal concurs, saying that sales are almost entirely only during the IPL. This is because the IPL is structurally different compared with some of the other popular global leagues.
"One, the IPL is relatively younger than most of the other leagues, especially in football," says Lal. "Two, team loyalty is a mixed bag. Some people are loyal to teams; others are loyal to players. And if every couple of years you have major changes in team composition, it becomes difficult to identify with the same team or players over an extended period of time. Three, the IPL is only for 45 days, whereas football leagues go on for eight to nine months. It's a much shorter time span to build loyalty."
However, the biggest gap lies in how the IPL teams approach merchandising, he adds. "When you have a 45-day season, there's a lot of pressure and temptation for teams to maximise that window in terms of signing as many sponsorship deals as possible. Because of that, I feel there has been a misalignment in the larger objectives, where teams have signed shorter deals and change their merchandise partner on a yearly or biennial basis. Can you instead build a long-term aspirational brand with the help of the right merchandise partner so that, tomorrow, your fans want to wear your team jersey even in the off-season and when the team is not playing well?"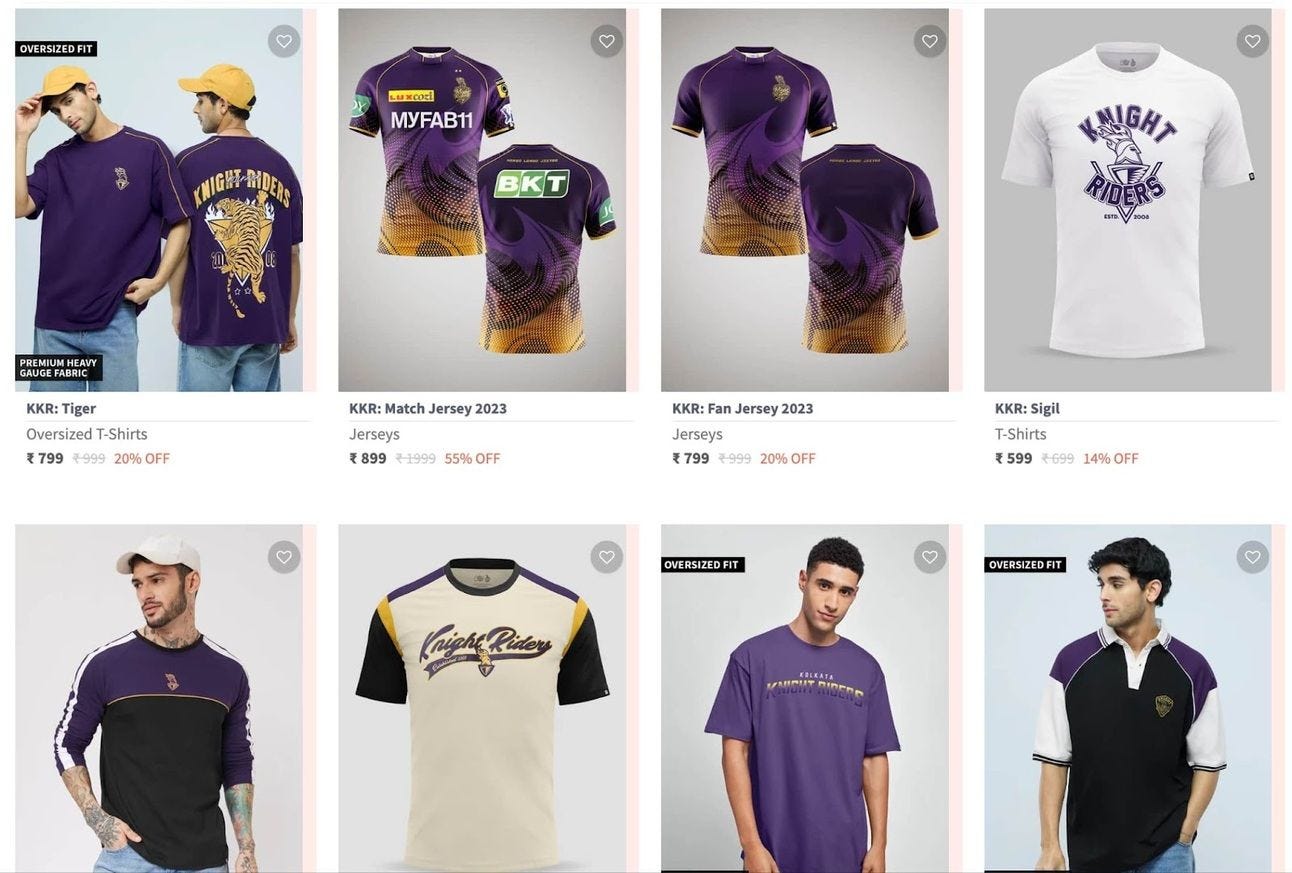 Kolkata Knight Riders merch on The Souled Store
I asked Lal how The Souled Store's Premier League merchandise of clubs like Arsenal, Liverpool, and Manchester City is faring compared with IPL merchandise. He says it's not an apples-to-apples comparison because, with the IPL, the most popular item is the replicas, whereas in football, the Indian brands only have the licence for fan merchandise. European football clubs have official kitting partners such as Adidas, Nike, and PUMA, which exclusively sell the jerseys. Also, the average selling price of match replicas is 2.5-3x of t-shirts and other fan merchandise.
"But, very interestingly, the numbers are comparable over a 12-month period," says Lal. "The sales that you would do in a 45-50-day period of the IPL, which is about 90% of the total year's sales, is comparable with what we would sell for an Arsenal or Liverpool over a 12-month period. Which is quite surprising because cricket has a significantly more important space in Indian fans' minds."
As for how sports merchandise overall compares with entertainment and pop culture products on The Souled Store, Lal says there's no comparison. "Sports is in the low single digits. There is a long way to go for sports brands to create the loyalty and excitement that some of the older entertainment licences have. They have built their stories and characters over decades."
Despite these challenges, Lal claims that The Souled Store has almost always beaten whatever sales projections it set and whatever minimum guarantee targets it had with the franchises for the IPL. "But it's taken 10 years of building The Souled Store for us to make money off the IPL teams in the last couple of years," he says. The Souled Store scaled down its IPL partnerships to two teams for the 2023 season from six last year.
I contacted a few IPL teams to understand how they approach merchandising, but didn't get a response until this edition was published. According to industry estimates, licensed merchandise contracts can be worth as low as ₹5-10 lakh ($6,000-12,000) per year and go all the way up to ₹2-4 crore ($240,000-480,000) depending on the team and structure of the deal.
As for FanCode, the company saw substantial growth over the previous year since fans were back in the stadiums for the 2023 IPL, says Prasana, but he again points out that the market is still at a nascent stage. "A couple of years ago, when we started, some of the teams didn't have an official [merchandise] partner at all."
Prasana believes that cricket is a major untapped opportunity because the market is underdeveloped compared with other sports. Football merchandise has been more actively pushed because of global brands. But in the Indian market, there is nothing mass-market that's available, he says. "So, extending this from India cricket to IPL teams to football and other sports, there is a substantial opportunity there."
Whether there is indeed a substantial opportunity, we'll know in a few years.
Do you own an original jersey or official merchandise of an Indian sports team?
⚡️Quick Singles
🎲🎰💸 The Goods and Services Tax (GST) Council has clarified that the tax of 28% will be levied on the deposit/entry amount for online gaming, casinos, and horse racing, and not for each individual bet. The decision was not unanimous, which is rare for the GST Council, but it would bring some relief to the industry. The new tax rate is expected to come into effect in October, and there will be a review of how things are faring six months after the implementation.
(PS: Almost 70% of you guys who participated in last week's poll believe online gaming should be taxed at the same rate as gambling at casinos.)
🏏🇮🇳📺 The BCCI is wooing Amazon and Google to bid for the media rights of its bilateral series, reported Bloomberg. There has been a lukewarm response from media companies ahead of the auction due to the global economic slowdown and poor advertising revenues. Financial consultancy EY expects the winning bid for the next five-year cycle, which will comprise 102 India matches, to be at least $750 million (~₹6,200 crore), which is almost the same price at which the rights were sold five years ago. However, the BCCI expects the value to almost double to ₹12,000 crore, per The Economic Times, while industry experts believe ₹10,000 crore ($1.2 billion) is a more reasonable estimate.
🏏🏆📺 Meanwhile, Disney Star is hoping to mop up 80% of all advertising spends on television and digital in India during the upcoming Asia Cup and ICC Men's World Cup. The two events will see the Indian cricket team play at least 10 matches, including a minimum of two and maximum of four games against arch-rivals Pakistan. However, industry experts believe the actual figure won't be more than 50%, per Mint. Especially since online gaming companies, which have been heavy advertisers during the cricket season, are expected to cut back on spending given the increase in taxation.
⚽️🔴👕 Manchester United has signed a new 10-year kit contract with sportswear major Adidas, reportedly worth at least £900 million ($1.1 billion). Their previous 10-year deal was worth £750 million. The new deal is the largest in Premier League history in terms of the value per season, and the second-largest in club football after Real Madrid's €1.1 billion ($1.2 billion) 10-year contract with Adidas, signed in 2019.
⛳️⚔️ The PGA Tour has added golf legend Tiger Woods to its board of directors after facing major criticism from top players over how it handled its merger with Saudi Arabia-backed LIV Golf. As many as 38 top golfers who had stuck with the PGA Tour and turned down enormous sums of money to join LIV Golf had written to the former after the merger was announced, saying they learned about it around the same time as the public. Woods will be the sixth player director on the board, which also comprises five independent directors.
How did you like this edition?
If you enjoyed reading The Playbook, please share it with your friends, family, and colleagues. Please also subscribe to it (for free) if you haven't already.
You can reach out to me at jaideep@thesignal.co with any feedback (good, bad, or ugly), tips, and ideas. I'd love to hear from you!
Thanks for reading, and see you again next Friday!