Discover more from The Playbook By The Signal
A weekly newsletter that goes beyond the headlines and gives you all the necessary signals you need to understand India's sports and gaming industries better.
Over 9,000 subscribers
Why the women's IPL media rights auction was all but a one-horse race
Viacom18 and Disney Star were the only broadcasters who participated in the auction, with the former winning quite easily.
Good evening,
Welcome to The Playbook, a weekly newsletter on the business of sports and gaming. If someone shared this newsletter with you, please hit the subscribe button below — it's free!
A month after winning the Fifa World Cup, Lionel Messi rubbed more salt in the wound of his great rival Cristiano Ronaldo by beating him in an exhibition match in Saudi Arabia last evening.
Messi's Paris Saint-Germain beat Ronaldo's Saudi All-Stars 5-4 in what was probably the last-ever meeting between the 🐐🐐. The game was apparently full of drama, with Messi, Ronaldo, and Kylian Mbappe all scoring. It better have been dramatic, considering a Saudi real estate mogul had bid $2.6 million for a ticket at an auction. 🤯
That wasn't the only instance of money being splashed around in the world of sport this week.
Viacom18 wins women's IPL rights at a canter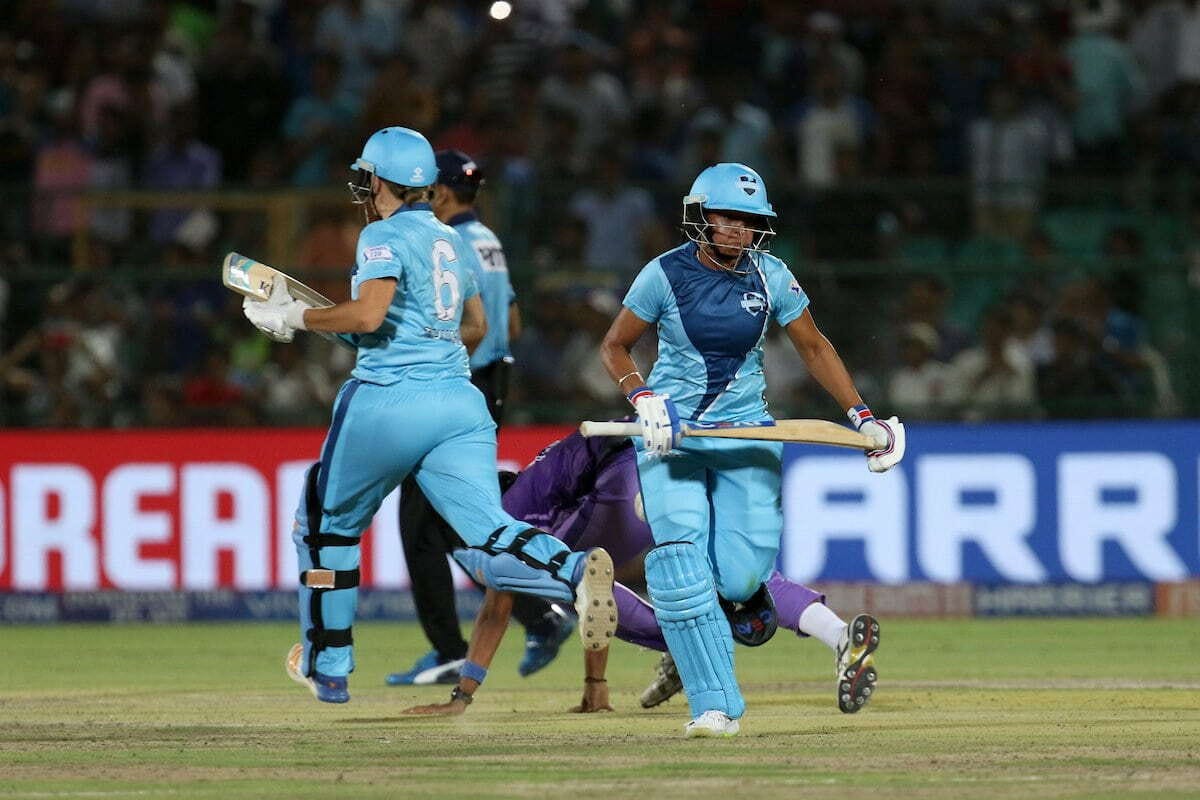 Credit: Twitter/IPL
As India cruised into the Super Six stage of the ICC U19 Women's T20 World Cup in South Africa, the young cricketers' futures were being secured thousands of miles away back home.
Viacom18, the broadcaster backed by India's largest conglomerate Reliance Industries, has scooped up the media rights of the new Women's Indian Premier League (WIPL) for the next five seasons, in a deal worth ₹951 crore ($117 million).
On a per-match basis, that comes up to ₹7.09 crore (~$870,000). On a per-season basis, it's ₹190 crore ($23.4 million), which is second only to what the US Women's National Basketball Association (WNBA) earns—$35 million—among women's sports leagues worldwide. The Women's Super League (WSL), featuring teams like Manchester United, Chelsea, and Arsenal, earns around £8 million ($10 million) a season in the UK.
As Beth Barrett-Wild, head of The Hundred women's competition, put it, this sets a precedent for women's sport.
Beth Barrett-Wild

@BethWild7
Casual $1m *per match* for the Women's @IPL broadcast rights. So each team will get at least $3.5m from the central distribution in year 1 (80% cut of revenues). Punchy numbers, transformational investment into women's cricket, new precedent for women's sport #WIPL
Jay Shah @JayShah
Congratulations @viacom18 for winning the Women's @IPL media rights. Thank you for your faith in @BCCI and @BCCIWomen. Viacom has committed INR 951 crores which means per match value of INR 7.09 crores for next 5 years (2023-27). This is massive for Women's Cricket 🙏🇮🇳
Jan 16, 2023
788 Likes   68 Retweets   9 Replies
Despite reports suggesting that the Indian cricket board was eyeing ₹220 crore-₹250 crore ($27 million-$30 million) per season, Viacom18's winning bid is by no means unimpressive. It is bound to boost the values of the women's IPL franchises when they go up for auction later this month. According to reports, a franchise is likely to cost at least ₹300 crore ($370 million). And at least eight of the 10 men's IPL franchises have submitted a bid. The first women's IPL season will be played in March with five teams.
But what I found interesting when I read all the reports around the media rights auction was that there were apparently only two bidders in the race—Viacom18 and Disney Star. And by the looks of it, there was no real race. Viacom18 won the rights at a canter.
Neither company bid for the global television rights (Package A). Star bid only for the global digital rights (Package B) whereas Viacom vied for Package B and Package C, which was a composite bid for the global television and digital rights, and won.
[...]
The potential third party - Sony - did not show up for the bidding. The word is that the company - jostling with merger with Zee - did not want to be just also-rans. As reported on Sunday (January 15), it needed a strategic bid or a big leap of faith -- and Viacom 18 did exactly that -- to win the rights. Sony, which had done the same for the IPL in 2008, was not willing to do that this time around. All its big bosses are in LA and there was no go-ahead from the HQ to the staff in Mumbai to go for the auction.
 WIPL media rights: Another bellwether of cricket's digital embrace | Cricbuzz
There are two things to note here:
One, the two broadcasters that ended up bidding for the women's IPL rights are the ones that are already involved with the men's tournament. In June last year, Disney Star and Viacom18 split the men's IPL rights for a total of over $6 billion. Disney got the television rights, while Viacom18 bagged the digital rights.
"It makes sense that the two players who hold the IPL rights were the bidders for WIPL rights (according to reports) from a logistical point of view, since they would have existing setups in place to broadcast the men's game," says Bhairav Shanth, co-founder of sports management firm ITW Universe.
The two broadcasters can also easily cross-promote the men's and women's tournaments if they hold both rights. This is probably why the bosses at Sony felt it didn't make sense to bid on the women's IPL, considering they aren't invested in the men's version at all.
Secondly, both Disney and Viacom18 considered the digital rights to be more important than television, considering neither of them bid for Package A.
"We at ITW have spoken about the rise of digital broadcasting often, and what we are seeing here with the WIPL is a manifestation of that digital-first strategy. Broadcasters are focused on their digital programming with a renewed attention on increasing engagement and, in turn, retention," says Shanth.
With Disney Star, there is strategic programming complementarity as well, particularly given the women's IPL is a first-time property, Shanth adds. "Star would have looked to properly round out their offerings given that they have linear TV rights to the IPL."
As for Viacom18, the broadcaster is pursuing a very aggressive digital strategy in terms of streaming live sports. Starting with the Fifa World Cup, it's offering all its sports properties for free on streaming platform JioCinema, with the endgame being to win subscribers for Reliance's telecom network Jio. Since it already has the digital rights of the men's IPL, complementing it with the women's IPL rights was a no-brainer.
In the end, Viacom18 decided to go big and bid for the consolidated television + digital rights, quite simply because it can. Reliance Industries has a market capitalisation of $206 billion, and the conglomerate has been spending big on sports broadcasting over the past 18 months. Disney isn't too far behind in terms of market cap ($180 billion), but the entertainment behemoth had said in November that it plans to make cuts to marketing and content budgets after reporting weaker-than-expected earnings for the quarter ended October 1, 2022.
Considering Disney's almost no-show at the women's IPL media rights auction, I wonder if the company is saving up for the India bilateral cricket rights, which will come up for auction soon.
⚡️Quick Singles
🏏📱 India's biggest fantasy sports platform Dream11 recorded a 50% year-on-year growth in revenue to ₹3,841 crore ($473 million) in the year ended March 2022. However, its profit also shrunk by over 56% to ₹142 crore ($17.5 million). Dream11 has been a sponsor of the IPL for the past three seasons and also has a host of Indian cricketers as brand ambassadors. Its advertising and promotional expenses surged 72.8% to ₹2,158 crore ($266 million).
🎮🎲 India's Ministry of Electronics and Information Technology (MeitY) conducted the second round of closed-door consultations on the draft amendments to the IT Rules, 2021, which concern online gaming. Video gaming and e-sports companies have requested the government to create a distinction between video games and real-money games in the proposed regulation of the sector. The draft rules propose a self-regulatory body to certify what is permitted as an "online game" in India.
⚽️🇬🇧🤑 Eleven of the world's 20 richest football clubs are in the Premier League, according to consultancy firm Deloitte's latest annual Football Money League report. It's the first time a single country has made up more than half the teams on the list. The total revenue for the 20 highest-earning clubs in the world in 2021-22 was €9.2 billion, a 13% year-on-year increase.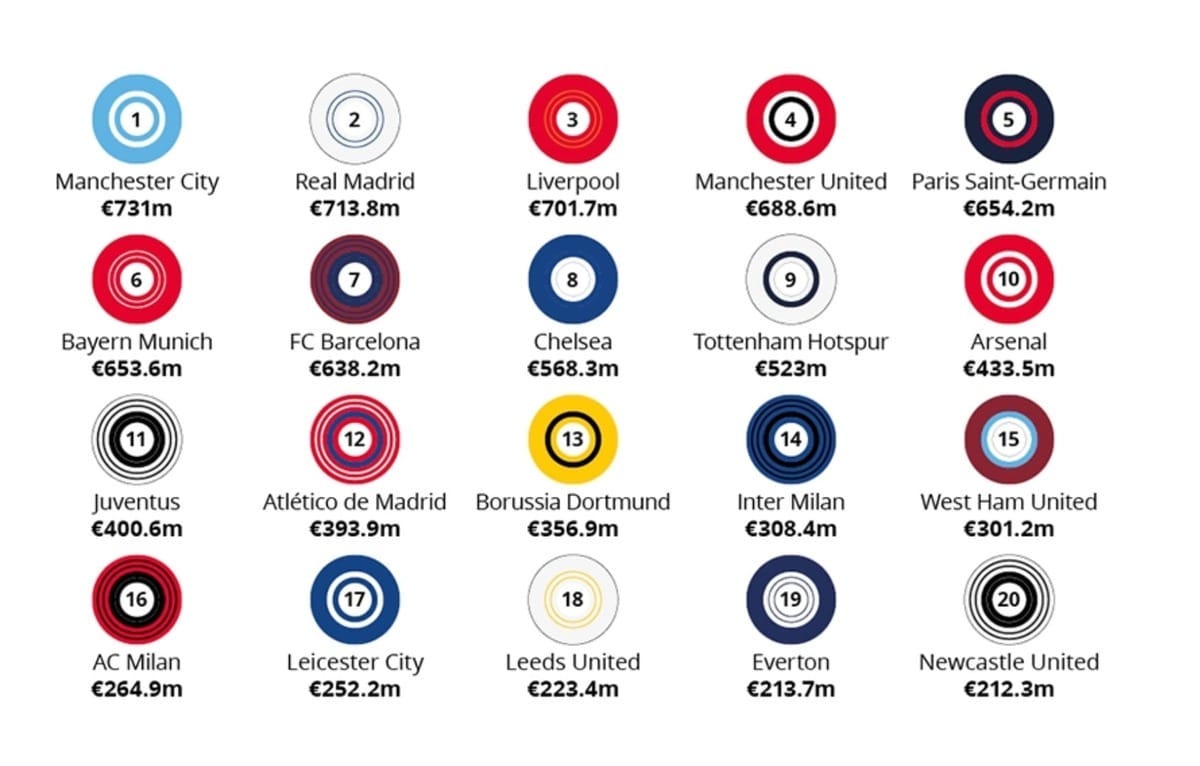 Credit: Deloitte Football Money League 2023
⛳️🇸🇦📺 Saudi Arabia-backed rebel golf series LIV Golf has managed to secure a broadcast deal in the United States with the CW Network. The "multi-year partnership" is the first ever in the sports arena for the 16-year-old American network, which is best known for its dramas targeting younger audiences. The duration and value of the deal have not been disclosed, but Yahoo Sports reported that LIV Golf is not paying the CW to broadcast its tournaments. The "agreement is mutually financially beneficial to both parties".
⚽️🇬🇧😈 British billionaire and boyhood Manchester United fan Sir Jim Ratcliffe has confirmed that his company Ineos is in the running to buy the club from the US-based Glazer family. "We have formally put ourselves into the process," a spokesperson for the chemicals company told The Times. Ratcliffe already owns Nice football club in France, the Ineos Grenadiers cycling team, and a third of the Mercedes Formula 1 team.
⚽️🍎🇬🇧 Apple TV is preparing to bid for the Premier League broadcast rights in the UK, according to The Daily Mail. Tech giant Apple's streaming service has already dipped its toes into the Premier League via a $680,000 licensing deal for the Emmy Award-winning series Ted Lasso, signed last year. It also recently released a documentary on the rebel European Super League, called The War for Football. Apart from this, Apple has a 10-year global broadcast deal with the US' Major League Soccer worth $2.5 billion, starting with the 2023 season.
🎮🇯🇵 Japanese video-gaming giant Nintendo plans to increase production of its Switch console after beating internal expectations and shipping ~21 million units so far in the year ending March 2023, reported Bloomberg. Nintendo had lowered its sales forecast for Switch to 19 million units in November because of component shortages. However, it's now convinced it can make more consoles amidst strong demand.
📖 Weekend Reads
🎳 Your next visit to a bowling alley may not be as rewarding as previous ones. Alley owners are replacing old pin-setting equipment with a new cost-saving automated system that uses bowling pins tethered to a string. The problem: tests conducted by the United States Bowling Congress revealed that string pins yield nearly 7% fewer strikes, more spares and a preponderance of oddball splits compared with free-falling pins, reported The Wall Street Journal.
🏏🇺🇸 The Glazer family might sell Manchester United this year after 18 years of controversial ownership. Regardless of what happens, Avram Glazer, one of the five Glazer siblings, has already got his eye on another sport—cricket. After a failed attempt to buy an IPL franchise, the 62-year-old ended up buying one of the six franchises of the International League T20, the latest franchise-based T20 league that's based in the UAE and whose inaugural season began last week. The Cricket Monthly has a nice feature on how Glazer finally got his finger into the cricket pie.
ICYMI
🎾🤯 Andy Murray is 35 years old, had a career-saving surgery in 2019, and plays with a metal hip. But he's still able to do this:
Andy Murray v Thanasi Kokkinakis Highlights | Australian Open 2023 Second Round
The five-hour-45-minute match was the longest of Murray's career and six minutes shorter than the longest match ever played at the Australian Open.
Legend.
Tennis TV

@TennisTV
Most comeback wins from two sets down:
11 - Andy MURRAY
10 - Roger Federer
10 - Boris Becker
10 - Aaron Krickstein
WARRIOR @andy_murray@AustralianOpen
Jan 19, 2023
8.53K Likes   897 Retweets   52 Replies
That's all for this edition of The Playbook. Please reach out to me at jaideep@thesignal.co with any feedback (good, bad, or ugly), tips, and ideas.
See you again next Friday!