Discover more from The Playbook By The Signal
A weekly newsletter that goes beyond the headlines and gives you all the necessary signals you need to understand India's sports and gaming industries better.
Over 9,000 subscribers
Will virtual advertising work in Indian sports?
Indian sports fans have seen glimpses of the technology while watching cricket, kabaddi, and football, but it'll be a while before it becomes mainstream
Good evening!
Welcome to The Playbook, a weekly newsletter on the business of sports and gaming. If someone shared this newsletter with you or if you've found the online version, please hit the subscribe button below — it's free! You can unsubscribe anytime.
Congratulations to all you Indian readers out there! I'm sure all of you, like me, are over on the moon!
Nearly 54% of you don't play any fantasy sports, according to the results of last week's poll, so I hope the previous edition didn't bore you! Among those of you who do play, the free Fantasy Premier League (FPL) game is the most popular, with over 30% of the vote share. Was quite surprised to find that India's most popular fantasy sports platform, Dream11, got less than 8% of the votes.
Some, like Ankur Vohra "do not find [fantasy sports] engaging long term", while Rohan Narang used to play earlier but thinks that the element of skill has faded away. Meet Kachhy, meanwhile, "played Dream11 for some cricket and NBA games in the past, but strictly always the non-money version." Now, he only plays FPL, where he's currently in 10th position out of 50 players in The Playbook's mini league. Dileep V is in the lead with 144 points in two gameweeks! If you want to join our mini league, here's the league code: d5dh3d.
Right, let's get into this week's edition, which is a bit tech-y.
A few hurdles to go
Have you been watching the BWF badminton world championships? Yeah, I know, PV Sindhu lost, but we've still got Satwik-Chirag and HS Prannoy in the quarterfinals, so 🤞.
If you were watching, and if you're eagle-eyed, you might have noticed something peculiar.
Take a look at this collage of two screenshots taken during Treesa Jolly and Gayatri Gopichand's second-round match on Thursday.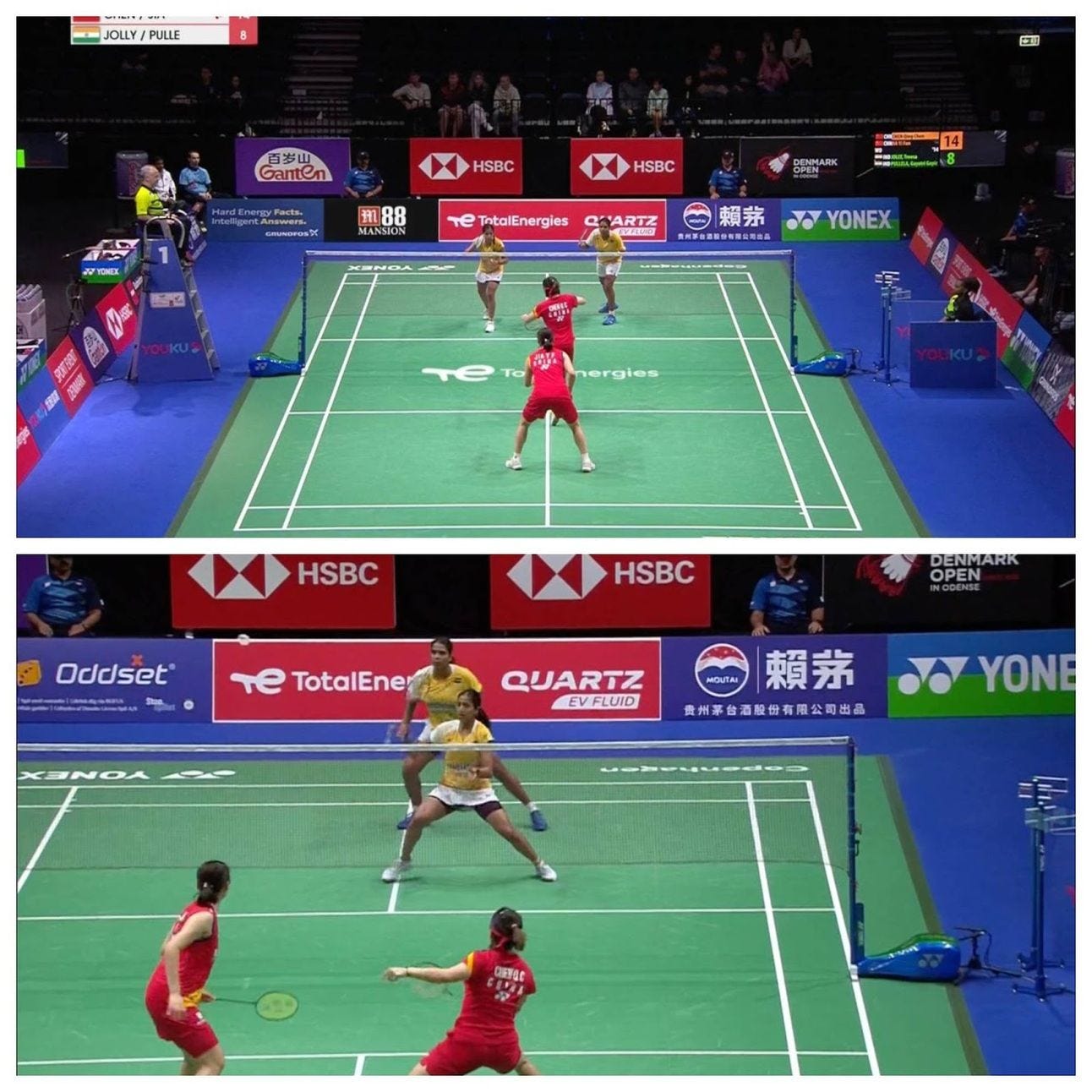 Did you spot the difference between the two screenshots?
Yep, the brand advertised to the left of the TotalEnergies Quartz ad is different. The top screenshot shows the logo of M88 Mansion, a Philippines-headquartered online gambling company that's big in Asia. The bottom screenshot has the logo of Oddset, a Danish sports betting company.
How is this happening?
The top screenshot is of the main, static broadcast camera that shows most of the live action. The bottom one is from a different camera angle that's mostly used while showing replays. If you see the view from all other regular cameras as well, you'd spot the Oddset ad. That's because Oddset is the actual logo that's plastered on the perimeter board at Copenhagen's Royal Arena. The main broadcast camera, meanwhile, is showing a virtual ad of M88 Mansion that's superimposed onto the broadcast feed. Considering the brand, it's probably visible only to audiences in Asia.
Welcome to the world of virtual advertising in sports. Over the last five or so years, rights holders have been digitally inserting advertisements into broadcast feeds using augmented reality (AR) technology. Such ads can be superimposed on perimeter boards, the playing field, or any empty spaces. They're usually geotargeted so that rights holders/broadcasters can tailor their ads based on their audience's location. As a result, both rights holders and brands maximise their sponsorship revenue potential.
There are broadly two types of virtual ads in sports broadcasting: overlays and inserts. An overlay is where a virtual ad is placed over an existing ad, like the badminton example above. An insert is where the virtual ad is placed in an empty space, such as the playing field. The Chevrolet, Brahma, and Wise Up logos next to the goal in the screenshot below are all virtual inserts.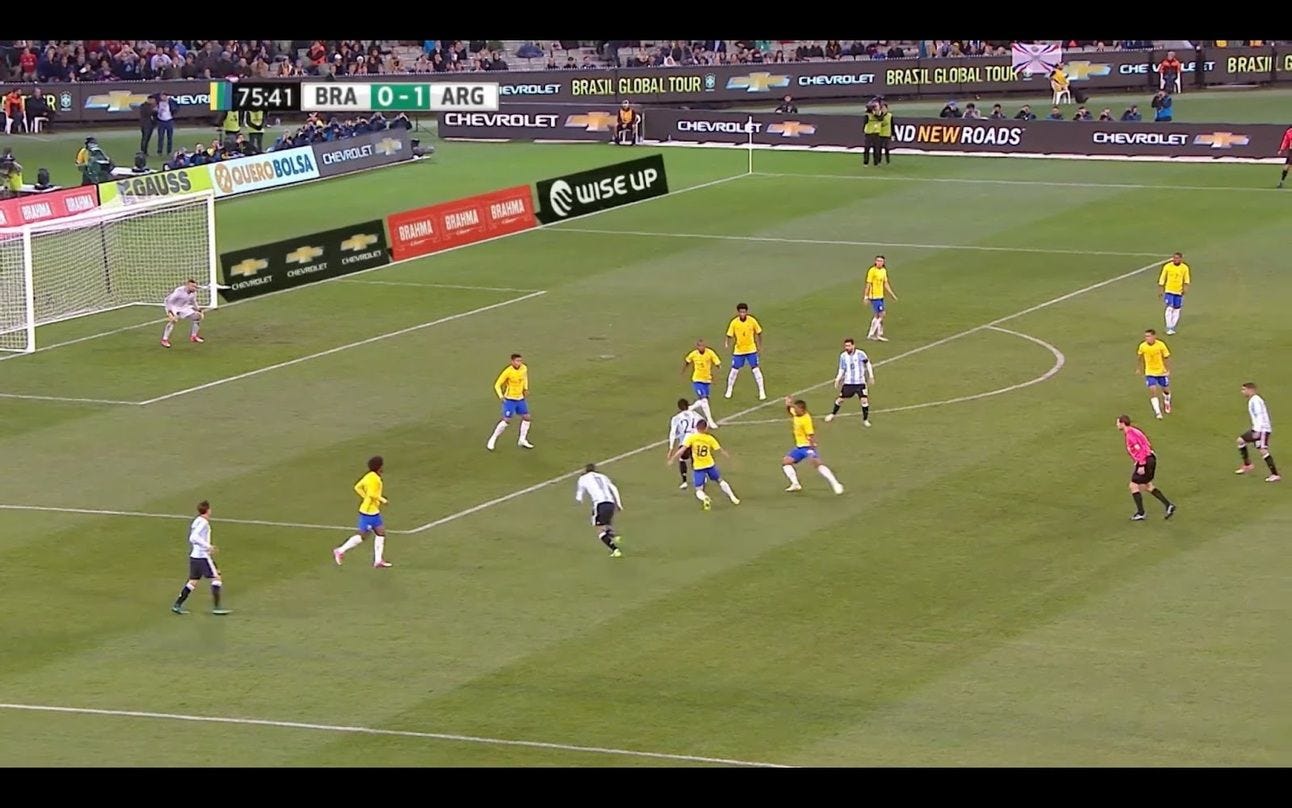 Screenshot via Broadcast Virtual
Companies such as uniqFEED (Switzerland), Broadcast Virtual (Australia), Supponor (United Kingdom), SponixTech (Qatar), and DELTACAST (Belgium) offer this technology. Here's how uniqFeed's tech works, according to its website:
uniqFEED's team of operators receives the isolated camera signals and world feed from a live sporting event from which [our software] AdApt then composes multiple regionalized feeds before virtual content is digitally inserted. This is performed live during the match or game. The feeds are then sent out via the various broadcasters.
This technology has been used by leagues and federations such as Bundesliga, Serie A, UEFA, Cricket Australia, New Zealand Cricket, National Rugby League (Australasia), ATP and WTA tennis, NBA, and NFL.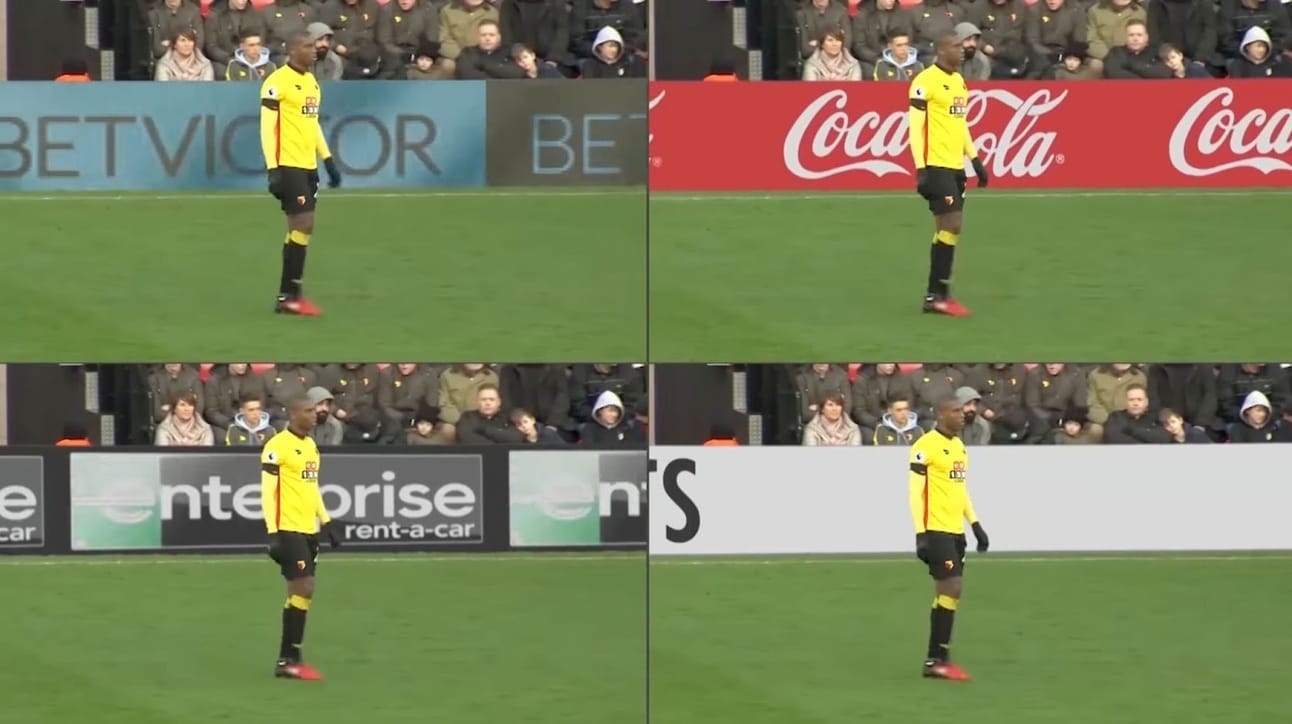 Screenshot via Supponor
Contrary to popular belief, the Jio ads that you might have seen at Manchester City's Etihad Stadium last season were not virtual. According to Hamburg-headquartered sports marketing agency Sportfive, virtual advertising doesn't exist in the Premier League. And when Manchester City announced its partnership with Jio in January, the press release said the Jio branding will feature across the club's in-stadia and digital assets.
Prash

@Dsp_Gunner
👀
@reliancejio Jio ad in the Etihad Stadium's advertising boards in the Manchester City vs Tottenham @premierleague match today.... Jio network is not even there in the UK! 😯
#EPL#PremierLeague#MCITOT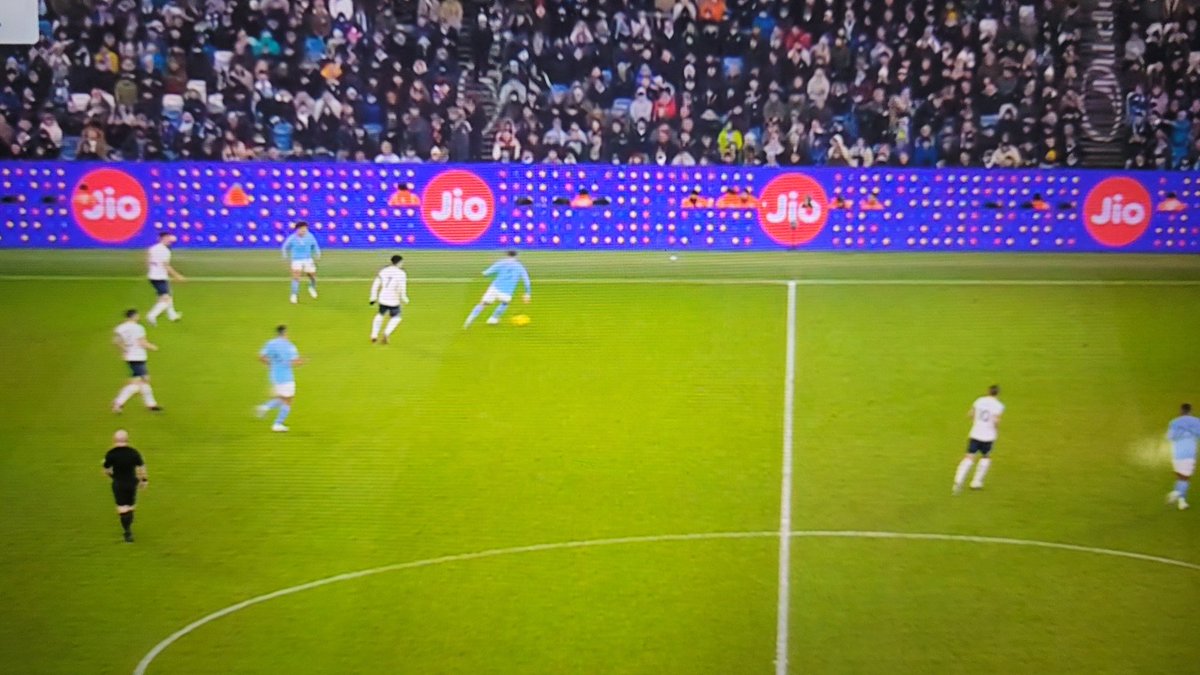 Jan 19, 2023
2 Likes   0 Retweets   0 Replies
In India, we largely get to see the virtual insert ads. For instance, during India's tour of Bangladesh last December, you might remember seeing a virtual 3D ad of the Hollywood movie Avatar: The Way of Water, which had released that month. There was another one I remember of French automobile brand Citroën, where a car did a doughnut manoeuvre on the cricket ground. These ads were facilitated by sports marketing agency ITW Consulting.
Broadcaster Star India has also tried out such ads for its properties Pro Kabaddi and the Indian Super League. You might have seen virtual ads for UltraTech Cement and Vivo in Pro Kabaddi, where the playing surface breaks and the sponsor logo or product emerges from underneath.
But that's largely it. We don't really get to see many geotargeted virtual overlays in India (the BWF badminton one is for the whole of Asia). And that's because of how the Indian sports market is: dominated by one sport. According to the India Sports Sponsorship Report 2023 by media buying agency GroupM, cricket accounted for 85% of the overall sports industry spending last year. That's of course a reflection of the viewership the sport commands.
So, let's split the Indian market into cricket and non-cricket. In cricket, the broadcasters don't own any of the footage. And the two major rights holders in world cricket, the Board of Control for Cricket in India (BCCI) and the International Cricket Council (ICC), don't want geotargeted ads because it will jeopardise their existing sponsors.
And when most of cricket's viewership comes from India, the rights holders would rather get Indian and major global brands as their sponsors, thereby eliminating the need to geotarget in the first place. Have a look at the ICC's partners for the upcoming men's World Cup:

Screenshot via ICC website
Some of the international cricket boards, such as the England and Wales Cricket Board (ECB), Cricket Australia, and New Zealand Cricket, have tried geotargeted virtual ads for the Indian market. Last month, Reliance Industries-backed sports marketing and management agency RISE Worldwide signed a deal with the England and Wales Cricket Board (ECB) to monetise virtual sponsorship inventory for the 2023 Ashes series. RISE has also worked with Cricket Australia in the past.
The idea was to develop a new source of revenue for foreign cricket boards in the Indian market, as the ads increase the commercial potential for rights holders and offer flexibility. According to The Economic Times, an international cricket board can earn ₹1.5-2 crore ($180,000-240,000) per match by selling virtual ad inventory for matches featuring the Indian team.
These foreign boards have tried virtual pitch mats, where Indian audiences get to see geotargeted static sponsor ads in the midwicket region of the cricket field. However, a senior executive from the media buying industry told me that they didn't get enough traction to justify the high production costs involved, which can go into tens of thousands of dollars depending on factors such as the scale of the event, the technology used, and the level of customisation required.
"If it's static branding only, why not just get the traditional painted pitch mats? They are cheaper, too. So, while these virtual ads were tested, there was no incremental gain for anyone to pursue it further," they said. RISE Worldwide's spokesperson wasn't available for comment.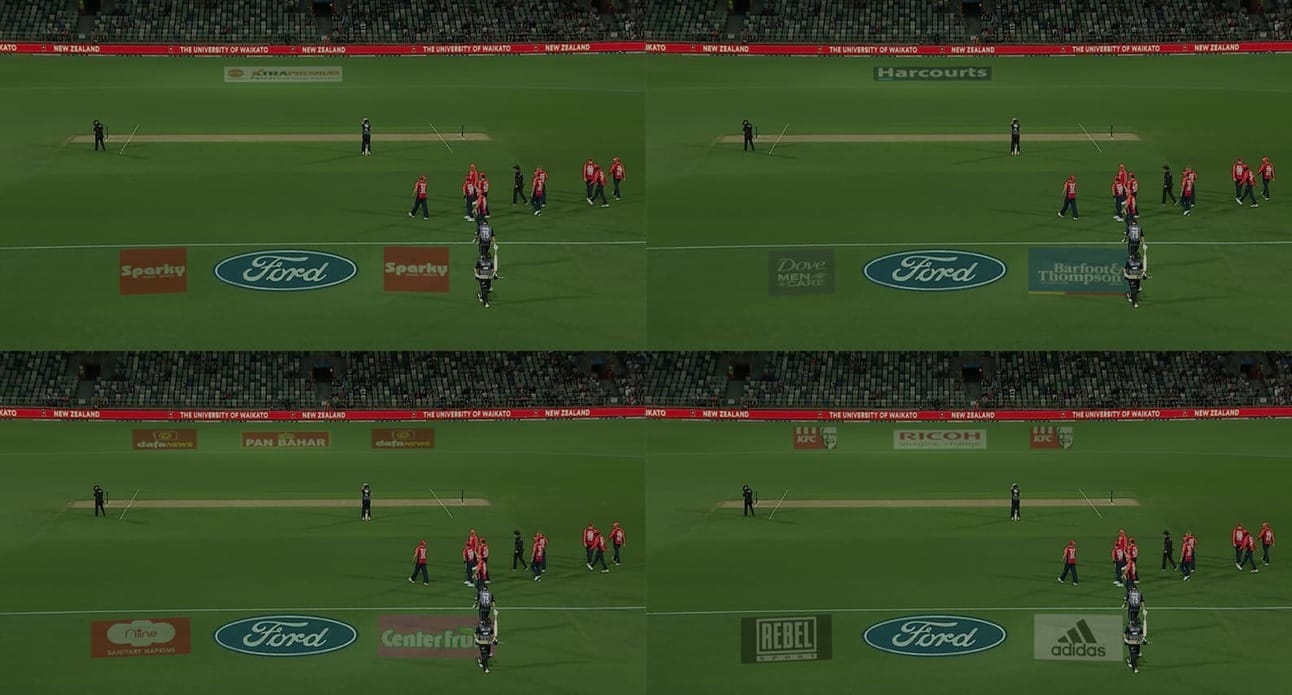 Screenshot via Broadcast Virtual
I asked the media buying executive if it's possible to make the ads dynamic, i.e. allow multiple brands to buy time-based slots to advertise on the virtual pitch mat. They replied that it's difficult given cricket's format, which is vertical: the main broadcast angle that you see from behind the pitch shows the live action in a vertical alignment, where the midwicket region isn't visible. "So, even if you try and show multiple brands on the pitch mat, you won't derive much value unless the broadcaster cuts across to show the midwicket area again and again, which won't happen."
Such ads would work better in non-cricket properties like football and rugby, which have a horizontal broadcast format, and even vertical sports with smaller fields of play, such as badminton and tennis. But the problem is: there isn't a sufficient audience for these sports in India to make it worth the while for the rights holders. "What's the Premier League's audience in India? 15 million? That's hardly enough to justify the acquisition costs," said the media buying executive.
So, in their current shape and form, virtual ads are good to have but not must-haves in India. And that's because they're not really solving any problem. They're almost irrelevant in cricket, while international sports properties don't have a large enough audience in India.
Until things change, we'll have to be satisfied with Pandoran creatures popping out of cricket grounds every now and then.
⚡️Quick Singles
🎾🧑‍💻 Tennis legend Rafael Nadal is the new brand ambassador of Indian IT major Infosys. As part of the three-year partnership, Infosys will develop a personalised, AI-powered match analysis tool for Nadal's coaching team, which will allow them to "simultaneously track insights from his live matches when he is back on tour, alongside historical data from his previous matches," the company said in a statement. Infosys is also the digital innovation partner of the ATP Tour.
🏏🏆💳 After ending its partnership with the BCCI earlier this year, payments major Mastercard has signed up with the ICC as a global partner for the 2023 men's World Cup. According to The Economic Times, an ICC global partnership costs $10 million per year. Cricket's governing body has three categories of sponsors: global partners, official partners, and category partners, which get benefits like media integration, in-stadium branding, tickets, and hospitality. Mastercard was earlier the title sponsor for all bilateral series played in India from September 2022 to March 2023. The BCCI is still looking for a new title sponsor and has cut the base price for the rights from ₹3.8 crore ($460,000) per match to ₹2.4 crore ($290,000).
⚽️🇬🇧 After the Roman Abramovich saga last year, the Premier League is setting up a process to force "bad" football club owners to sell their shares, reported Financial Times. English football's top flight wants to introduce a divestment protocol for club owners in the case of "disqualifying events". However, any such rule change would require the approval of at least 14 Premier League clubs out of 20. The Premier League has previously also sought to tighten its club ownership rules.
📺💰 Bodhi Tree Systems, the investment vehicle of former Star India head Uday Shankar and former 21st Century Fox chief James Murdoch, has upped its stake in broadcast network Viacom18 from 13% to ~16%. The company purchased an additional 2.89% stake for ₹953.23 crore ($115 million), valuing Viacom18 at ₹32,983 crore ($4 billion), according to The Economic Times. The stake acquisition was financed through the money that Bodhi Tree raised from American media company NBCUniversal earlier this year, which reports pegged at around $150-200 million. Viacom18 owns the broadcast rights to properties such as the Indian Premier League (digital), LaLiga, SerieA, and the Paris 2024 Olympics.
🛒🤝🐭 Amazon has held talks with Disney about a potential collaboration for the latter's new ESPN streaming service, reported The Information. Amazon could help distribute the new service via its OTT aggregator Prime Video Channels. The report said the tech giant could also end up taking a minority stake in ESPN, which is considering charging a high premium of $20-35 a month for the new service. Amazon's global head of sports Jay Marine recently said that the company will be aggressive but also rational in pursuing more live sports rights deals. Amazon is currently in the second year of its 11-year, $11 billion deal with the NFL.
⚽️🇧🇷🇮🇳 Brazilian football star Neymar could play his first match in India after his club Al Hilal was drawn in the same group as Mumbai City in the AFC Champions League. The match will be played at the Balewadi Sports Complex in Pune later this year. The other teams in Group D of the Asian Champions League are Iran's FC Nassaji Mazandaran and Uzbekistan's Navbahor Namangan. Can't wait to see how Indian brands try to leverage this match if Neymar does indeed travel to India!
😳
Correction
Last week's edition incorrectly referred to Bata as an Indian brand. The error is regretted.
How did you like this edition?
If you enjoyed reading The Playbook, please share it with your friends, family, and colleagues. Please also subscribe to it (for free) if you haven't already.
You can reach out to me at jaideep@thesignal.co with any feedback (good, bad, or ugly), tips, and ideas. I'd love to hear from you!
Thanks for reading, and see you again next Friday!