Discover more from The Playbook By The Signal
A weekly newsletter that goes beyond the headlines and gives you all the necessary signals you need to understand India's sports and gaming industries better.
Over 9,000 subscribers
The Manchester City asterisk
Pep Guardiola's team won their third Premier League title in a row and are on course for a record-equaling treble. Do their alleged breaches of financial fair play regulations tarnish their achievements before a final verdict is announced?
Good evening,
Welcome to The Playbook, a weekly newsletter on the business of sports and gaming. If someone shared this newsletter with you or if you've found the online version, please hit the subscribe button below — it's free! You can unsubscribe anytime.
Earlier this week, I attended my first-ever Indian Premier League (IPL) match: the playoffs eliminator between Mumbai Indians and Lucknow Super Giants at Chepauk, Chennai. And I saw first-hand how much of a hero-worshipping lot we Indians are!
The only jerseys on sale outside the stadium—knockoffs costing ₹150 ($1.8), if you bargain well—were those of MS Dhoni, Rohit Sharma, and Virat Kohli, only one of whom was playing that day.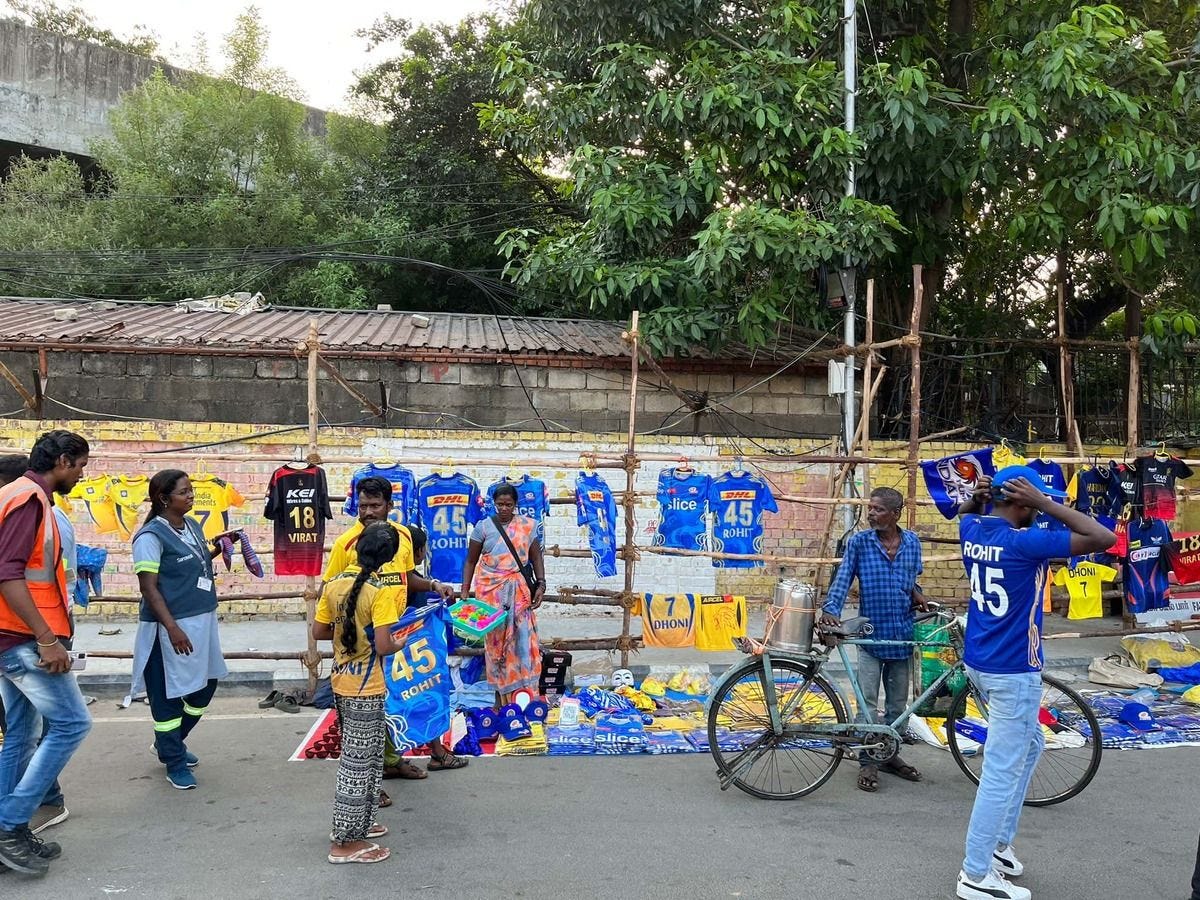 Photo credit: Jaideep Vaidya/The Signal
The MA Chidambaram Stadium is usually a sea of yellow, the Chennai Super Kings (CSK) colour, during the IPL. But with CSK not playing that day, the sea had turned blue. Imagine Liverpool fans supporting Manchester United during a match at Anfield where Liverpool isn't playing. But as the match progressed, I realised the support was largely because of Rohit Sharma, the India captain, who received the loudest cheers while batting and fielding.
Then, despite the famed rivalry between Chennai Super Kings and Royal Challengers Bangalore, Chepauk loudly chanted Kohli's name whenever Afghan pacer Naveen-ul-Haq was bowling and while he was fielding at the boundary. Naveen's spat with Kohli is now infamous. Credit to Naveen, he took it very well and even egged the crowd on while fielding.
There was also a fleeting moment when Sachin Tendulkar, sitting in the Mumbai dugout, was shown on the big screen. It was for barely two seconds, but that was enough for Chepauk to erupt. Of course, Tendulkar and Chepauk have a fabled history.
No wonder then that Dhoni, when asked about his retirement plans after CSK's final match in Chennai this season, said that he'll always be there for the franchise, whether as a player or in any other form. CSK knows his value, both commercially and otherwise.
If only there were a parallel universe where Dhoni ends up coaching/mentoring another IPL franchise. It would be interesting to see the number of defections from CSK's yellow army!
This is why official sports jerseys aren't a lucrative business in India. Cheap knockoffs are abundant, as fans only want to wear the jerseys on match days. And then, they only care about their heroes rather than the team they play for.
So, it will be interesting to see how Adidas does as the Indian cricket team's new official kit sponsor. Yes, the news has finally been confirmed. ICYMI, in a previous edition of The Playbook, I had written about why Adidas would be interested in such a sponsorship, especially after what happened with the Indian team's previous two kit sponsors—Nike and MPL Sports.
Right, so let's get down to this week's edition, which is not about cricket, but football.
Man City: greats or cheats?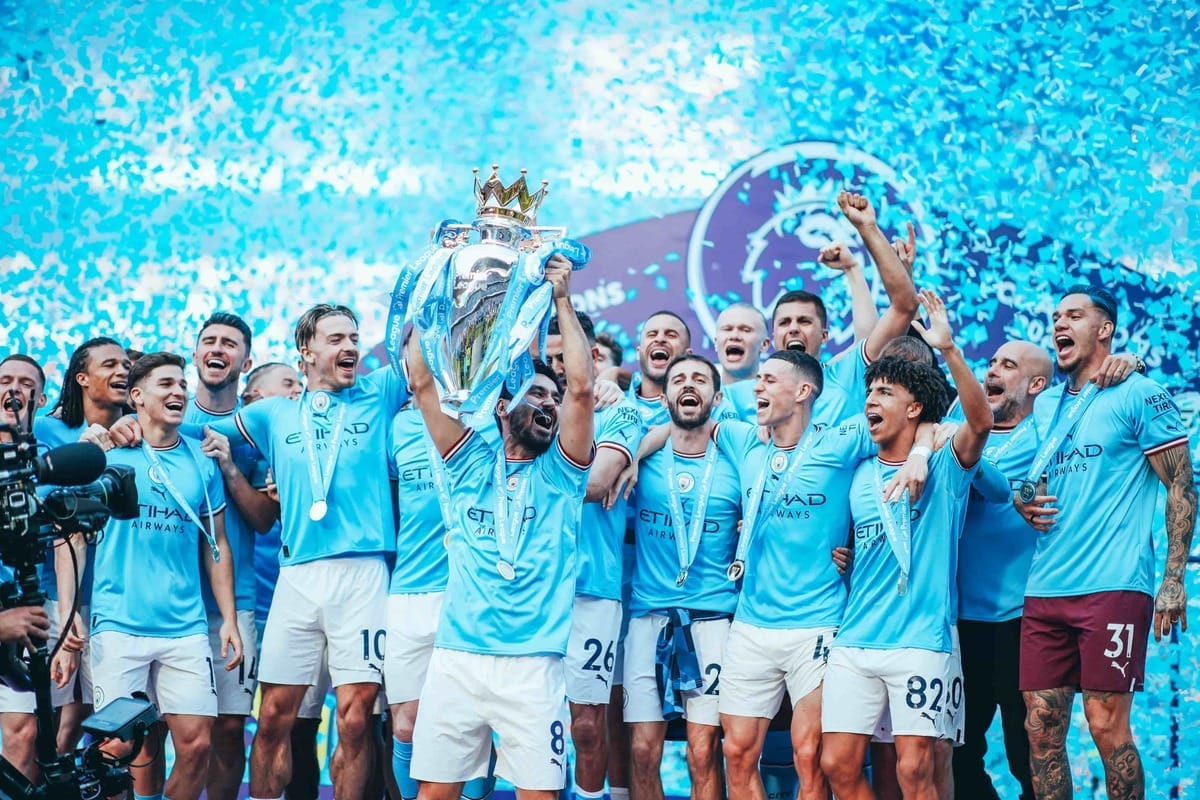 Photo credit: Manchester City/Twitter
On May 21, as the Manchester City players walked out onto the pitch at their home ground, the Etihad Stadium, their opponents Chelsea gave them a guard of honour. City had been officially crowned Premier League champions for the third time in a row—and an incredible fifth time in six seasons—a day earlier, as second-placed Arsenal's defeat to Nottingham Forest meant the Gunners were mathematically out of the title race.
City would be awarded the Premier League trophy after the match against Chelsea. But as the two teams lined up for the Premier League anthem before the pre-kick-off ritual of shaking each other's hands, boos began to ring out at the Etihad. City fans were booing the Premier League, the very organisation whose trophy their team was going to lift very soon.
This wasn't the first time such a thing had happened this season. The first instance was on February 12, ahead of City's home game against Aston Villa. The boos were a lot louder than those heard on Sunday. That's because, on February 6, the Premier League accused Manchester City of breaching its financial rules between the 2009-10 and 2017-18 seasons.
There were 115 alleged breaches, including not providing accurate financial information, particularly "with respect to its revenue (including sponsorship revenue), its related parties and its operating costs", breaking the Premier League's rules on profit and sustainability, and not complying with European football governing body Uefa's club licensing and financial fair play (FFP) regulations, which forbid clubs from spending more than they earn.
Uefa had banned City from its competitions, which includes the lucrative Champions League, for two years for alleged breaches of its FFP regulations in 2020. However, the Court of Arbitration for Sport (CAS) overturned the ban later that year after City appealed. CAS ruled that most of the alleged breaches were either not established or time-barred, which means they were too old to investigate 🤷🏽‍♂️.
Uefa started investigating City after German newspaper Der Spiegel in November 2018 published a four-part series featuring leaked documents alleging that the club had inflated the value of sponsorship deals and used back-dated contracts with companies from Abu Dhabi "at will". The Abu Dhabi royal family owns City.
The newspaper wrote that the club's financial reports "were a web of lies". It also revealed that Roberto Mancini had two contracts: one as the manager of Manchester City, and the other as a consultant with the Al Jazira Sports and Cultural Club, which is also owned by Abu Dhabi's Sheikh Mansour. Mancini was reportedly earning a higher annual base salary at Al Jazira (£1.75 million) than he was at City (£1.45 million).
The Premier League then began its own investigation in March 2019, and it's unclear why the organisation took almost four years to release its findings. The timing of the release, which was days before the publication of the UK government's white paper on football governance, was also questioned. "It is felt that bringing this case is likely to be used by the Premier League as evidence of them being able to deal with governance issues itself," wrote BBC Sport's Simon Stone.
The potential punishment for City can be as lenient as a reprimand to as severe as expulsion from the league. The Premier League has left it to an independent commission to decide what to do. City, of course, denied the allegations, as it did with Uefa. "The club welcomes the review of this matter by an independent commission, to impartially consider the comprehensive body of irrefutable evidence that exists in support of its position," it said in a statement.
So, that's why City fans both booed the Premier League and then invaded the Etihad pitch to celebrate winning it on Sunday. The irony metre would rise further later that day when Premier League CEO Richard Masters handed out medals to players of the club his organisation believes cheated.
Which brings us to the question of how this Manchester City juggernaut should be perceived. The club is on course for a record-equaling treble, winning the Premier League, Champions League, and FA Cup in one season. Pundits are gushing over current manager Pep Guardiola, calling him the best thing since sliced bread, while others are labelling this City team the greatest of all time.
In normal circumstances, you'd need extremely solid arguments to counter all this praise. But then, these aren't normal circumstances, are they? I mean, how bonkers is it that the Premier League itself believes that its most successful team in the last decade—one that has surely helped boost the image of the Premier League globally and helped make it the richest and most-watched league in the world—cheated?
If you're a cricket fan, it's akin to the IPL investigating Chennai Super Kings. Yes, I know, the IPL had also banned CSK for two years after the 2013 spot-fixing scandal, but not before the police started a criminal investigation.
In the UK, sports broadcasters are tiptoeing around the matter. Sky Sports' Monday Night Football programme spent three-and-a-half minutes discussing whether City's success will be tainted if found guilty. The BBC's Match of the Day spent a grand total of 25 seconds on it, although its news analysis editor Ros Atkins did a six-minute explainer during his show.
As The Athletic's Adam Crafton wrote, "This debate is largely confined to courtrooms, as well as pages of broadsheet newspapers or social media baiting." In The Times, Owen Slot did an excellent, balanced analysis of how this City squad has been built on the success and foundation of previous teams and regimes that are part of the Premier League's investigation period of 2009-18. It's also worth noting that Guardiola joined City in 2016.
Now, it could be argued that City is innocent until proven guilty. Yes, that is true, but should we ignore the charges before there is a final ruling on the matter? What about clubs that lost out on titles and substantial Champions League qualification revenue because their rival may have broken the rules?
That's arguably a more serious concern as you go lower down the table. City isn't the only club the Premier League has referred to an independent commission over alleged breaches of FFP regulations. In March, it happened to Everton, regarding the club's spending last season. Everton finished 16th last season, narrowly avoiding relegation. Do the three relegated clubs—especially Burnley, which finished just four points behind Everton—have no reason to protest? At the time of writing, Everton is struggling to stay up this season too.
It would certainly help if the independent commission in both cases announced a verdict soon. Guardiola himself advocated for it during a press conference after winning the title.
"We accept it is there. It happened with Uefa, and you know exactly what happened [then], and now it's the Premier League. So let's go. Come on, 24 hours, sit down, talk, both sides, lawyers. Don't wait one year, two years. Why don't we do it quickly? Come on. Let's do it as soon as possible for the benefit of everyone... We want to defend our principles and if people doubt… OK, let's go, let's do it as soon as possible, please. I would love it."
  Pep Guardiola in press conference
But does Guardiola know that the Football Leaks investigation by Der Spiegel also had a leaked email where a City lawyer wrote that club chairman Khaldoon al Mubarak had said that "he would rather spend 30 million on the 50 best lawyers in the world to sue [Uefa] for the next 10 years" than agree to any financial settlement or penalty?
There have been various reports stating that it could be months or maybe even years before we get a final verdict.
Given the Premier League's investigation into City took more than four years, it is unlikely the independent panel will come to a conclusion in the near future. Back in February, it was clear that this process has the potential to take months — or longer.
Should either City or the Premier League decide to appeal against the panel's verdict, then there is a process where a separate panel would convene to review any possible appeal.
  Will Manchester City's charges stop them winning the Premier League this season? | The Athletic
City is also not helping its own case, despite what Guardiola says to the press. The Daily Mail reported last week that the club objected to the fact that the barrister heading the independent commission's investigation is an Arsenal fan. Even if he is, shouldn't the club still be confident of winning, considering it has a "comprehensive body of irrefutable evidence"?
On February 12, the same day City fans first booed the Premier League anthem, they also unfurled a banner at the Etihad, which read: "Pannick on the streets of London". It was a pun on the lyrics of a song by a Manchester-based band called The Smiths, and referred to David Pannick, a famous lawyer who the club hired to represent it.
mcfc lads

@mcfc_lads
Pannick on the streets of London.
[via IG: harrydurn 📸]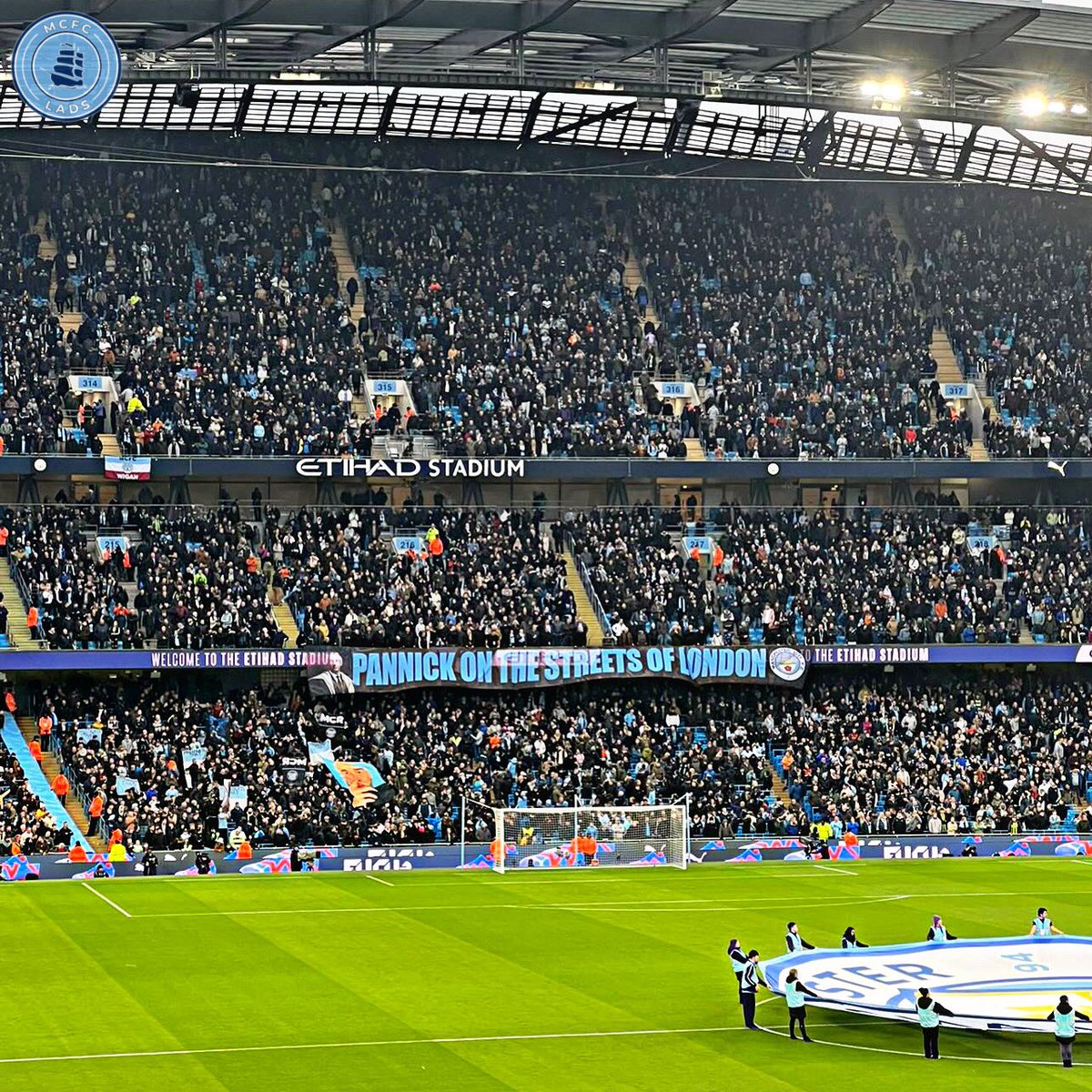 Feb 12, 2023
3.78K Likes   137 Retweets   22 Replies
Guess what? Pannick is an Arsenal fan too.
⚡️Quick Singles
🎰🕵️ The Enforcement Directorate (ED) raided 25 locations across India earlier this week regarding an investigation into alleged Foreign Exchange Management Act (FEMA) violations by offshore online gaming companies operating in the country. The ED said these companies are registered in small island countries like Curacao, Malta, and Cyprus, but "all of them are linked to Indian bank accounts opened in the name of proxy persons who have no links with online gaming activity". The statement added that ₹4,000 crore ($483 million) has been remitted "in the guise of payments for import of goods and services".
🎲💸 There won't be any Tax Deducted at Source (TDS) for users of online gaming platforms provided their winnings are under ₹100 ($1.2), according to the Income Tax department's new guidelines. Above that threshold, tax will be deducted at the time of withdrawal as well as at the end of the financial year. The IT department also specified that net winnings will be calculated after subtracting the total deposits and opening balance in the user account from the amount withdrawn.
🏏🇮🇳👕 The BCCI's deal with Adidas is worth ₹250 crore ($30.2 million) for five years, ending in March 2028, reported The Economic Times. The sportswear company will pay ₹75 lakh ($90,750) per match and a royalty of ₹10 crore ($1.2 million) per year on the merchandise sold. Nike, which was the BCCI's kit sponsor until September 2020, was paying ₹85 lakh ($102,850) per match and a royalty of ₹12-15 crore ($1.4 million-$1.8 million). The total deal was worth ₹370 crore (~$45 million) over four years.
🏏🐯🇮🇳 New York-based investment major Tiger Global is reportedly looking to invest ~$40 million in 2008 IPL champions Rajasthan Royals at a $650 million valuation. The investment could be direct or through an existing shareholder. Another US-based investment firm, RedBird Capital Partners, had bought a 15% stake in the Royals in 2021 at a reported valuation of $250-300 million. UK-based venture capitalist Manoj Badale's investment firm Emerging Media owns a majority stake in the franchise.
🏓📺 Viacom18 has acquired the broadcast rights to season four of Ultimate Table Tennis, which is scheduled from July 13-30 at the Balewadi Sports Complex in Pune. The tournament will be broadcast on sports channel Sports18 and streaming platform JioCinema. Viacom18 also has the rights to the Diamond League (athletics), MotoGP, NBA, LaLiga, Serie A, Ligue 1, and select BWF (badminton) tournaments.
⚽️🇮🇹📺 Meanwhile, Serie A champions Napoli's owner Aurelio De Laurentiis has called for the league to go direct to streaming and ditch the traditional broadcast model, reported Financial Times. He believes the Italian league should take control of broadcast production and distribute it via platforms such as Netflix and Amazon Prime Video. Spain's LaLiga offers such a service via Prime Video in the UK, as does the Premier League via Disney+ Hotstar in India.
That's all for this week. If you enjoyed reading The Playbook, please share it with your friends, family, and colleagues. Please also subscribe to it (for free) if you haven't already.
You can reach out to me at jaideep@thesignal.co with any feedback (good, bad, or ugly), tips, and ideas. I'd love to hear from you!
Thanks for reading, and see you again next Friday!