Discover more from The Playbook By The Signal
A weekly newsletter that goes beyond the headlines and gives you all the necessary signals you need to understand India's sports and gaming industries better.
Over 9,000 subscribers
Indian sport has a massive employability gap. Is edtech the solution?
Since the pandemic, there's been a spurt in the number of sports-focused edtech companies trying to upskill candidates who're looking to work in India's sports industry. It's a challenging task
Good evening,
Welcome to The Playbook, a weekly newsletter on the business of sports and gaming. If someone shared this newsletter with you, please hit the subscribe button below — it's free!
Did you watch the Barcelona-Manchester United game last night? What a match! The magic of Thursday night football, amirite? Who needs the Champions League? The Europa League is where all the quality, top-tier football is!
Jokes aside, the next few days are huge for Manchester United. And I'm not talking about what happens on the football pitch. Friday 10 pm UK time is the deadline for interested parties to submit initial bids for potentially buying the club from the Glazer family. According to reports, investors from Qatar, Saudi Arabia, and the United States are expected to bid, along with British petrochemicals billionaire Jim Ratcliffe. The Glazers reportedly want at least £5 billion ($6 billion).
Will Manchester United become the next Gulf state-owned club? It would bring with it several complexities, such as satisfying European football governing body Uefa's rules about multi-club ownership. Entities linked to the Qatar and Saudi Arabia royal families also own Paris Saint-Germain and Newcastle United, respectively. There's also the small matter of sportswashing.
Anyway, let's see what happens. Today's edition, though, isn't about the business of European football. It's a topic much closer to home.
Filling the massive employability gap in Indian sport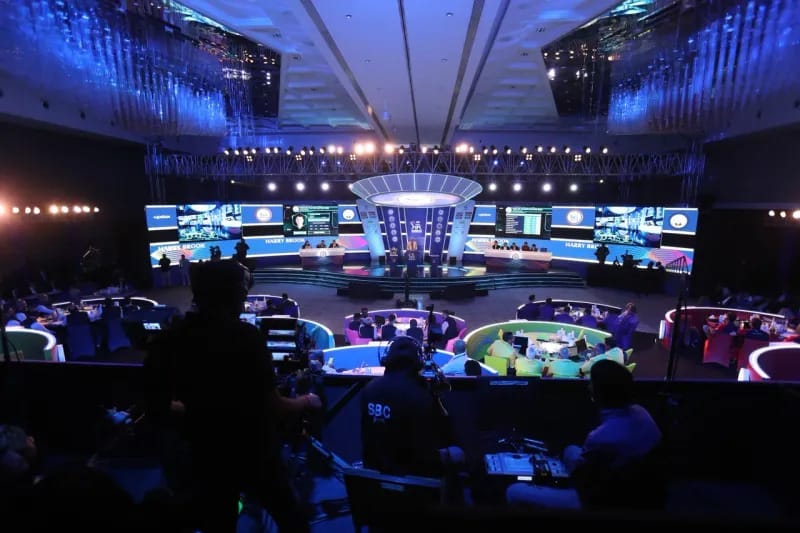 Photo credit: BCCI
Earlier this month, I received an email from my alma mater inviting me to an alumni meet. Not only did this make me realise it's been 12 years since I graduated (!!) but it also made me think about my journey since then. Basically, how someone with an engineering degree (yes, I'm one of those) is today writing a newsletter on the business of sport.
To cut a long story short, I loved watching sport, I liked to write, and I had realised fairly early during my engineering course that semiconductors and circuits weren't my cup of tea. So, as soon as I graduated, I started looking for an internship in the media. Luckily, my first editor took a punt on me, and 12 years later here I am.
I also wondered how different my path would be if I was 12 years younger and looking to convert my passion for sport into a career today. The world has changed significantly in the last decade and there are a lot more resources available for young graduates and professionals looking to enter the sports industry.
Over the last five years, especially since the pandemic, a number of sports-focused edtech companies have cropped up. Like the Royals School of Business (RSB), the edtech vertical of Indian Premier League franchise Rajasthan Royals. Starting with a single course on sports marketing in early 2020, RSB today offers 16 online programmes in topics such as sports analytics, sports psychology, sports nutrition, and sports physiotherapy. Some of the courses are offered in partnership with Australia's Deakin University, which is known for its sports-focused programmes.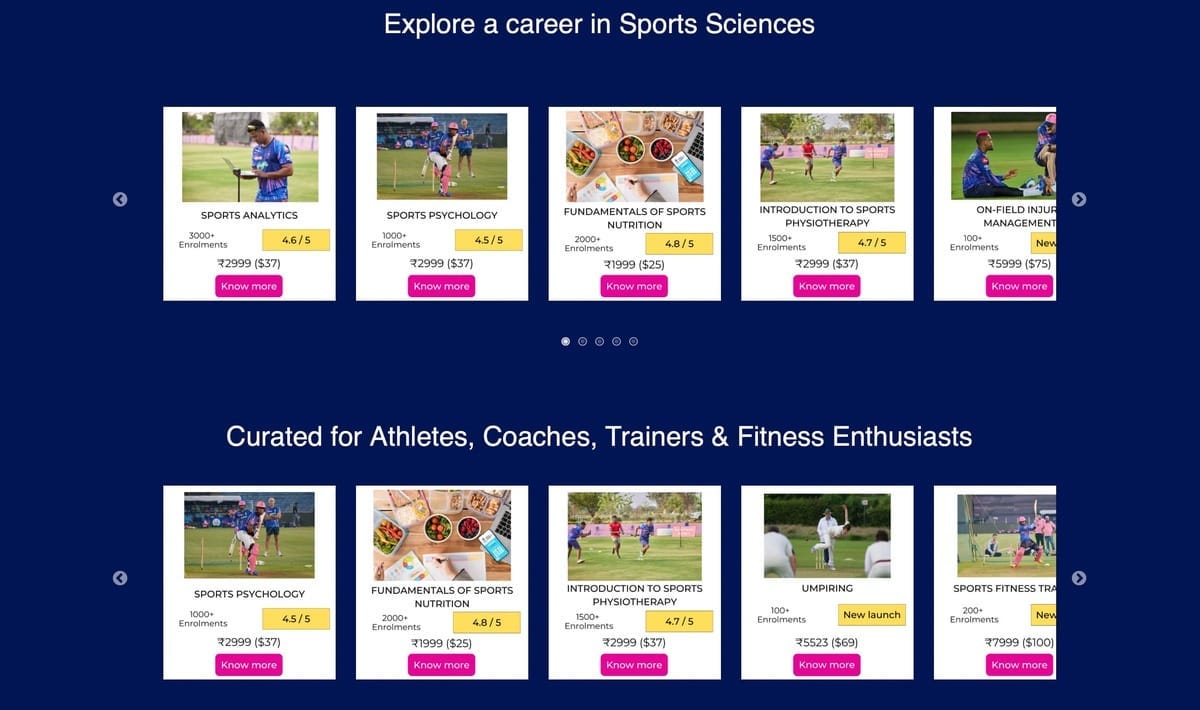 Screenshot from the Royals School of Business website
There's Sporjo, founded in May 2020, which is less an edtech and more a mentorship, upskilling, and employability platform. It's run by G Srinivvasan, a sports industry veteran with over two decades of experience working with organisations like Reliance Sports, the Board of Control for Cricket in India, and Nike. Last year, Sporjo launched a programme in partnership with IPL franchise Mumbai Indians.
Other companies include Equal Field, launched late last year, which offers a 12-week online programme covering topics such as sports writing, sports analytics, sports marketing, and the economics of sport. There's CoLLearn, a four-year-old company that started off as an edtech covering niche subjects like YouTube content creation and design thinking, but today sees 95% of its business coming from sports-related courses. And there's Mad About Sports, launched in 2021, with courses in cricket and football analytics, sport management, and sports journalism.
These are just some of the names I came across during my research. They've each got different business models: some have pre-recorded masterclasses, while others have live sessions; some offer individual courses, while others offer a cohort-based learning programme with multiple subjects; some offer only courses, while others offer mentorship and career guidance as well. The prices, thus, vary from a few thousand rupees to over a lakh, depending on the structure.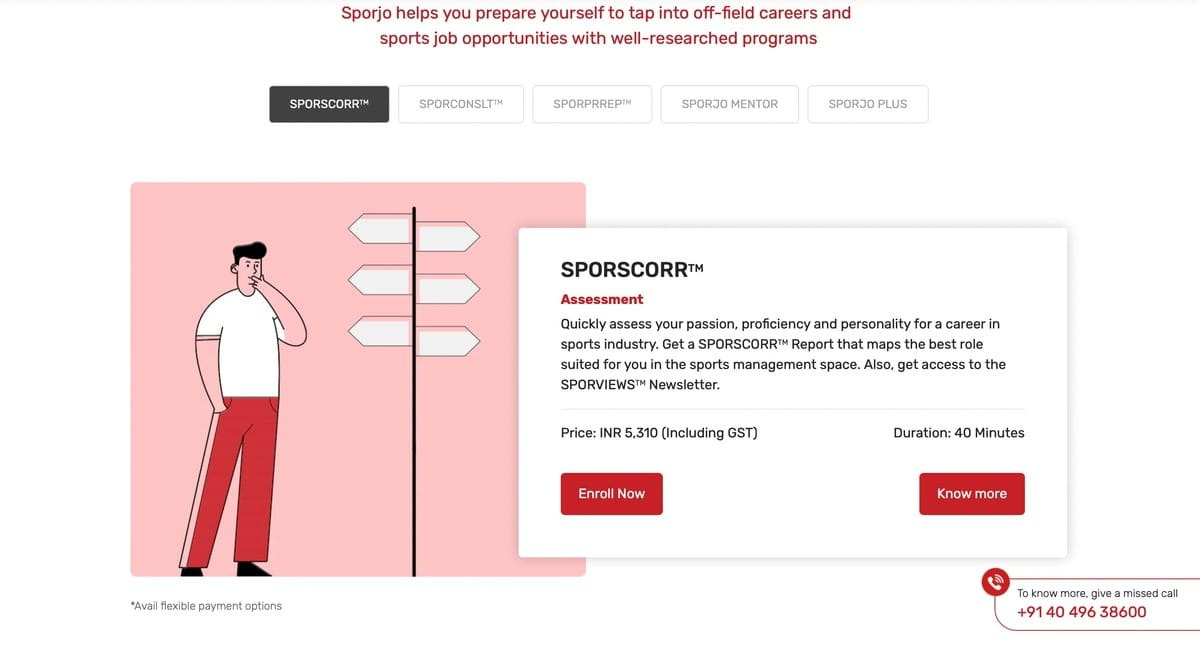 Screenshot from Sporjo's website
Driving this spurt in the number of sports edtechs in the last few years is India's booming sports industry, which was worth ₹9,530 crore ($1.15 billion) in 2021, according to a report by media investment firm GroupM. That's up from ₹6,400 crore in 2016. While 2022 figures haven't been released, the industry has only grown in the last two years, with the addition of two new IPL franchises, a whole new Women's Premier League, a revamped Premier Volleyball League, and a new Ultimate Kho Kho league. Which means there are a lot more avenues for employment within the Indian sports industry today than a few years ago.
I spoke to some of these sports edtechs, and they all had a similar reply when I asked them what their motive was and what gap they were trying to fill. Here's what an RSB spokesperson told me:
"Our mission is to shape the sports professionals of tomorrow. There is a huge chasm between the number of jobs available in the sports industry and the number of skilled sports professionals. We are trying to bridge that gap by democratising sports education, making it more accessible and affordable for everyone."
  Royals School of Business spokesperson
Sporjo's Srinivvasan, who hired people across various disciplines during his long-spanning career in sport, concurs that it's difficult to find quality talent.
"The value exchange in sport is very different. You can't expect a regular sales guy to come and do sports sponsorships. Employers need candidates to be a little job-ready because they don't have the time, the infrastructure or the resources to train people. Even if you're coming from a different industry, you need to have transferable skills that will help the organisation. That's lacking in the Indian sports industry, and that's the gap we're trying to fill at Sporjo."
  G Srinivvasan, founder and CEO, Sporjo
Before these sports edtechs entered the picture over the last three-four years, it's not like there was no sports education available in India.
Institutes such as Symbiosis International University and the Indian Institute of Social Welfare & Business Management (IISWBM) have been offering post-graduate diplomas and even MBAs in sports management. The Indian Institute of Management Rohtak also has an executive post-graduate diploma in sports management.
Apart from these legacy colleges, the last decade or so has seen the birth of institutes that focus on sports management. Like the Indian Institute of Sports Management (IISM), founded in 2010, and the Global Institute of Sports Business (GISB), launched in 2018.
The edtech companies feel they offer more value than sports management programmes at institutes since their courses are not only cheaper, but also shorter and more relevant to the needs of the industry.
"Most colleges only focus on operations and event management," said Srishty Jain, founder and CEO of Bengaluru-based CoLLearn. "They don't teach subjects like sports analytics and multimedia journalism, which are becoming more important to corporates. Indian colleges also have a touch-and-go approach, where they'll touch upon many subjects but won't go deep into them. As an edtech, we can also adapt to industry shifts faster than colleges, where changing the curriculum takes a lot of time."
Screenshot from CoLLearn's website
Nikhil Kalro, founder and CEO of Altletics, the parent company of Equal Field, said that their three-month weekend-only course allows people to continue working and gauge whether sports interests them without making a full-time commitment. "Basically, in three months, we'd like you to figure out whether you want to be in sport or not." He added that "sports management courses are also 10x more expensive and taught by professors, while our courses are taught by industry professionals".
While Symbiosis and IISM did not respond to my request to participate in this story, Neel Shah, associate dean at GISB, told me that the Mumbai-based institute gets sports industry officials to deliver lectures.
"Our course was designed by industry leaders who have worked in the field of sports management for 20-30 years. We've also entered into an educational partnership with the University of Massachusetts Amherst, which offers the number one sports management programme in the world. Their faculty travel to India and deliver some of the courses. In addition, we have a partnership with the Premier League, who provide live project opportunities and organise a study trip to the UK for our students."
  Neel Shah, associate dean, GISB
Of course, this comes at a cost. The tuition fee for GISB's 15-month postgraduate course is ₹12 lakh (~$14,500). Shah said that edtech serves an important purpose of taking education to the masses and making it accessible and affordable. But the Indian sports industry is still quite nascent and unstructured, so mentorship and guidance aligned with online education is essential.
"It's one thing to learn sports marketing, sports analytics and other topics online, but the real essence is understanding how one can actually apply this knowledge in the industry. At GISB, we look to integrate individual mentorship and guidance into every programme that we offer," he added.
Institutes like GISB also give Indian students an option to study sports management full-time in their home country rather than going to foreign universities, where the curriculum doesn't resonate much with what's happening in the Indian sports industry. Courses at foreign universities are also more expensive. For instance, a Master of Business (Sport Management) at Australia's Deakin University costs A$30,600 (₹17.4 lakh). That's not including other expenses like accommodation, cost of living, and flight tickets.
"What they teach you in Australia has little relevance to what can be applied in India," said Toshan Patil, co-founder and director at sports marketing and consulting agency Meraki Sport and Entertainment. "These kids take loans of ₹20 lakh and then when they come back to India, not only have they not learnt anything of use, but also incurred a debt. So, they expect salaries that are unsustainable as per the Indian sports industry. They want more money than some of my senior leadership."
Patil, however, also added that students who graduate from Indian sports management institutes are hardly any better prepared. "I have to teach them everything from scratch. I've had many colleagues tell me the courses are not worth it. If they do well, it's not because of any course but because they are intelligent." As for edtechs, he said there isn't much you can learn from online courses that cost a few thousand rupees. "Most of the stuff they teach is readily available online on platforms like YouTube."
Patil suggested going for a conventional, generic degree rather than specialising in sport. Like a BBA/MBA, economics, finance, law, or even psychology.
"The best sports marketeers are lawyers because the entire idea of leveraging sport is how do I structure agreements for rights and entitlements. A law degree trains you to pay attention to details and consume copious amounts of information and make sense of it. Those skills are easily adaptable across various functions of sport [sic].
"Even a degree in psychology or philosophy can be of immense benefit in the sports industry, as you can learn more about why fans behave the way they do. ​​And while pursuing these degrees, approach people in the industry for internships or volunteering at local sports events."
  Toshan Patil, co-founder and director, Meraki Sport and Entertainment
Vishal Jaison, co-founder of sports management firm Baseline Ventures, concurred, saying that a generic degree also gives you a fallback in case you realise you don't want to work in sport anymore. However, he believes doing an online course in sports management isn't a bad idea since it can "provide a bridge between what you've done and what's applicable in the sports industry".
Another important point that both Patil and Jaison made is that there just aren't enough jobs in the Indian sports industry right now to cater to the demand. Sports management institutes are churning out talent for jobs that don't exist.
"There are only three jobs in the Indian sports industry—operations, sponsorships, and marketing," said Patil. "As for the rest… there are about 50 people in this country today who sit and decide how a league should be structured, etc. When franchises bid for teams, they take the opinion of consultancies like EY, Deloitte, KPMG, and PwC. And the people who advise them from these firms haven't done sports management. It's all about aptitude and having a strong base to build from."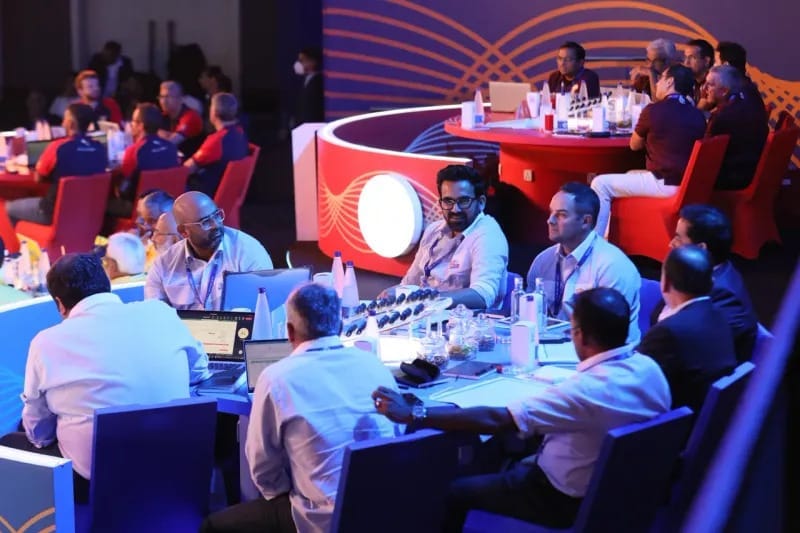 Photo credit: BCCI
I spoke to someone who's actually done one of these sports management courses. Shrey Somani graduated with a bachelor's in sports management from IISM in 2021. Today, he works at sports marketing firm ITW Consulting as a sales and sponsorship associate. But he's one of the lucky few among his batchmates who found full-time employment in the sports industry.
"You mostly only get internships or contract jobs for the duration of a league or sporting event. There are only a handful of companies in Indian sport that hire on a full-time basis. In my batch of about 120 students, only 25-30 found full-time employment. India is still not a multi-sport nation like the US or Australia, where there are enough jobs to sustain the demand."
Somani also recommended getting a generic undergraduate degree rather than specialising in sports management. "Keep your options open," he said. "If you want to specialise, keep it for postgraduate studies."
Jaison, however, said that things have definitely improved from the time he started working 18 years ago. With more leagues, teams, and sports companies cropping up in India, employment opportunities will only grow. "But as of now, demand is definitely more than supply."
To sum it all up, there is high demand for a limited number of full-time jobs in the Indian sports industry. At the same time, sports companies are struggling to find good candidates with the requisite skills and practical knowledge to be effective. To bridge this gap, businesses are trying out various models: edtech, mentorship programmes, and full-fledged sports management courses.
Which one is the most effective? The jury is still out.
⚡️Quick Singles
🏎️🇮🇳📺 Formula One has quietly launched its direct-to-consumer streaming service in India, called F1 TV. Watching live races will cost an eye-watering ₹2,999 a year. Meanwhile, there's no sign of F1 content on Disney+ Hotstar. Which means, two weeks before the 2023 season begins, F1 hasn't managed to negotiate a broadcast deal in India. It seems like Disney is playing hardball, presumably due to low viewership. Looks like the Netflix "Drive to Survive" effect hasn't quite left a mark on India yet.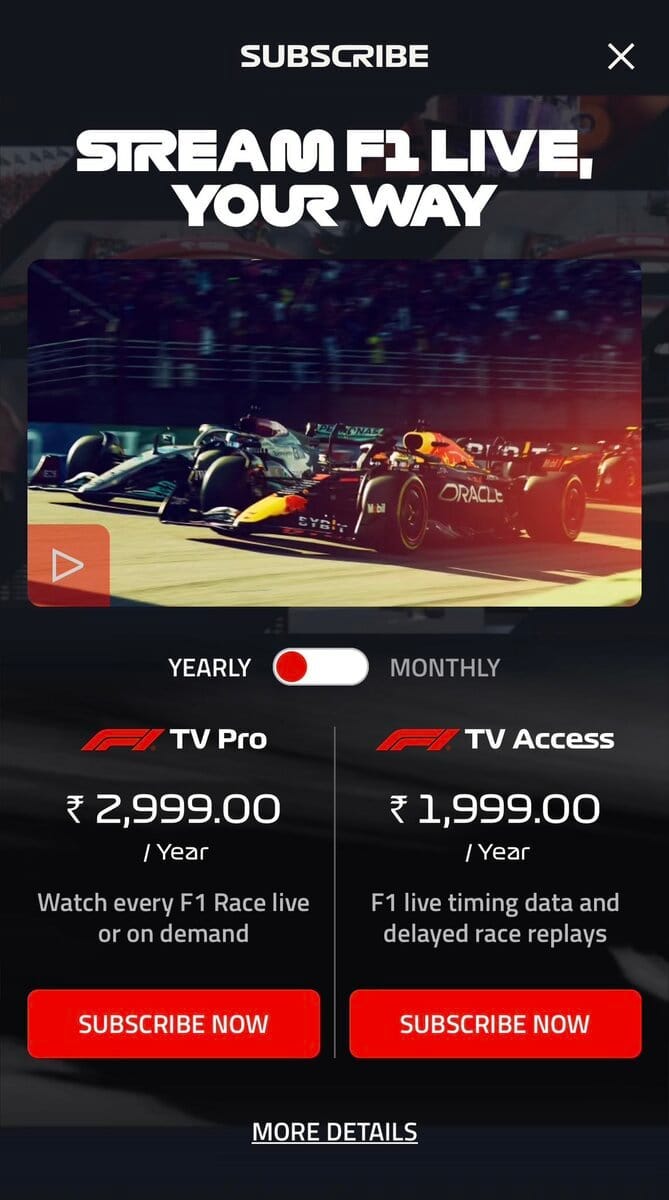 🏏🇮🇳🇸🇦 The Saudi Tourism Authority is joining petro giant Saudi Aramco as an official partner of the IPL this season. Saudi Tourism will replace Indian edtech major Unacademy, which has pulled out as a tournament sponsor. The Saudi Tourism sponsorship is reportedly a multi-year deal worth ₹60 crore per season, which is in line with what most official partners of the IPL are paying.
⚽️🐓💰 While all the attention is on the potential sale of Manchester United, Iranian-American billionaire Jahm Najafi is quietly trying to acquire its Premier League rival Tottenham Hotspur. Financial Times reported that Najafi is working with a consortium of investors to prepare a bid worth $3.75 billion to buy the club from current owner Joe Lewis, a Bahamas-based billionaire.
🎮🇸🇦💰 Saudi Arabia is really stepping up its gaming investments. A series of financial disclosures this week revealed the kingdom increased its stake in publishers Electronic Arts (from 5.1% to 5.8%), Take-Two (5.3% to 6.8%), and Nintendo (5% to 7.1%). The Saudi government-backed Savvy Gaming Group also recently invested $265 million in Chinese esports giant VSPO.
🔵🔴🏟️ Barcelona is looking to raise €1.5 billion ($1.6 billion) from private debt investors in the US to revamp its Spotify Camp Nou stadium. The football club wants to develop new facilities as part of a broader project called Espai Barca. Tottenham Hotspur had also followed a similar route to revamp its stadium.
👀
ICYMI
We have a contender for the greatest catch of all time in cricket. 🤯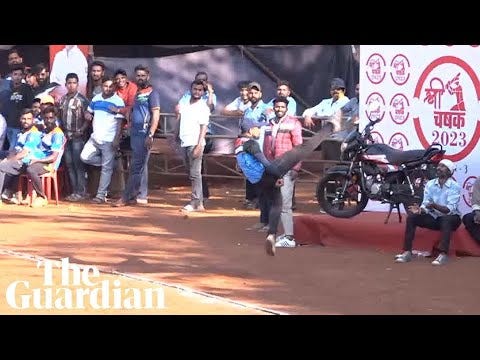 Quick-thinking fielder prevents a six and takes a wicket using his feet
And here's an interview with Kiran Tarlekar, the man whose acrobatics at the boundary rope in a local tennis-ball cricket match in Belgaum made him a social media sensation.
That's all for this week. If you enjoyed reading The Playbook, please share it with your friends, family, and colleagues. You can reach out to me at jaideep@thesignal.co with any feedback (good, bad, or ugly), tips, and ideas. I'd love to hear from you!
Thanks for reading, and see you again next Friday!