Discover more from The Playbook By The Signal
A weekly newsletter that goes beyond the headlines and gives you all the necessary signals you need to understand India's sports and gaming industries better.
Over 9,000 subscribers
No titles, no problem: How Royal Challengers Bangalore built a robust brand
It's about more than just Virat Kohli
Good evening,
Welcome to The Playbook, a weekly newsletter on the business of sports and gaming. If someone shared this newsletter with you, please hit the subscribe button below — it's free!
And just like that, another season of the Indian Premier League (IPL) is upon us. If I said I was excited, I'd be lying out of my teeth. This is an (extremely) unpopular opinion that I subscribe to, but I just can't stand the tournament. A lot of this has to do with the emotional scars I have from earlier in my career when I had to cover the IPL—I won't get into that because it'll be a long rant. But I also feel it's just too much cricket.
That doesn't mean I don't watch the IPL. It's usually on the telly in the background while I'm working or having dinner. But rather than the actual cricket, I keep an eye on the other stuff—advertisements, sponsorships, etc. And that's not just because it's my bread and butter as a sports business journalist. The IPL is a fascinating tournament to study when it comes to the business of sport.
Case in point: today's story.
How Royal Challengers Bangalore built a robust brand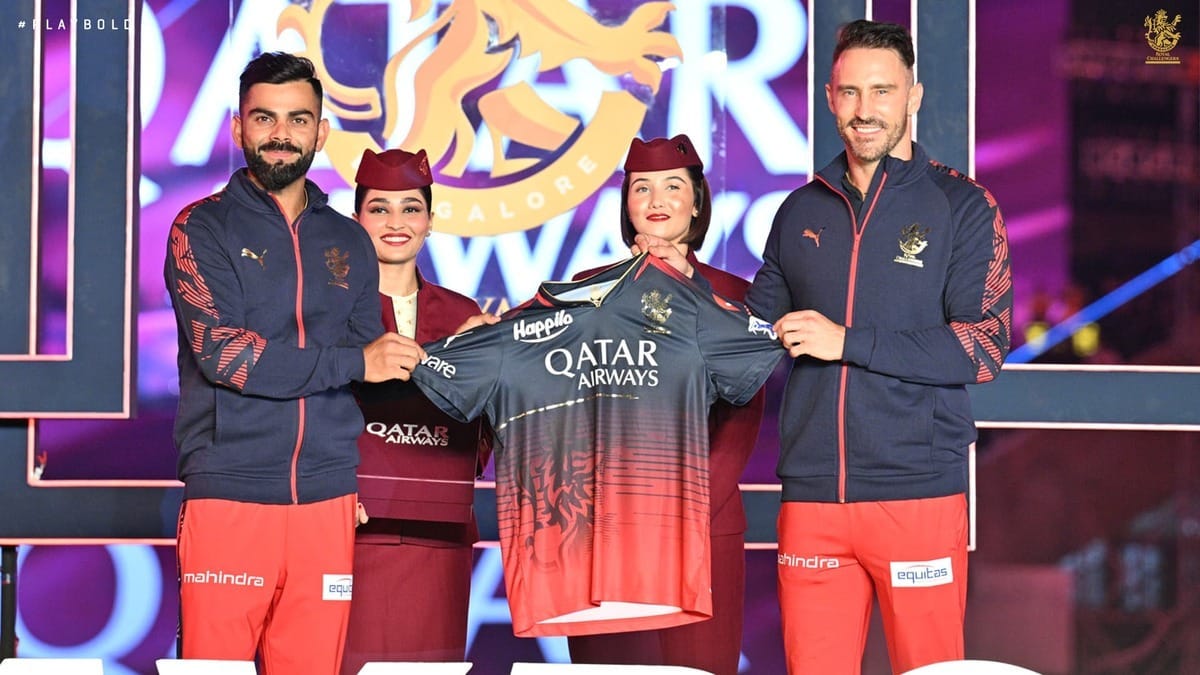 Photo credit: Royal Challengers Bangalore
Earlier this week, Qatar Airways announced that it had signed a deal to become the principal partner of IPL franchise Royal Challengers Bangalore (RCB). While the size of the deal wasn't mentioned, when Mint first broke the story earlier this month, the report said it was worth ₹75 crore ($9.1 million) over three years.
That would make it the second-highest sponsorship deal in IPL history, behind only Mumbai Indians' (MI's) three-year deal with fintech company Slice signed last year, worth ₹100 crore ($12.1 million) per The Economic Times.
But here's the thing: MI are five-time IPL champions—the most successful of the 10 franchises. RCB, on the other hand, have never won the title in 15 attempts. They've finished runners-up three times and made the playoffs on five occasions.
So, then, why are RCB commanding such high sponsorship deals?
Just go to their Instagram page and check out how many followers they have. And compare it with the rest of the teams.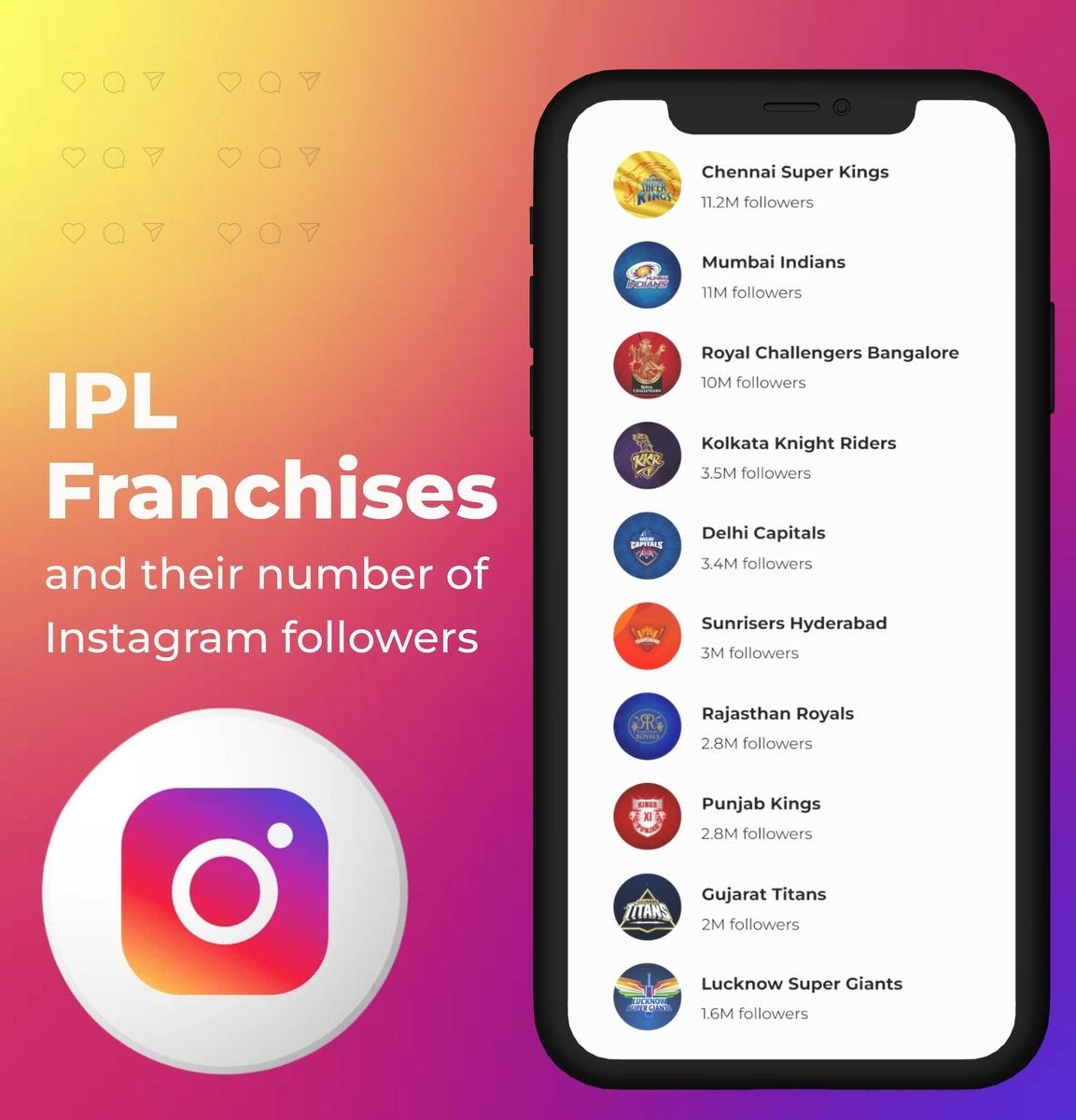 RCB has the third-highest following, behind Chennai Super Kings and MI, who have won nine IPL titles between them. And don't miss the massive gap between RCB and fourth-placed Kolkata Knight Riders, who have won the IPL twice.
Why is RCB in the same league as CSK and MI despite the lack of silverware?
I know what you're thinking—it's because of Virat Kohli. The most prolific and charismatic Indian batter of this generation, and one of the most popular sportspersons in the country, has been associated with RCB since its inception in 2008. But surely, there's more to it than Kohli's charisma that makes sponsors pay top dollar?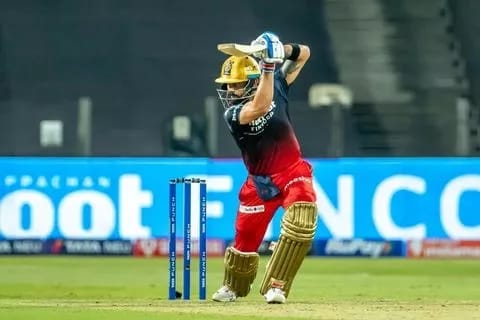 Job done. ✌️
@royalchallengersbangalore
To understand how RCB have built their brand over the years, we need to go back to the very beginning.
The Mallya years
In June 2005, Indian alcoholic beverages company United Spirits Limited (USL), headed by liquor baron Vijay Mallya, acquired its rival Shaw Wallace for ₹1,545 crore (~$350 million at the time). Shaw Wallace owned popular whisky brands such as Royal Challenge, Director's Special, and Antiquity, which competed with USL's McDowell's No 1, Signature, and Bagpiper. Three years later, Shaw Wallace was merged with USL. The combined entity became the second-largest distilled spirits company in the world.
This was also around the time Mallya made another investment—when the IPL was launched in 2008, he bought the Bengaluru-based franchise for $111.6 million. It was the second-highest bid for a team, behind fellow billionaire Mukesh Ambani's $111.9 million for the Mumbai-based franchise. "I'm delighted that [USL's parent company] UB Group has got it," Mallya told reporters after winning the bid. "United Spirits will now use this as an active promotional platform for all our brands."
And therein lay the main motive.
Alcohol brands are not allowed to advertise in India. Well, not directly, at least. Their modus operandi for decades has been to go via the surrogate route, where they advertise products such as mineral water, soda, and even music CDs under their brand names. Mallya decided to add another surrogate category: a cricket team.
The company decided to use the Royal Challenge brand in the team name because, for one, the name lent itself to a sports team. "Everyone was looking for names like Kings, Chargers, Daredevils... so it was a close fit," says Debashish Shyam, who was the Assistant Vice President, Marketing at USL at the time. "If you look at the colour combination we started with, it was red and gold, which were the Royal Challenge colours."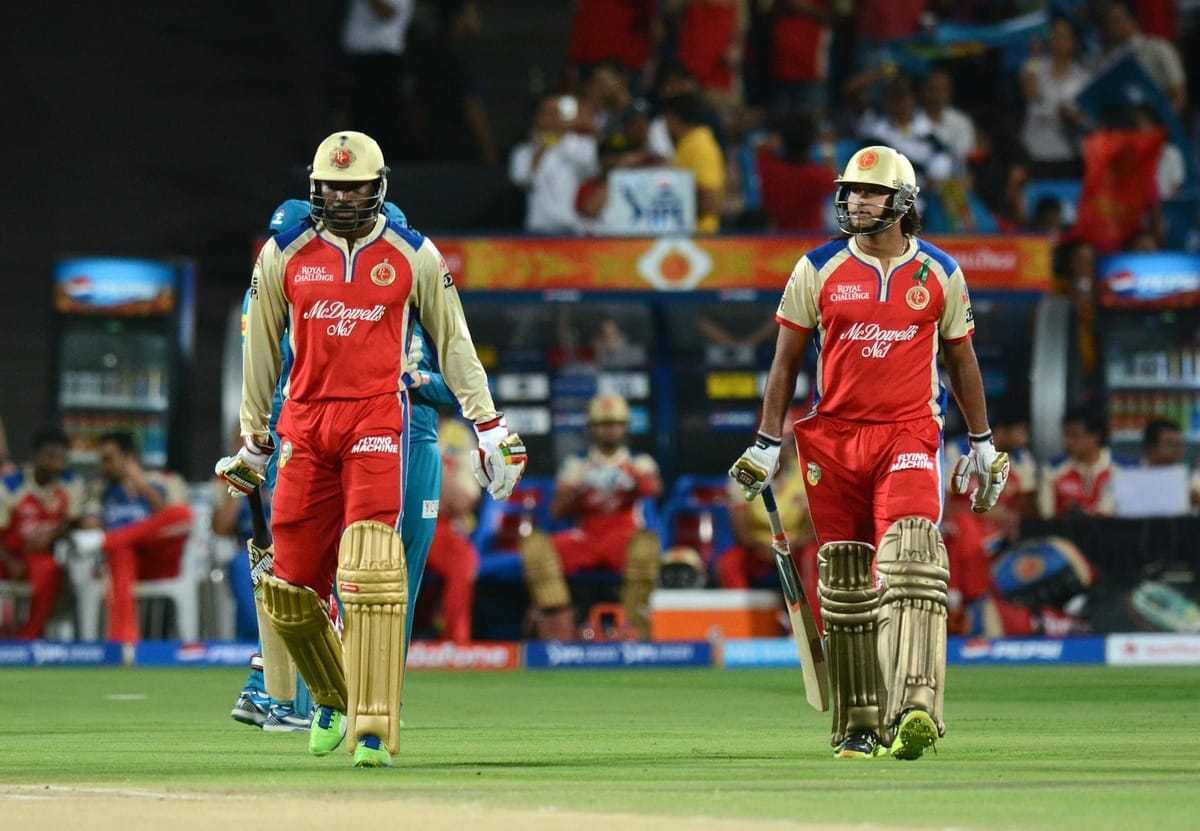 Photo credit: Royal Challengers Bangalore/Flickr/Creative Commons
This branding was also controversial because none of the other teams had done anything similar. "Vijay Mallya was the only man who was allowed to do it," says Shiv Burman, founder of consultancy Burman Sports. "Mumbai Indians couldn't call themselves Reliance Indians, Chennai Super Kings couldn't be India Cements Super Kings. There was a bit of uproar at the time, but RCB got away with it." Burman was Deputy Manager, Sponsorships & Partnerships at IPL franchise Kings XI Punjab from 2009 to 2012, and also led sports management firm IMG's commercial division for the IPL later in his career.
Of course, just the name doesn't make the brand. When the USL marketing team started working on the RCB brand identity, T20 cricket was still a nascent sport, and nobody knew how big the IPL would become, says Shyam. "A large part of our thought process was to treat it as a lifestyle sport and attach it with one of our brands."
A lot of the initial storytelling around the brand evolved from the UB Group and its DNA. Or in other words, Mallya, the ​​professed "King of Good Times". A flamboyant corporate czar who owned an airline and a Formula One team, and whose company sold everything from alcohol to fertilisers, Mallya symbolised the post-liberalisation boom in India's economy in the nineties. The UB Group's annual, limited-edition swimsuit calendar, named after his beer brand Kingfisher, was one of the most prestigious modelling assignments in the country.
"Mallya's personality and the effort he put in on the lifestyle side also helped create a buzz around RCB," says Shyam. "We were the first team with brand ambassadors like [model-turned-actors] Deepika Padukone and Katrina Kaif. We also got Kannada superstars to come for the matches. That helped build a local connect."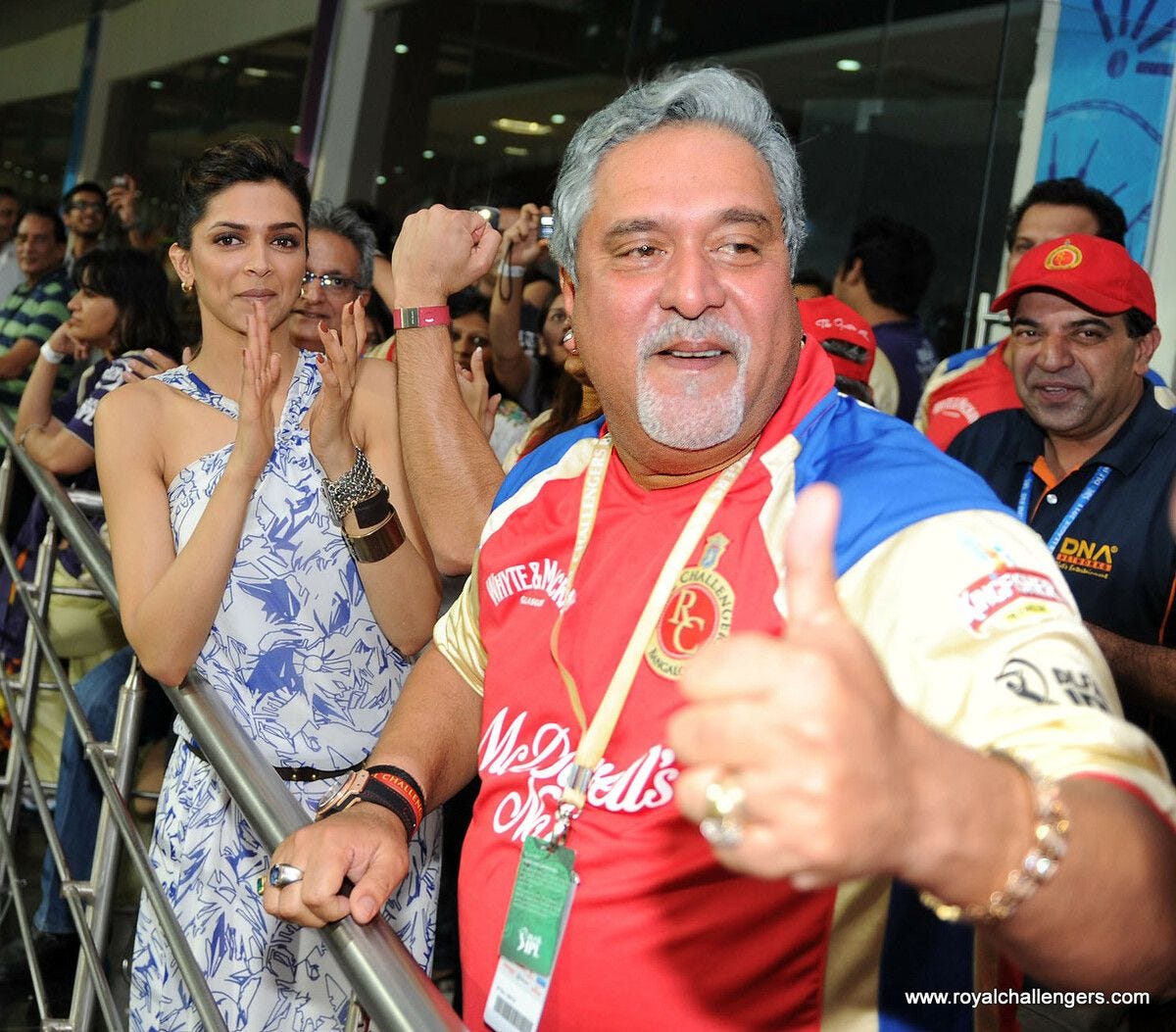 Photo credit: Royal Challengers Bangalore/Flickr/Creative Commons
RCB also hosted the best IPL parties, says Burman. There was an obvious category connection for the company, whose core product was alcoholic beverages. Thousands of people would gather outside the team hotel where the parties were hosted to catch a glimpse of their favourite cricketers. That's when RCB started building a connection with the young, urban crowd. "Mallya wouldn't leave a stone unturned to keep that lifestyle brand image alive," adds Burman. The infamous IPL after-match parties were discontinued after the 2013 spot-fixing controversy.
RCB had a dedicated marketing team right from the beginning, and it helped that USL had experience in building consumer-facing brands. RCB got onto the digital bus early. It had a website, a Facebook page, and a digital agency running activations around the brand from the early days. One such activation was the Fanatic Fans Challenge, where the brand ran a contest to pick a handful of fans who got to travel with the team as bloggers and photographers.
"It gave a lot of fans an inside view of what was happening with the team—how the players practised, had meals together, what they did on off days… it was content that no one else had access to," says Sridhar Rajaram, senior brand manager at RCB from 2008 to 2012.
These types of activations helped create a community around RCB. And more importantly, it got fans to engage with the brand regardless of how the team performed on the field. "What fans saw was a brand that was deeply engaging with them and being very transparent," says Sridhar. "And the fans reciprocated. So, even when the team wasn't doing well, they continued to support and be heavily engaged with the brand. Their association with the team went beyond the players and their performance."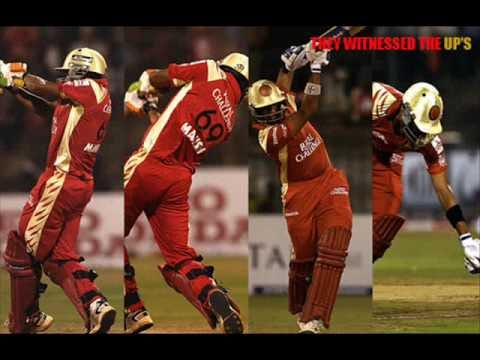 RCB - Flashback to Fanatic Fans Challenge 2009 (Royal Challengers)
None of the other franchises ran such activations, at least in the initial years. Most teams either left it to the fans or characters within the team to define what the brand would look like. For example, Chennai Super Kings' whole brand identity comes from its icon player, MS Dhoni. Kolkata Knight Riders' personality, at least in the initial years, came from its celebrity co-owner, Bollywood superstar Shah Rukh Khan. "Mumbai Indians was the only other franchise that spent money, time, and effort in building the brand inside out," says Sridhar. "The others were built outside in—how fans looked at it, how the founders looked at it, how the team performed, etc."
RCB built a fan base not just in Bengaluru, but also in other parts of the country by doing on-ground activations during away matches. The USL team would travel to the venue two days before the match, meet its retailers and distributors, and organise meet-and-greets with the team, says Shyam. "All of that led to a community feel around the team."
The brand also started taking up sustainability initiatives around 2010-11. It got the Bengaluru municipal corporation to run extra buses to the stadium, launched carpooling solutions for fans commuting to the stadium, the team bus started using solar panels, and the M Chinnaswamy Stadium became the first Indian stadium to be completely solar-powered. "We had an agreement with Bengaluru city's power supplier to give us a special line to the stadium that was connected to solar power. We paid a premium for it," says Sridhar. Meanwhile, RCB also started wearing green jerseys for one home match every season. In 2013, it claimed it had become the world's first carbon-neutral cricket team.
Royal Challengers Bangalore

@RCBTweets
We, as team RCB, have always believed that going green is the best way forward. This Earth Day, let's all team up and do our bit to save our planet. Let's recycle, re-use, replenish. #RCBGreen#PlayBold#EarthDay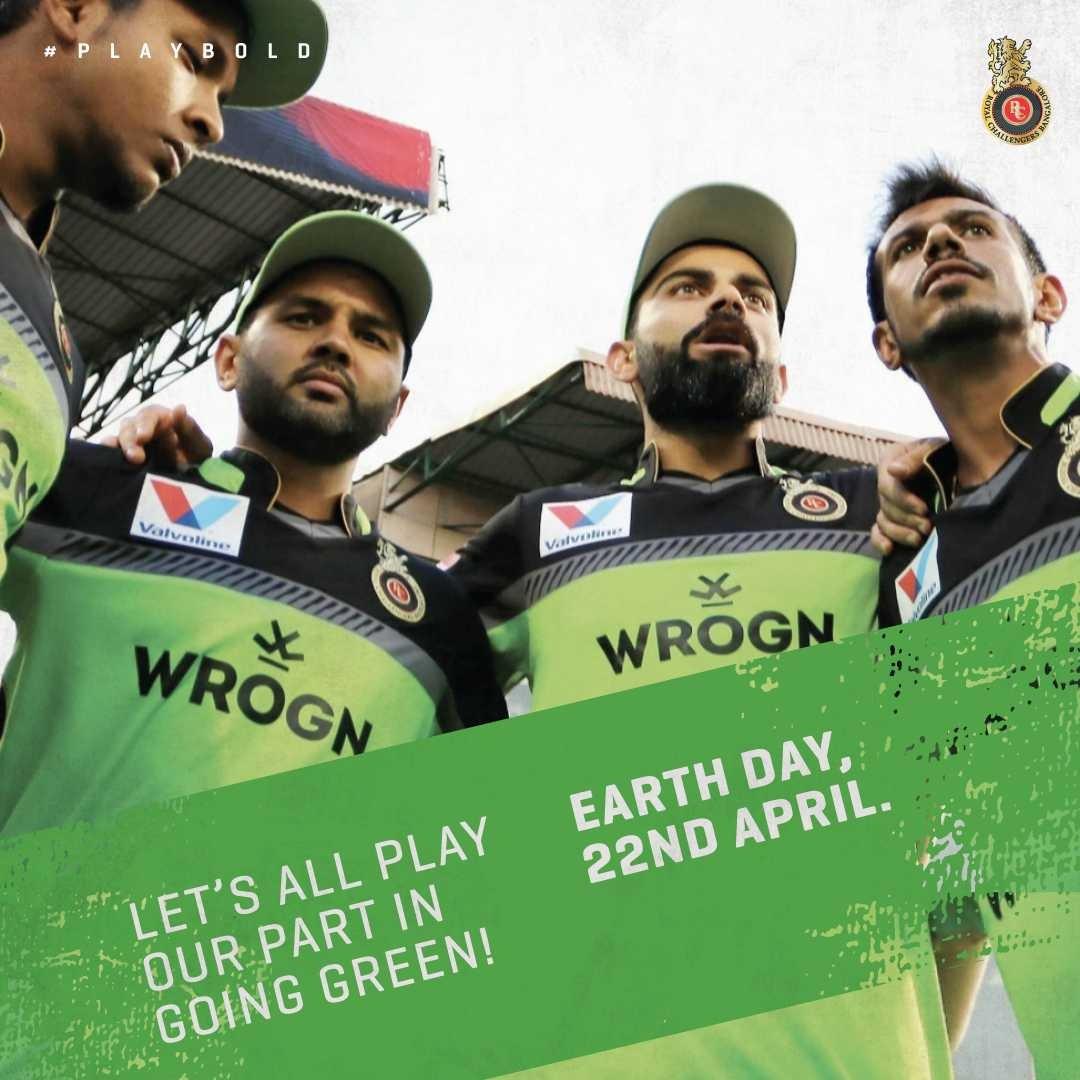 Apr 22, 2019
3.54K Likes   259 Retweets   17 Replies
As a result, the RCB brand had already established itself by the time the terrific trio of Virat Kohli, Chris Gayle, and AB de Villiers came into their own around 2012 and completely changed T20 batting. They're often credited with being the reason why RCB has such a big following; while that may be true to some extent, both Shyam and Sridhar believe their flamboyance and charisma just added another layer to the already established RCB brand. And despite the team still failing to win titles, on-field results never became an issue because the core RCB brand was imbued with characteristics beyond performance.
There's no denying that Kohli, Gayle, and de Villers boosted the RCB brand. Especially Kohli, who had a glorious purple patch in the mid-2010s, which also saw him become both the India and RCB captain. This was when RCB also realised the value of a top marquee athlete. Which is why the franchise spent nearly 30% of its Women's Premier League auction budget on just one player: India batter Smriti Mandhana.
The Diageo takeover
Kohli's rise also coincided with the fall of Mallya—not that there's any connection. In late 2012, British alcoholic beverages major Diageo, the maker of Johnnie Walker and Guinness, acquired a majority stake in USL for $2.1 billion. This was after Mallya's Kingfisher airline was grounded because of at least $1.4 billion in unpaid loans, safety concerns, and unpaid staff. Since Mallya and the UB Group had backed some of the loans, creditors pressed them for repayment and eventually dragged them to court. Mallya's assets, including the luxurious Kingfisher Villa in Goa, were seized.
In 2016, Mallya fled India after being accused of money laundering and bribing bank officials, among other offences. The Indian government cancelled his passport and said it would ask the United Kingdom, where he had fled, to deport him. Mallya remains a fugitive, although he has always denied it.
Vijay Mallya

@TheVijayMallya
I am an international businessman. I travel to and from India frequently. I did not flee from India and neither am I an absconder. Rubbish.
Mar 10, 2016
2.72K Likes   2.17K Retweets   707 Replies
Meanwhile, as Diageo took over USL, it also got saddled with a cricket team. Globally, the company had never owned any such asset. In 2015, The Economic Times reported that the JSW Group, an Indian conglomerate, was in talks with Diageo to acquire RCB for $100 million. The deal never materialised, and Diageo would be glad it didn't, considering how RCB's valuation shot through the roof in the following years.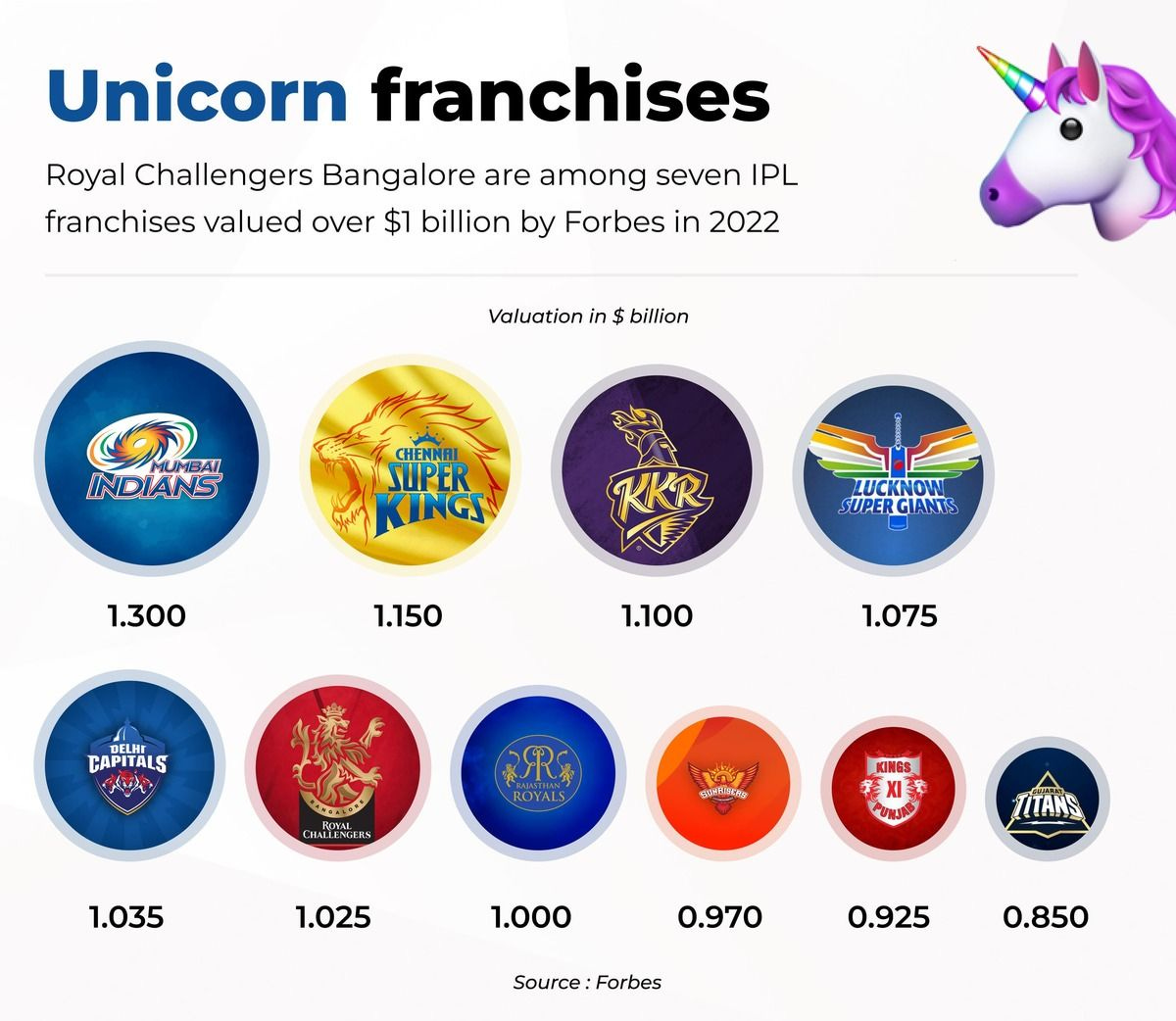 Graphic by Harish Arjun Suresh
As Diageo took charge of RCB, it overhauled the team's sponsorship strategy to become sustainable. The franchise stopped having only in-house brands as sponsors and went to the market to find external partners. Thanks to having players like Kohli, it wasn't difficult to find sponsors.
While RCB under Diageo didn't have Brand Mallya behind it, the company continued with the strategy to make the franchise an urban lifestyle brand.
It played a massive leadership role in content creation around the team, says Burman. "They've collaborated with comedian Danish Sait since 2014-15. He brought a different angle to the content consumption. Other teams were just posting behind-the-scenes content. RCB saw it as a brand development and monetisation tool. They're a lifestyle content company." Diageo India did not respond to my request to participate in this story.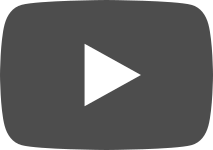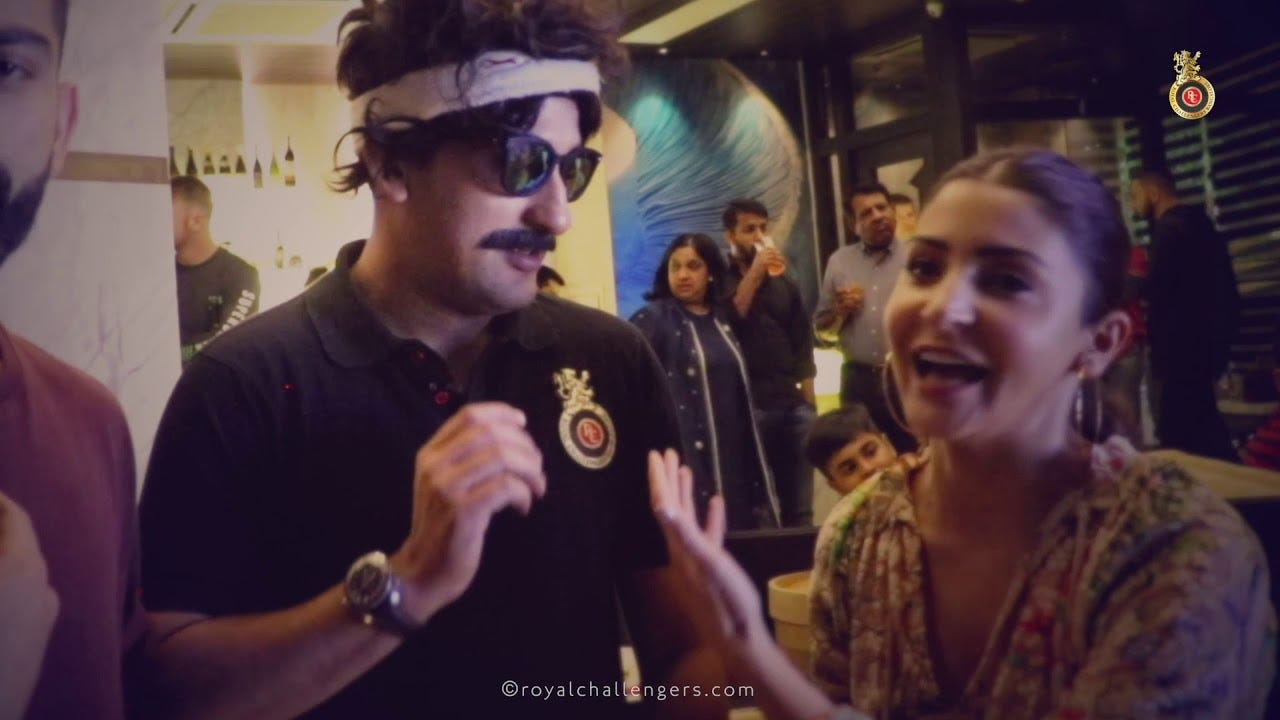 #RCBInsider Mr Nags throws a Mega Porty #Peas #VIVOIPL2019
RCB also has the best in-stadium hospitality business in the league, adds Burman. "It's very premium; it has the best booze flowing, of course. RCB has the highest number of hospitality zones, starting from ₹8,000 (~$100) to ₹42,000 (~$500). They give their guests a very good experience."
In late 2020, Diageo launched the RCB Bar & Cafe in the heart of Bengaluru, which was a natural brand extension for an alcobev company. It collaborated with sportswear major and Kohli's sponsor Puma for an athleisure line. It launched a fitness platform called Hustle by RCB, a plant-based meat range called RCB Uncut, and a pre-season event called RCB Unbox, where fans can go and see the entire squad practising, along with live performances by artistes such as Jason Derulo and Sonu Nigam.
"RCB spend the money," says Burman. "They'll lose ₹70 crore-₹80 crore ($8.5 million-$10 million) per year on the women's team for the first 5-10 years, but they're not holding back. Who's talking about plant-based meat today? The 1% of India? So, why is RCB doing it? Because they're a progressive brand and want to talk to progressive people.
"That's where IPL teams miss their marketing mix and brand positioning, thinking it's just about the masses. Yes, it is, from a viewership and engagement point of view. But from a direct consumer monetisation standpoint, you're only talking to 5-10 million Indians who can spend lifestyle money. RCB is very clear on one thing—they're building a lifestyle brand," he adds.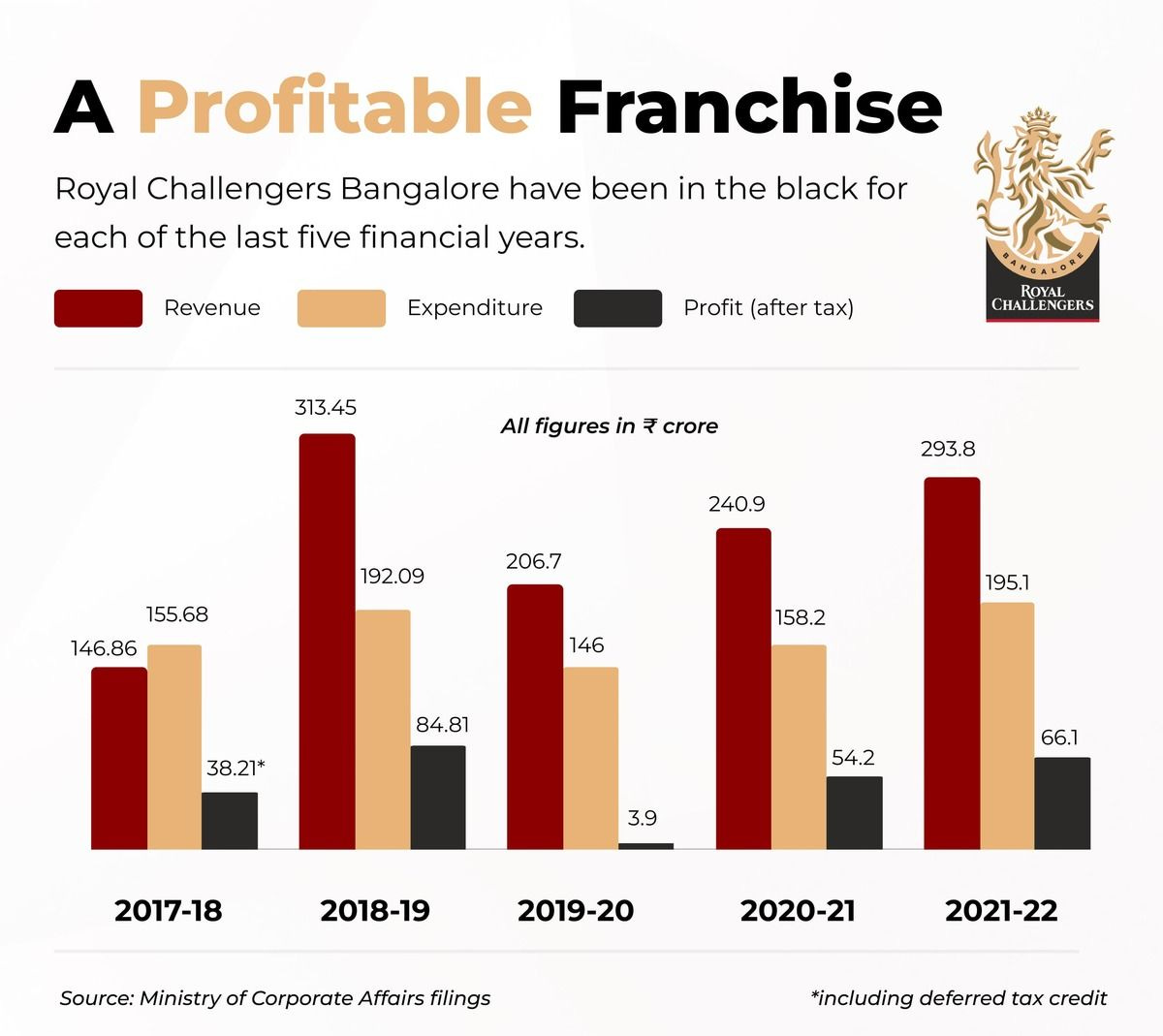 Graphic by Harish Arjun Suresh
In many ways, RCB have been ahead of the game in the last 15 years. They've been very clear about their DNA as a brand from day one, which can't be said about many other teams. The Mumbai Indians are perhaps the only other franchise with a core brand identity and purpose. And that's why these two franchises have the highest engagement among fans and attract big sponsorship deals.
Of course, it would help if RCB also started winning titles. But they've shown over the last 15 years that on-field performance isn't the only criteria when it comes to building a robust brand. Whether it was under Mallya or Diageo, RCB's DNA has barely changed. They know who they are, they identified their purpose, and they built properties aligned to that purpose.
Will RCB be able to carry forward this momentum once Kohli, who's 34, retires? It's something they need to start thinking about, says Burman. But if they continue building properties that have deep connections with fans and other segments of society, they should be able to sustain it, he adds.
Mumbai Indians won the first of their five IPL titles in 2013, the year their icon player, Sachin Tendulkar, retired. Just saying.
Corrections and clarifications: An earlier version of this edition incorrectly stated that Chennai Super Kings have only 2.2 million followers on Instagram. The error is regretted.
That's all for this week. If you enjoyed reading The Playbook, please share it with your friends, family, and colleagues. You can reach out to me at jaideep@thesignal.co with any feedback (good, bad, or ugly), tips, and ideas. I'd love to hear from you!
Thanks for reading, and see you again next Friday!