Discover more from The Playbook By The Signal
A weekly newsletter that goes beyond the headlines and gives you all the necessary signals you need to understand India's sports and gaming industries better.
Over 9,000 subscribers
Why PSG, Manchester United, Liverpool are all looking for investors
Several factors over the last 18 months have led to the owners of top European football clubs considering either selling a minority stake or an outright sale
Good evening,
Welcome to another edition of The Playbook, which is The Signal's weekly newsletter on the business of sports and gaming. A warm welcome to new subscribers joining this week. If someone shared this newsletter with you, please hit the subscribe button below — it's free!
Remember the Bloomberg feature I shared with you last week on the manufacturing origins of Al Rihla, the official match ball of the Fifa World Cup 2022? This week, thanks to Cristiano Ronaldo, we learnt a bit more about the Adidas football.
I have no idea what an IMU sensor is but this whole Connected Ball Technology sounds like a fancy term for cricket's Snickometer, no?
Anyway, this week's edition is not about the World Cup. It's about football, though. Despite the World Cup going on, there has been a lot of activity in the world of European club football.
Have a few billions to spare? A top European club could be yours
In the last 25 days, three of Europe's biggest football clubs have signalled that they are looking for investors.
Just earlier this week, the Financial Times reported that the Qatari owners of Paris Saint-Germain have held discussions with several investors since the summer for a stake sale of up to 15%. PSG president Nasser al-Khelaifi told the newspaper that the club is seeking a valuation of over €4 billion (~$4.2 billion).
Not only would this be a world-record valuation in football, but also a significant return for Qatar Sports Investments. The state-backed fund had bought an initial 70% stake in PSG in 2011 for €50 million-€70 million, according to reports. Since then, the club has spent around €1.6 billion on superstar players such as David Beckham, Zlatan Ibrahimovic, Neymar, Kylian Mbappe, and Lionel Messi.
However, whatever valuation PSG achieves will likely be eclipsed by Premier League giants Liverpool and Manchester United. Their American owners, the Fenway Sports Group (FSG) and the Glazer family, respectively, indicated earlier this month that they are open to strategic investments and even an outright sale at the right price.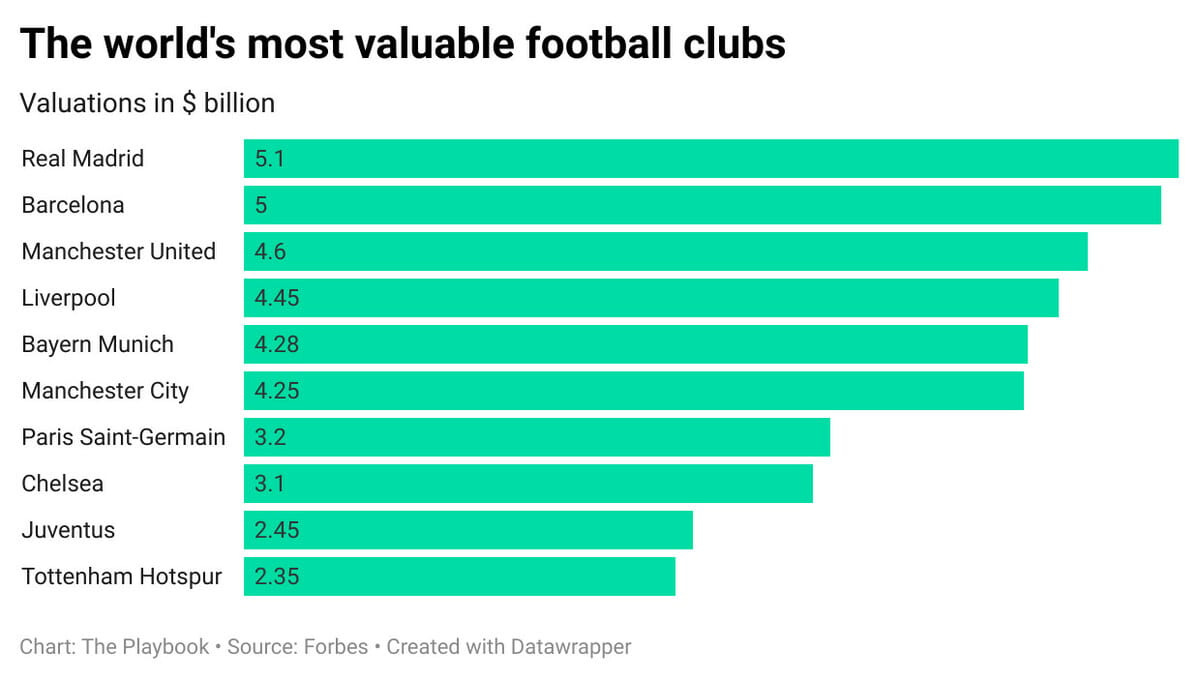 There are a couple of things worth noting here.
One, the popularity of minority stake sales, which is what PSG is looking for. According to a report by financial consultancy Deloitte, more than half of the 40 stakes bought in Europe's top five leagues from 2017 until October this year were minority ones.
PSG's owners have reportedly held discussions with at least two US-based investors and one in Europe, per Bloomberg. And just earlier this month, American private equity firm Silver Lake consolidated its position as the second-largest shareholder in Premier League champions Manchester City's parent company City Football Group by increasing its stake from 14.5% to 18%.
Institutional investors, mostly from the US, have been increasingly investing in European football clubs because of soaring valuations. The Financial Times put this down to a boom in the price of live broadcast rights. The Premier League is expected to earn over £10 billion ($12.3 billion) between 2022 and 2025 via broadcast rights sales.
With Liverpool and Manchester United, though, it's a bit different. While the owners of both clubs are open to investments, reports in the UK media suggest they would prefer an outright sale.
FSG has even prepared a full sales presentation for interested parties, according to The Athletic. As for the Glazers, they've reportedly been looking to sell Manchester United since the summer, but made their intentions public only after Liverpool did so as to not lose any potential buyers to their rivals.
The fact that England's two biggest clubs are potentially up for sale at the same time is unprecedented. Why is this happening?
The roots lie in the collapse of the breakaway European Super League (ESL) last year. Liverpool and Manchester United were among the 12 clubs that conspired to create a closed European league—with no promotion or relegation or the need to qualify, unlike the Champions League. The idea was to maximise the revenue from guaranteed matches against Europe's top teams. However, the plans dramatically fell through within 48 hours of the announcement after a massive backlash from fans, especially in the UK.
Without an ESL, qualifying for the Champions League is crucial for clubs from a revenue standpoint. And with the growing strength of the Premier League, qualifying is no longer a given for top clubs, unlike a decade ago.
Just look at the Premier League table right now. Newcastle United, the newest state-owned club, are in third position. Manchester United are fifth and Liverpool sixth, with only the top four making it to the Champions League. United have failed to qualify for the tournament four times in the last 10 years. Liverpool manager Jurgen Klopp has repeatedly stated that it's impossible to compete with cash-rich state-owned clubs, referring to Manchester City, PSG, and Newcastle.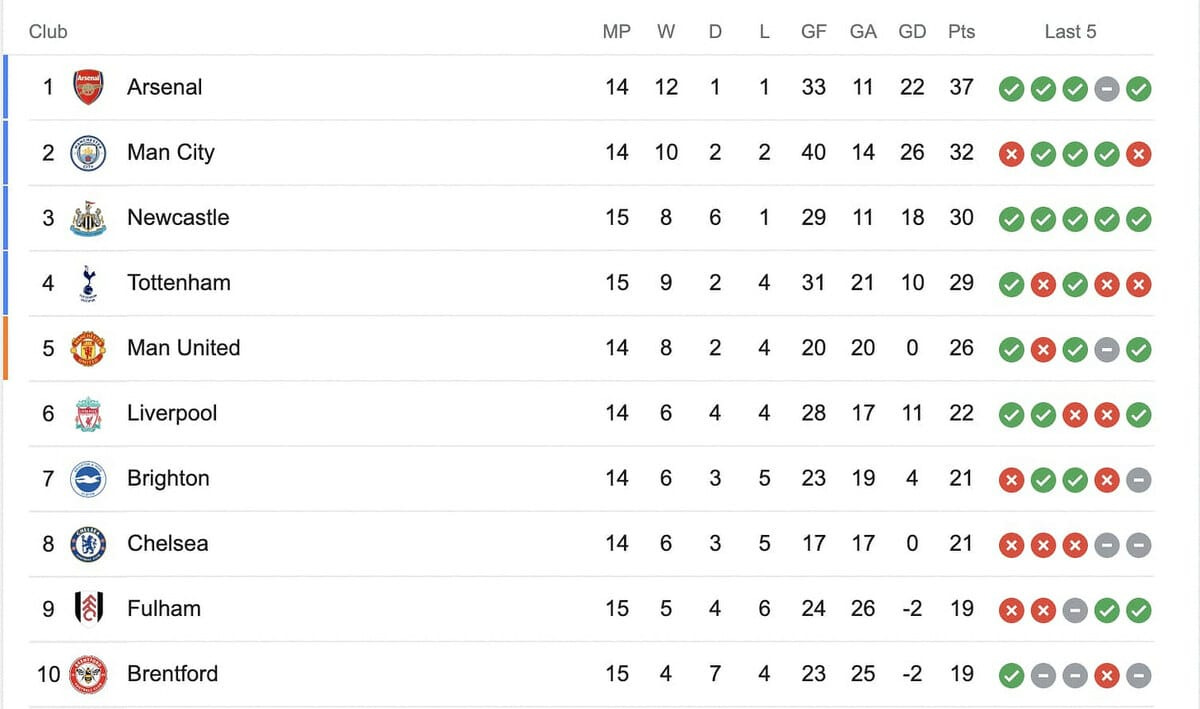 There has also been growing discontentment among fans of both Liverpool and Manchester United with respect to their club's owners. In 2019, FSG was criticised after the club tried to trademark the name Liverpool. And the fans have also lately been unhappy with their lack of investment in players.
As for the Glazers, United fans have been lashing out at them ever since they took control of the club in 2005 in a £790 million ($1.3 billion) deal largely funded by debt. There have been several fan protests against the Glazer ownership over the last 17 years, including a pitch invasion last year that got a match against Liverpool called off.
Manchester United are also seeking to undergo an infrastructure overhaul, including major work on the club's leaky stadium and training centre. In April, the club hired master planners to conduct a feasibility study to determine whether Old Trafford needs to be refurbished or completely rebuilt from scratch. This will require a lot of money, and the Glazers are unlikely to pay for it out of their own pockets, according to reports.
Then, in May, Chelsea Football Club was sold for £2.5 billion ($3.1 billion at the time)—the highest anyone had paid for a football club. The new owners, a consortium led by American billionaire Todd Boehly, also pledged to invest an additional £1.75 billion (~$2.1 billion) in player transfers, the club's stadium and academy, and the women's team.
You can almost imagine the eyes of the Glazers and FSG lighting up when they read the news. Both parties were then advised that it's now the "peak period" for the valuations of top clubs, reported Sky Sports News. If there was any reluctance until then to sell their clubs, the amount of interest that the Chelsea sale generated and the bidding war that ensued probably pushed them over the line. As many as five consortiums tried to buy Chelsea, in addition to a last-minute bid by Britain's richest person, Jim Ratcliffe, that was rejected.
The Glazers have even hired the same US-based bank, the Raine Group, that helped broker the Chelsea sale as Manchester United's financial advisors. The Telegraph quoted sources saying they wouldn't be surprised if some of the groups that failed to buy Chelsea now turned their focus toward United. According to reports, the Glazers could seek as much as £8 billion-£9 billion ($10 billion-$11 billion). They've already claimed that the club has 1.1 billion fans worldwide, although it's a bit absurd to think that every eighth person on earth is a Manchester United fan.
Considering the global economic downturn this year, it'll be interesting to see how investors react to so many top clubs looking for investments. Even 19-time Italian top-division champions Inter Milan are reportedly up for sale.
The next few months should be very exciting in the business of football.
⚡️Quick Singles
🏏🏴󠁧󠁢󠁥󠁮󠁧󠁿💰 The England and Wales Cricket Board (ECB) has received a £400 million ($490 million) offer from London-based private equity firm Bridgepoint Group for the majority ownership of The Hundred. The ECB, however, is not inclined to relinquish control of its flagship franchise-based league.
🏏🌏 Eighty-two percent of the world's top T20 cricketers don't want to be shackled to a national contract; they want the freedom to ply their trade in lucrative T20 leagues around the world. This was among the core findings of an employment survey conducted by the Federation of International Cricketers' Association (FICA). Note: Indian and Pakistani cricketers were not included in the survey since the two countries don't have a players' association affiliated with FICA.
⚽️🇮🇹 Juventus, one of Italy's oldest and most successful football clubs, has plunged into a crisis. Its entire board, including chairperson Andrea Agnelli, resigned earlier this week amid an investigation into the club's finances. Italian prosecutors have been investigating the accounting of players' salaries and transfers since last year. Agnelli was one of the main architects of the European Super League.
⚽️🇵🇹🤑 Cristiano Ronaldo has received a ridiculously lucrative offer to join Saudi Arabian club Al-Nassr, following his departure from Manchester United. According to reports, the offer is worth anywhere between £100 million ($119 million) and €200 million ($210 million) per year. Ronaldo, 37, will take a call on his future after the World Cup.
🏏🇮🇳 The Board of Control for Cricket in India (BCCI) is reportedly looking to set a base price of ​​₹400 crore (~$50 million) when it auctions the five franchises for the upcoming women's Indian Premier League. The BCCI expects the franchises to be bought for anywhere between ₹1,000 crore ($123 million) and ₹1,500 crore ($185 million).
⚽️🇺🇸 Because of their landmark equal pay deal struck earlier this year, the US women's football team will make more money (at least $6.5 million) because the men's team reached the knockout stages of the Fifa World Cup 2022 than it did by winning the last two Women's World Cups ($6 million in total).
🎮🇮🇳 Mohalla Tech, the parent company of Indian social media startup ShareChat, has decided to shut its fantasy gaming platform, Jeet11. The company is also reportedly laying off 100 employees associated with Jeet11.
🎮📱 Indian gaming unicorn Mobile Premier League (MPL) announced that it has permanently banned over a million user accounts this year. The banned users didn't comply with the rules and resorted to unfair means to manipulate gameplay results in their favour, the company said. This was the latest move in MPL's push to show itself as a "player-first" platform. It had earlier launched a loss protection policy during the Diwali season.
🎮💰 Indian esports startup Gamerji has raised $3 million in a pre-Series A round led by GVFL (formerly Gujarat Venture Finance Limited) and existing investor Unicorn India Ventures. The funds will be used to expand in Southeast Asia, starting with Indonesia and the Philippines, and grow in markets it recently entered, like West Asia and North Africa.
📖 Weekend Reads
⚽️🇶🇦🗣️ If you watched any of Qatar's matches during the Fifa World Cup, you might have noticed a section of colour-coordinated fans sitting right behind one of the goals. Almost all men, they wore identical maroon T-shirts with the word "Qatar" in English and Arabic, and never stopped chanting loudly during the games. They were the Qatari "ultras" — a highly organised fan culture prominent in Europe and South America. The only difference is that the ultras cheering for Qatar weren't in fact Qataris. Check out James Montague's piece in The New York Times.
🏏🇵🇰 Shoaib Akhtar is in full form in this interview with The Guardian, published ahead of England's first tour of Pakistan in 17 years. "Had I been the fittest guy, I would've been the greatest ever," he tells James Wallace.
🎮📱 If you've got a subscription of The Morning Context, check out this piece about how MPL has been struggling to find its next big thing, after failed attempts at getting into esports and building a social gaming community.
📺 The Watchlist
Here's a list of all the World Cup matches to catch over the weekend:
South Korea 🇰🇷 vs Portugal 🇵🇹 | Group Stage | Friday 8.30 pm IST
Ghana 🇬🇭 vs Uruguay 🇺🇾 | Group Stage | Friday 8.30 pm IST
Serbia 🇷🇸 vs Switzerland 🇨🇭 | Group Stage | Saturday 12.30 am IST
Brazil 🇧🇷 vs Cameroon 🇨🇲 | Group Stage | Saturday 12.30 am IST
Netherlands 🇳🇱 vs USA 🇺🇸 | Round of 16 | Saturday 8.30 pm IST
Argentina 🇦🇷 vs Australia 🇦🇺 | Round of 16 | Sunday 12.30 am IST
France 🇫🇷 vs Poland 🇵🇱 | Round of 16 | Sunday 8.30 pm IST
England 🏴󠁧󠁢󠁥󠁮󠁧󠁿 vs Senegal 🇸🇳 | Round of 16 | Monday 12.30 am IST
All matches are live on Sports18 and JioCinema.
🎥🇸🇾 If you're in the mood to watch a movie, check out The Swimmers on Netflix. It's based on Syrian refugee Yusra Mardini's harrowing but inspiring journey from her war-torn country to Europe, to then swimming for the Refugee Olympic Team at the 2016 Rio Olympics.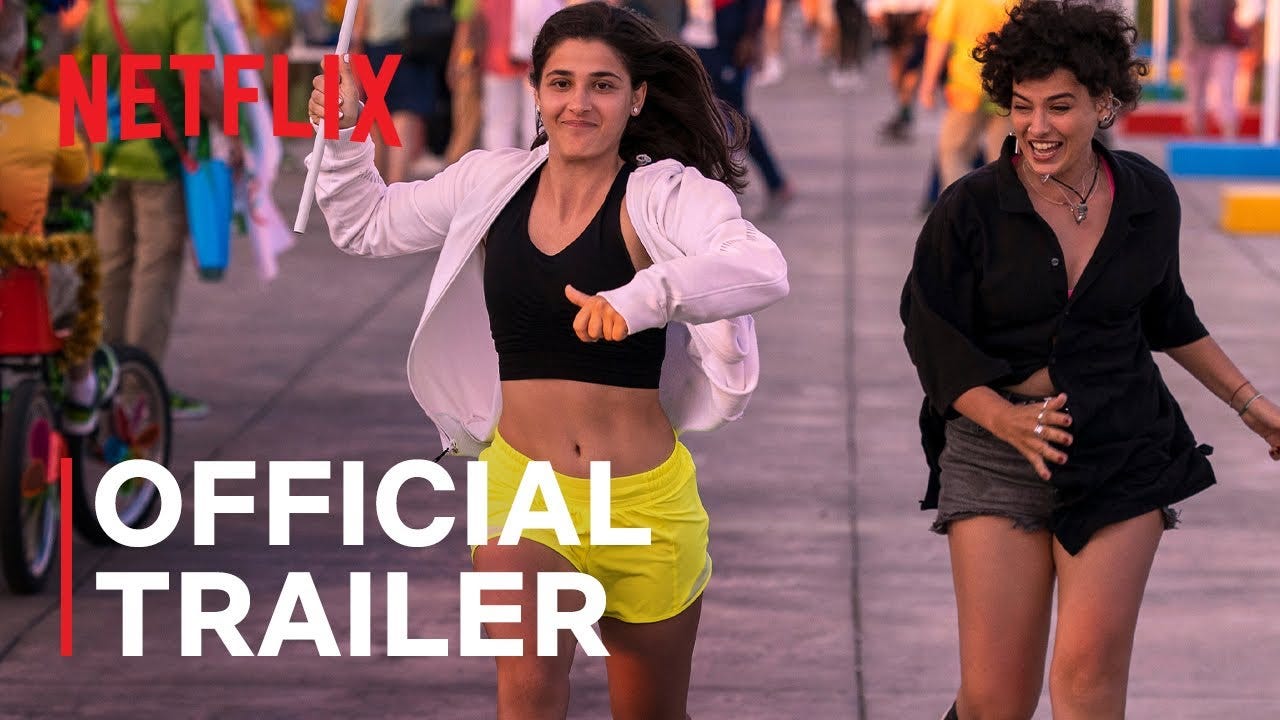 The Swimmers | Official Trailer | Netflix
👀 ICYMI
📢 Abubakr Abbass, a 23-year-old Kenyan, has become an accidental social media sensation during the Fifa World Cup in Qatar. No, he's not a footballer. In fact, he's got nothing to do with the World Cup. He's just one of the hundreds of thousands of expats working in Qatar.
Abbass' job is to sit on a tennis-umpire chair, wear a large foam finger and guide people visiting Qatar's historic market Souq Waqif to the nearby metro station by saying, "Metro, this way," into a megaphone. It's that simple, but the enthusiastic and endearing way in which he says the three words has made him viral.
Meet Qatar's "metro man":
That's all from The Playbook this week. See you again next Friday!
Best,Jaideepjaideep@thesignal.co