Discover more from The Playbook By The Signal
A weekly newsletter that goes beyond the headlines and gives you all the necessary signals you need to understand India's sports and gaming industries better.
Over 9,000 subscribers
Why private equity firms are making a beeline for IPL teams
From RedBird Capital to CVC Capital to, now, apparently, Tiger Global, foreign investment firms all want a piece of the ~$11 billion Indian Premier League pie
Good evening!
Welcome to The Playbook, a weekly newsletter on the business of sports and gaming. If someone shared this newsletter with you or if you've found the online version, please hit the subscribe button below — it's free! You can unsubscribe anytime.
How's it going, folks? It's great to be back after a short vacation, during which I completely switched off and opened Twitter a grand total of zero times. I have no clue what happened in the last couple of weeks. I heard some chatter about a treble, but I think it was a silly rumour. I also heard Sunil Gavaskar got upset about something, but I didn't bother looking it up. I've never been happier. Life is good! 🙃
While I catch up with what has happened in the last two weeks (and avoid all mentions of the word 'treble'), I thought I'll write about something that happened a few weeks ago too.
Enter the Tiger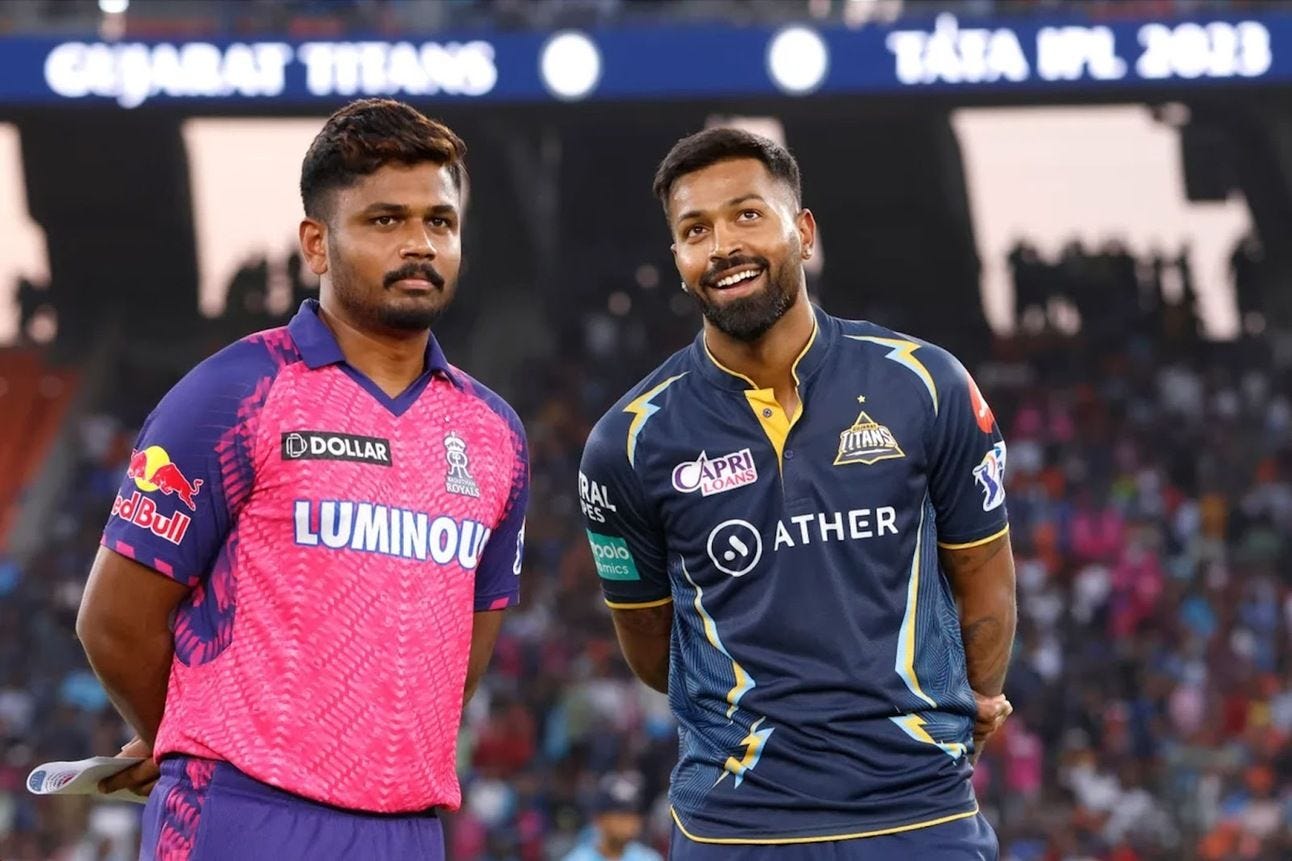 Photo credit: IPL
Late last month, The Economic Times reported that American investment firm Tiger Global is in talks to buy a stake in Indian Premier League (IPL) franchise Rajasthan Royals. The company is reportedly looking to invest $40 million in the Royals at a valuation of $650 million. The investment could be direct or through an existing shareholder of the team.
Tiger Global is among the growing list of foreign investors who want a piece of the IPL, which is worth nearly $11 billion, per a report by consulting firm D&P India Advisory. Another US-based private investment firm, RedBird Capital Partners, had bought a 15% stake in the Royals in 2021 at a valuation of over $250 million. That same year, Luxembourg-based CVC Capital Partners became the first private equity firm to own an IPL franchise outright. CVC paid a whopping ₹5,625 crore ($745 million) for the Ahmedabad-based franchise, which was later christened Gujarat Titans.
Private equity firms have been increasingly investing in sport, especially since the pandemic, which dealt a huge blow to sports organisations around the world. With teams and leagues forced to play matches in empty stadiums for months, they were forced to look for new sources of funds.
For private equity sponsors, a combination of rising valuations of sports teams and leagues, a need for liquidity on behalf of original owners and stakeholders, and a highly fragmented industry that could benefit from greater operational improvement and efficiencies, has turned investing in sports into an attractive bet.
[...]
Recurring revenues stemming from fanatical fan bases, high-quality contracts around sponsorship and advertising, and multi-year broadcasting deals has led brand-name buyout firms including CVC, KKR, Silver Lake, Bain Capital and PEI Media owner Bridgepoint to invest in sports in some way, shape or form.
  The new playbook: How private equity fell in love with sport, Private Equity International
The IPL was a natural fit, with its valuation growing by 75% since 2020, per the D&P India report. This was on the back of the league fetching over $6 billion for its latest five-year media rights cycle last year. And in 2021, the Board of Control for Cricket in India (BCCI), which organises the IPL, earned $1.6 billion by auctioning two new franchises.
"The IPL is among the leading assets in the sports ecosystem across the world right now," says a senior sports investment executive who requested anonymity. "There is no other sports property that has grown at this pace and cracked the top five of the most valuable global sports leagues in a span of 15 years. It's completely unprecedented."
What's more, all IPL teams, apart from perhaps the two newest ones that were formed in 2021, are profitable. The league has reached a stage where teams will make a profit regardless of on-field performance.
"Even if you don't sell a single sponsorship or ticket, you are profitable," says G Srinivvasan, an Indian sports industry veteran who's currently CEO of Sporjo, a sports edtech and employability platform. "The BCCI gives you approximately ₹240 crore per year from the media rights kitty. If you spend ₹100 crore on players and another ₹15-20 crore on operations, you've still made at least a ₹100 crore profit without selling a sponsorship or ticket."
Apart from growing at a rate of knots and being highly profitable at both a league and franchise level, the IPL also brings with it scarcity in terms of team ownership. There are only 10 teams, and it's unclear if and when more will be added. There is a long list of potential buyers, which was clear when the last team auction was held, and none of the current owners are looking to sell.
Most of the franchises are owned by big conglomerates: Mumbai Indians (Reliance Industries), Chennai Super Kings (India Cements), Lucknow Super Giants (RPSG Group), Royal Challengers Bangalore (Diageo), Delhi Capitals (JSW Group and GMR Group), and Sunrisers Hyderabad (Sun Group). Their owners have deep pockets and don't really need to divest. "That leaves you with only three or four teams owned by consortiums that would be open to external investment," says Srinivvasan. This includes the Rajasthan Royals, Punjab Kings, and Kolkata Knight Riders.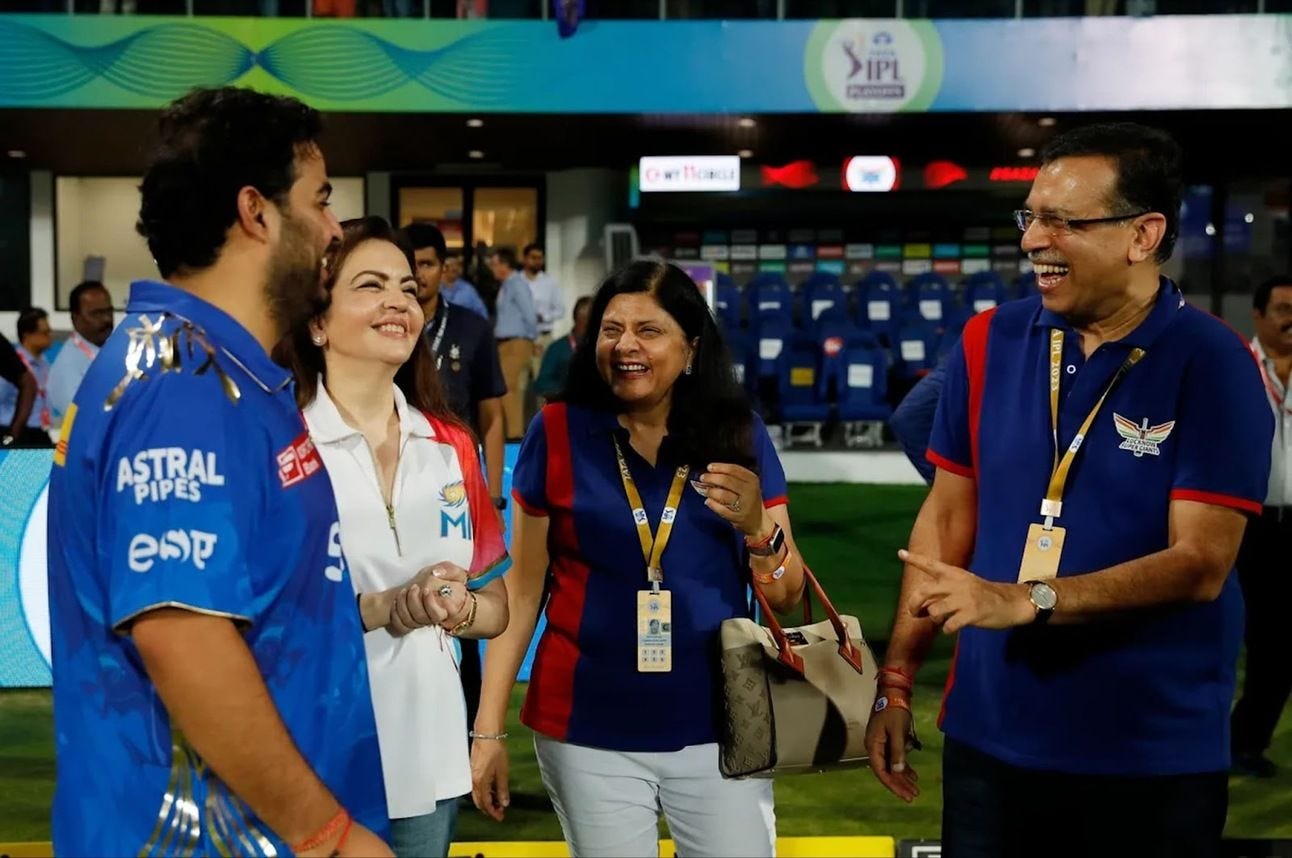 Photo credit: IPL
And even these owners don't necessarily need to dilute their stakes, with the IPL only scratching the surface in terms of potential valuations. "The IPL is only 15 years old. With India becoming the centre of the world in the next 10 years, with Jio expanding the reach of the tournament digitally with free streaming, I think the valuations can double in the next five to 10 years. There's no need to sell right now," says a senior sports industry executive who has worked with IPL teams.
Which brings us to two questions: why are Rajasthan Royals looking for external investment? And why is the franchise seemingly such a hit among private equity firms?
The Rajasthan Royals, which are majority-owned by United Kingdom-based sports investment platform Emerging Media Ventures, did not respond to my request to participate in this story. The senior sports industry executive says that Manoj Badale, managing partner of Emerging Media, is a seasoned entrepreneur who has built and exited businesses. So, perhaps, he also has the same vision for the Royals. However, they also point out that owning an IPL team is very different from a regular business in terms of getting an exit.
"The IPL is starting to make some serious money, so I don't see why anyone would want to exit unless their other businesses are in a tough position and they'd want to use the funds there. When GMR sold a 50% stake in the Delhi franchise to JSW in 2018, it was because they needed the cash and not because the money was going into growth. But even if Manoj doesn't need the cash, maybe there are other smaller investors who do need it and they're selling their equity."
That said, there is also a school of thought that since the IPL has already achieved a pretty decent scale, it's a good time to bring in a private equity firm as a minority stakeholder.
"PE firms do bring a lot of value in terms of corporate governance, discipline, management structures, global expertise from other markets, setting a valuation benchmark, and aligning your organisation to more long-term thinking. All of this helps you build a brand rather than just an IPL team," says the senior sports investment executive quoted earlier.
The Royals have built a decent brand over the last few years, especially since the RedBird Capital investment. Apart from the IPL franchise, Emerging Media also owns teams in the Caribbean Premier League and South Africa's SA20. It operates the Rajasthan Royals Academy in five locations across three countries: India, the UK, and the United Arab Emirates. It has an edtech platform that offers 16 programmes (ICYMI, I've written about India's sports edtech scene). And it has a nonprofit arm that focuses on women empowerment, among other things.
Rajasthan Royals

@rajasthanroyals
🧑‍🏫👨‍🏫 World-renowned faculty
👌🔥 Top-notch facilities
💯👏 100% Scholarships
Looking for a career in sports? @deakinsouthasia's got you covered. 👍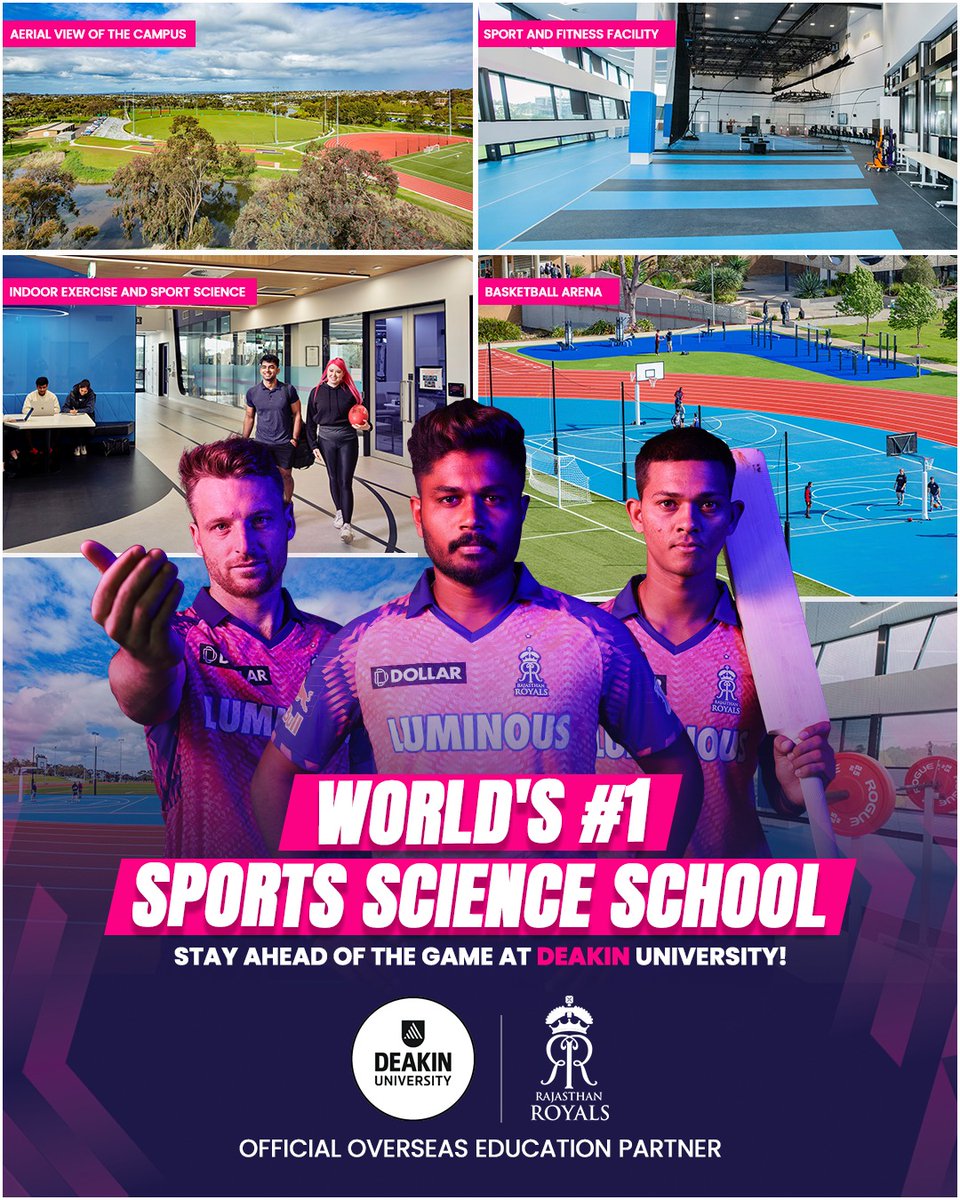 Jun 13, 2023
523 Likes   20 Retweets   10 Replies
"The Royals today are very different to what they were a few years ago," says the senior sports industry executive. "They have a good management, they've made the right hires, they have a big focus on digital and tech, they're doing reasonably well on the field and in terms of developing their academy, they were one of the first movers in sorting out first-party data, which is crucial for marketing. They have a more progressive mindset than some of the other franchises, which makes their business more appealing."
The advantage of private equity involvement is even clearer when you look at the Gujarat Titans, owned completely by CVC Capital. The franchise won the IPL in its debut season last year and lost in the final in 2023—a rather remarkable beginning to its IPL journey. Now, of course, on-field performance in a sporting competition depends on a number of factors, including a degree of probability and luck. Having said that, the Titans have done a lot of things right in the last two years.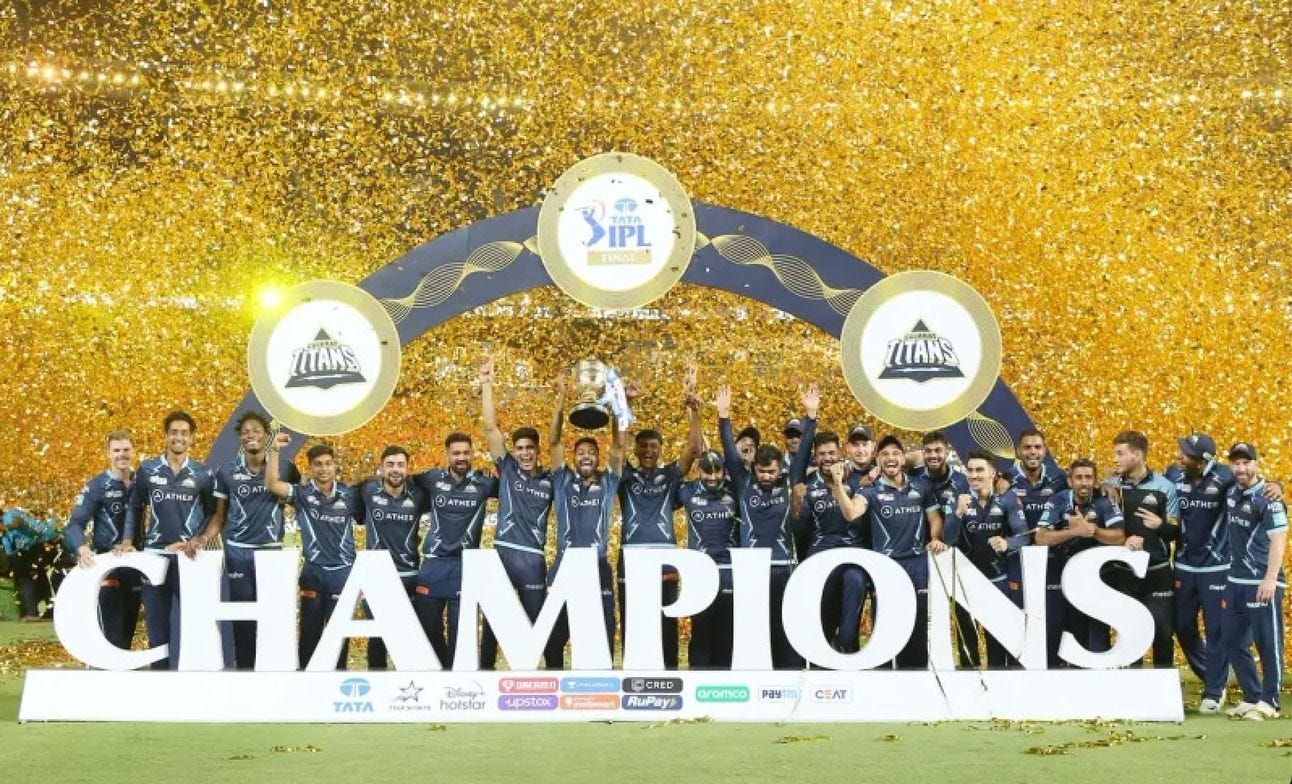 Photo credit: IPL
"For one, they have recruited well and, more importantly, empowered the people they recruited. There is no meddling from the ownership," says the senior sports investment executive. That's how the typical private equity business model functions: there is a complete layer of separation between the management and the ownership. The PE firm would have representation on the board and ensure the funds are being utilised properly, but the rest is up to the management.
"At Gujarat Titans, you won't ever find the owners talking about on-field matters, sponsorship, etc. That's the management's job. And this is the biggest distinction between a professionally-run organisation versus a family-run organisation, where the ownership and management are often muddled up," says the senior sports investment executive. The Gujarat Titans did not respond to my request to participate in this story.
The executive added that the Titans have also focused on ensuring they're a cohesive unit with no ego tussles. They also made some bold choices that paid off, including the appointment of former India cricketer Ashish Nehra as a first-time coach and all-rounder Hardik Pandya as a first-time captain. "They also trust their players and don't randomly chop and change, which has helped the likes of Wriddhiman Saha, who has been a revelation this season."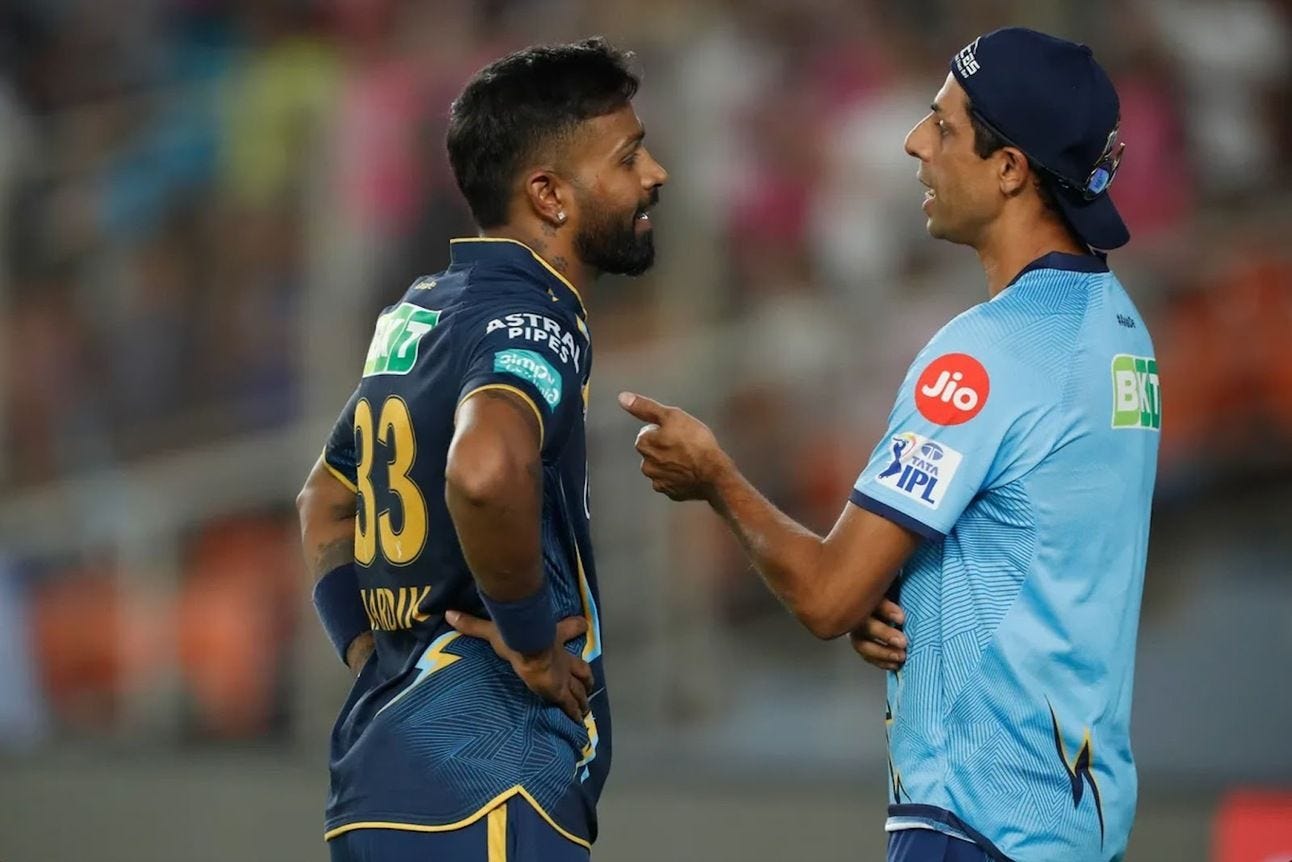 Photo credit: IPL
At the end of the day, private equity firms have to deliver handsome returns to their limited partners. If they do that, they can make good money for themselves. It's all about creating value. The PE firm comes in at a certain price, and the onus is on them to demonstrate consistent value creation so that they can exit at a price that's significantly higher, which is what delivers value to all stakeholders. So, you could argue that this value- and commercials-oriented ownership model is better than just ultra-rich individuals and families snapping up sports teams as trophy assets.
However, it's not like this model has no concerns attached to it. A major one is that PE firms would be driven by commercial interests rather than those of the fans, and their only objective is to secure a successful exit and not contribute towards the growth of the sport. In fact, CVC Capital itself was accused of these things during its 10-year ownership of Formula One.
While CVC made a healthy profit by selling Formula One in 2016 for $8bn, followers and industry executives complained the buyout firm's 10-year tenure in charge of the motorsport led to its domination by rich teams, predictable racing results and a poorer sporting spectacle. Bernie Ecclestone, the former F1 boss who ran the sport for CVC, said in 2017 that he was "embarrassed" at "selling this shitty product".
  Private equity's new bet on sport: buy the league | Financial Times
But a PE firm still doesn't own an entire league in India. And early evidence from the IPL, with both Rajasthan Royals and Gujarat Titans, would suggest that the PE team ownership model is working well here. For now. The senior sports investment executive even believes that family-owned teams might soon start warming up to PE investment looking at the success of the Titans and the Royals.
Meanwhile, the senior sports industry executive believes that the likes of Tiger Global coming in with a 5-6% stake in teams and exiting in a few years will be normalised. "It's going to become a cycle because a Tiger is not going to stay in forever. It's a 10-year game, similar to CVC. So, a few of the franchises might play the PE game. But what it does do is bring in more professionalism, with a harder performance matrix. That can only augur well for the franchise and the league."
As of now, the opportunities for PE firms to enter the IPL are limited for the reasons mentioned above. However, exits and divestments aren't unprecedented, as we saw with Delhi Capitals. And it's not necessary that you exit only when you need the cash. Typically, you'd want to exit when the fundamentals are good, which is when you will get a good price for your stake. You don't want to exit when the growth slows down. "Exits should happen over time in the IPL, but it's difficult to point out when," says the senior sports investment executive.
Interesting times lie ahead.
Do you want your favourite IPL team to get some private equity investment?
⚡️Quick Singles
⛳️🇺🇸🇸🇦 The PGA Tour's stunning merger with Saudi Arabian upstart LIV Golf, announced last week, will be reviewed by the United States Department of Justice for antitrust concerns, reported The Wall Street Journal. The Justice Department had already been investigating the PGA Tour and other golf bodies, including the Augusta National Golf Club, for anticompetitive behaviour. PGA Tour commissioner Jay Monahan was previously quoted as saying that it would be good for the Tour "to take the competitor off of the board, to have them exist as a partner, not an owner."
⛳️📺 Speaking of golf, Netflix is in talks to live-stream its first sporting event later this year: a celebrity golf tournament. According to The Wall Street Journal, the celebrities will include the athletes featuring in its two docuseries on golf and Formula One, Full Swing and Drive to Survive. Netflix has been considering entering live sports streaming for a while. This exhibition golf tournament would allow it to sample live sports streaming without actually paying for the media rights.
⚽️🇬🇧🇪🇺 Europe's top five football leagues—the Premier League, Bundesliga, La Liga, Serie A and Ligue 1—saw their revenues grow by 10% year-on-year to €17.2 billion ($18.8 billion) in the 2021-22 season, according to financial consultancy Deloitte's annual review of football finance. This figure usurped the pre-Covid benchmark of €17 billion in 2018-19. The Premier League continued to be the dominant force, with English clubs reporting a 12% rise in overall revenues in the 2021-22 season to a combined €6.4 billion ($7 billion). LaLiga revenues were half that of the Premier League—€3.3 billion—despite increasing by 11%.
🏏🇮🇳🏖️ Sports streaming platform FanCode has sub-licenced the digital rights of the upcoming West Indies-India series to JioCinema. This means the series, which includes two Tests, three one-day internationals, and five Twenty20 internationals, will be streamed on both FanCode and JioCinema. The series starts on July 12.
🎮📺 Video game live-streaming service Twitch has announced a new partner programme that will give streamers with at least 350 monthly paid subscribers a 70:30 revenue share on net subscription revenue (revenue from recurring monthly subscriptions and gift subs), for 12 months up to $100,000. This comes after the previous 50:50 revenue split was criticised a lot. Meanwhile, Sony is testing a cloud streaming feature that will allow PlayStation Plus Premium members to play PS5 games online without having to download them onto their consoles.
🏀👟 The sneakers that Michael Jordan wore during the infamous game 6 of the 1998 NBA Finals—popularly known as the "flu game"—were sold for $1.38 million in an auction earlier this week. This is despite Jordan's trainer revealing in the Netflix documentary The Last Dance that the basketball legend didn't actually have the flu during that match. Jordan scored 38 points, seven rebounds, and five assists in the game.
That's all for this week. If you enjoyed reading The Playbook, please share it with your friends, family, and colleagues. Please also subscribe to it (for free) if you haven't already.
You can reach out to me at jaideep@thesignal.co with any feedback (good, bad, or ugly), tips, and ideas. I'd love to hear from you!
Thanks for reading, and see you again next Friday!