Discover more from The Playbook By The Signal
A weekly newsletter that goes beyond the headlines and gives you all the necessary signals you need to understand India's sports and gaming industries better.
Over 9,000 subscribers
Inside the Premier League's extraordinary relegation scrap
Any of the bottom nine clubs in the Premier League could be relegated, with 10 games to go. It's never been tighter at the bottom of the table, and there's a reason for it
Good evening,
Welcome to The Playbook, a weekly newsletter on the business of sports and gaming. If someone shared this newsletter with you, please hit the subscribe button below — it's free!
The inaugural Women's Premier League season is almost over! Tonight (Friday), the Mumbai Indians and the UP Warriorz will battle it out in the playoff to decide who gets to face the Delhi Capitals in Sunday's final.
Mumbai Indians would be feeling hard done by, considering they started the season with a bang, with five straight wins. And despite two defeats in their last three league matches, they have the same number of points (12) as the Capitals but finished second on net run rate—with a difference of 0.145 no less! With just five teams, the format of the tournament is such that only the top-ranked side makes it directly to the final.
Mumbai and Delhi have been the two best teams in this inaugural WPL season, but there's a 50:50 chance that the third-placed Warriorz, with eight points, could make it to the final. Let's hope the league expands in the future and the playoffs format becomes like the men's Indian Premier League, which comparatively rewards league form more.
Meanwhile, the European football season is on an international break (🥱). But when the action resumes next weekend, we've got a lip-smacking run-in to the end of the season in the Premier League. Arsenal and Manchester City are separated by eight points at the top, although the defending champions have a game in hand. But it's the bottom of the table where all the drama is.
Inside the Premier League's extraordinary relegation scrap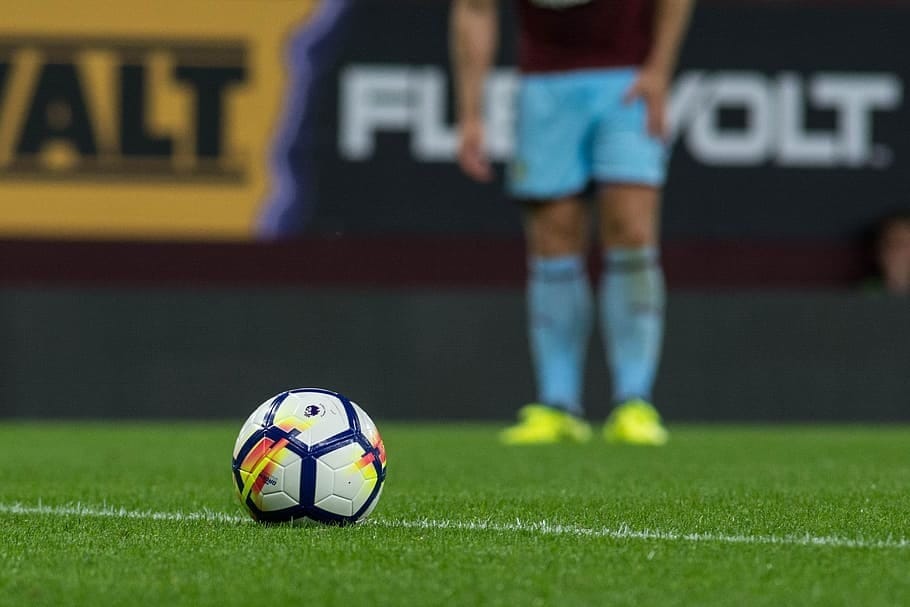 Photo credit: Pxfuel
On March 17, Crystal Palace Football Club sacked their manager Patrick Vieira. When the news broke, I was a bit shocked. I thought Vieira had done all right since his appointment at the start of the 2021-22 season. After some incredibly dull football under previous manager Roy Hodgson, Vieira had got Palace playing in a nice attacking style. The club finished 12th last season, which is where you'd expect them to be—somewhere in the middle.
When Palace sacked Vieira last week, they were still 12th, with 11 games to go. But then, I glanced at the points column. That's when it dawned on me.
A week later, as club football takes a break for some international games, Palace are still 12th. But with 27 points out of 28 games, they're only four points ahead of bottom-placed Bournemouth. In fact, Palace at 12th are closer to the bottom of the table than they are to 11th-placed Aston Villa, who have 38 points.
Palace have also gone 12 games without a win and scored only five goals in that period, which further explains Vieira's sacking. But the incredible part is that any of the bottom nine clubs in the Premier League could be relegated, with about 10 games to go. For the uninitiated, the bottom three clubs out of 20 at the end of the season get relegated to the second-tier EFL Championship.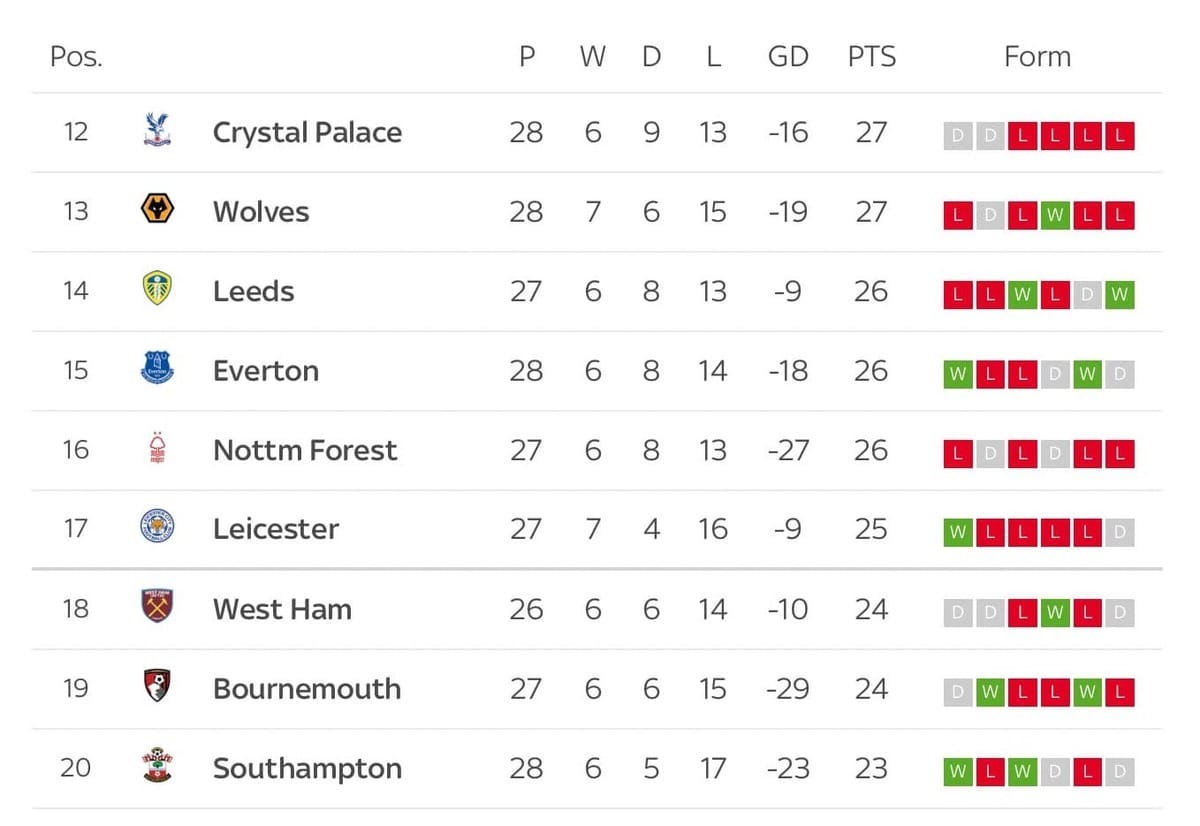 Photo credit: Sky Sports
That's as tight as it has ever been since the 2010-11 season, when the gap between 12th and 20th was five points at the beginning of February. In that season, the relegation of two out of the three teams—Birmingham City and Blackpool—was confirmed only on the final day. There's a good chance that all three relegation spots are filled only on the final day of this season. And that's mad!
There have been a few theories floating around as to why this is happening. One is the 2022 Fifa World Cup—since it was held in the winter, club football had to go on a forced one-month break in November-December. This gave the players who didn't make it to the World Cup squads—of which there would be many in teams in the bottom half of the table—a month off to recharge their batteries. As a result, they are fresher for the run-in than they usually are, which would make their teams more competitive.
Sounds valid.
But that can't be the only reason. Because, then, it wouldn't be restricted to the Premier League. If you look at Europe's other top leagues, nowhere is there a similar relegation battle shaping up. Not even close.
In La Liga, bottom-of-the-table Elche, with just 13 points in 26 matches, are as good as relegated. Almeria, in 19th place, have double the number of points (26). But there are only three points separating them and Getafe in 13th. And that's as close as it gets to the Premier League.
In Serie A, the bottom three teams at the moment are most likely to go down. In the Bundesliga, it's between the bottom seven teams, which have eight points between them. And in Ligue 1, where there are four relegation spots this season, one is all but decided, while the remaining three will likely be decided between five teams.
So, why is it so tight only in the Premier League?
It could be because the lower-ranked teams in the Premier League are a lot richer than their European counterparts. And that's not because they have richer owners. Just being in the Premier League is worth more than $100 million a season for each of the 20 clubs because of lucrative television rights deals, whose value has been exponentially increasing. The current 2022-25 rights cycle is worth more than $12 billion, including domestic and international. And this amount is largely distributed to the clubs. In terms of revenue per club, Premier League teams get at least 2x of what their European counterparts earn from broadcast rights.
Which is why staying in the Premier League is so crucial for the clubs in the lower half of the table. And that's why the February-March period is when you'll see a lot of relegation-fighting managers getting sacked. The clubs don't want to leave it too late for a new manager to make a difference. Only three teams out of the Premier League's current bottom nine are yet to sack their gaffer this season—Nottingham Forest, West Ham, and Leicester City.
And this is also why clubs are also spending the revenue they earn by playing in the Premier League on players who can help them stay in English football's lucrative top tier. This season's January transfer window was unprecedented—Premier League clubs spent €930 million ($1 billion) on players, almost double the previous record. Chelsea, with a new owner and manager, spent more—€329.5 million ($356.8 million)—than all the top-tier clubs in Spain, Italy, Germany, and France combined.
If you consider both the summer and winter transfer windows of the 2022-23 season, here's how it looks.
And it's not like it's just the top clubs like Chelsea who are spending. Five of the Premier League's top 10 spenders in January are clubs that are currently battling relegation—Southampton (£56 million), Bournemouth (£50 million), Leeds United (£35 million), Wolves (£34 million), and Leicester City (£26 million).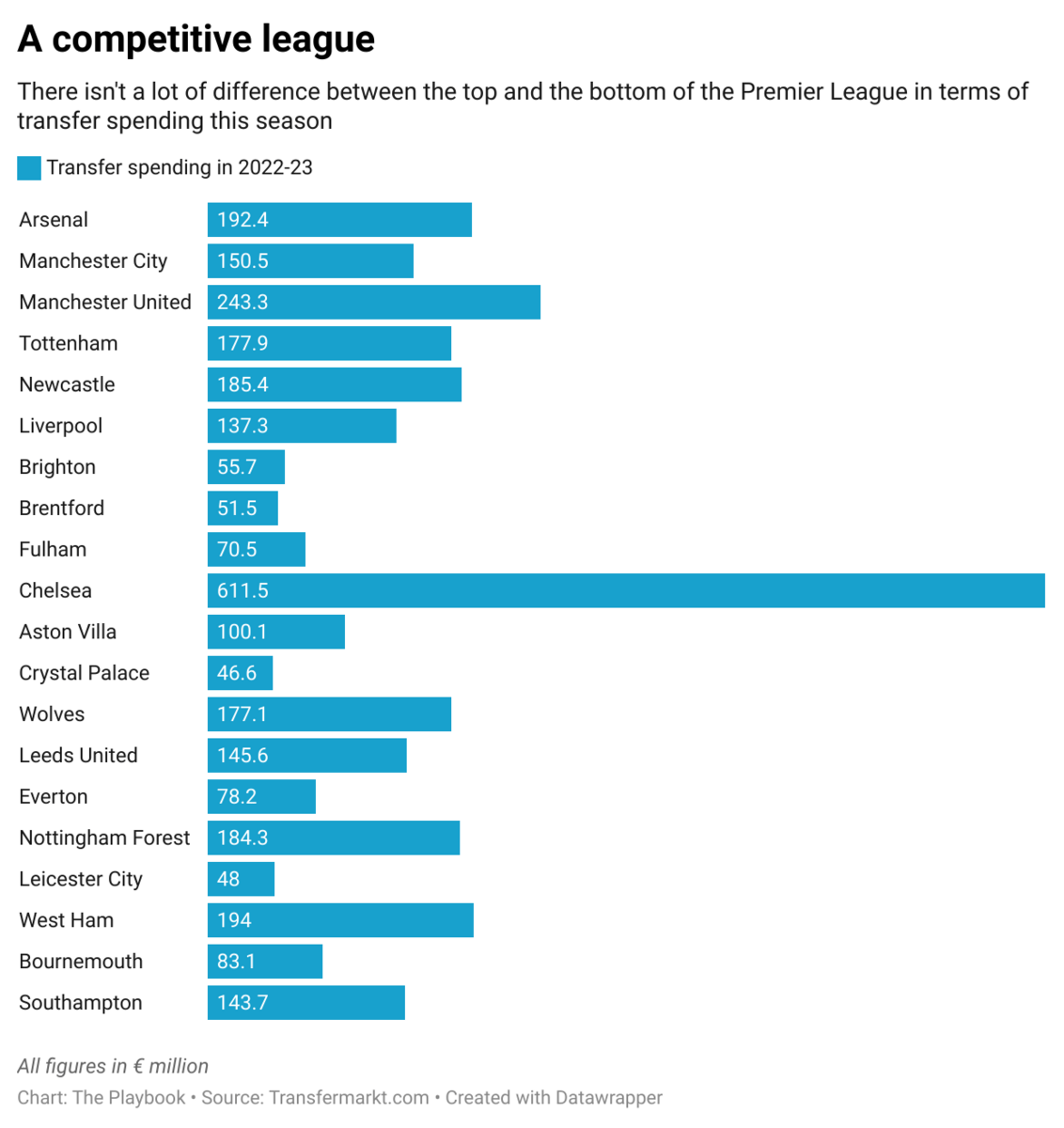 In fact, the Premier League's bottom nine clubs, which are in a relegation scrap, have spent more on players this season than all top-tier clubs in Spain, Italy, Germany, and France.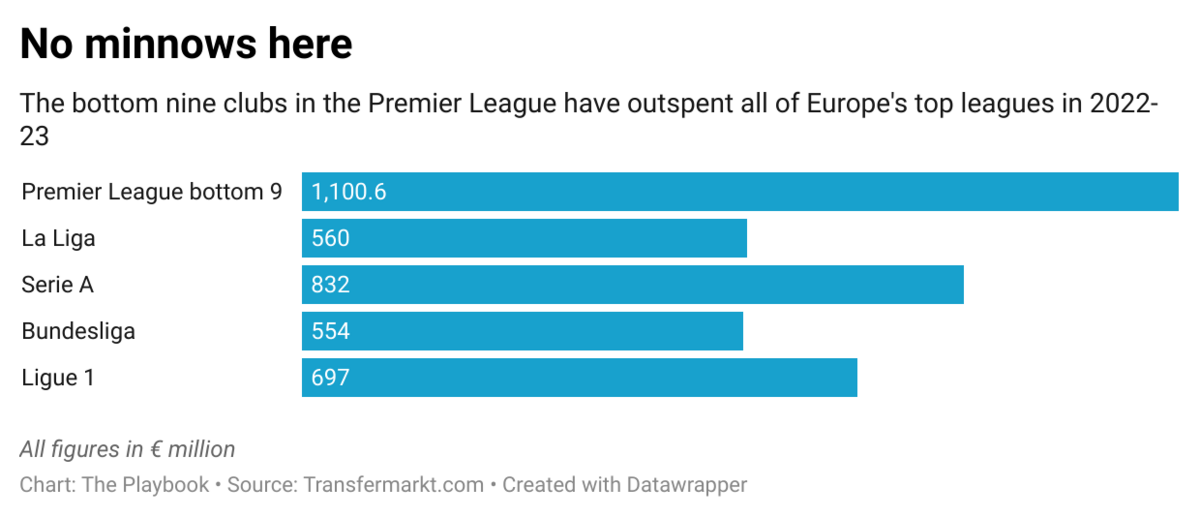 Almost exactly two years ago, 12 of the most elite football clubs in Europe threatened to break away and form a European Super League (ESL). Unlike domestic leagues, the ESL would not have relegation. As a result, Europe's best clubs would play each other regularly but with nothing really to play for.
The hope was that broadcasters and sponsors around the world would make a beeline to spend money on a league where, say, Manchester United and Real Madrid get to compete more often than they currently do—by qualifying for the Champions League and hoping they get drawn against each other. United have qualified for the Champions League only four times in the last eight seasons.
The ESL plan failed, as fans revolted against the idea of a closed league and forced the owners of the dirty dozen to scrap the proposal. While three of the clubs—Barcelona, Real Madrid, and Juventus—still have hopes of reviving the ESL in the near future, Premier League clubs now want nothing to do with it.
However, some would argue that's because the Premier League has become a de facto ESL. It's got plenty of rich clubs who buy the best players and managers; and broadcasters are willing to pay billions to acquire the rights of this super league featuring the best talent. The Premier League's international broadcast rights now account for more than half its income.
In the '90s and 2000s, the Premier League used to have a Big 4—Manchester United, Arsenal, Liverpool, and Chelsea. In the 2010s, that became the Big 6 to include Manchester City and Tottenham Hotspur. And now, with Saudi Arabia's sovereign wealth fund taking over Newcastle United in 2021, the Premier League is only getting bigger and stronger.
According to a report by Deloitte, 11 of the 20 wealthiest football clubs in Europe are English, up from seven a decade ago. And as we've seen above, the broadcast money that the Premier League attracts due to these top clubs is trickling down to the bottom of the table as well.
There is a perception in Europe that Premier League clubs have had an unfair advantage because of light regulation when it comes to financial fair-play. La Liga chief Javier Tebas recently accused the Premier League of allowing its wealthy club owners to weather "barbaric" losses. He called it "financial doping" and added that it can "jeopardise the sustainability of European football".
Javier Tebas Medrano

@Tebasjavier
Leemos, la "fortaleza" de la @premierleague, pero no es así, es una competición basada en PERDIDAS millonarias de los clubes,(no les basta sus ingresos ordinarios) la mayoría de los clubes estan "dopados económicamente". Javier Gómez Director Corporativo de @LaLiga lo explica.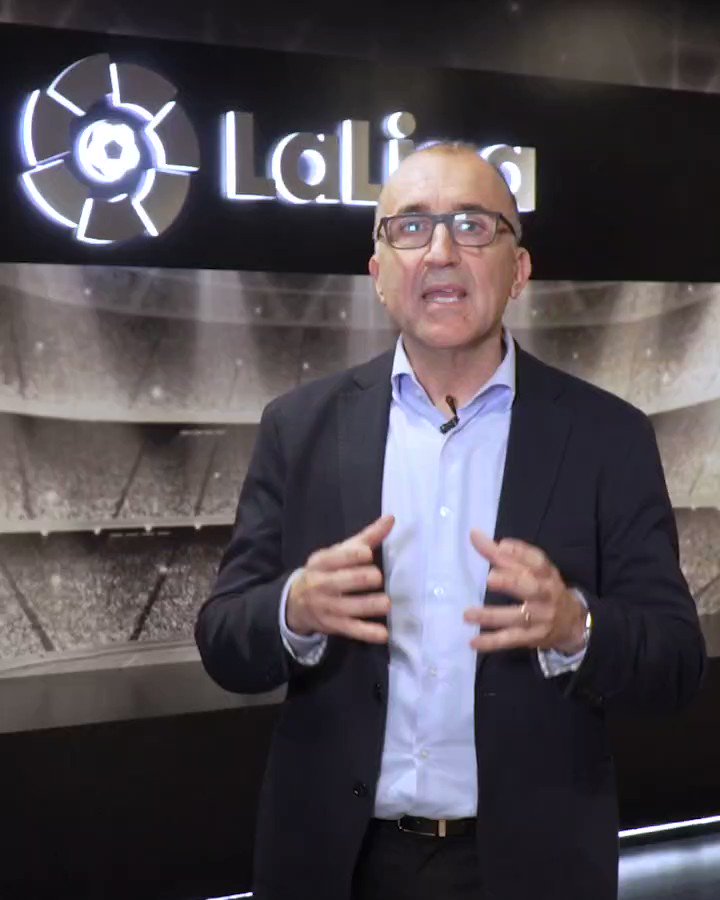 Feb 1, 2023
686 Likes   85 Retweets   2.06K Replies
La Liga requires clubs to submit regular updates on their revenue, which the league uses to calculate their respective spending caps. These strict rules forced arguably the greatest footballer of all time, Lionel Messi, to leave Barcelona in 2021. And last summer, the Spanish giants were barred from registering new signings. The club eventually sold some assets—called "economic levers"—in order to be able to register new players. La Liga has since tweaked its rules to make even this harder to do.
The Premier League is trying to show that it too cares about financial fair-play. It recently charged its most successful club in the last decade, Manchester City, of breaching the league's financial rules more than 100 times between 2009 and 2018.
The UK government also plans to introduce an independent regulator for English football to ensure that clubs are run sustainably. "The system will force clubs to prove their business models are financially sound and that they have good corporate governance before being allowed to compete," reported Sky Sports.
Whether an independent regulator will make any difference, we'll have to wait and see. Meanwhile, get ready for what promises to be an enthralling relegation scrap in the Premier League over the next couple of months. Who do you think will go down?
⚡️Quick Singles
⚽️🔴⚪️ Manchester United have extended their Wednesday deadline for Sheikh Jassim Bin Hamad Al Thani and Sir Jim Ratcliffe to submit their second-round bids to buy the club. While these two bids are the only public ones, there are reportedly multiple other proposals for investments that have been submitted before the deadline. The first round of bids did not surpass £5 billion ($6.14 billion), per The Athletic. Meanwhile, Financial Times reported that Ratcliffe plans to bid more than £5 billion in the second round.
⚽️🍎🇬🇧 Apple is considering bidding for English football streaming rights, per Bloomberg. This includes the rights to stream Premier League matches in the UK, as well as lower league matches run by the English Football League (EFL). The tech giant's streaming service Apple TV already has an extremely popular comedy series based on the Premier League, Ted Lasso. Last year, it also signed a 10-year deal worth $2.5 billion to stream Major League Soccer in the US. The Premier League's current domestic rights cycle is worth $2.1 billion a year.
✔️📈 Nike's revenue for the quarter ended February 2023 increased by 14% year-on-year to $12.4 billion, while profits shrunk by 11% to $1.2 billion. The sales growth was driven by robust demand in North America, the company said, even as revenue from China dropped by 8% due to its zero-Covid policy. Nike attributed the drop in profits to inflation, supply chain shortages, and Russia's invasion of Ukraine. The third-quarter results beat analysts' expectations, reported CNBC.
🏏🇺🇸 Four out of the six teams in Major League Cricket, a franchise-based T20 league starting in the US in July, will be owned by IPL franchises. Mumbai Indians, Chennai Super Kings, and Delhi Capitals have joined Kolkata Knight Riders, one of the earliest investors in the league, as team owners. The franchise locations are as follows: Mumbai Indians (New York), Chennai Super Kings (Texas), Delhi Capitals (Seattle), and Kolkata Knight Riders (Los Angeles).
📺⚔️📱 Many executives working at broadcaster Viacom18's television business are miffed with the promo the company released for its IPL streaming on JioCinema last week, reported Mint. The promo showcased the advantages of watching live sports on streaming, such as the ability to rewind the stream and switch to multiple camera angles, but also portrayed the television medium as inferior to digital. That's a problem, since Viacom18's main backer Reliance Industries also operates nearly 60 television channels.
📺⚔️📱 Meanwhile, three large Indian cable operators—Hathway Cable & Datacom, DEN Networks, and GTPL Hathway—are reportedly threatening Disney Star that they will remove Star Sports channels from their base packages ahead of the IPL. While a Disney Star executive told Mint that it was just a pressure tactic, guess who owns a majority stake in Hathway and DEN, and an indirect 28% stake in GTPL Hathway? Yep. Reliance Industries.
🏈🇮🇳 Indian gaming company Nazara Technologies, which owns sports media platform Sportskeeda, has acquired a majority stake in Pro Football Network (PFN), a digital platform that covers the National Football League in the United States. Nazara paid ₹16 crore ($1.82 million) for a 73.3% stake in PFN.
That's all for this week. If you enjoyed reading The Playbook, please share it with your friends, family, and colleagues. You can reach out to me at jaideep@thesignal.co with any feedback (good, bad, or ugly), tips, and ideas. I'd love to hear from you!
Thanks for reading, and see you again next Friday!