Discover more from The Playbook By The Signal
A weekly newsletter that goes beyond the headlines and gives you all the necessary signals you need to understand India's sports and gaming industries better.
Over 9,000 subscribers
Decoding the clutter in on-ground advertising in Indian cricket
The Arun Jaitley Stadium in Delhi is a prime example of how messy in-stadium advertising is in Indian cricket. Politics is a key reason, but there's a lot more to it
Good evening,
Welcome to The Playbook, a weekly newsletter on the business of sports and gaming. If someone shared this newsletter with you, please hit the subscribe button below — it's free!
They say cricket is a game of fine margins. India learnt that in the cruellest way possible on Thursday in their ICC Women's T20 World Cup semifinal against Australia. India was cruising at 133/4 in 14.3 overs in their chase of 173, with skipper Harmanpreet Kaur unbeaten on 52 off 33 balls, when this happened:
Ashish Magotra

@clutchplay
What a way to get out!! As well as she was playing, Harmanpreet needed to carry on. The bat just got stuck. Damn.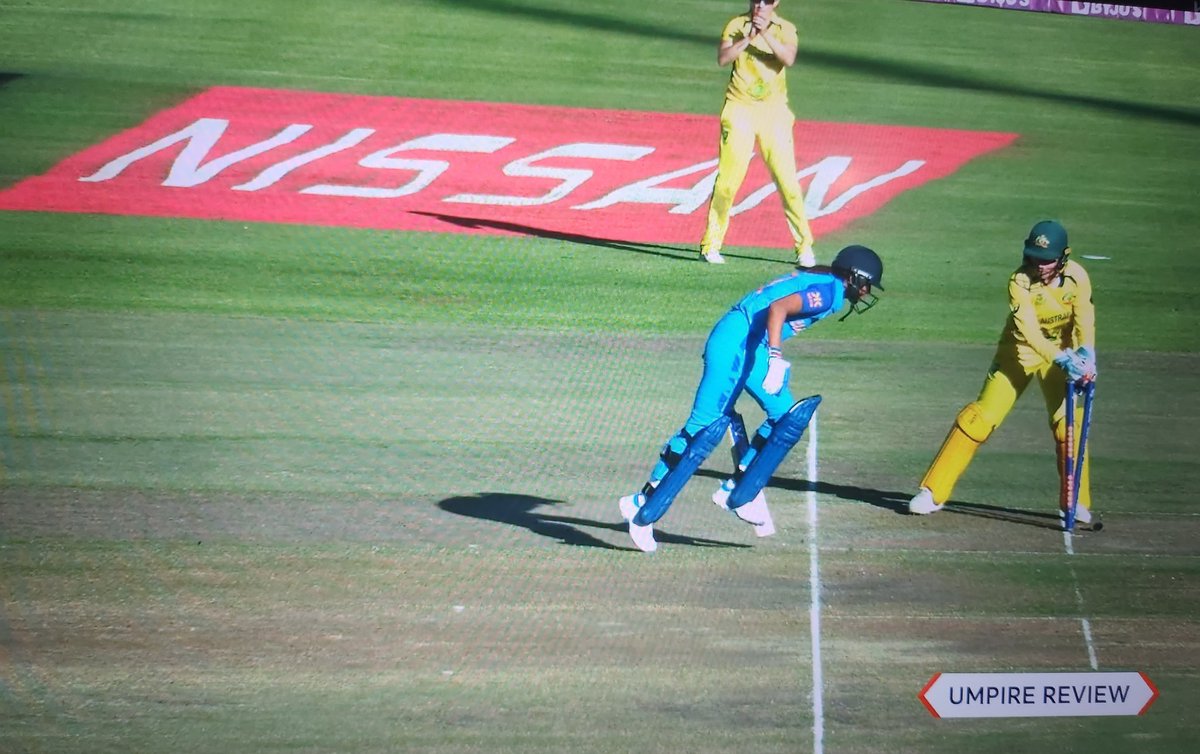 Feb 23, 2023
17 Likes   4 Retweets   2 Replies
India eventually fell short by five runs.
I couldn't believe what had just happened. Somehow, India just can't seem to get over the finish line in the big matches of ICC tournaments. But I'm sure it'll happen soon. The Women's Premier League, whose first season begins soon after this tournament ends, will definitely help.
Over on the men's side, Rohit Sharma and Co have retained the Border Gavaskar Trophy after taking an unassailable 2-0 lead in the four-Test series against Australia. India won the second Test within three days at the Feroz Shah Kotla Arun Jaitley Stadium in Delhi. Or should I say the Pan Bahar Stadium, like many on social media are calling it. That's what today's edition is about.
No, it's not about Pan Bahar. Well, not just about Pan Bahar.
Decoding the clutter in on-ground advertising in Indian cricket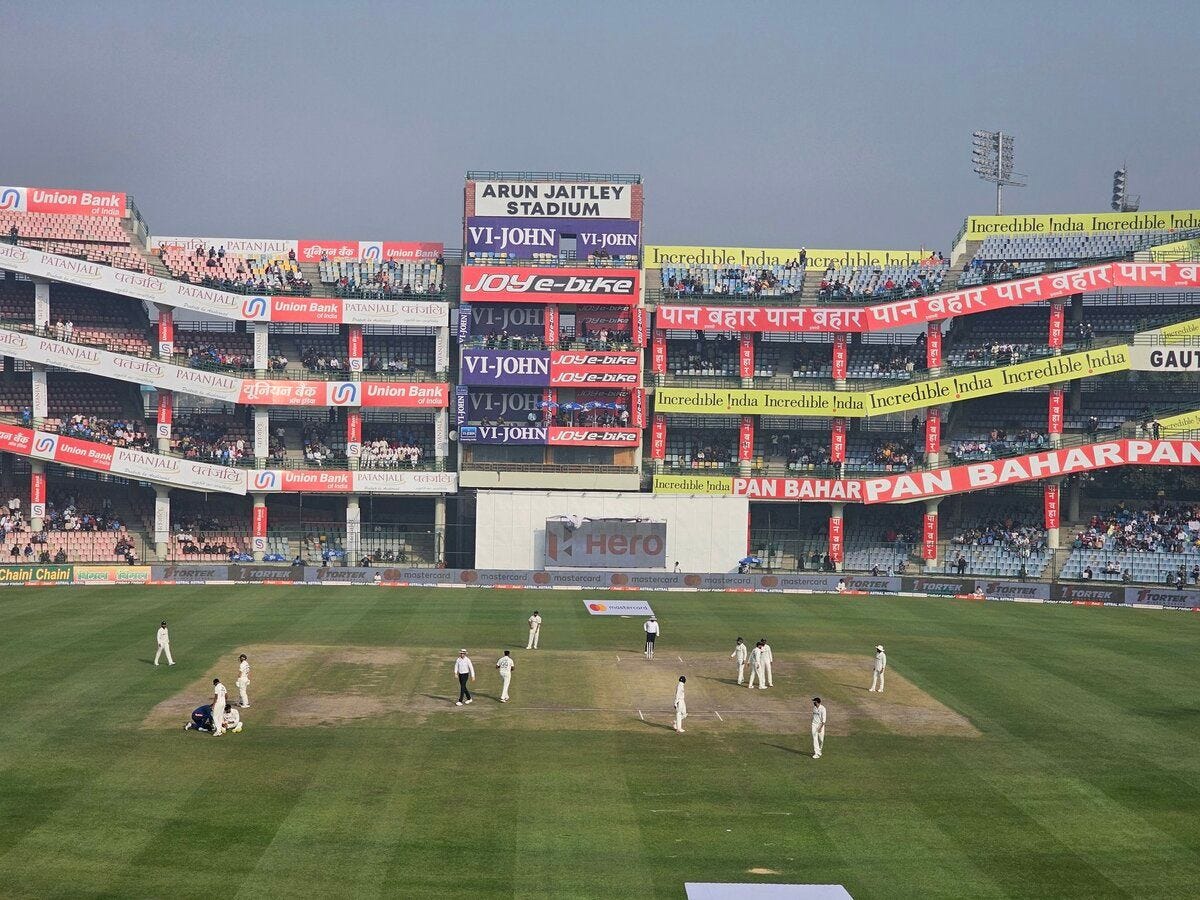 Photo credit: Sahil Bhalla/Twitter
Just before the start of play on day two of the Delhi Test, Cricbuzz journalist Bharat Sundaresan posted this tweet.
Bharat Sundaresan

@beastieboy07
Quite an extensive list on things you can't bring into the Kotla. Highly disappointing that you can't bring your dog in even if it is as cute as this. And also a much bigger crowd already here in Delhi, it's Saturday and also a batting day for India #IndvAus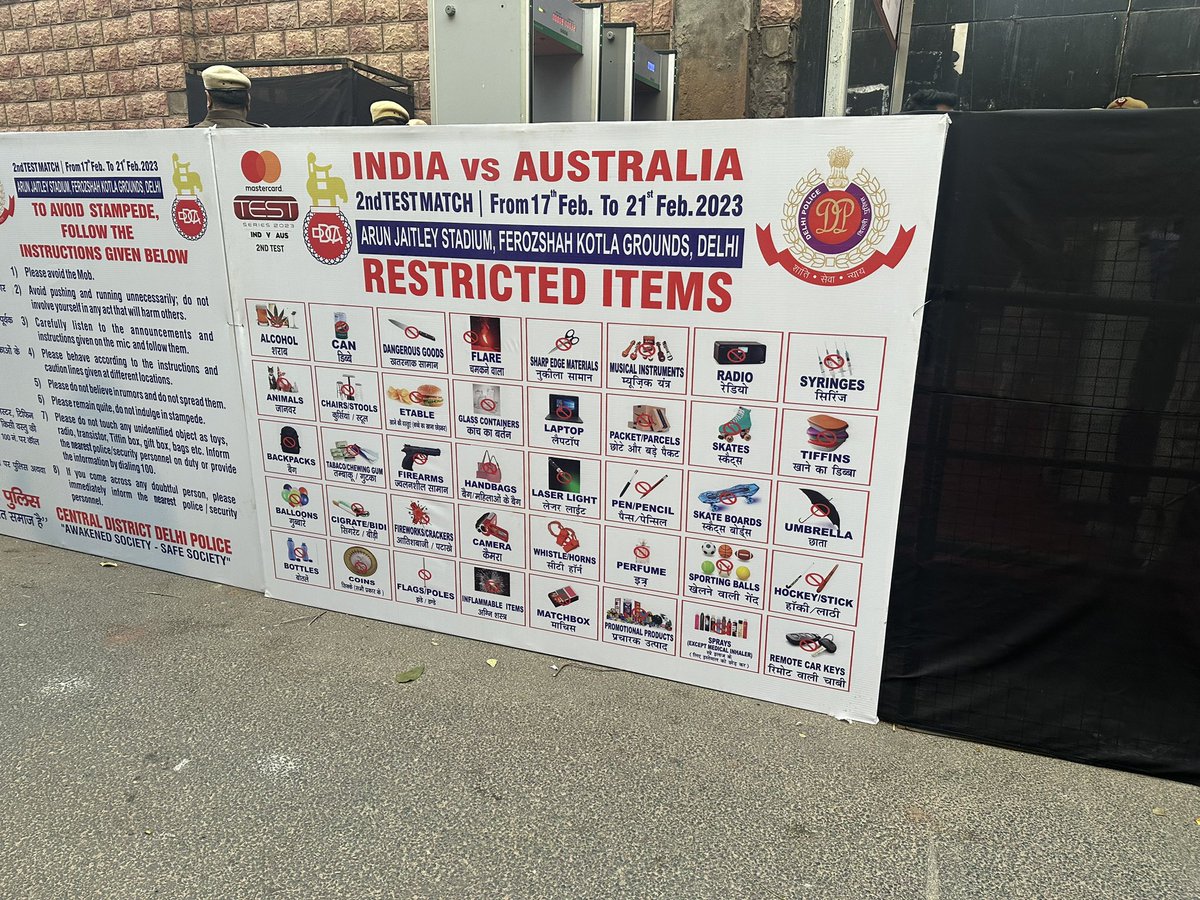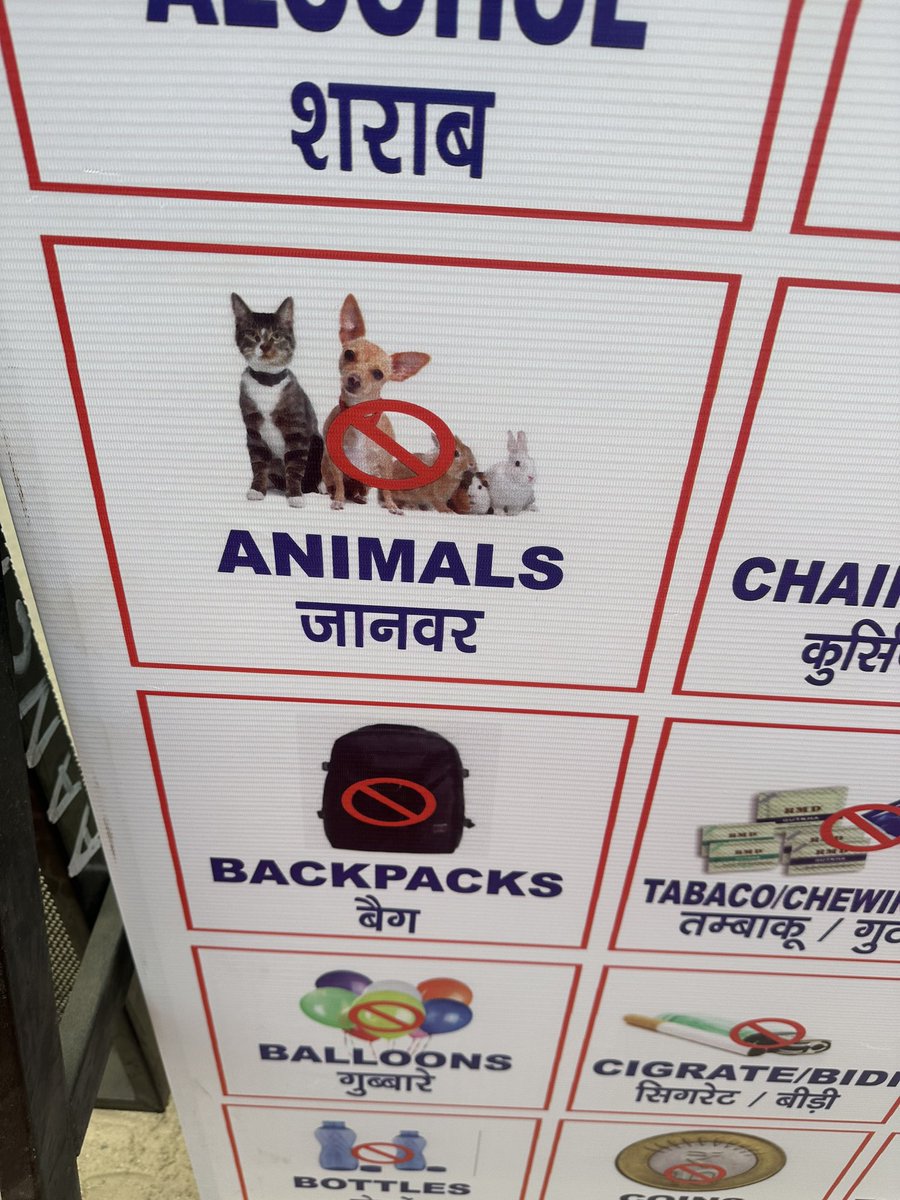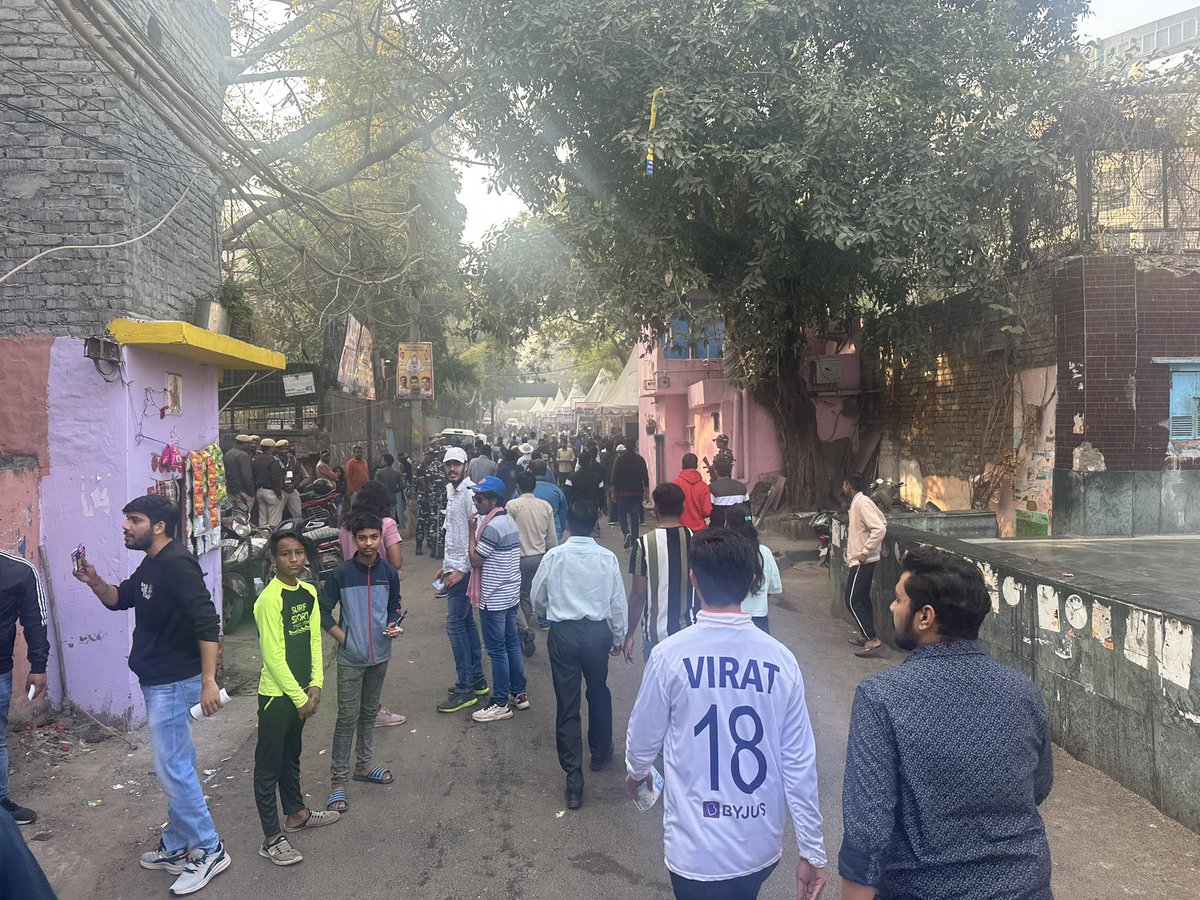 Feb 18, 2023
901 Likes   29 Retweets   99 Replies
Among the many prohibited items at the Kotla (including roller skates and remote car keys) is tobacco, both the smoking and chewing variety. Totally understandable, right? It's the norm across the world. But once you get through the gates and take your seat in the stadium, tobacco is all you see.
While watching the match on television, I spotted hoardings of at least four pan masala brands, including the unmissable Pan Bahar. The brand's red and white hoardings are so in-your-face while watching cricket at the Kotla that it has become synonymous with the stadium.
Anyway, I won't get into how these pan masala brands have blatantly skirted a government-imposed advertising ban and built a $5 billion industry from a ₹5 ($0.06) product. That's a different story altogether.
Instead, I thought I'll focus on the other thing that struck me while looking at all those visuals of the Arun Jaitley Stadium—how repulsive and cluttered the advertising is. Now, the architecture of the main Gautam Gambhir Stand, with its sloping tiers, probably doesn't do it any favours in terms of aesthetics, but surely there's a better way to do it.
And there is. You'll see it during the Indian Premier League next month.
Just look at this screenshot I took from a highlights video of a 2019 IPL match at the Kotla. Can you believe this is the same Gautam Gambhir Stand you're looking at?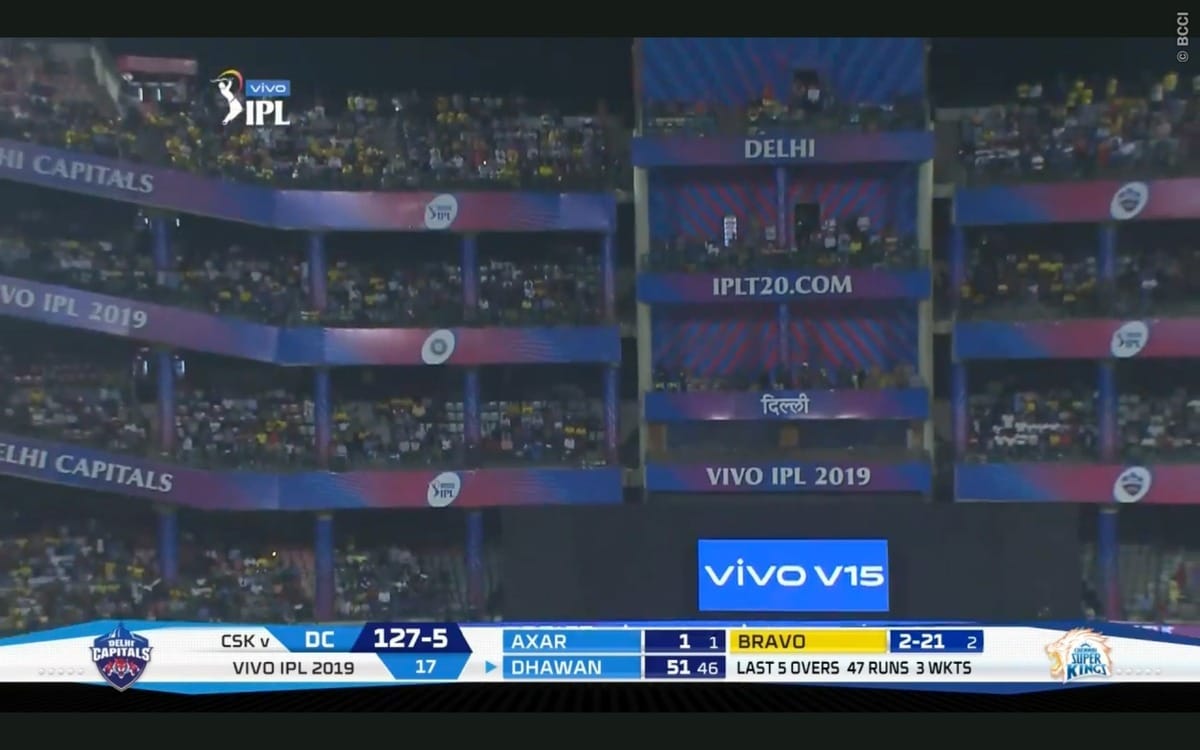 Screenshot from IPL website
Clearly, there are different rules for the IPL in terms of on-ground or in-stadia advertising. You'll notice there aren't any ads on the tiers and pillars of the stands. The ads are restricted to the boundary rope, perimeter board, sight screen, scoreboard/giant screen, and patches on the grass, which are reserved for the central sponsors. And this is across grounds.
Whereas for India's bilateral matches, it seems like a free for all. Again, at all stadiums. The Kotla just looks bad because of its overall architecture, but you'll see the clutter at all grounds.
Here's an exercise: how many on-ground ads do you remember from the Delhi Test? Unless you have an eidetic memory, you'll probably struggle to name more than 10. I counted 25 different brands while watching the match on TV last weekend, and there's a good chance I might have missed some.
Apart from the four pan masala brands, there was a lot of representation for categories such as tiles, pipes, adhesives, appliances, and furnishing. There were also brands from consumer-facing categories like apparel, personal care, FMCG, banking, automobile, healthcare, and dairy. A few were official sponsors of the series, which get some on-ground inventory, but a majority were regular in-stadia advertisers. There were global giants such as HSBC and local companies like Vadodara-headquartered electric vehicle maker Joy e-bike.
Mangalam Maloo

@blitzkreigm
On a whim and some frantic searching around, I managed to find a pass into Kotla.
Test Cricket, Border Gavaskar Trophy and the prospect of watching Rohit and Kohli bat :) ❤️❤️❤️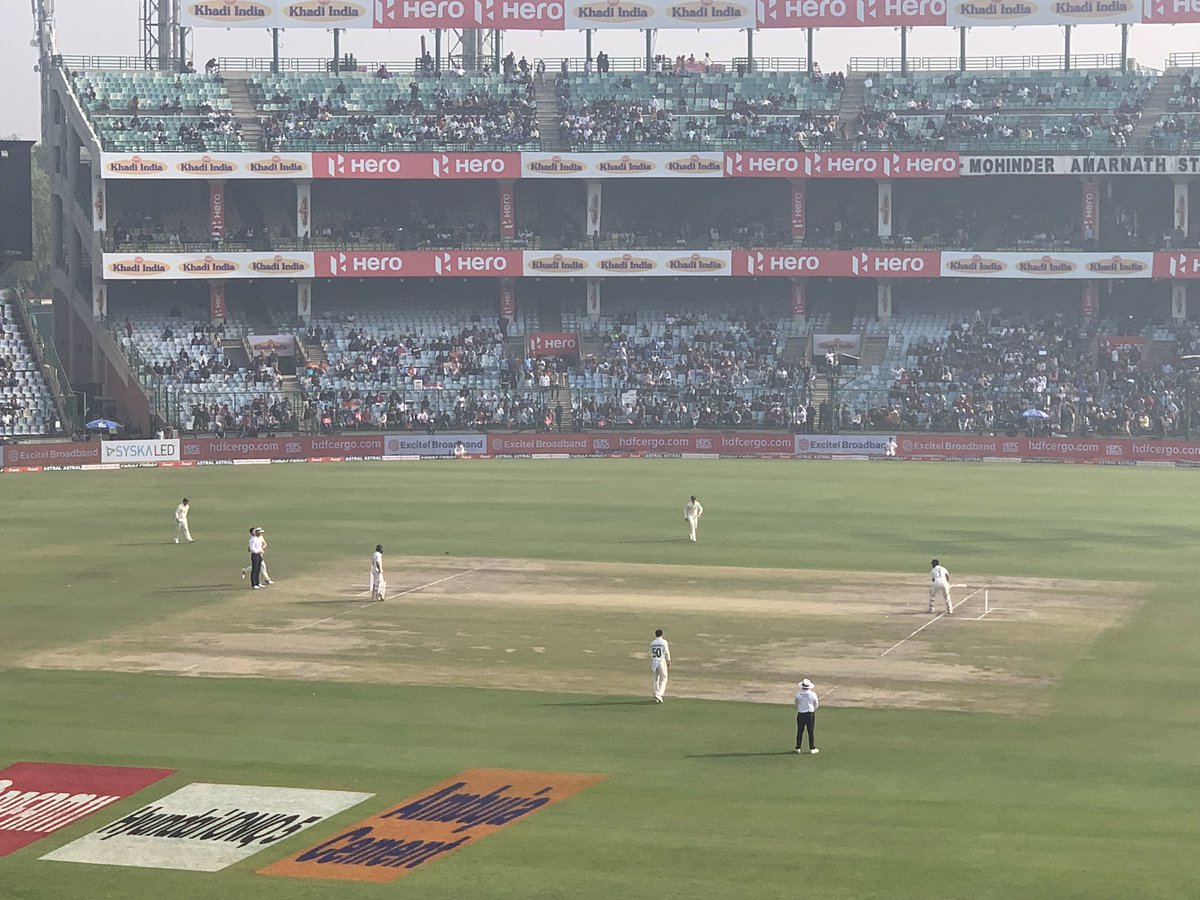 Feb 18, 2023
189 Likes   0 Retweets   18 Replies
Now, I was able to notice as many as 25 brands only because I was focused on doing it with a notebook in hand rather than watching the actual cricket. The point is: there are just way too many brands advertising on-ground during India matches. And when you add to that the shoddy, unaesthetic manner in which some of the advertisement hoardings are installed at stadiums like the Kotla, the clutter is even more of an eyesore.
And you won't see this clutter during the IPL. Not only are there fewer brands, but their hoardings are also a lot more visually attractive. I asked a couple of industry officials why there's such a marked difference in the execution of on-ground advertising between India matches and the IPL.
It's a simple matter of who is in charge. During the IPL, the Board of Control for Cricket in India (BCCI) controls in-stadia advertising, whereas for India matches, it's the state cricket associations. The BCCI restricts the in-stadia advertisements to its central and team sponsors, but the state associations have no such rules. The entry barrier for brands is lower, and the overall guidelines are much looser than those of the BCCI. That's because the state associations can't afford to be picky.
The BCCI splits 70% of its revenue among the 34 state associations. Apart from this, their only other major source of revenue is when they get to host an India match. And each association gets to host only a couple of India games a year at most.
"The state association can make only a certain amount of money from an India match, and they want to make the most of it," says a sports marketing official who's worked in Indian cricket. They requested anonymity as they feared retribution.
"There have been discussions around how we can make India cricket less cluttered and have a higher entry barrier for brands. But nothing has moved ahead because there was serious pushback from the state associations. The politics and bureaucracy at the state level don't allow for it to happen. It's too much of a task to transform the system, and it's not a priority for the BCCI right now," the official added. The BCCI did not respond to a request to participate in this story.
The state associations sell the in-stadia advertising rights to sports marketing companies, which pay them a minimum guarantee of a few crores. The companies then sell the inventory to brands.
One of the major reasons there are so many brands advertising on-ground is that it's a lot cheaper than buying ad spots on television or digital media. How much cheaper? Well, it depends on parameters like the format—Tests, one-day internationals, or T20 internationals—and the quality of the opposition.
"If it's a marquee T20 bilateral series like India versus Australia right before, say, the T20 World Cup, the broadcaster could be selling ads at ₹7 lakh-₹8 lakh ($8,400-$9,700) for a 10-second spot. Whereas you could spend ₹25 lakh-₹30 lakh ($30,000-$36,000) per match and get branding covering one-fourth of the ground for five minutes. Some brands spend ₹70 lakh-₹80 lakh ($85,000-$97,000) per match on in-stadia advertising depending on who the opponent is."
  Sports marketing official
Most Indian grounds now have electronic perimeter boards along the boundary, where the ads keep rotating. Brands can buy various packages to get their logos on these boards, starting with once every 10 deliveries, says a second sports marketing official, who requested anonymity as they aren't authorised to speak to the media.
"Roughly speaking, for the same amount of time, on-ground advertising costs about one-tenth of on-air advertising. But what you have to understand is that exposure is not guaranteed with on-ground advertising. You can get lucky if there's a spectacular catch taken at the boundary and your brand's logo is in the background. But nothing is guaranteed," the official adds.
Market research and analytics companies like Nielsen and YouGov have tools to help brands measure the value and impact of their on-ground sponsorship. They calculate for how many seconds the on-ground ad is seen on air and then adjust it by a quality factor to determine the value. Because unlike a television ad, where the whole screen belongs to the brand for a 10-second spot, on-ground ads are just a part of the background during live action. All viewers watching the telecast may not spot the brand's logo.
"So, if a TV ad costs ₹10 lakh for 10 seconds, the analytics companies would say an on-ground ad is worth, say, ₹2.5 lakh or ₹3 lakh for the same 10-second visibility window," says the second sports marketing official.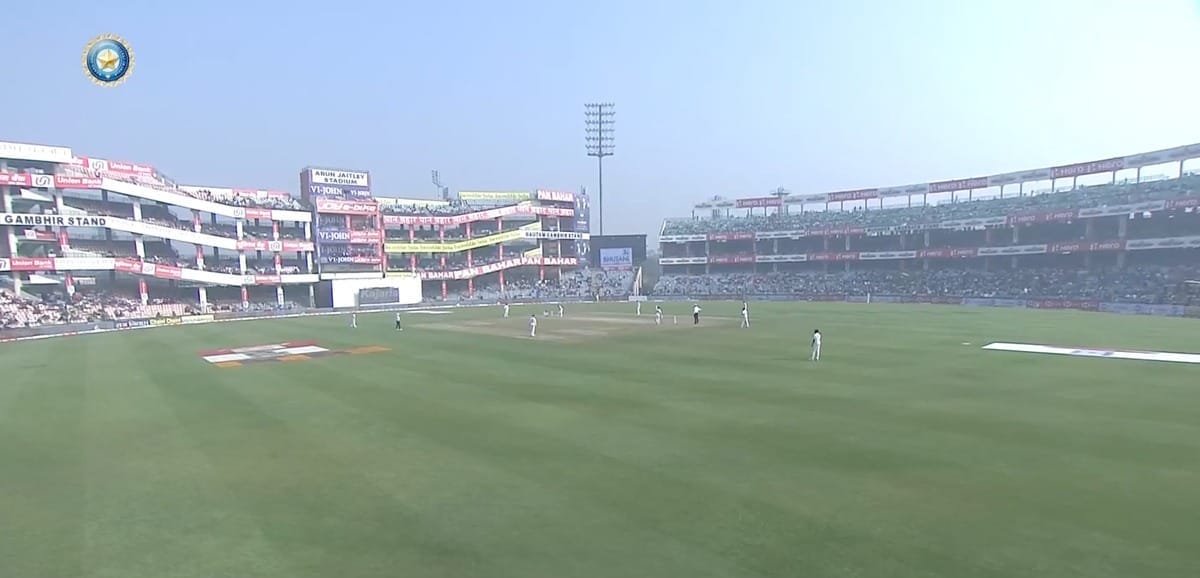 Screenshot from Hotstar
Even though exposure is not guaranteed for on-ground ads, that doesn't mean it's an ineffective sponsorship medium. Joshey John, director and sales head at sports marketing firm ITW Global, says that on-ground advertising serves a two-fold purpose. "It not only gives visibility for brands to the audiences at the stadium, but also ensures television exposure every time the peripheral branding is shown on TV—during a catch, a fielding moment, a boundary or the like."
Another advantage is that on-ground advertising is non-skippable, says John. You might look away from your screen during a commercial break, but on-ground ads are always on display during live play, which ensures high recall and visibility for the brand. "Also, the reach for on-ground advertisements caters to all countries worldwide where these matches are aired. On-ground advertising is an apt medium for brands with global reach and aspirations," he adds.
Ultimately, it all depends on what brands are trying to achieve with the sponsorship. While on-ground ads have a lower entry barrier, just the cost can't be a factor when deciding to go with it. Brands also have to align the sponsorship with their objectives.
The B2B-focused companies—tiles, cement, adhesives, etc—are trying to drive up their brand stature and engagement with their dealers and distributors, says the first sports marketing official. "Back in the day, an UltraTech Cement would take the entire boundary rope—the whole boundary rope would be yellow. It's a top-of-the-mind-recall game. If there's any construction happening anywhere in the country, they need to be the first brand to go to for the dealer/distributor."
For the smaller consumer-facing brands, it's an awareness-building and hygiene exercise—to be seen as a more evolved brand, the official adds. "It's a way to subconsciously enter the consumer's mind when they're engaging with cricket. They're targeting the ₹200 ticket buyer or the millions watching at home from tier 2 and tier 3 cities."
As for the pan masala brands, they're not allowed to advertise on-ground during the IPL, so the national team's matches are their only avenue to associate with Indian cricket. Well, apart from buying television and digital ad spots during cricket matches, that is. As I said earlier, that's another murky rabbit hole.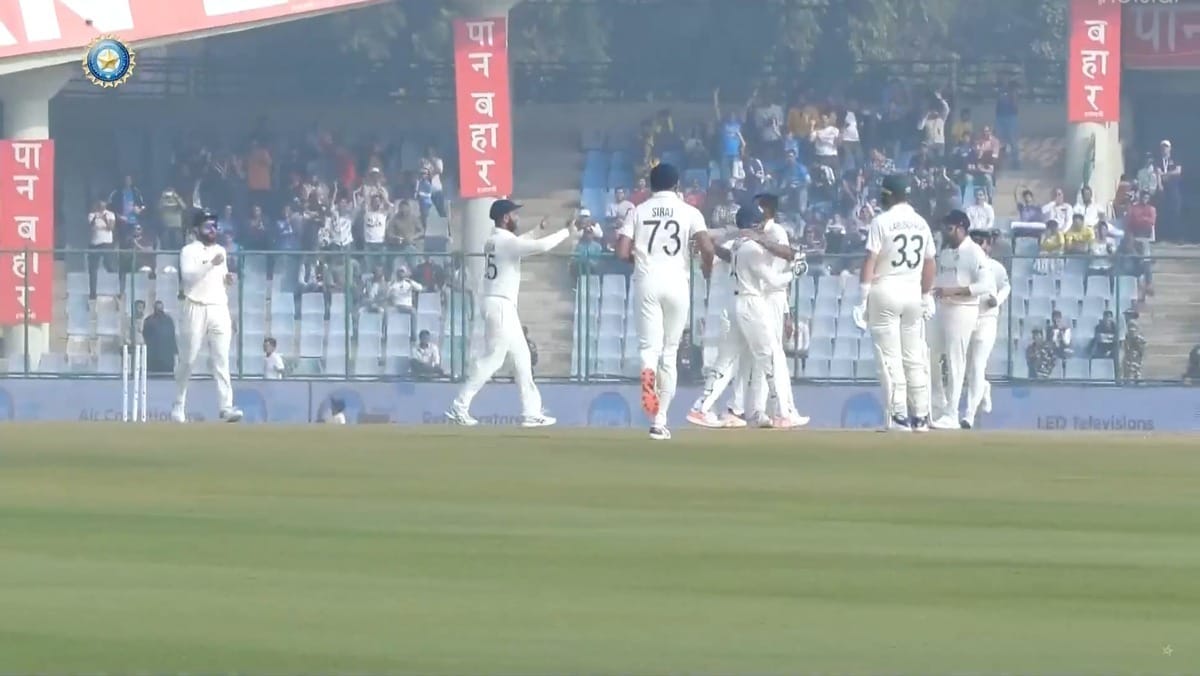 Screenshot from Hotstar
But both John and the second sports marketing official say that on-ground advertising is the most effective when your sponsorship strategy is long-term. Some brands have become synonymous with on-ground advertising in Indian cricket over the years doing this very thing. Like Cycle Pure Agarbathies, UltraTech Cement, Tata, and, well, many pan masala brands.
Cycle Pure is an interesting case study. If you've been watching Indian cricket over the last 15 years, you can't have missed their yellow and blue logo, mostly on the giant screen where the third-umpire referrals are displayed. It's brilliant marketing for a brand selling agarbattis or incense sticks. Because, you know, incense sticks are associated with prayers in India. As is cricket, especially the third-umpire referrals.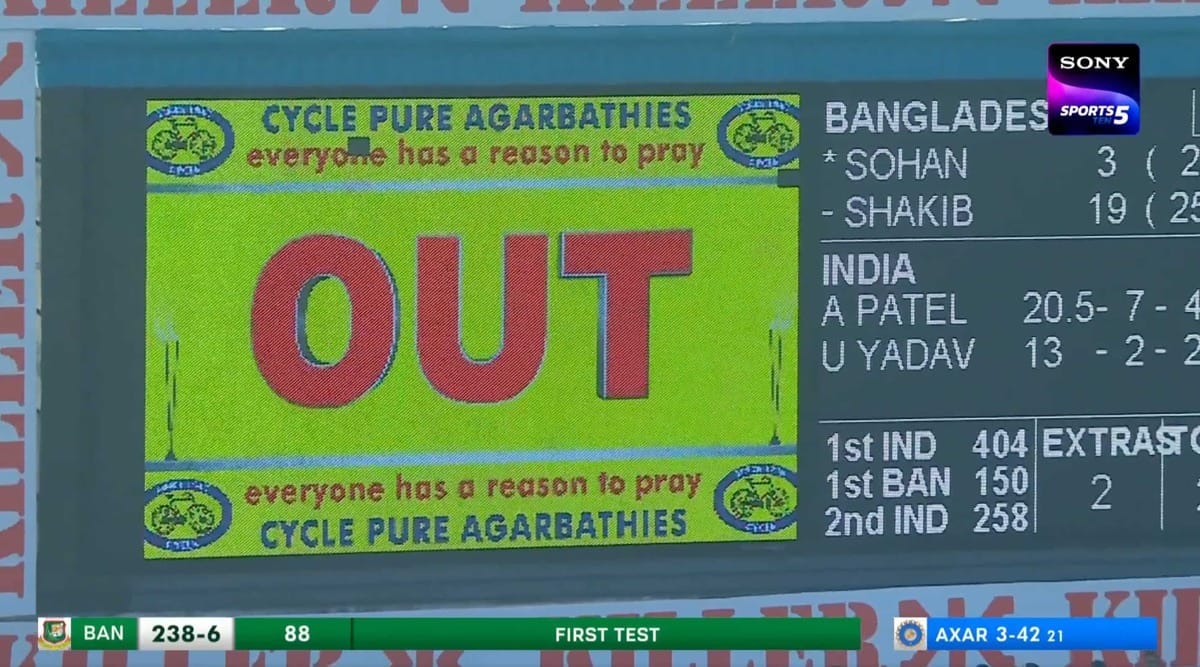 Screenshot from Sony Sports
"We've created a lot of properties over the years, but what stood the test of time was the third-umpire branding," says Arjun Ranga, managing director of the Mysuru-headquartered NR Group, whose flagship brand is Cycle Pure Agarbathies. "We also did a massive 'Pray for India' campaign during the 2011 World Cup, which gave us tremendous brand visibility. And as you know, India won the World Cup."
Cycle Pure began advertising in cricket during the mid-2000s. Over the years, the brand has dabbled in both on-ground and on-air sponsorship, but it's predominantly been the former. Ranga believes that if a brand plans to associate itself with Indian cricket long-term, then on-ground advertising makes more sense. On the other hand, if a brand is launching a new product and wants to run a campaign around it, on-air advertising might be better. Each brand needs to decide what its purpose is and choose between the two or even have a combination of both.
"Our strategy is to be persistent with our advertising to build awareness through cricket," he says. "We have always had a long-term perspective. Advertising in cricket is expensive, and unless you're able to persist with it long-term, you should not dabble in it for the heck of it."
Ranga also made a very interesting point when I brought up the clutter in on-ground advertising for India matches. He said it's also a factor of the broadcaster's influence in terms of what gets shown during the live telecast. "If the on-ground brands can have a clear understanding with the TV channel on what they can show, you'll see half the clutter reduce. That's why we mostly stick to the third-umpire screen perimeter and don't take any of the tier branding."
Clearly, on-ground advertising is a complicated affair in India, especially with the politics and bureaucracy involved. But brands like Cycle Pure have still managed to stand out with a clear, long-term, and well-thought-out strategy. Cycle Pure has even gone on to sponsor international series and teams—it's the official sponsor of the Sri Lankan team for the ICC Women's T20 World Cup. It shows how a brand can build a national and international image starting from a low entry point.
Are there any other brands you feel have managed to stand out from all the clutter in on-ground advertising in Indian cricket? Write to me at jaideep@thesignal.co.
⚡️Quick Singles
🏏🇮🇳 The Tata Group will be the title sponsor of the Women's Premier League for the first five seasons. The value of the deal hasn't been disclosed. The Indian conglomerate is paying ₹600 crore for the two-year title sponsorship rights of the men's Indian Premier League.
⚽️🔴 Liverpool owner John Henry has now ruled out selling the club, but said that his Fenway Sports Group is open to letting go of a minority stake. Speaking to the Boston Sports Journal, Henry said, "Will we be in England forever? No. Are we selling LFC? No. Are we talking with investors about LFC? Yes. Will something happen there? I believe so, but it won't be a sale."
🤼🇺🇸 WWE executive chairman Vince McMahon is expecting as much as $9 billion if he has to sell the company, reported Bloomberg. The entertainment giant has already received offers, with potential buyers including the Endeavor Group, which owns the Ultimate Fighting Championship, and investors from the Middle East.
🏀🇺🇸 Investors from the Middle East—the sovereign wealth funds of Qatar and Abu Dhabi—are also interested in buying NBA teams. The NBA recently tweaked its ownership rules to allow sovereign wealth funds to buy as much as a 20% stake in its franchises. Such funds could earlier invest in NBA teams only through indirect exposure.
That's all for this week. If you enjoyed reading The Playbook, please share it with your friends, family, and colleagues. You can reach out to me at jaideep@thesignal.co with any feedback (good, bad, or ugly), tips, and ideas. I'd love to hear from you!
Thanks for reading, and see you again next Friday!