Discover more from The Playbook By The Signal
A weekly newsletter that goes beyond the headlines and gives you all the necessary signals you need to understand India's sports and gaming industries better.
Over 9,000 subscribers
Inside JioCinema's multi-cam IPL streaming
A value-add feature or a gimmick?
Good evening,
Welcome to The Playbook, a weekly newsletter on the business of sports and gaming. If someone shared this newsletter with you, please hit the subscribe button below — it's free!
If you've been watching television in India in the last month or so, you can't have missed JioCinema's ad for the Indian Premier League (IPL).
The nearly-two-and-a-half-minute commercial, featuring cricketers MS Dhoni and Suryakumar Yadav, tries to convince you that watching the IPL on digital is a superior experience compared with television. It showcases the interactive features of a digital stream, including the ability to rewind the live action and pinch-to-zoom. And then, in the second half, it showcases a new feature called multi-cam, where you can watch the match via multiple camera angles.
JioCinema

@JioCinema
Dekho kya keh rahe hain Mahi aur Surya, it's time to upgrade to JioCinema!
Catch all the action of #TATAIPL in 4K resolution & multi-cam feature on JioCinema. Available for FREE in 12 languages across all telecom operators.
#TAT#TATAIPL2023L#IPLonJioCinemad@msdhonir@surya_14kumarp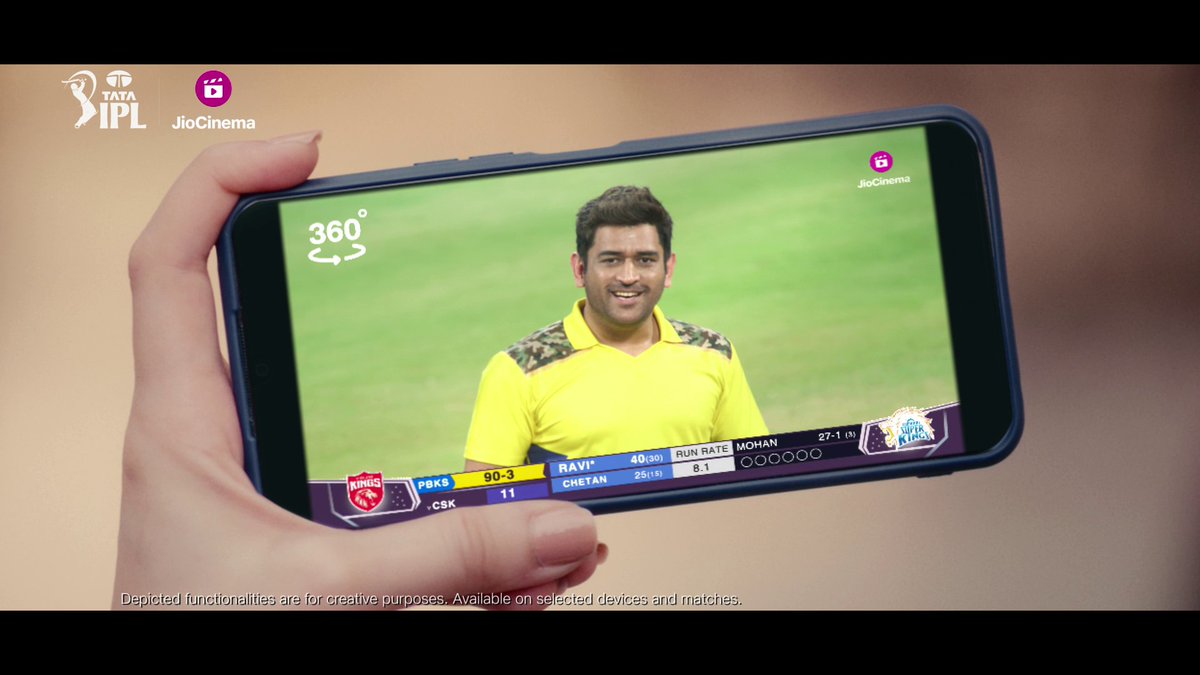 Mar 16, 2023
4.26K Likes   631 Retweets   1.22K Replies
I've been watching the IPL entirely on digital—I gave up my television connection a good four years ago. This past week, I played around with these new features advertised by JioCinema.
Now, I've been unable to both rewind and pinch to zoom in and out of the live stream on my phone. The rewind option is not there on the JioCinema app on my connected TV either. So, I rewatched the ad and noticed some details that I had missed earlier.
The part where the woman in the ad pinches to zoom in and out on Dhoni has the words "360°" written on the top left corner of the screen. I googled this and found an article from March that said JioCinema "will be launching a 360-degree immersive button" within the app to view the matches. I haven't found this button yet. Then, I also noticed a disclaimer in fine print at the bottom of the screen on the ad, which said: "Depicted functionalities are for creative purposes. Available on selected devices and matches."
Similarly, the part where the woman rewinds the stream has the words "Key Moments" on the top left. This would imply it's referring to highlights or non-live content. But the ad is made in such a way that it makes you believe this is possible on the live stream. And this part of the ad also has the disclaimer at the bottom. 🤷🏽‍♂️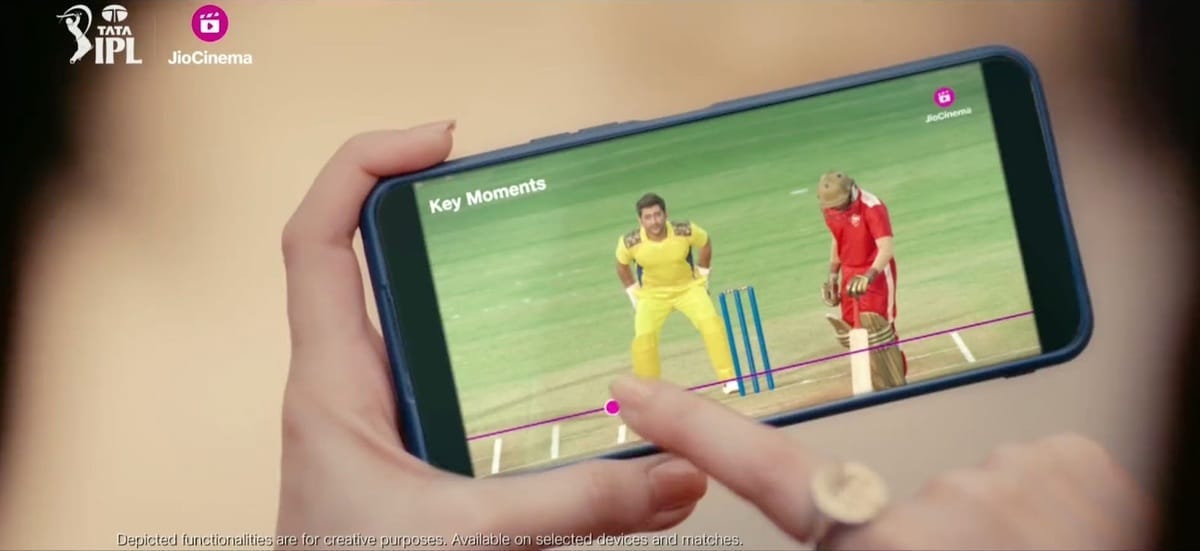 Anyway, the focus of this edition is on the feature that's showcased in the second half of the ad — multi-cam. The one that made SKY dizzy.
In focus: JioCinema's multi-cam feature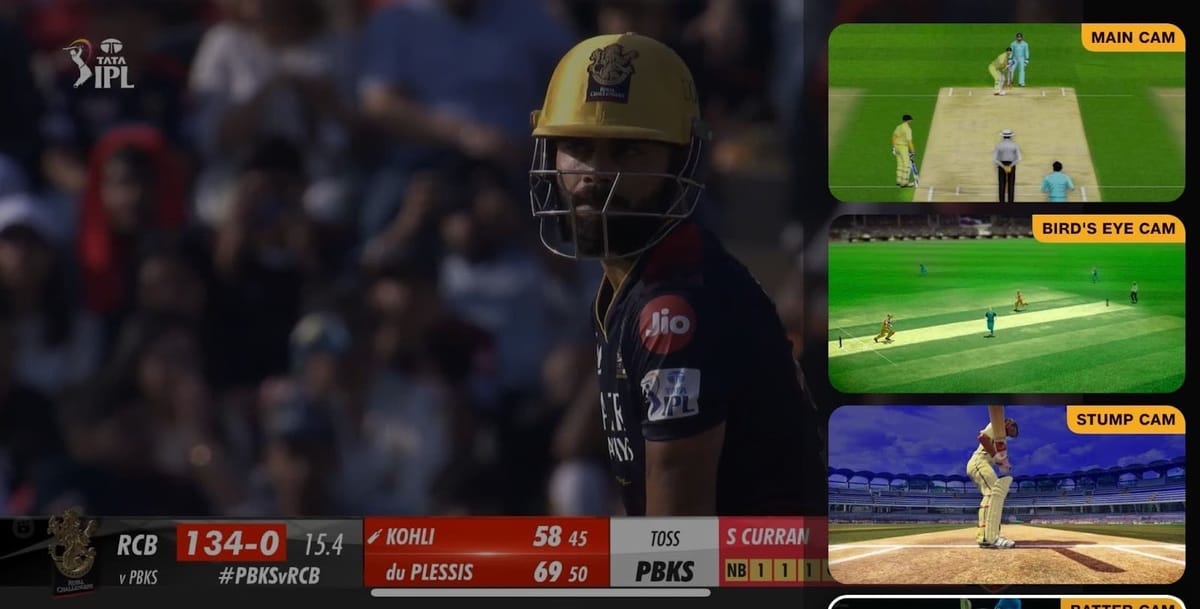 Earlier this week, I was watching the IPL's Southern Derby — Royal Challengers Bangalore versus Chennai Super Kings. Early on during Bangalore's chase of 227, opener Virat Kohli got a big inside edge, as the ball deflected onto his back pad and then trickled onto the stumps, dislodging just one bail. It was a rather unlucky dismissal.
However, I missed the intricacies of the dismissal because I was watching the match from the "Bird's Eye Cam". It's a camera positioned somewhere high up in the stadium that, as the name suggests, offers a bird's-eye view of the action. And while the camera is able to zoom in closer to the pitch, it's usually zoomed out while a delivery is being bowled.
Bird's Eye Cam is one of four live camera feeds offered by JioCinema for the IPL via its new multi-cam feature. The others are Cable Cam (otherwise known as spider cam, a cable-suspended camera that moves both vertically and horizontally over a predetermined area), Stump Cam, and Batter Cam (which is focused on the batter).
So, essentially, apart from the main broadcast feed, which includes edited and mixed footage from all the 40-50 cameras used during the match, you can also watch raw, unedited footage from these four cameras if you wish. If you're lucky, you'll witness a batter being dismissed by a great yorker live from the stump cam, or a great live view of a six being hit over extra cover from the bird's eye cam, or the emotion on a batter's face as he hits a boundary or reaches a milestone, via the batter cam.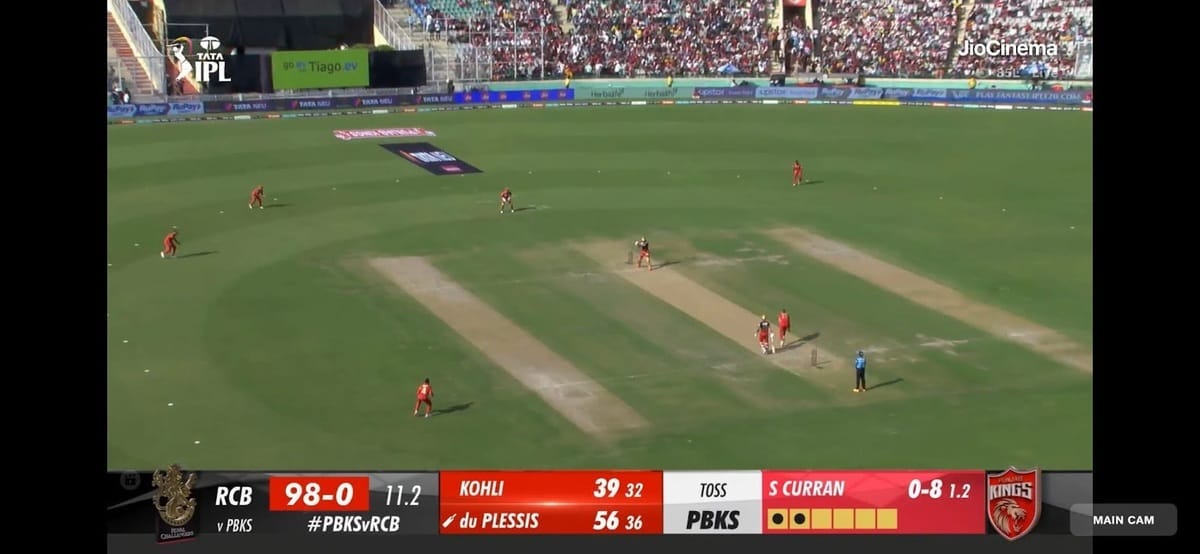 Screenshot of footage from the Bird's Eye Cam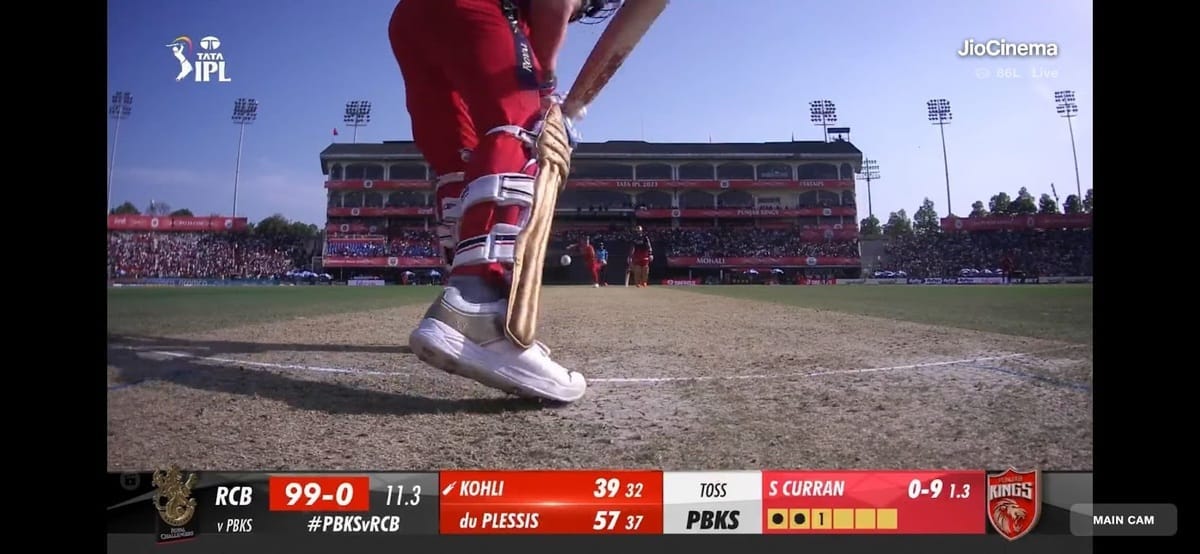 Screenshot of footage from the Stump Cam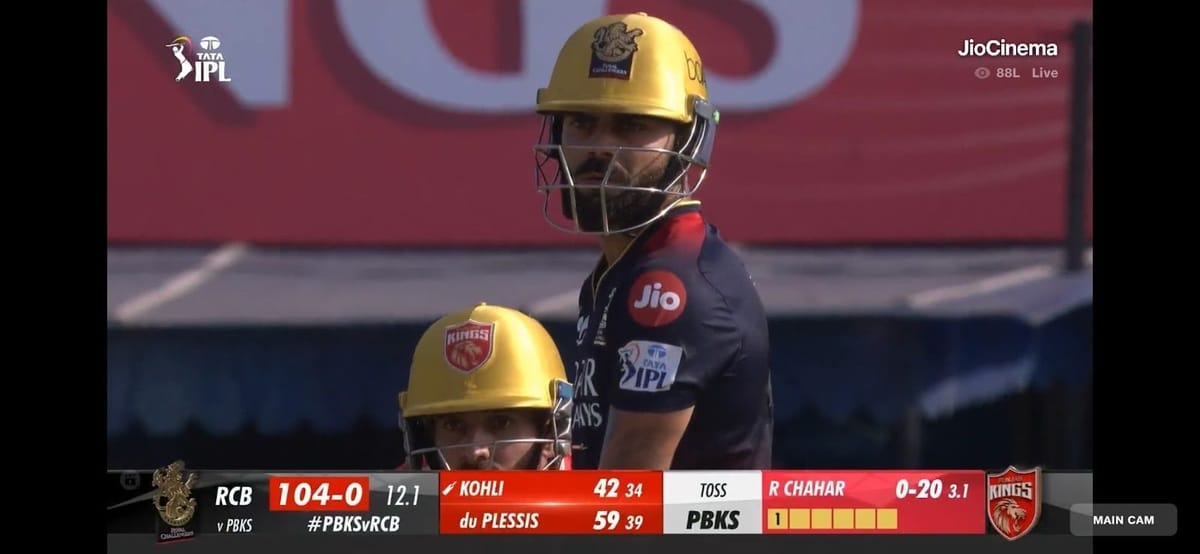 Screenshot of footage from the Batter Cam
But there's a catch: while these multi-cam feeds are connected to the commentary, they don't show replays. So, if you miss anything like I did with Kohli's dismissal, you'll have to switch back to the main feed to catch the replays with other camera angles. Now, JioCinema has tried to make this experience as smooth as possible by adding a "Main Cam" button on the bottom right corner when you're watching one of the four multi-cam feeds. You can tap the button to switch to the main feed.
But as I continued to watch the match using these multi-cam options, I realised that they're probably useful for highly-engaged users who are completely glued to their screens throughout the match and don't mind tapping buttons every now and then to switch between different camera feeds.
If you're a casual viewer like me, who watches the IPL on a connected TV in the background while working or playing with your kids or having dinner, nothing beats the main feed. The multi-cam options lose their novelty pretty quickly. As one broadcast director who requested anonymity put it, "Why would you watch a match with one camera when you can watch it with 50?"
Multi-cam is one of the many innovative features offered by JioCinema during its first season broadcasting the IPL. Others include 4K resolution streaming, interactive stats overlays, and commentary in 12 languages. Compared with these features, multi-cam seems a little gimmicky.
It's a feature that has been used globally in sports such as football and Formula One. F1 TV Pro, Formula One's direct-to-consumer streaming service that launched in India recently, offers viewers the option to watch the race from the viewpoint of their favourite drivers. There's also a "Battle Mode", where you can pit two drivers against each other on the same screen. The multi-cam feature lends itself to a sport like F1 a lot better.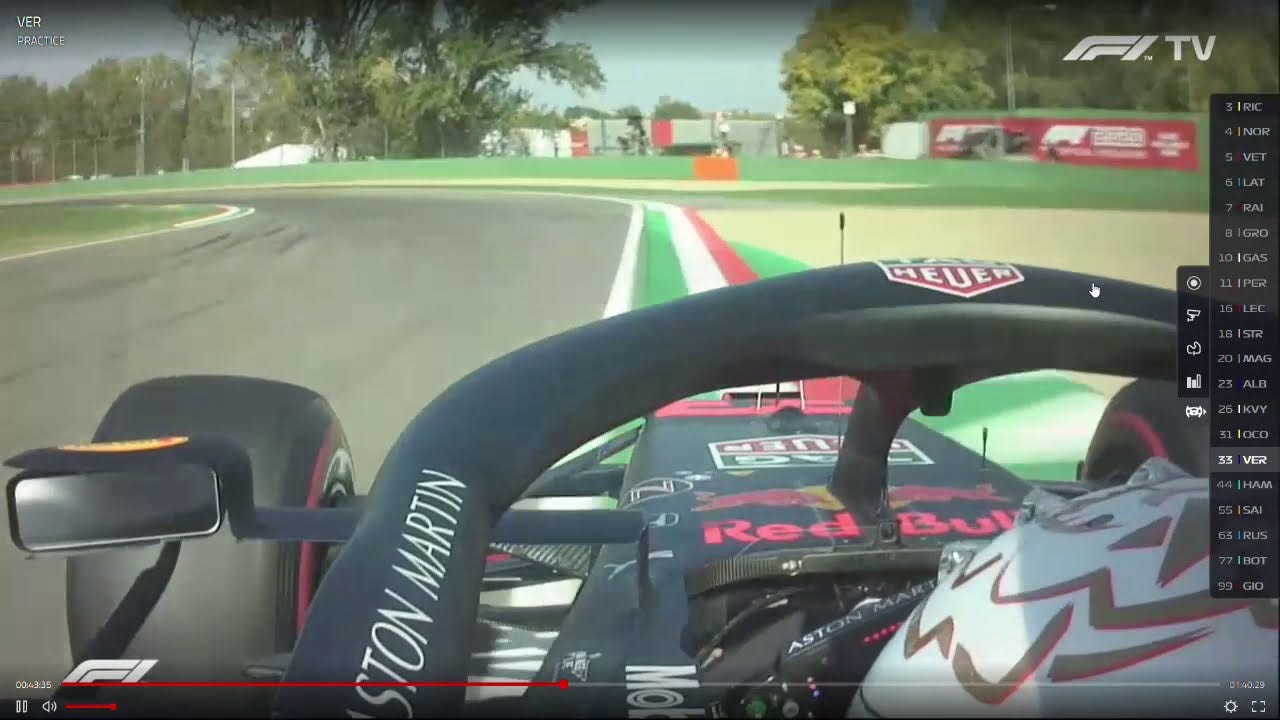 Demonstration Of the updated 2021 F1TV Player/Feed Selector (2020 Imola FP replay)
"In cricket, I don't see how it adds to the viewing pleasure, especially with no replays," says a sports broadcast industry executive, who requested anonymity. "The main feed includes footage from 40 different camera feeds, which is packaged aesthetically depending on what's happening on the field. But here, unabridged footage is accessible to the viewer. It's like publishing an unedited article in a newspaper." JioCinema did not respond to a list of questions I sent before this edition was published.
So, why would JioCinema offer something like this? For one, it's something the television broadcaster, Disney Star, cannot offer because of the limitations of the medium. So, it's a differentiator and a means to grab eyeballs from its competitor. But perhaps more importantly, offering such a service wouldn't have come at a considerable cost.
"The main thing involved is sourcing the additional camera feeds from the IPL production team," says an executive who works in the product team of a rival streaming platform. They requested anonymity as they aren't authorised to speak to the media. "Then, you have to store these different camera feeds on your cloud. And then, you have to customise these feeds with respect to ad delivery, etc. Overall, though, the cost isn't much—perhaps around ₹5 lakh ($6,100) per match. In comparison, something like a 4K broadcast would cost around ₹10 crore ($1.2 million) per match."
The executive added that their company had also considered offering something similar but eventually chose not to since user feedback concluded it wasn't a very lucrative feature. "We did some estimations and concluded that it could maybe only contribute to 1-2% additional watch time. It's not really a kickass feature, but it feels good from the customer's point of view that you have this additional option."
Apart from the modest costs, adding the feature also doesn't result in much additional work for both the broadcaster and the IPL production team, which produces the main feed.
"The main feed's director isn't involved because the broadcaster is only getting raw footage from the four selected cameras," says a second sports broadcast industry executive. "There's no additional equipment required, because the four cameras are already in place for the main feed. The camerapersons' work may have increased to a certain extent because their footage is technically live throughout, rather than just when the broadcast director calls upon them."
So, multi-cam seems to be a low-risk, low-reward investment from JioCinema to spruce up its digital broadcast of the IPL. If it somehow manages to add replays to the multi-cam feeds, it could become a much more useful feature.
Or perhaps JioCinema could take a cue from LaLiga, whose multi-cam option involves four different camera angles on a split screen, along with a real-time stats bar. The four angles are the main feed, which is the biggest window on the split screen, a close-up shot of the ball and the player in possession, action from the two goal areas, and one focused on the dugouts.
LaLiga

@LaLiga
Recuerda... 🤩
Esta temporada, en el canal Movistar LaLiga1, ¡podrás ver una señal multicámara para vivir algunos partidos señalados como nunca lo habías hecho hasta ahora! 🔝
@movistar_es | #LaLigaBroadcasters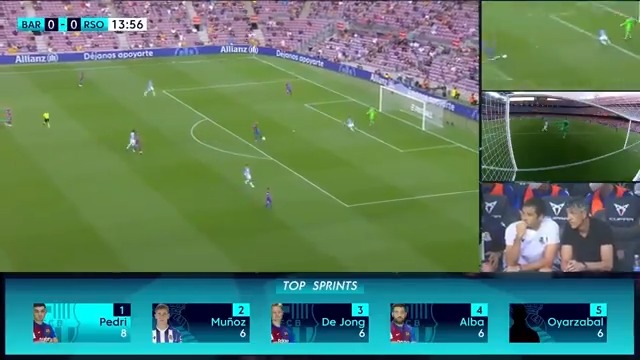 Sep 7, 2021
189 Likes   8 Retweets   10 Replies
However, if you ask me personally, I found the split screen option too confusing while watching the above video. I didn't know which window to focus on and it eventually made me a bit dizzy. But maybe I'm just too old school for these new technologies!
Do you watch the IPL using JioCinema's multi-cam feature?
If you have any additional thoughts, feel free to write to me at jaideep@thesignal.co. If you're viewing this online, you can also post your thoughts in the comments section below.
⚡️Quick Singles
👟🇮🇳 Pou Chen, a Taiwanese footwear maker that manufactures for brands such as Nike, Adidas, and New Balance, is investing ₹2,302 crore ($280.8 million) via a subsidiary to set up a manufacturing facility in Tamil Nadu, reported The Economic Times. And at least six other global non-leather footwear manufacturers are also in the process of setting up their units in the state, reported Business Standard. These are Feng Tay, Hong Fu, Dean Shoes, Oasis Footwear, Sports Gear, and Zucca.
🏏🇮🇳📺📱 The Board of Control for Cricket in India (BCCI) will reportedly sell the television and digital rights for its next bilateral series cycle separately, just like it did with the IPL. The BCCI's last media rights cycle ended in March, for which Disney Star had paid ₹6,138 crore (~$944 million) in 2018. The auction for the next five-year cycle is likely to be held in July, and could fetch the board at least ₹15,000 crore ($1.8 billion), reported The Economic Times.
🎲🇮🇳💰 India's fantasy sports industry invested an estimated ₹3,100 crore ($377 million) in real-world sports sponsorships, and is expected to contribute ₹29,000 crore ($3.5 billion) to the overall sports economy between 2022 and 2027. This is as per a new report co-authored by Deloitte India and the Federation of Indian Fantasy Sports. The report also said that India is the fastest-growing fantasy sports market in the world, with over 300 platforms serving more than 180 million users.
🎮🏆 Sony has launched a new YouTube channel called PlayStation Esports, which will offer highlights and coverage from the world of competitive gaming. In 2021, Sony had acquired the Evolution Championship Series, better known as Evo, which is the world's largest fighting game tournament.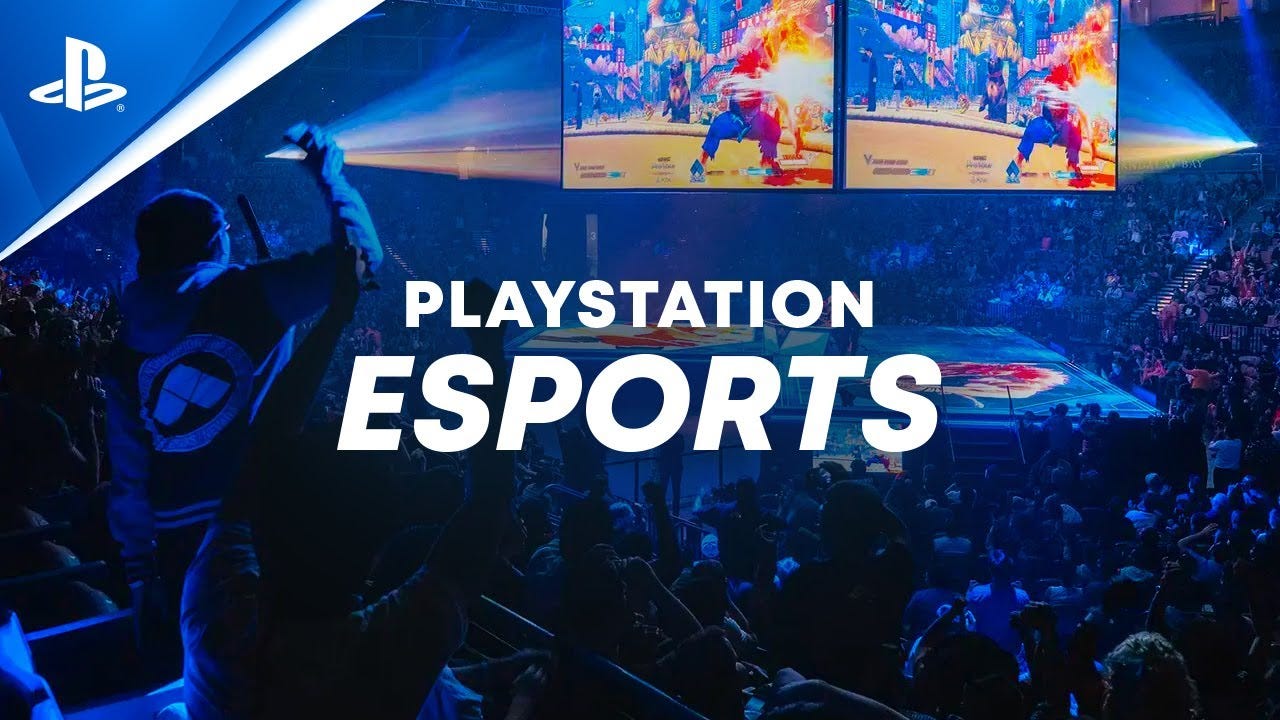 Introducing PlayStation Esports
🎮🧹 Warner Bros. Games has finally announced that Harry Potter: Quidditch Champions, which has been in development for several years, will release in May. The game has been developed by Los Angeles-based Unbroken Studios, which has worked on franchises such as Battlefield, Call of Duty, God of War, and Batman: Arkham. Warner Bros' last Harry Potter game, Hogwarts Legacy, sold over 12 million copies two weeks after release in February.
🏎️🇸🇬 The Singapore Grand Prix has sold a particular tier of tickets for S$11,016 ($8,266)—the most expensive ever in its 15-year history—for the Formula One race in September. Rapper Post Malone and popstar Robbie Williams will be performing at this season's race. The 2022 Singapore Grand Prix drew a record crowd of over 300,000.
🏦🏏🇮🇳 HSBC India has signed star cricketer Virat Kohli as its new brand ambassador, as it looks to double down on the country. In February, HSBC India reported a 15% jump in pre-tax profit to $1.277 billion for 2022. It has 39,000 employees in India.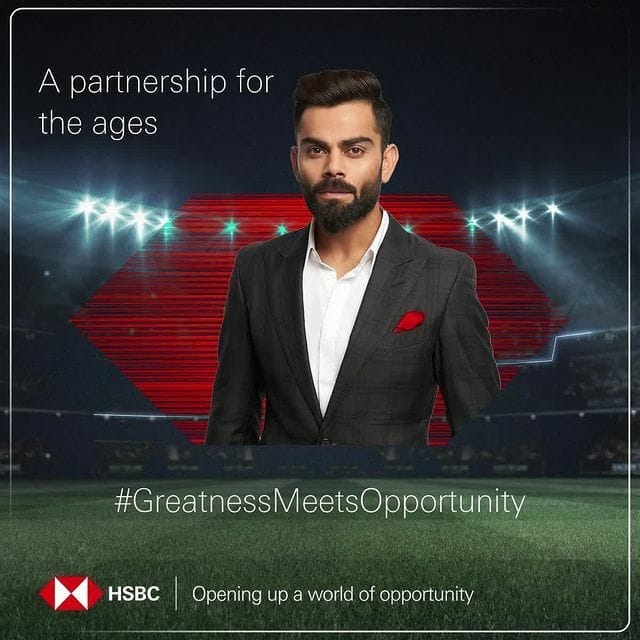 Join us in welcoming Virat Kohli to our HSBC India team as our Brand Influencer.
It promises to ...
⚽️🔴🇺🇸 There's a potential twist in the Manchester United sale saga. The Glazer family is now increasingly confident of securing the outside investment that will enable them to remain owners and not sell the club, reported ESPN. The Glazers believe the valuation of the club can be doubled over the next decade, the report added.
🏏🎰 The International Cricket Council (ICC) will allow member nations to have betting sponsor logos on their kit during bilateral series, reported Forbes. The ICC's Chief Executives Committee took the decision. Teams will only not be permitted to have betting logos during major ICC events such as World Cups.
⚽️🇬🇧 The women's FA Cup final between Manchester United and Chelsea at Wembley Stadium next month could end up becoming the most attended domestic women's football match in history. The current record is 60,739 for a match between Barcelona and Atlético de Madrid in 2009. The English Football Association (FA) had sold more than 50,000 tickets by March 28, according to Forbes.
That's all for this week. If you enjoyed reading The Playbook, please share it with your friends, family, and colleagues. You can reach out to me at jaideep@thesignal.co with any feedback (good, bad, or ugly), tips, and ideas. I'd love to hear from you!
Thanks for reading, and see you again next Friday!