Discover more from The Playbook By The Signal
A weekly newsletter that goes beyond the headlines and gives you all the necessary signals you need to understand India's sports and gaming industries better.
Over 9,000 subscribers
Can a bad guy in a movie wear a sports jersey?
If you ask Royal Challengers Bangalore, the answer is no.
Good evening!
Welcome to The Playbook, a weekly newsletter on the business of sports and gaming. If someone shared this newsletter with you or if you've found the online version, please hit the subscribe button below — it's free! You can unsubscribe anytime.
Did you manage to book tickets for the ICC Men's Cricket World Cup 2023? Congratulations if you did! I'm sure it must have felt like winning one of Willy Wonka's golden tickets. I wasn't so lucky, despite trying to book a ticket twice—during the pre-sale window for Mastercard customers earlier this week and the general sale window yesterday. At one point yesterday, the wait time displayed on the BookMyShow website was "more than a day". But the tickets were sold out in 15 minutes. 🤷‍♂️
I remember how smooth the process was during the 2016 World T20. I had applied for tickets for the India-West Indies semi-final in Mumbai. There was a lucky draw; if you got through, which I did, you could just go and book the ticket online within a specified window. I'd have much rather preferred that system so that you at least know whether you're going to get a ticket or not. But then again, that tournament was much better planned and organised. For one, the schedule wasn't announced less than three months before the tournament began.
So, I guess, television for the win!
Speaking of TV, have you watched the Rajinikanth movie Jailer? It's still running in cinemas, but it should be out on a streaming platform soon. Once it's out, I'm going to be looking out for one particular scene…
Opening a big can of worms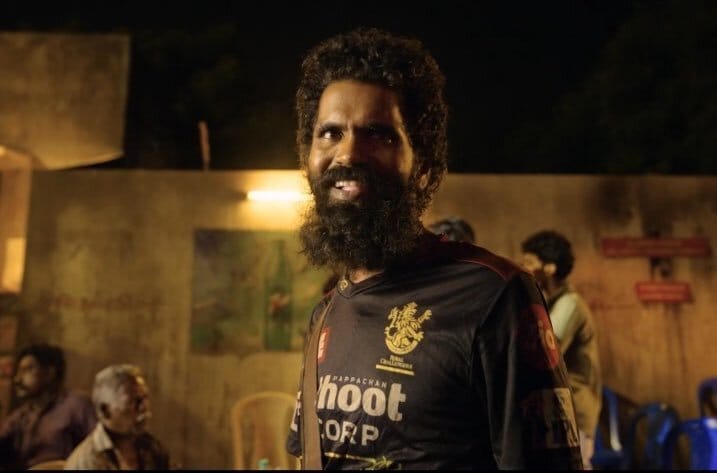 Photo credit: Raghu Rajaram/X
A couple of weeks ago, I crossed something off my bucket list: watch a Rajinikanth movie in a theatre. I know, I should be ashamed for waiting nearly 35 years to do this. But it is what it is.
The movie was a typical Rajini affair: heavy on the masala and testosterone, Thalaivar in nearly every frame, and lots of whistle-worthy scenes. The second half was a bit stretched, but then I guess you can't expect a Rajinikanth movie to be a tightly edited two-hour affair. People want more. I had a great time, although Jailer is far from being the best Rajini movie I've watched.
Then, earlier this week, I came across a report that made me go 🤔.
The report, by news agency PTI, said that the makers of Jailer have agreed to digitally alter a scene in the movie that shows a contract killer wearing the jersey of Indian Premier League (IPL) franchise Royal Challengers Bangalore (RCB). The character makes "derogatory and misogynistic statements about a woman".
This was after RCB filed a lawsuit in the Delhi High Court saying that the filmmakers had used its jersey without permission, and that its association with the negative character would "result in dilution and tarnishment of its brand image".
Now, if you go by this report, you might think that RCB has a point. But honestly, having watched the movie myself a couple of weeks ago, I vaguely remember someone wearing an RCB jersey in a scene, but it was a minor character at best. He wasn't the main antagonist by any means and barely had any screen time. So, I couldn't help but wonder if RCB was maybe overthinking this.
I put this question to Karthik Srinivasan, a communications strategy consultant who has worked with clients such as Google, Myntra, and Himalaya. Having watched Jailer, he doesn't remember noticing the RCB jersey at all. "Only when I read the news did I think about it and realise it's possible someone might have been wearing an RCB t-shirt. It looks completely incidental. It wasn't a conscious choice by the filmmakers."
Srinivasan adds that the important thing to find out is whether anyone made the connection between RCB and the negative character until the matter actually went to court. "For instance, if they claimed that there are thousands of memes online of this bad guy and people are mocking RCB as a result of that, then at least there is some ground for the brand to ask for a cut. But otherwise, I don't think anybody cares for that scene; it's so incidental."
While RCB declined to comment, I did a search on X (formerly Twitter) for the term "Jailer RCB". The only posts I could find were ones about this case, which means people only started talking about it after the matter went to court and was reported in the media. There were also some jokes made at RCB's expense, like this one.
Pradeep Muthu

@muthupradeep
Ok... 1st win for RCB 😉
#Jailer
#RCB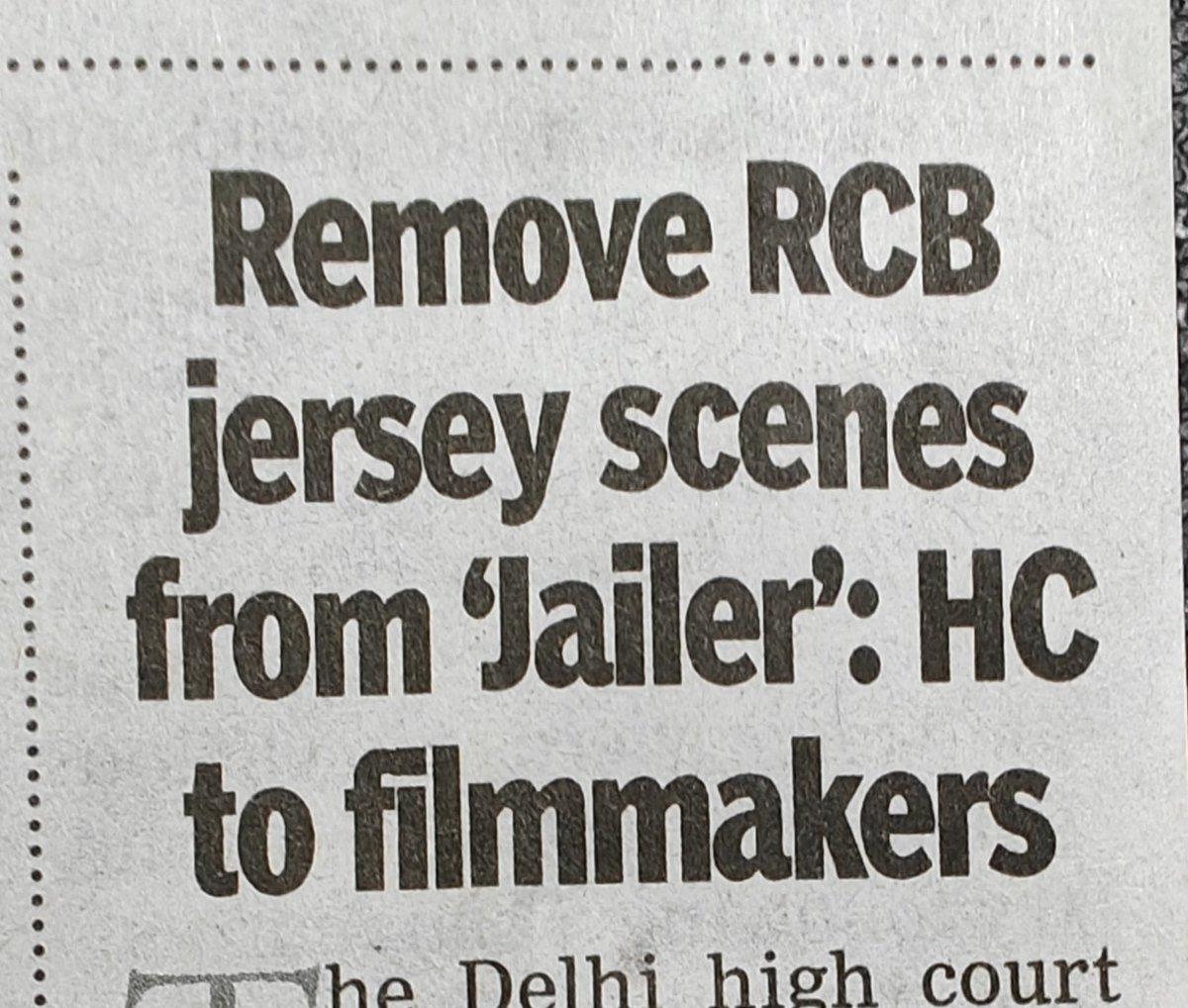 Aug 29, 2023
71 Likes   6 Retweets   8 Replies
It's a classic case of the Streisand effect, when censorship backfires.
Anyway, the producers of the movie, the Sun TV Network and Kalanithi Maran, have agreed to digitally alter the jersey to remove the RCB branding before it's released on television and OTT platforms. The jersey will also be edited or altered in the theatrical version by September 1. The two parties resolved the matter outside court, per reports.
Srinivasan says that this case can open a big can of worms. "Will you now be able to point out any colour scheme, brand, or logo anywhere on the screen where a negative character is shown and then say that this harms us? If you go down this road, there is no end to it. Any and every brand can take offence to any and every scene, and it'll become a complete epidemic. Imagine Anand Mahindra taking offence to Rohit Shetty blowing up Scorpios in his movies: 'Why are you blowing up Scorpios? Why not Toyotas?'"
This case might lead to film costume designers becoming more careful and cognizant of not having any recognisable brand associated with negative characters in the future. It's the extreme opposite of companies working with film producers to feature their brands in prominent scenes as a commercial arrangement, which is quite common in Indian cinema.
Of course, RCB is far from being the only brand that's sensitive about how it is portrayed in films and series. In 2020, American filmmaker Rian Johnson revealed how Apple is particular about bad guys not having iPhones on camera. In the hit American drama series 24, all the good guys use Macs, while the villains have PCs. In Slumdog Millionaire, Mercedes and Coca-Cola didn't want their products associated with negative characters.
At the other end of the spectrum are brands that actually use negative characters to sell their products. Like classifieds platform Quikr, which made a series of ads (like this one) featuring Bob Biswas, a serial assassin played by actor Saswata Chatterjee in the hit 2012 Bollywood thriller Kahaani. One of the most iconic Hindi film villains of all time, Amjad Khan's Gabbar Singh, also appeared in an ad for Brittania Glucose-D biscuits.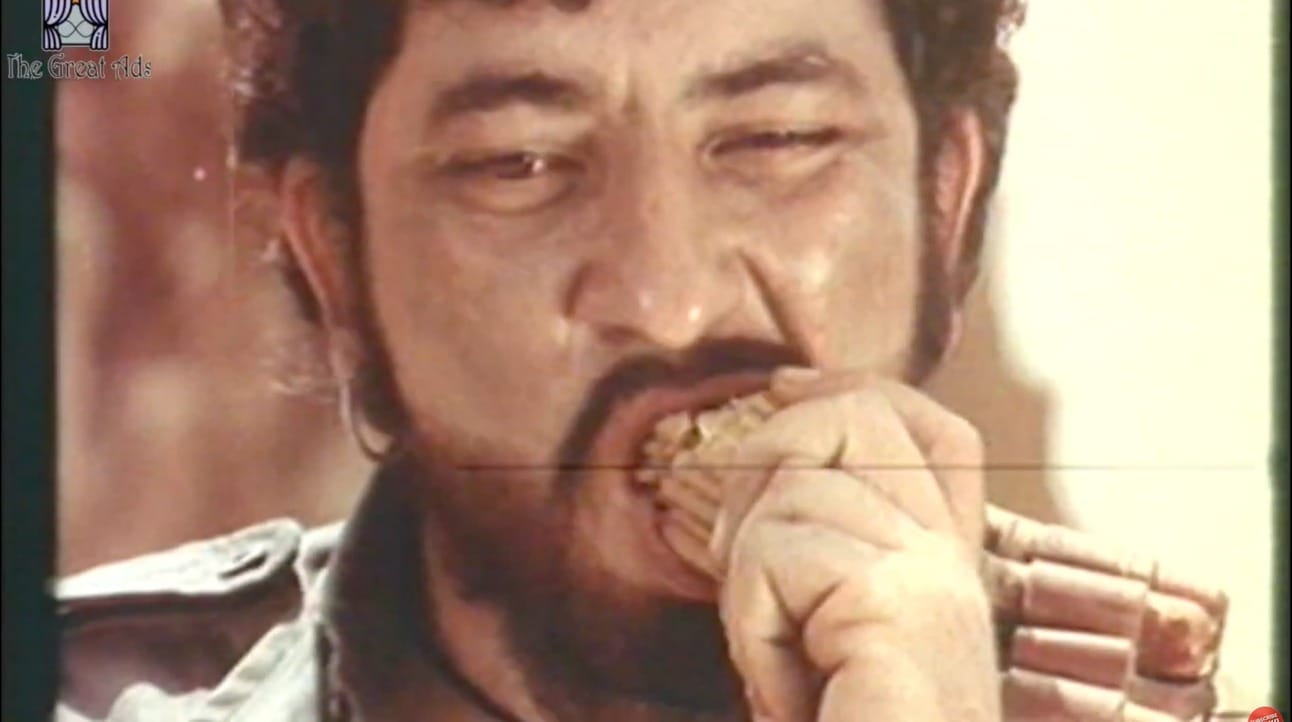 But RCB's owner, Diageo, is unlikely to tread this path. The alcoholic beverage company has used actors and sportspersons in its surrogate ads for brands such as Kingfisher and McDowell's No 1, but never a negative character. And that's because of how alcohol has been historically perceived in Indian society, including movies.
"In the '80s and '90s, if you look at brand associations in films, most villains and negative characters were the only ones shown drinking alcohol," says Aalaap Roy, a marketing and strategy professional who has worked with brands such as Diageo, Unilever, and CondeNast.
"There's that famous Amrish Puri dialogue about Black Dog whisky [which is a Diageo brand]. There has always been a negative association with alcohol. Only in the last few years has there been a major change in terms of alcobev brands trying to showcase themselves in a positive sense. That taboo is slowly going away," he adds.
This is one of the key reasons why alcobev brands today have strict guidelines about not wanting to be associated with anything that's negative, whether it's religious, political or anything that might cause a social stir. "Maybe 10 years ago, alcobev was a distribution-led business. Today, it's slowly becoming more of a brand-led business," says Roy.
This might explain why RCB is being so touchy about that scene. At the end of the day, Royal Challengers Bangalore is an extension of the Royal Challenge whisky brand and, in effect, Diageo. (In a previous edition of The Playbook, I'd written about how RCB built a robust brand over the last 15 years.)
What still makes it a bit of a stretch is that the RCB association was with a minor character who was on screen for barely five minutes. The PTI report also mentions the name of Muthoot FinCorp, whose logo is on the front of the jersey shown in the movie. That's the added dimension in the case of sports jerseys, which have multiple sponsor logos as well.
But the point Roy is making is that if the contract killer in Jailer was wearing the jersey of any other IPL team, their owners probably wouldn't have minded it. But because it's RCB and Diageo, things have gone this far. "Even if it was a Pepsi or Coke, I don't think those brands would have done anything," he says.
Both Srinivasan and Roy also said that nobody would have cared if this was a regular movie. But Jailer is a Rajinikanth movie. In terms of popularity and potential reach, it's right up there in the Indian film industry.
I wonder what would have happened if Rajinikanth himself was wearing the RCB jersey in a scene where he chops a bad guy's head off (yep, Jailer has its fair share of gore, unlike a typical family-friendly Rajini movie.) Would RCB still have taken offence?
Do you remember the scene from 'Jailer' with the man wearing the RCB jersey?
The new home of Indian cricket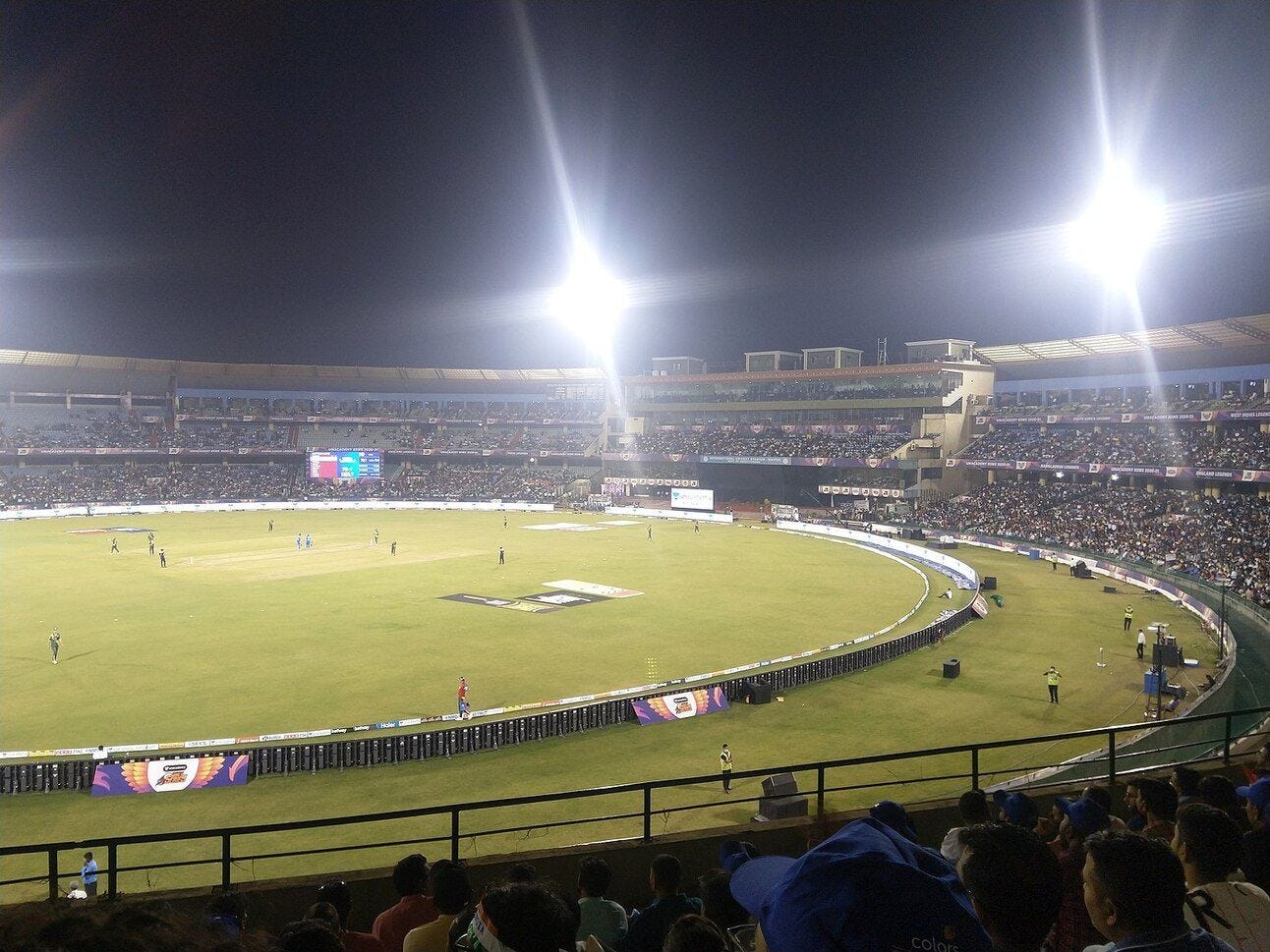 Photo credit: Wikimedia Commons
Viacom18 completed its takeover of Indian cricket media rights on Thursday. The Reliance Industries-backed broadcaster bagged the linear television and digital rights for international bilateral and domestic cricket played in India for the next five years for ₹5,963 crore ($721 million). It already owns the digital rights for the IPL until 2027. The only major cricket property it doesn't own is the ICC rights, which are with Disney Star.
According to reports, Viacom18 bid ₹3,101 crore ($375 million) for the digital rights and ₹2,862 crore ($346 million) for the television rights in the e-auction. The total bid of ₹5,963 crore is less than the ₹6,138 crore ($944 million at the time) that Star India had paid for the previous rights cycle in 2018. But on a per-match basis, Viacom18 is paying slightly more: ₹67.75 crore versus ₹60 crore). The number of matches could rise from the current 88, depending on the BCCI's bilateral commitments.
What's interesting about the auction is that it seems Viacom18 was the only serious bidder. Sony Pictures Networks India was reportedly the only other main contender, bidding ₹3,000 crore for digital and ₹2,762 crore for television rights, while Disney Star only placed a couple of bids, according to Mint. The Economic Times reported that Sony bid ₹5,863 crore in total, while Disney didn't participate in the e-auction at all.
Whichever the case, it seems both companies were clear they wouldn't bid aggressively. Here's what a Disney Star executive told Mint:
"We were clear from the beginning that we would bid for the rights only to the extent that it made business sense. Viewership of the bilaterals has been on the decline over the last few years, and the non-availability of marquee Indian players has only further pulled the property down," he said.
  Viacom18 wins BCCI media rights for ₹5,963 cr | Mint
Apart from declining viewership, Sony and Disney Star's apparent disinterest in the BCCI bilateral rights is also likely down to macroeconomic conditions globally. Disney's financial struggles are well documented, while Sony has always been frugal in its spending and focused on keeping its financials in the black.
With the two companies already committing $1.5 billion each for the ICC rights (Disney sub-licensed the television rights to Sony and kept the digital rights for itself after paying a whopping $3 billion for them last year), it was unlikely they'd bid aggressively for the BCCI rights. They've put their bets on ICC tournaments over BCCI bilaterals, which is understandable considering a majority of the viewership for the latter is dedicated to series featuring Australia and England. Unfortunately, due to politics, bilateral cricket with Pakistan is a no-go.
India is scheduled to host Australia and England two times each for bilateral series between now and 2027. Meanwhile, there are five major ICC men's tournaments in this period: the 2023 World Cup, 2024 World T20, 2025 Champions Trophy, 2025 World Test Championship, and 2026 World T20.
Sony's interest in the rights, up to a certain extent, was understandable considering it doesn't have any Indian cricket currently. For the next four years, the only cricket featuring India on Sony will be the team's ICC matches on TV and its tours of England (TV + digital). India is scheduled to travel to England three times for bilateral series between now and 2027.
Was Sony perhaps caught off-guard by Viacom18's aggressive bid for the television rights? So far, the latter's strategy has largely been digital-focused, as it disrupted the market with free sports streaming on JioCinema. The BCCI rights will allow Viacom18 to keep its calendar filled with Indian cricket, although it'll have to figure out how to best market non-marquee bilateral series, of which there are many. Unfortunately, domestic cricket barely gets any viewership in India.
Jay Shah

@JayShah
Congratulations @viacom18 🤝 for winning the @BCCI Media Rights for both linear and digital for the next 5 years. India Cricket will continue to grow in both spaces as after @IPL, and @wplt20, we extend the partnership @BCCI Media Rights as well. Together we will continue to… twitter.com/i/web/status/1…
Aug 31, 2023
5.23K Likes   467 Retweets   156 Replies
Considering the condition of the global economy right now, it wouldn't be too far-fetched to say Viacom18 came to the BCCI's rescue. The board has struggled to hold onto sponsors since the pandemic, with the Indian team's jersey manufacturer and lead sponsor rights history resembling games of passing the parcel.
Most recently, IDFC First Bank bought the title sponsorship rights for all bilateral and domestic series in India for the next three years for ₹4.2 crore per match, just slightly higher than what the previous sponsor, Mastercard, was paying: ₹3.8 crore. The only other bidder in that auction, interestingly, was SonyLIV, which is Sony's streaming platform. It reportedly bid ₹2.7 crore per match, just a touch above the base price of ₹2.4 crore.
The BCCI isn't the only sports rights holder that's struggling to get good rates in a global economy battered by post-Covid inflation. In the UK, the Premier League might also have to settle for a minor bump when its next media rights auction comes around, according to the Financial Times. Analysts quoted in the report expect the total value of European football media rights to be down 17% in 2023-24 compared to 2018-19. A Premier League club executive is quoted saying they'd be happy with even a 5% bump.
But the difference between a Premier League match and a BCCI bilateral game is that the former is a great spectacle to watch, both on television and in the stadium. The superior in-stadium experience for match-going supporters and the resultant atmosphere only add to the television-viewing experience for the millions of fans watching around the world.
As for the BCCI, the less said about in-stadium experience, the better.
How often do you watch India's bilateral cricket matches?
⚡️Quick Singles
⚽️🔵💰 Hong Kong-based multi-level marketing company Qnet, an official partner of Premier League champions Manchester City since 2014, has been investigated for human trafficking in at least three African countries, according to a report by Norwegian football magazine Josimar. The company is facing allegations that it's a Ponzi scheme, even leading to suicide and debt. Qnet denied that it's a pyramid scheme, while Manchester City said that the company had undergone its due diligence process when it extended their partnership in 2019.
⚽️🇸🇦🇪🇺 After buying some of the best footballers in the world, Saudi Arabia is now interested in having discussions about joining the Uefa Champions League. This is not a joke. The Saudi Pro League's chief operating officer, Carlo Nohra, told Bloomberg in an interview that it's "trying to be different" and "any kind of format-changing or improvements that can be introduced into the league will be welcomed." Non-European clubs playing in the Uefa Champions League wouldn't be unprecedented. The competition includes teams from countries such as Turkey, Azerbaijan, Georgia, Kazakhstan, Israel, Cyprus, and Armenia.
⚽️🇸🇦🥋 Speaking of Saudi, the oil-rich nation has now made its first move into the mixed martial arts industry by buying a minority stake in the US' Professional Fighters League (PFL) for $100 million. According to the Financial Times, this was the first deal by SRJ Sports Investments, the multibillion-dollar investment company launched by Saudi Arabia's sovereign wealth fund earlier this year. As part of the deal, PFL will launch a league for the West Asia and North Africa region in the second quarter of 2024. Saudi Arabia has so far invested billions of dollars in football, golf, boxing, and Formula One.
How did you like this edition?
If you enjoyed reading The Playbook, please share it with your friends, family, and colleagues. Please also subscribe to it (for free) if you haven't already.
You can reach out to me at jaideep@thesignal.co with any feedback (good, bad, or ugly), tips, and ideas. I'd love to hear from you!
Thanks for reading, and see you again next Friday!