Discover more from The Playbook By The Signal
A weekly newsletter that goes beyond the headlines and gives you all the necessary signals you need to understand India's sports and gaming industries better.
Over 9,000 subscribers
The mad world of IPL team sponsorships
It's not as simple as sticking a logo on a jersey
Welcome to The Playbook, a weekly newsletter on the business of sports and gaming. If someone shared this newsletter with you, please hit the subscribe button below — it's free!
It's been a crazy start to the Indian Premier League (IPL). If someone had told you that Rinku Singh, Ajinkya Rahane, and Shardul Thakur would be among the stars with the bat this season, would you have believed them? From five sixes in a row to win a match, a fumbled Mankad run-out at the non-striker's end, to MS Dhoni (just about) failing to take his team across the line in his 200th match for Chennai Super Kings, it's been a mad two weeks.
It's also been mad off the field in the IPL. As fans returned to the stadiums in full strength for the first time since the pandemic, brands have been lapping up sponsorship deals with IPL franchises. Mint reported that the 10 teams have locked up sponsorship revenues of around ₹800 crore ($98 million) in total this season, earning anywhere between ₹70 crore ($8.5 million) and ₹100 crore ($12.2 million) each.
Unsurprisingly, five-time champions Mumbai Indians (MI) led the way with ₹100 crore in sponsorship revenue this season, followed by four-time winners Chennai Super Kings (CSK), who got ₹90 crore. Royal Challengers Bangalore (RCB) and Delhi Capitals (DC) weren't far behind, with ₹85 crore each.
Which is why if you're in India, everywhere you look right now, you'll see an IPL-themed ad from dozens of brands. Whether it's on television, social media, radio, print, or on an advertisement hoarding near your home. The ad that you see is the culmination of a months-long effort from franchises, brands, and various intermediaries. Signing an IPL team sponsorship deal is a complex process, to say the least.
This week's edition is an explainer on how this mad industry functions. It's fascinating!
Peeling the IPL team sponsorship onion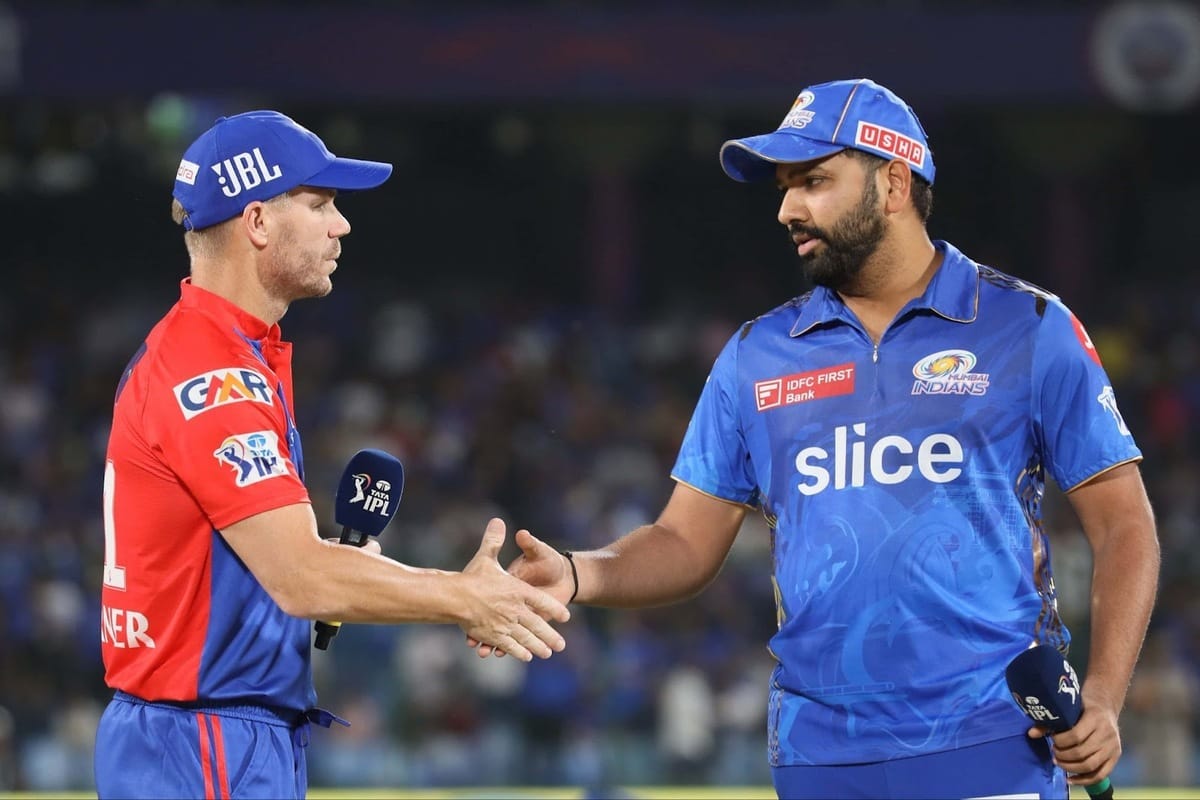 Photo credit: IPL/Twitter
The IPL is in its 16th season this year. And like so many things associated with the tournament, team sponsorship has also evolved a lot over the last 15 years. It's not just about plastering a logo on a jersey and shooting a commercial with the cricketers. It's a 360-degree campaign, the planning for which begins months in advance.
For a franchise, the sponsorship process for a particular season begins right after the previous season ends, according to multiple sports marketing executives I spoke to. "Ideally, it should begin in May the previous year," says Mithil Jaysen, deputy manager, sales and marketing at JSW Sports, the sports arm of the JSW Group conglomerate. "Since the IPL is such a cash cow, the best way to get ahead is to start the process when the financial year begins, because that's when the bulk of the budget allocation happens."
After an IPL season ends, teams make a list of their available sponsorship inventory and go to the market. There are multiple categories of sponsorship that brands can purchase. At the macro level, there are two categories: jersey sponsorships and non-jersey sponsorships.
If you look at an IPL jersey, there are 10 spots available for a brand to put its logo. In terms of hierarchy, from the most prestigious (read: expensive) to the least, these are: front of jersey, back of jersey, right upper chest, leading arm, two on the non-leading arm, leading cap/helmet, two on the trouser, and back of cap/helmet.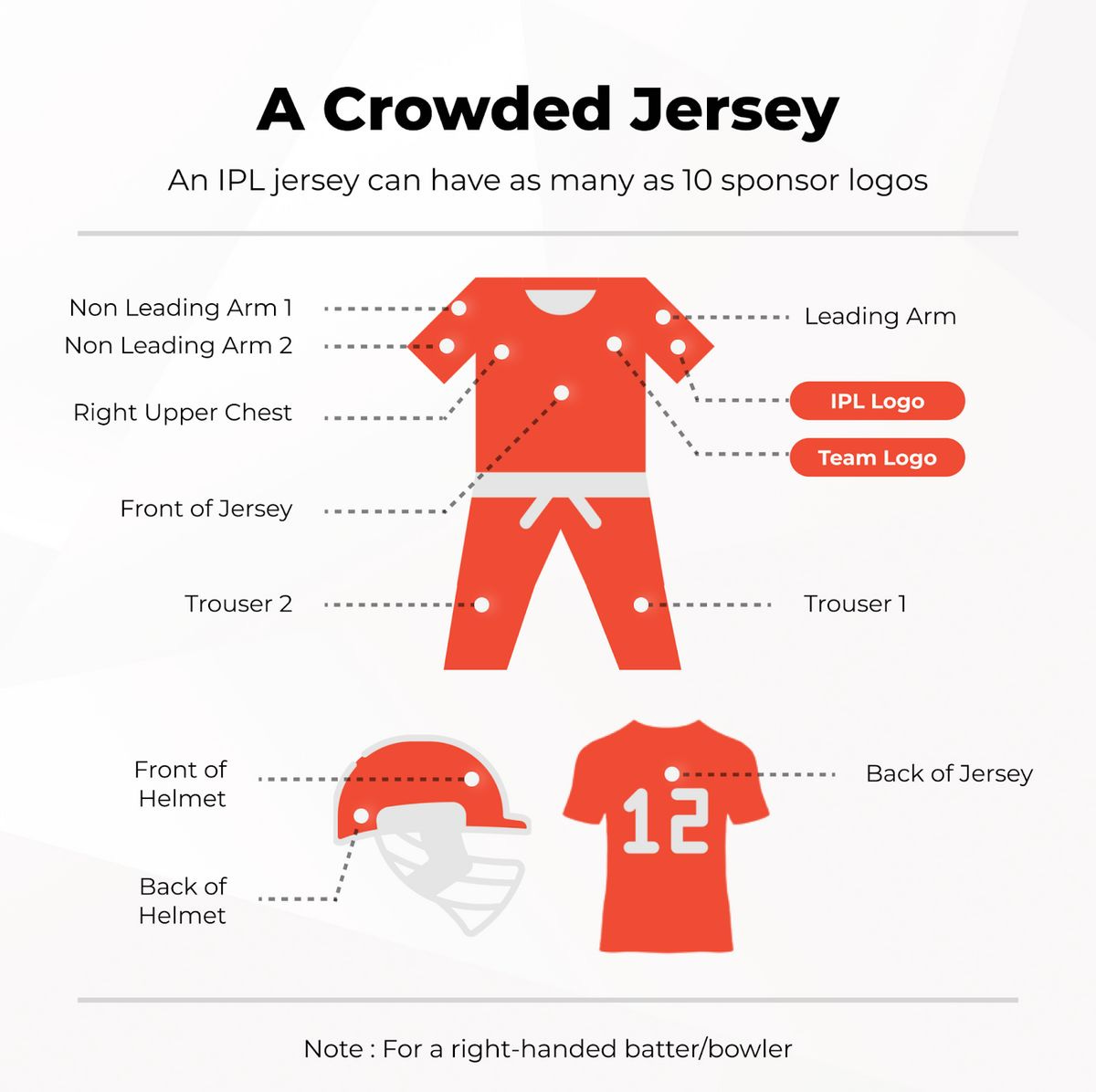 Graphic by Harish Arjun Suresh
A front-of-jersey deal can cost anywhere from ₹25 crore-₹30 crore ($3 million-$3.6 million) a year, depending on the team. Back-of-jersey and right-upper-chest deals go for ₹10 crore-₹15 crore ($1.2 million-$1.8 million), and so on.
A jersey sponsorship also includes:
On-ground logo exposure on the perimeter boards and the giant screen

Match tickets (30-60 depending on the venue), which brands can offer to their dealers/distributors or consumers via contests

Behind-the-scenes team content that can be moulded as per the brand's requirements

Time with players to shoot commercials, host meet-and-greets, etc.

Right to use player imagery and the team's logo in branding and communication

Signed merchandise and digital signatures for brands to create their own merchandise

Right to sell in the stadiums for food and beverage brands

Category exclusivity, which means a rival brand cannot tie up with the same team
These are the traditional deliverables. Brands can also request for out-of-the-box activations. For example, in 2019, Burger King got Mumbai Indians players to serve customers at one of its outlets in Mumbai.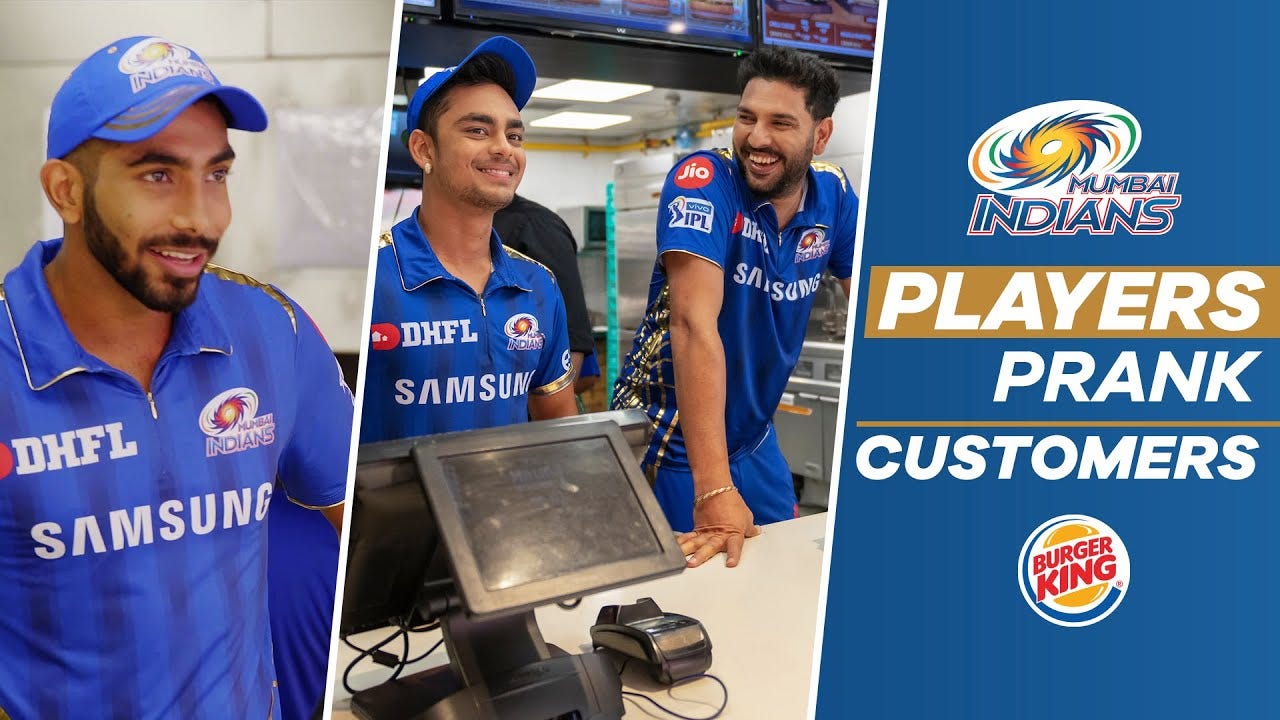 Yuvraj Singh & Others Prank Burger King Customers | Mumbai Indians
It's up to the franchise whether it wants to accept such activation requests, says a sponsorship executive at a sports marketing agency. They requested anonymity as they aren't authorised to speak with the media. "After all, the franchise's goal is to win the IPL and keep its players happy, and not just cater to the whims and fancies of the sponsors. Brands can have lots of demands, but teams have to decide how much player time they can allocate."
Apart from jersey sponsorships, brands can also become official partners, where they can associate with a team without having their logo on the kit. They get to use the team's logo and player images for their marketing, and get some other perks like meet-and-greets, and category exclusivity. These deals can cost anywhere from ₹80 lakh ($98,000) to ₹3 crore ($367,000) per year, depending on the team, deliverables, and brand requirements.
Over the last few years, another category has come in—content partners. Here, brands can sponsor a team's in-house media properties such as RCB Insider, MI TV, and DC TV. These sponsorships are cheaper—₹40 lakh-₹50 lakh ($50,000-$60,000) per year—than official partnerships and are suitable for brands that are solely looking to boost digital engagement.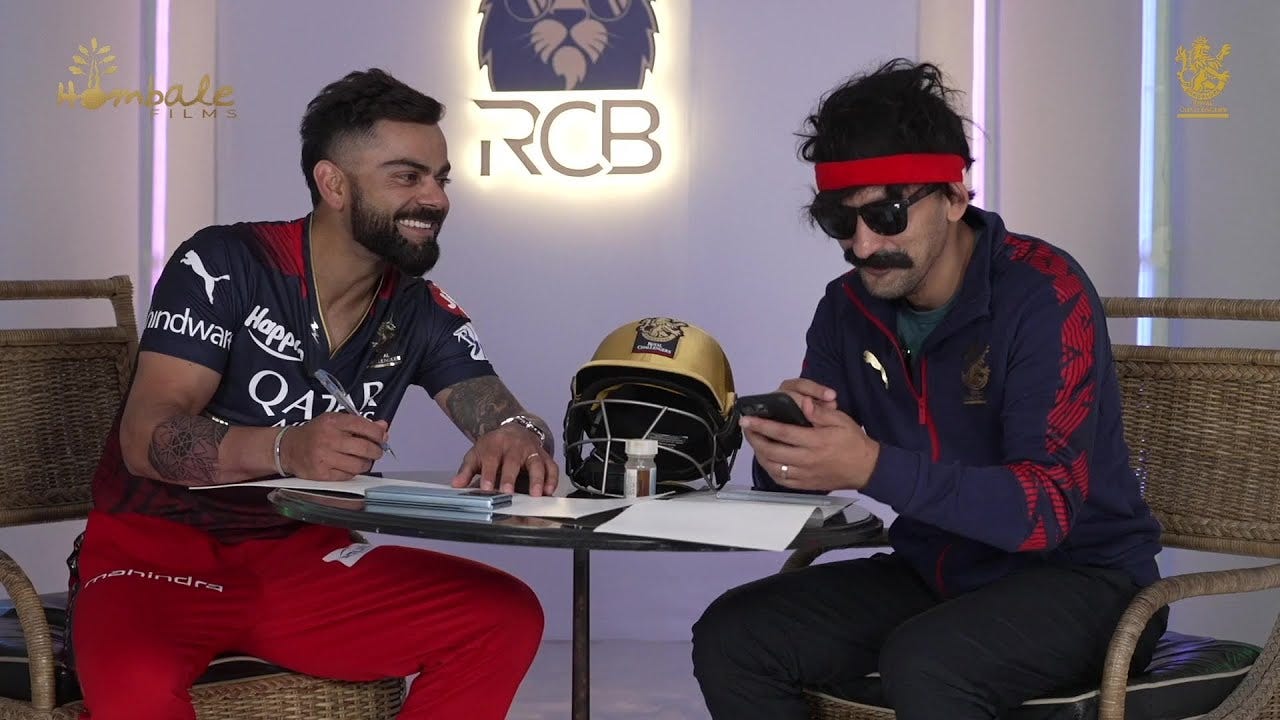 RCB Insider with Mr. Nags, Ft. Virat Kohli
"If a new brand is coming into the IPL and wants to start by doing something smaller, they can go in for such deals," says Jaysen. "You can test the market, and understand how it works and how you can engage your dealers and consumers. Then, from the second or third year, you can increase your spends after understanding the market."
The content partner and official partner deals, and non-marquee jersey deals like back of helmet can be signed closer to the start of the season. But franchises prefer to go to the market to sell their main spots—front of jersey, back of jersey, right upper chest, and leading arm—as early as possible.
"If you sign a three-year deal for front of jersey, the outlay for a brand is ₹70 crore-₹90 crore. For that kind of budget to get sanctioned, it's a time-taking process," says Vishal Jaison, co-founder of sports marketing firm Baseline Ventures. Team sponsorship deals are usually between one and three years in length.
While the franchises usually take the initiative in terms of going to the market to sell their available sponsorship spots, it's not uncommon for brands to approach teams as well, since the IPL is a formidable, 15-year-old property now.
Most brands start thinking about their IPL strategy after their Diwali campaigns, which are usually big. "Every brand has identified that there are two Diwalis in India: one is the actual Diwali in October-November, and the other is in the summer—the IPL," says Paroksh Chawla, CEO of ITW Catalyst, a sports, entertainment and media consultancy. "Everything is centred around these two Diwalis. If there are 2,000 brands in India that are advertising, at least 1,000 would create campaigns around the IPL."
So, around November, brands begin identifying the brief of their IPL sponsorship campaign. They approach sports marketing firms and other intermediaries like media buying firms and advertising agencies—whoever has relationships with IPL franchises—to put forth their demands and objectives. The intermediaries then pitch whatever available team sponsorships they have depending on the requirements, and the brand goes with whoever suggests the best ideas in their budget.
TVS Eurogrip

@TVSEurogrip
Get ready for a roar louder than ever as the kings are now partnering with the specialists.
TVS Eurogrip becomes the principal sponsor of Chennai Super Kings and we haven't stopped whistling since.
#TVS#TVSEurogrip#TameTheTurns#TheBikeTyreSpecialist#CSK#WhistlePodu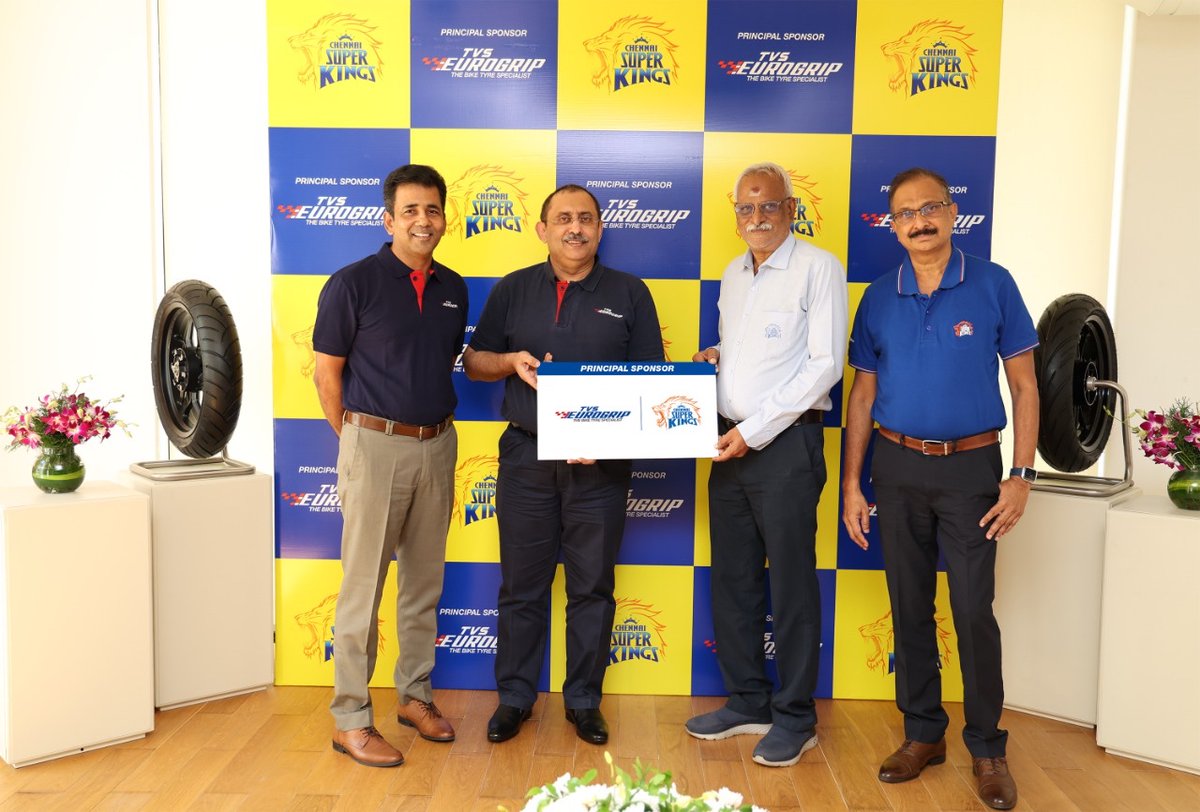 Nov 24, 2021
46 Likes   16 Retweets   0 Replies
For brands, the major criteria while deciding which team to sponsor are: on-field performance—winning is important, but brands can also sell underdog stories; the popularity of the franchise in terms of viewership and social media followers; the players in the team; the region the team is based in; and stadium size. Meanwhile, franchises want to be associated with a stable, reputed company, although we've also seen lots of new-age brands become sponsors in the last few years.
Once the brief is set, the next step is packaging, where brands work out the type of deal they want. "Option A is you have a budget of X, and you invest it in a premium sponsorship with one franchise—like front of jersey—and go all guns blazing on it," says Chawla. "It's a strategy that has worked wonderfully for brands in terms of creating an impact and announcing themselves in the market."
Option B is where you go for a lower sponsorship tier but with multiple teams. Telecom company Jio, for example, has either the leading arm or the leading cap/helmet deals with all 10 franchises. Automaker Mahindra has signed up with four teams, with three different types of deals: non-jersey official partner (Mumbai Indians and Rajasthan Royals), back of cap/helmet (Delhi Capitals), and trouser (Royal Challengers Bangalore).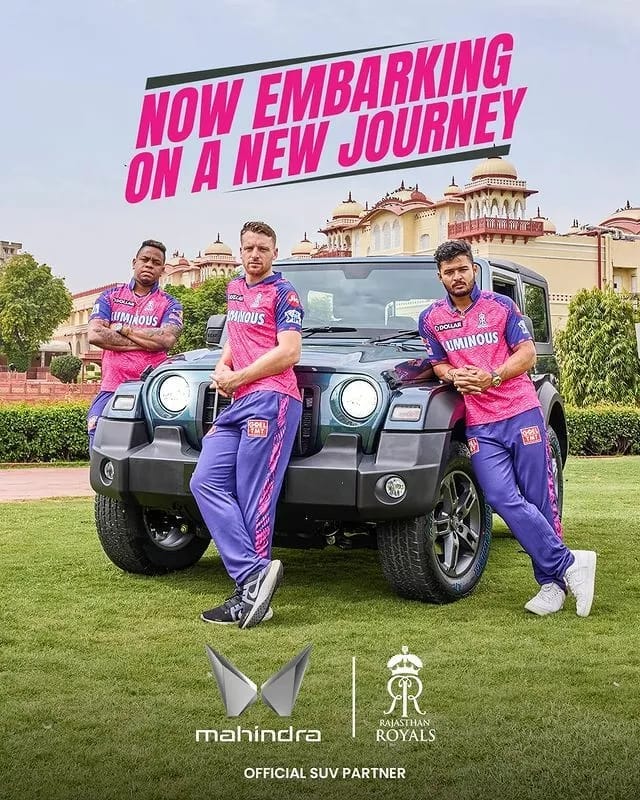 💗 RReady for a new journey in Pink with @mahindra_auto as our official SUV Partner. ⚡️
"Mahindra is a steady, well-recognised brand, so they wanted to do something different," says Chawla. The automaker is one of ITW Catalyst's clients. The brief given to the agency was: with a relatively limited budget, how can Mahindra challenge its rival Tata, which is reportedly paying ₹670 crore for a two-year deal to be the IPL's title sponsor? "So, we took the content route and decided to go with multiple teams. If we had done just one team, we wouldn't have been able to create the same impact. When you partner with four teams, your share of voice increases."
After the packaging has been finalised, the third step is negotiations, where the two parties and the intermediary sit down and work out the commercials of the deal. Negotiations happen until they reach a number that's a win-win for both parties.
And then, towards the end of March, comes the final step—execution of the deliverables. This is when players start reporting to their IPL team camps and become available for shoots and other sponsor commitments. While the players shoot the commercials, brands also start planning their media strategy, since they need to block both on-air and outdoor ad spots. While some brands advertise only during the IPL, others continue to do it after the tournament ends, too. Usually, a sponsor can use the IPL content for its marketing until December 31 of every year for a single-year deal.
A very important part of this final step is the activation of the sponsorship. This can happen in various ways. The traditional route is to organise activations on match days at the stadium in the form of meet-and-greets with the players for a sponsor's distributors, consumers, and contest winners.
But there are also other ways of activation. For example, when Mumbai Indians signed up fintech company Slice as a principal front-of-jersey partner last year, it offered Slice card holders exclusive access to early-bird match tickets for three days before opening it up to the general public. It ran a similar campaign ahead of this season, too.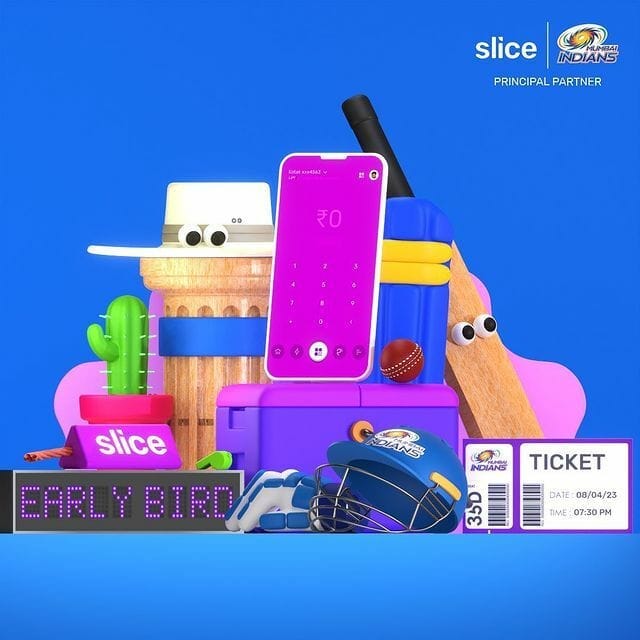 This one's quite the catch 🏏 Get EXCLUSIVE access to early bird tickets for Mumbai Indians hom...
Brands also need to set aside budgets for such activations, apart from the actual sponsorship cost. "For every rupee you spend on a sponsorship, you should ideally spend two more rupees on activating it," says the sponsorship executive quoted earlier. "You need to spend money to market the activation everywhere—digital, outdoor, radio, etc."
Some of the more memorable IPL activations over the years were CRED Powerplay and Swiggy Instamart Fast 5, the executive adds. "If you pay your bills on CRED during the Powerplay, you get a chance to win hospitality tickets. If you order groceries during the last five overs of the match on Instamart, you get additional discounts. Such activations are an additional cost for the brand. On average, brands in India spend 50-75 paise on activation for every rupee they spend on sponsorship. In the west, it's around 1.5-2x the sponsorship amount."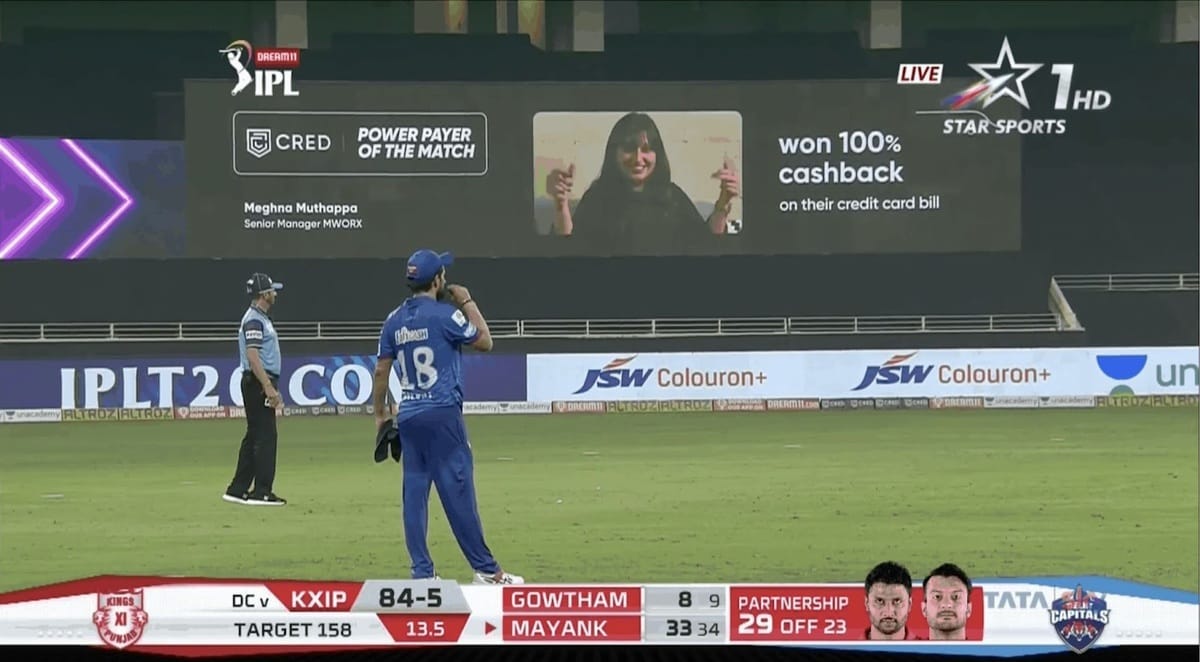 Photo credit: CRED blog
This is where sports marketing agencies such as ITW, JSW Sports, Baseline, RISE Worldwide, and other intermediaries such as media buying firms come in. On average, a franchise deals with at least five to six intermediaries. Their job is to not only connect brands with the teams and close the deals, but also help with the packaging and activations.
While direct deals between brands and franchises also take place, Baseline's Jaison feels no sales team can do justice to the opportunity given the length and breadth of the industry, the number of clients, and the gamut of options available.
JSW's Jaysen concurs, saying the role of a sports marketing agency is to mainly educate brand managers, marketing managers, and media heads about what they're getting in terms of value. "The mileage and cost of association has to be justified. An IPL team's sponsorship manager doesn't always have the bandwidth to do this because they're handling things like jersey design, recruitment, coordination with the BCCI, and other operational matters. We help connect the dots between an IPL team and a brand, and ensure it's a happy marriage."
JSW Sports and RISE Worldwide have the added advantage that their parent companies—JSW Group and Reliance Industries—also own IPL franchises in Delhi Capitals and Mumbai Indians, respectively. So, presumably, they'd know the requirements of a franchise better. But does this also create a conflict in the mind of a potential client? Would a rival team be convinced that they're getting the best deal from such agencies? Or would a brand be convinced that the agency is recommending them the right team to partner with?
Jaysen says the franchise and the consultancy teams are bifurcated internally at JSW. "It's decentralised—there's a communication barrier in terms of how we approach a client and how we close deals. We have all the information across assets, but then the revenues and marketing spends for each team varies depending on the market, budget, etc."
He adds, "A bifurcation is needed so that the client doesn't feel like you're pushing them towards your asset because you're part of the larger group. You need to solve their problems and help them pick the right team. It's not just about sticking logos on a jersey. The brand should value the relationship so that it can be long term." RISE Worldwide did not respond to my request to participate in this story.
So, that's how the mad world of IPL team sponsorship works. It's a mix of teams approaching brands, brands going after specific teams, and a bunch of intermediaries that take a brand to a certain team or take more than one team to a certain brand and figure out which team works best based on their marketing objectives, geography, demand, target group, etc.
While the actual tournament lasts for about two months, for brands, the IPL is at least a six-month-long campaign that begins in November. As for the franchises, they can't afford to put their feet up after a season ends. They're already planning ahead for the next season.
Which are some of the most memorable IPL team sponsorship activations you've seen? Write to me at jaideep@thesignal.co.
⚡️Quick Singles
🏏📺📱 JioCinema claims to have broken the record for the highest number of concurrent viewers during an IPL match—22 million during the Chennai Super Kings vs Rajasthan Royals match earlier this week. The previous record was 18.6 million on Disney+ Hotstar during the final of the 2019 season. JioCinema, which is streaming the IPL for free, also claimed the platform garnered 5.5 billion unique video views in the first week of the IPL. Disney Star, meanwhile, recorded 307 million viewers in the first 10 matches of the season, a 23% jump from last year, according to the Broadcast Audience Research Council.
🎲♠️ The Tamil Nadu government received the state governor's approval earlier this week for a Bill banning online gambling and online games of chance played for money or other stakes. It also categorises online rummy and poker as games of chance; and it defines online games of chance as those where both an element of chance and skill are involved, but the element of chance dominates the element of skill. The approval for the Bill came just days after the central government made amendments to the IT Rules pertaining to online gaming, where it permitted the industry to define its own parameters regarding what should and shouldn't be allowed.
🏏🏴󠁧󠁢󠁥󠁮󠁧󠁿🎰 The England and Wales Cricket Board is exploring whether its men's Test team's head coach Brendon McCullum breached its anti-corruption rules by associating with bookmaker 22Bet India, reported ESPNcricinfo. The platform is registered in Cyprus. Over the last few weeks, the company published ads on YouTube and social media where McCullum encourages people to bet on the IPL.
🇮🇳🎰🗞️ Meanwhile, the Indian government last week issued its third advisory to the media since June last year regarding carrying advertisements by online betting platforms. This one was particularly directed at newspapers. The advisory said the government "would be constrained to take appropriate action under the various statutes" if the ads continued. However, there seems to have been no effect.
Jaideep Vaidya

@jaideepjourno
Full-page ad in today's Indian Express by online betting platform Fairplay and its surrogate news website Fairplay News. But you'll not find the word "bet" or "betting" anywhere, although "odds" is mentioned.
"India's biggest & most trusted platform". Just platform.😂 http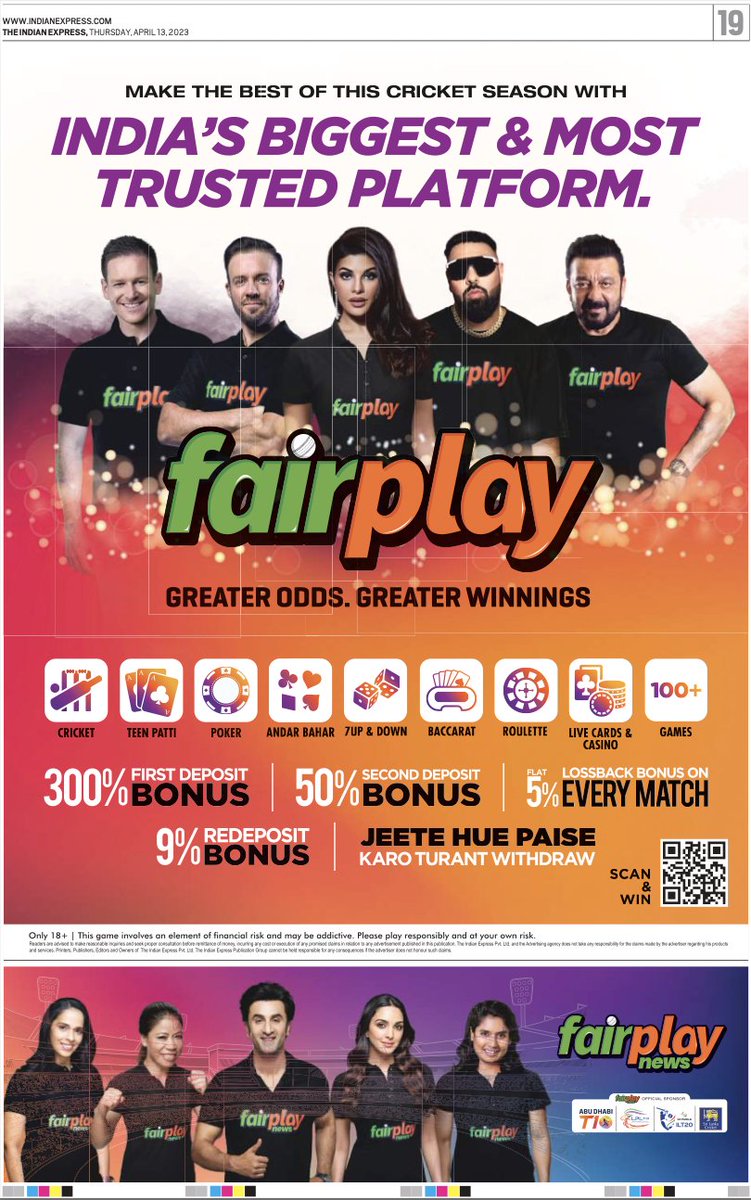 Apr 13, 2023
37 Likes   8 Retweets   2 Replies
🇮🇳🎮💰 Mobile game developer Mayhem Studios, owned by Bengaluru-headquartered online gaming unicorn Mobile Premier League, raised $20 million in a Series A round, led by Sequoia Capital. The funds will be used to ramp up the company's capabilities and develop new gaming titles in India, reported The Economic Times.
⚽️🔴💰 The process for the sale of Manchester United will have a third round of bidding. The Raine Group, the banking firm handling the sale, has asked bidders to submit their final offers by the end of April. The two leading bidders, Sheikh Jassim bin Hamad Al Thani and Sir Jim Ratcliffe, are both expected to put in final offers, reported Sky Sports.
🇺🇸🏀 The National Basketball Association (NBA) in the United States has instructed its staff to reduce expenses and significantly limit hiring for the rest of the financial year because of the "economic headwinds," reported The New York Times. Off-site meetings are being cancelled, while travel, entertainment, and other expenses also will be cut, according to an internal memo.
That's all for this week. If you enjoyed reading The Playbook, please share it with your friends, family, and colleagues. You can reach out to me at jaideep@thesignal.co with any feedback (good, bad, or ugly), tips, and ideas. I'd love to hear from you!
Thanks for reading, and see you again next Friday!