Discover more from The Playbook By The Signal
A weekly newsletter that goes beyond the headlines and gives you all the necessary signals you need to understand India's sports and gaming industries better.
Over 9,000 subscribers
The WPL and IPL will be free to stream. Here's what it means
After disrupting India's sports streaming industry by offering the Fifa World Cup for free, Viacom18 is set to do the same for the Women's Premier League and Indian Premier League.
Good evening,
Welcome to The Playbook, a weekly newsletter on the business of sports and gaming. If someone shared this newsletter with you, please hit the subscribe button below — it's free!
How have you been? And what did you do over the long weekend last week? I used it to relax and recharge my batteries, along with a bit of cycling. I just moved to Pondicherry about a month ago, so it's been fun exploring the various beaches around the coastal town. And at the expense of jinxing it, the weather has been quite amazing.
A lot has happened since the last edition of The Playbook two weeks ago. The Women's Premier League (WPL) has five new franchises, which were sold for a combined total of ₹4,670 crore ($570 million). And the Indian women's team followed it up by winning the inaugural ICC U-19 Women's T20 World Cup. That made up for some of the disappointment of India's ninth-place finish at the Men's FIH Hockey World Cup. 
With the WPL just about a month away, and the men's Indian Premier League (IPL) to follow soon after, Viacom18 has begun to strut its feathers in a bid to attract both viewers and advertisers. Earlier this week, the broadcaster opened up the latest version of its streaming app JioCinema for public beta testing. It's got some new features that are available to test during the ongoing SA20 league.
I gave it a try, and it's pretty cool. You can check the scoreboard and other graphics such as the wagon wheel, innings worm, Manhattan, and the pitch map whenever you want by just tapping a button on your mobile screen, instead of waiting for the broadcaster to do so.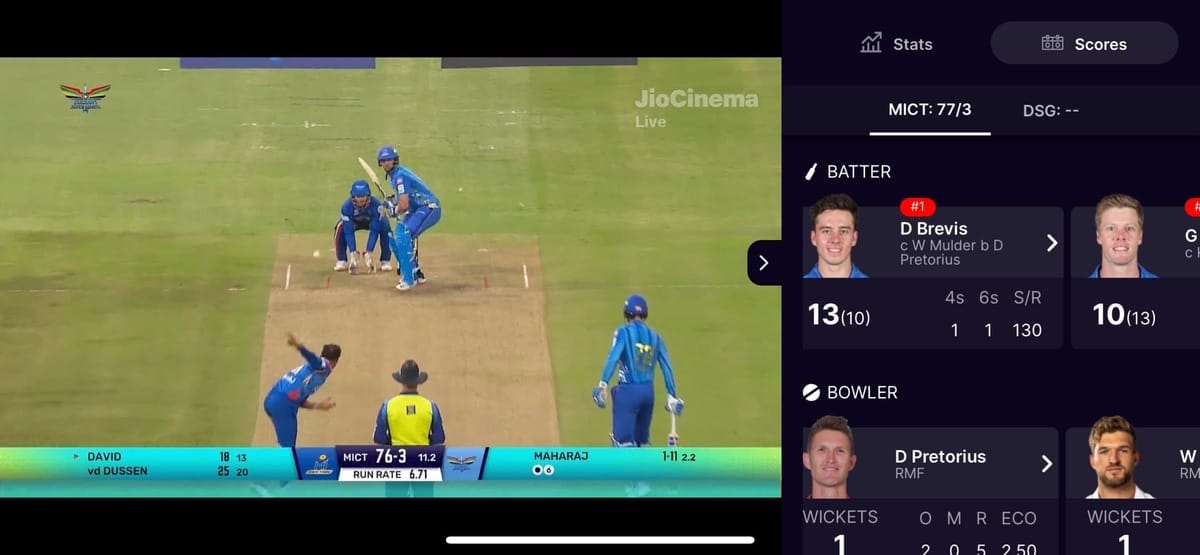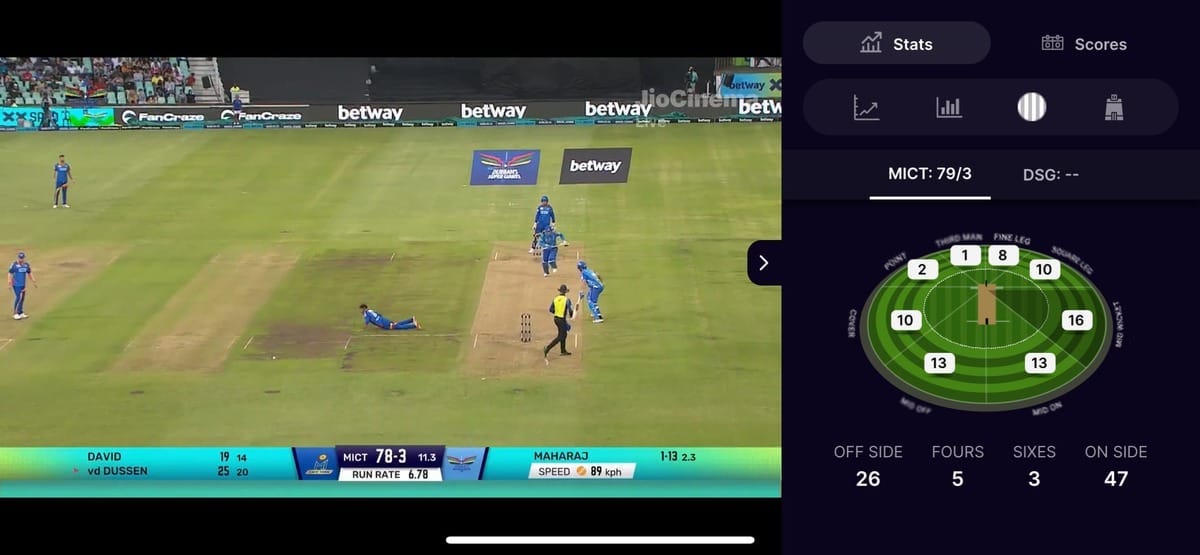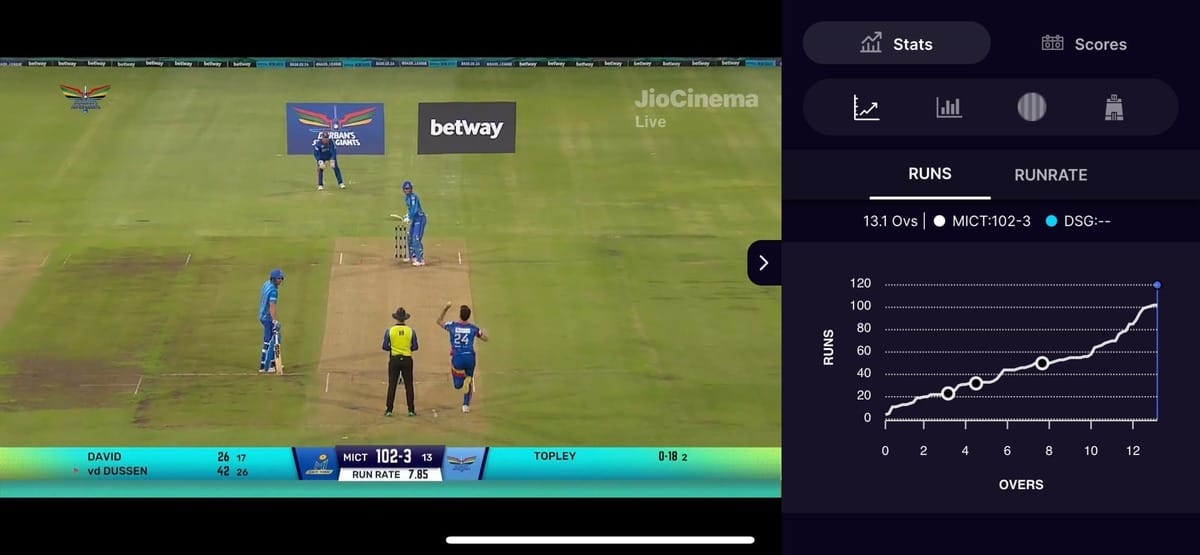 Now, this isn't something revolutionary in sports streaming. It's been done before globally and even in India—FanCode had something similar last year during India's tour of West Indies. But doing it on an IPL-sized scale, with millions of concurrent viewers, will be a first in India and it'll be interesting to see how it fares.
Meanwhile, Viacom18 sports chief Anil Jayaraj has been on media duties this week, explaining his company's plans for the WPL and IPL. I was invited for a select media roundtable yesterday, in which Jayaraj put to bed all the speculation about the monetisation model that JioCinema will employ for the tournaments. He even made some big statements about the future of sports viewing.
The game is afoot
First things first, we have a confirmation—the WPL and IPL will be free to stream for everyone on JioCinema this year. The key words here are "this year", with Jayaraj hinting that it could change next year. 
Here's what he said (excerpts):
We're trying to ensure that we can give access to anybody who has an internet-enabled device. At least this year, we want to provide access without any charge so that we can get the maximum number of users, advertisers can have the choice of audiences they want to target, and we can play across the price pyramid: at the top end, you have connected TVs and at the bottom you have people who use free-to-air (FTA) channels. 
If you think about the FTA audience that has no access to pay TV and, hence, no access to IPL, there are 50 million such households, which is about 200 million consumers. But all of them have access to a mobile phone. Our intent is to deliver an option to them—to every mobile consumer. 
[...]
Our game plan is to provide an experience that cuts across the barriers of access, affordability, and language. We'll have 15 feeds across 12 languages. 
  Anil Jayaraj, CEO, Viacom18 Sports
The gist of what he's saying is that Viacom18 wants to ensure that there are no barriers for India's 750 million smartphone users to stream the WPL and IPL on their devices. If you have a smartphone or internet-enabled device and you want to watch the cricket, there should be nothing stopping you from doing so. It's free to stream and probably available in your language.
That's a huge total addressable market and something unprecedented in Indian sports streaming. JioCinema managed to reach 110 million viewers with a similar strategy during the 2022 Fifa World Cup. The chances of it breaching this mark with the IPL are very high considering the tournament's popularity. During the 2022 IPL, with a subscription-based streaming model, Disney+ Hotstar reportedly reached 160 million viewers. Remove the barrier of affordability, and you can only imagine how far JioCinema can potentially go.
Now, removing the affordability barrier for viewers is one thing. How is this strategy affordable for JioCinema, considering it's paying a little over  ₹24,500 crore (~$3 billion) for the WPL and IPL rights combined? How does it plan to recoup this money, especially given the current macroeconomic conditions?
Jayaraj is confident that the consumer experience will be good enough that it does well for advertisers. 
"Advertisers [will] love it for the scale that digital provides and the fact that they can choose what audience they want to target. I can choose to target somebody in Chennai who watches it in a particular language, is of a certain age group, and has a certain degree of affluence. I can also measure and have a call-to-action—I expect this person to book a test drive [after watching the ad]. That level of targeting is not possible across any other medium. This is the year digital advertising will overtake television in the IPL."
  Anil Jayaraj, CEO, Viacom18 Sports
That's a big statement to make, but such hyperbole is common during media interactions. About a month ago, Jayaraj's peer at Disney Star, Sanjog Gupta, said something similar in an interview with Mint. He said that the broadcaster, which has the television rights for the IPL, is planning a big marketing and distribution push to ensure the "highest ever reach" for the tournament on the platform."We will make all the efforts to ensure that more people have access to Star Sports…We will make IPL the biggest ever on TV."
A few days ago, this advertorial appeared in The Times of India: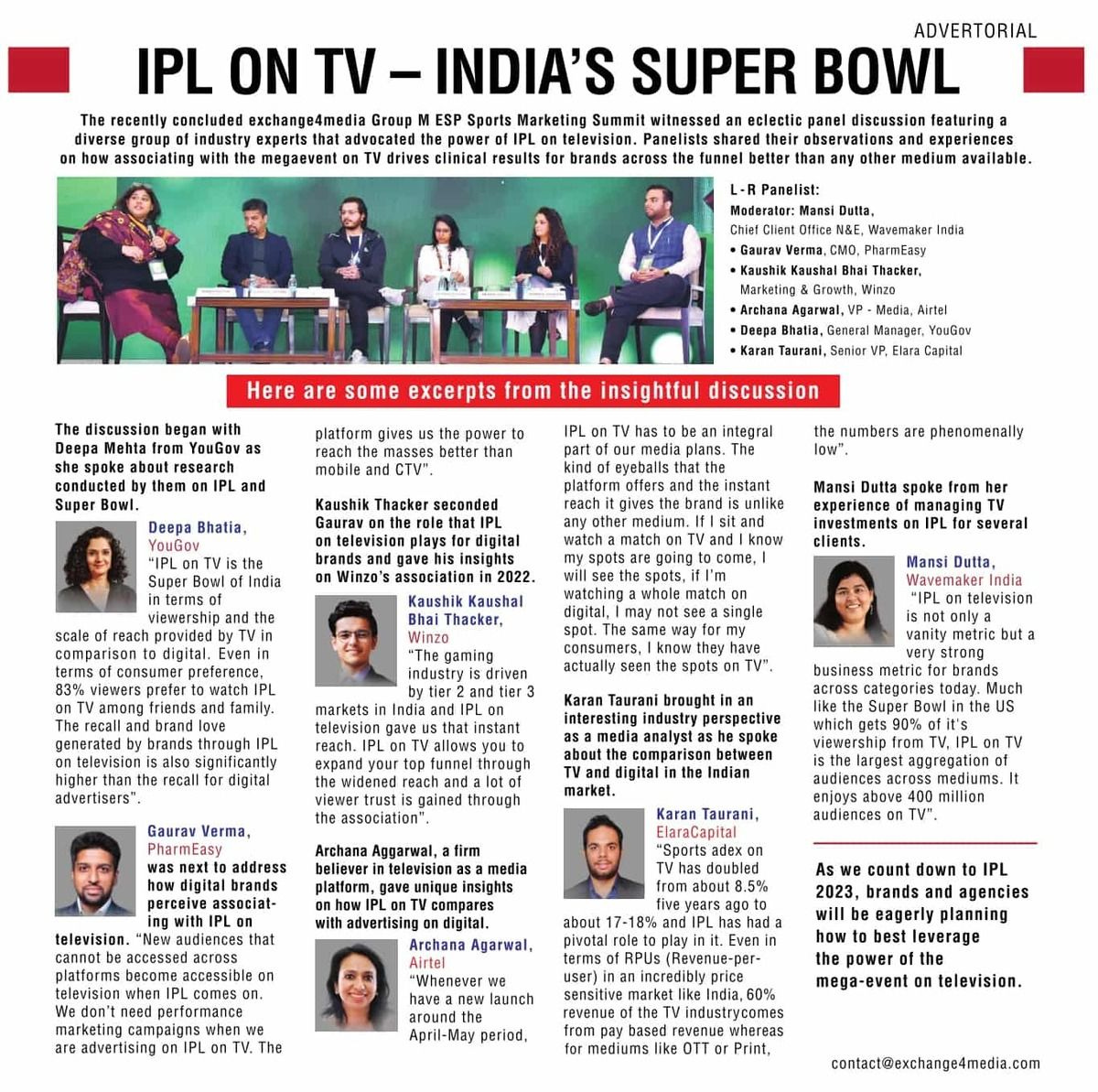 No prizes for guessing who paid for this advertorial.
If reports are to be believed, both Disney Star and Viacom18 are each eyeing a reach of over 500 million from the 2023 IPL. What we're witnessing is a battle fought via the media for the attention of both viewers and advertisers that their respective mediums—television and digital—are the best. You can expect more such hyperbole in the coming days.
But regardless of whether digital overtakes TV or not, a senior industry official told me that the metric to keep an eye on is data consumption. Because, you might get to stream the IPL without a subscription, but it isn't actually free. You're still paying for the data.
Viacom18 and its main backer Reliance Industries, which also owns the telco Jio, is hoping that the revenue they're losing out on via subscriptions will be compensated by data consumption. Jio's 5G network is already live in 225 cities across 29 states and union territories. Imagine a potential 388 million active Jio subscribers streaming the IPL using Jio data.
And while subscribers of rival telcos can also stream the IPL for free this year, I'll be very surprised if that's still the case in 2024. That barrier will eventually be reinstated, because the ultimate goal is to convert people to Jio subscribers.
Another interesting thing Jayaraj spoke about is the impact of connected TVs, which sit at the top of the pricing pyramid mentioned earlier. Jayaraj said that the number of households that watch the IPL on high-definition linear television has dropped to single digit millions over the last two to three years. 
"It's fairly obvious that all of them have migrated to watching on connected TVs. Because data costs are low and there are so many smart TVs [in the market]. There are also multiple ways in which people can watch a digital stream on [a regular] TV, using devices like Amazon Fire Stick and Google Chromecast. The other day I saw a device that connects mobiles to TVs. 
Connected TV in some ways has become what linear TV is with a specific advantage—it gives you the targeting facility that digital offers. That's why it's an important medium. Quoting from a Google report I saw, 25 million homes last April had connected TVs in India. That's a massive number and it's changing quite dramatically."
  Anil Jayaraj, CEO, Viacom18 Sports
So, while the focus is on the smartphone consumer for now, the connected-TV market is one to keep an eye on. According to a December 2022 report by media investment company GroupM, 80% of linear or traditional TV users intend to switch to connected TVs in the next year. The report also states that brands will spend about $86 million on connected-TV advertising in India in 2023 and $395 million by 2027.
By 2027, the IPL's next five-year rights cycle will be up for bidding. I wonder if connected TVs will still be at the top of the pricing pyramid at the time.  
⚡️Quick Singles
🇮🇳🏸💰 India's sports ministry has received an allocation of ₹3397.32 crore ($413 million) in the 2023-24 Union Budget—an increase of ₹723.97 ($88 million) crore from the previous year. It's an important year for Indian sport, with the postponed Asian Games set to take place in September-October and qualification for the 2024 Paris Olympics to be decided. The allocations for National Sports Federations (NSFs) and Sports Authority of India (SAI) have both gone up. 
👕🏏 PUMA India has roped in Indian cricket captain Harmanpreet Kaur as its latest brand ambassador, ahead of the 2023 ICC Women's T20 World Cup. The 33-year-old joins Virat Kohli, MC Mary Kom, Yuvraj Singh, Sunil Chhetri, Kareena Kapoor Khan, Anushka Sharma, Avani Lekhara, and Harrdy Sandhu in the PUMA India brand ambassador club. The length and value of the deal wasn't disclosed, although the press release says that "Harmanpreet will endorse the brand's footwear, apparel, and accessories through multiple activities and campaigns throughout the year". Which might suggest it's only for 2023.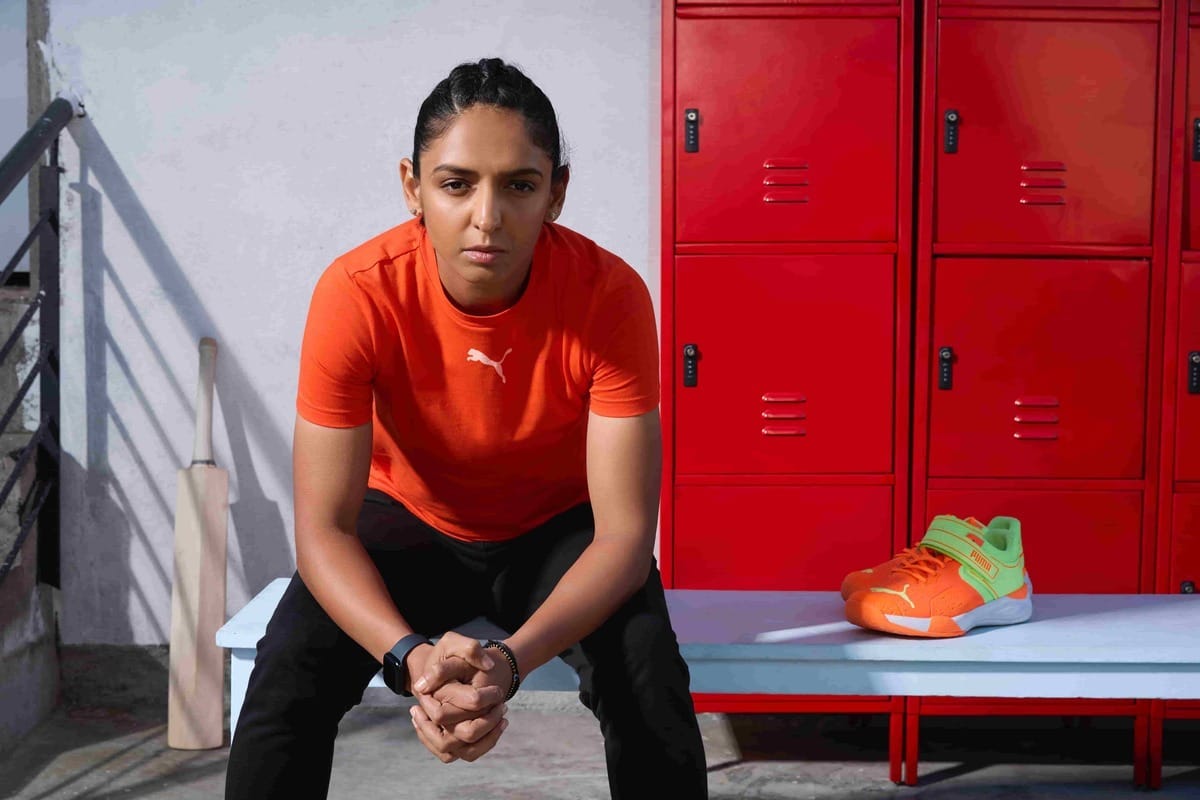 Photo credit: PUMA India
🇬🇧⚽️🤑 Premier League clubs spent an eye-watering £815 million ($994 million) in the January transfer window, nearly doubling the previous record of £430 million set in 2018. Chelsea alone spent almost £300million to bring in eight players in January. That's more than all clubs in the Bundesliga, LaLiga, Serie A, and Ligue 1 combined, according to a report by Deloitte's Sports Business Group. LaLiga president Javier Tebas described the British market as "a doped market", underlining the widening financial gap between the Premier League and the rest of Europe's top football leagues. 
🇬🇧⚽️ Meanwhile, the Premier League has signed a four-year, exclusive deal with blockchain-based fantasy football game Sorare. The Financial Times reported that the deal is worth "tens of millions of pounds a year". Sorare's co-founder Nicolas Julia said his company wasn't affected by the collapse in crypto prices because its tokens had utility beyond mere price speculation. The fantasy game has attracted over 3 million users since its launch in 2018, although not all are active. 
♠️📈 Indian gaming company Gameskraft, which operates Rummy Culture, Gamezy, and Rummy Time, among others, recorded revenue of ₹Rs 2,112 crore ($256 million) in the year ended March 2022, a 49.7% increase compared with the previous year. Its profit grew 28.2% to ₹937 crore ($114 million). 
🏈🐐 NFL legend Tom Brady has announced his retirement from the sport for the second time in the last 12 months—but this time "for good". The quarterback returned to the Tampa Bay Buccaneers in March 2022 after announcing his retirement just a month earlier. The 45-year-old last year signed a reported 10-year, $375 million deal to become an analyst on broadcaster Fox after retirement. He also owns a Major League Pickleball team, health and wellness company TB12 Sports, media company Religion of Sports, and clothing line Brady Brand.
👟✔️ Nike has sued Lululemon for the second time since 2022, alleging that at least four of the Canadian sports apparel brand's footwear products infringe on its patents. In January last year, the American sportswear major had alleged that Lululemon's sale and distribution of its Mirror Home Gym and mobile apps infringed on six patents. 
👀 
ICYMI
With just about a week to go before the start of the four-Test India-Australia series, the visitors are already in Bengaluru practising. Obviously, facing spin bowling is the focus for Steve Smith and Co. So much so that the Aussies have got R Ashwin bowling to them in the nets. Well, the next best thing to Ashwin: 
Bharat Sundaresan

@beastieboy07
Mahesh Pithiya grew up being called "Ashwin" owing to his uncanny impersonation of his idol @ashwinravi99 & he ended up 'playing' Ashwin for Australia in their first training session on tour & making a big impression on Steve Smith. Here's how #IndvAuscricbuzz.com/cricket-news/1…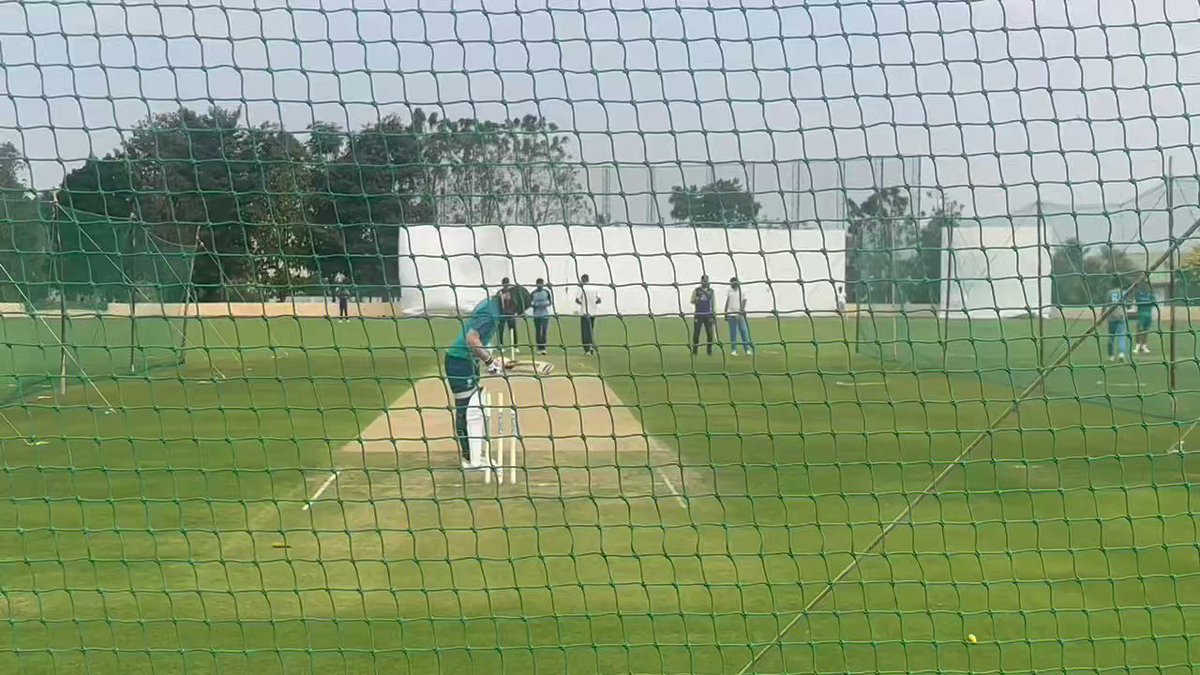 Feb 3, 2023
1.07K Likes   79 Retweets   40 Replies
Bharat Sundaresan also has a nice piece in Cricbuzz on the "Ashwin impersonator".
That's all for this edition of The Playbook. Please reach out to me at jaideep@thesignal.co with any feedback (good, bad, or ugly), tips, and ideas. 
See you again next Friday!