Discover more from The Playbook By The Signal
A weekly newsletter that goes beyond the headlines and gives you all the necessary signals you need to understand India's sports and gaming industries better.
Over 9,000 subscribers
ISL streaming: free in India, pay-per-view abroad
The Indian Super League announced a partnership with German media company OneFootball to distribute its international streaming rights. Is anyone watching?
Good evening!
Welcome to The Playbook, a weekly newsletter on the business of sports and gaming. If someone shared this newsletter with you or if you've found the online version, please hit the subscribe button below — it's free! You can unsubscribe anytime.
Thanks to everyone who voted in last week's poll. More than 60% of you did not try buying ICC World Cup tickets at all. I wish I had been as smart. Could have saved myself a lot of time and frustration. Here's a selection of some reader comments:
Ronnie: "With all the associated problems you mentioned at stadiums (you forgot an important one — stinking, overflowing loos), why would one want to watch [a match] at the stadium beats me."
Ankya316: "Watching cricket on TV trumps watching it in the stadium. I wouldn't go even if I was given a free ticket."
Ankur: "TV and mobile viewing have better viewing experience and are much cheaper."
Srikant: "I wish the BCCI/ICC had learnt from the way FIFA World Cup tickets are allotted — the lottery works really well."
Clearly, television > stadium for watching cricket in India, at least among readers of The Playbook.
Meanwhile, Adidas has released its Team India World Cup campaign, which I thought was pretty cool. The International Cricket Council also released the official anthem for the World Cup, featuring Bollywood star Ranveer Singh. Let's just say that I've seen better anthems, like this one.
Today's edition, though, is about football, as the Indian Super League enters a landmark 10th season.
A curious partnership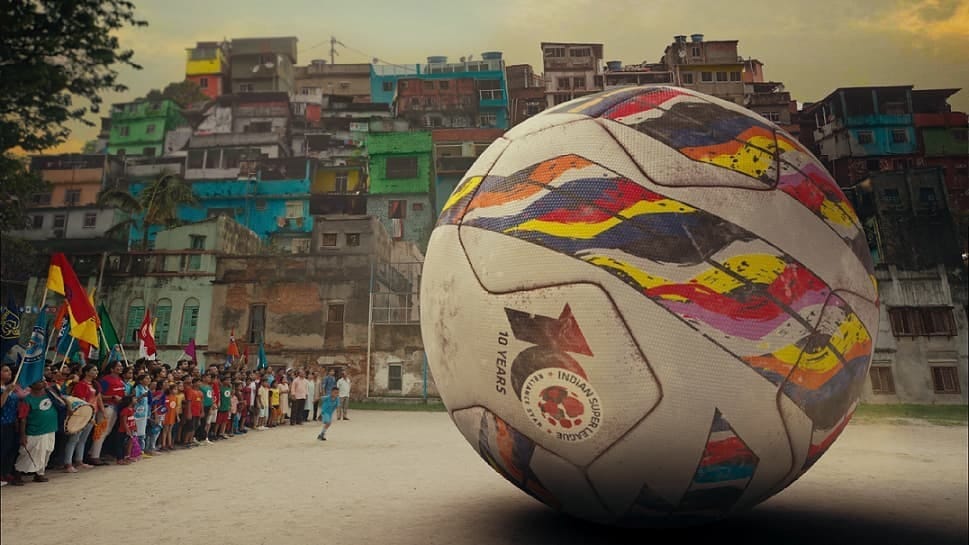 Photo credit: FSDL
Last evening, I was watching the opening match of the 2023-24 Indian Super League (ISL), between Kerala Blasters and Bengaluru FC. It's a landmark 10th season for the ISL, making it only the second Indian franchise-based league that has completed a decade. The first being the Indian Premier League, of course.
The ISL has a new broadcast partner starting this season. Earlier this month, Viacom18, controlled by India's largest conglomerate Reliance Industries, picked up the media rights (televising and digital) for the next two seasons at the base price of ₹550 crore ($66 million), according to Mint. The ISL is operated by a company called Football Sports Development Limited (FSDL), whose majority shareholder is also Reliance. ICYMI, I had written about the ISL's broadcasting dilemma in a recent edition of The Playbook.
Viacom18 has gone on a PR blitz as the "new home of Indian football". It's broadcasting the league on eight linear television channels across four languages (English, Hindi, Malayalam, and Bengali), along with streaming it for free on JioCinema. That's for the Indian market. But did you know that you can also stream the ISL legally if you're based outside India?
Earlier this week, FSDL made another announcement that caught my attention. It was about the continuation of a partnership with Berlin-headquartered football media company OneFootball to distribute live matches and highlights to international fans across over 190 countries.
This means that ISL fans outside India will be able to stream all 139 matches on OneFootball, which has a website and apps (mobile, tablet, and connected TV), either for free or via pay-per-view. The direct-to-consumer offering will initially launch in select markets in the Middle East and North Africa (MENA) region—UAE, Saudi Arabia, Qatar, and Kuwait—as a per-match pay-per-view offering, before adding team and league season passes in the next few months. Outside these markets, the ISL will be available to stream for free on OneFootball. The ISL and OneFootball had first tied up for the 2021-22 season.
OneFootball, founded in 2008, is an interesting platform. It's like a one-stop shop for all football-related content: live scores and commentary, news, statistics, videos, highlights, and live streaming of matches on a free and pay-per-view basis.
While there are several such aggregator platforms for football live scores and non-live content, OneFootball stands out with its strategy to acquire streaming rights of global properties in the so-called dark markets, where rights-holders have been unable to strike broadcast deals. It currently has partnerships with leagues such as LaLiga, Bundesliga, Scottish Premiership, Danish Superliga, J League (Japan), K League (Korea), and Liga MX (Mexico).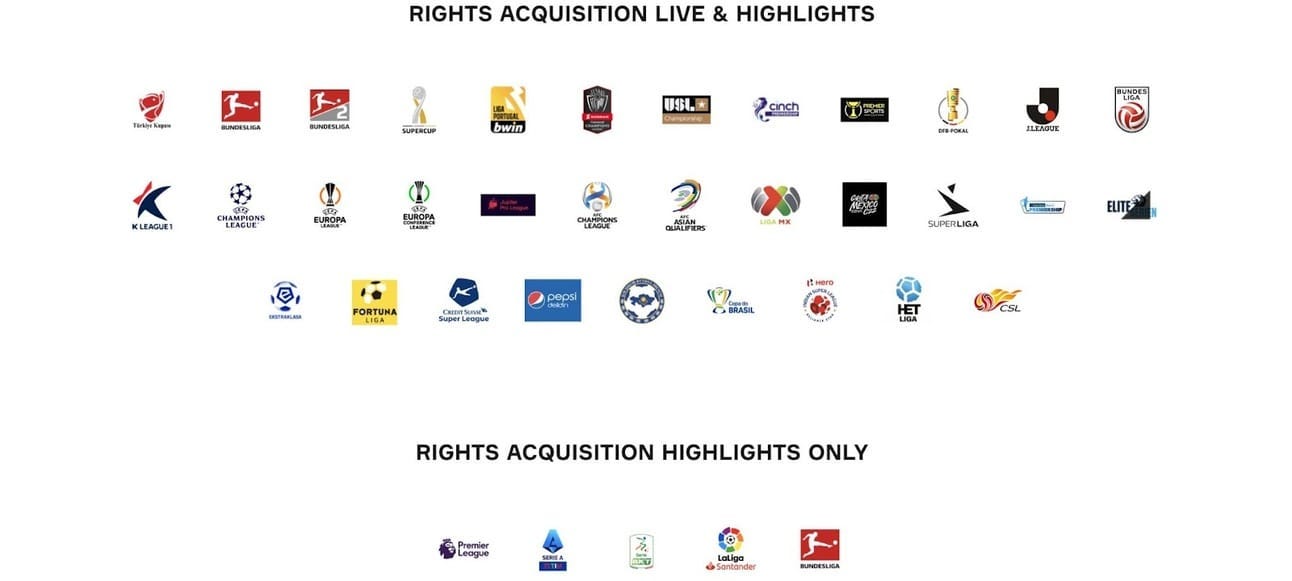 Screenshot from OneFootball website
OneFootball's aim is to be the go-to source for football content for millennials and Gen Zs. "It can be frustrating for users to find where matches are – we want to be somewhere fans can get around this," Nikolaus von Doetinchem, OneFootball's vice president of OTT streaming and media rights, told Broadcast Sport in an interview last year.
"Ease of access to live matches is important. Free or pay-per-view, it won't take longer than two minutes to get into our content. An important part is that the biggest market, in my view, is the piracy market, which is worth an estimated $25 billion a year. This isn't because they don't want to pay; it's because the product isn't right," he added.
This morning, while browsing through the "TV" section of the app, I saw live streams of matches in Argentina's Primera Division and Brazil's Brasilerao Serie A, which were on pay-per-view for ₹199 ($2.4). There were also match streams scheduled for later in the day from the top divisions in Finland, Poland, Slovakia, and Ukraine, some of which were free to watch. So, if you're a Brazilian expat living in a country where your local football league doesn't have a broadcast partner, instead of streaming the matches illegally, you can watch them on OneFootball. That's the premise of the business model.
As for news and other non-live content, OneFootball has syndication deals with publications such as The Guardian, The Independent, GiveMeSport, Stats Perform, and Sportskeeda, along with some tie-ups with leagues, federations, and clubs themselves for content.
For a platform that caters to a niche, OneFootball has racked up over 100 million monthly active users and gets 400 million video views per month, according to its website. In April last year, the company raised $300 million in its Series D funding round, at a valuation of over $1 billion. Its investors include Liberty City Ventures, Animoca Brands, Quiet Capital, RIT Capital Partners, and Dapper Labs.
The company raised the funds to accelerate its expansion into Web3. The plan was to enable clubs, leagues and players "to release digital assets and fan-centric experiences based on blockchain technology." Basically, non-fungible tokens (NFTs). This was back when Web3 and NFTs were all the rage.
As it turned out, the crypto bubble eventually burst. In December 2022, OneFootball started laying off employees. The company's founder and chief executive, Lucas Von Cranach, admitted in February this year that its foray into Web3 had been "too ambitious". In June, he stepped down from his position as CEO. In July, OneFootball shut down its NFT marketplace, which was operated by blockchain company Dapper Labs. By August, its headcount had more than halved to 250 from 540 during the crypto boom.
Currently, OneFootball's main sources of revenue appear to be pay-per-view subscriptions and advertisements. While browsing through the app, I noticed prominent ads for online betting and gambling company 1xBet, including for ISL matches. A sports media platform has an obvious synergy with betting, but a problematic one in countries like India where gambling is illegal. Of course, if you take a look at some of the sponsor logos on ISL team jerseys and even in the stadiums, it's hard to believe that's the case.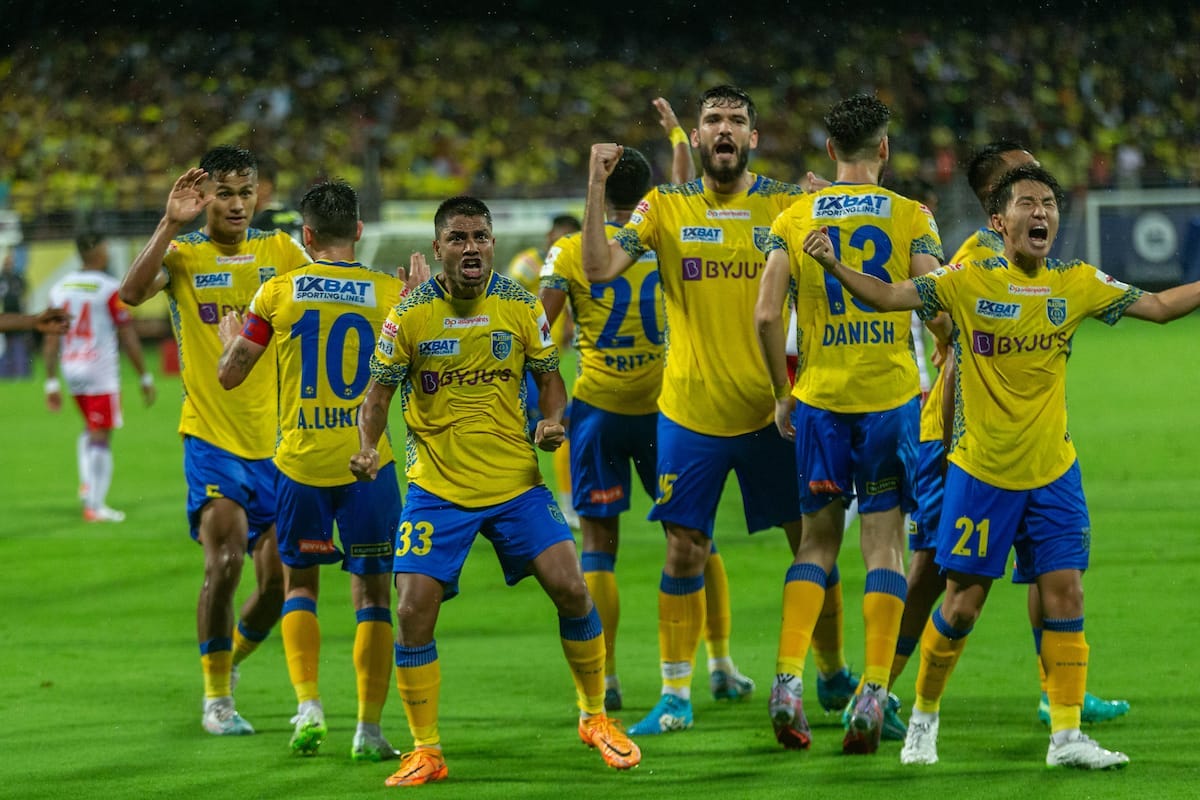 Kerala Blasters are sponsored by 1xBat, a sporting goods company that's a surrogate for betting company 1xBet (Photo credit: FSDL)
So, what is the ISL getting out of the OneFootball partnership? A senior executive from the Indian sports broadcast industry told me that it's unlikely there are too many ISL fans outside India, even in the Middle East. "On top of that, data charges in the Gulf are quite high. I know someone in the UAE who uses an Indian SIM card with international roaming for data because it's apparently cheaper than getting a local connection." A 3 GB monthly mobile broadband plan from Emirati telecom company Etisalat costs AED 139 (₹3,130). That's apart from the pay-per-view charges.
Also, if the ISL did indeed have a substantial fanbase in the Middle East, you'd think they would have tried to find a local broadcast partner. The ISL did not respond to an emailed questionnaire before this edition was published. I'll update the edition online if and when it responds.
As for OneFootball, the international rights for ISL would not have been very expensive. If the India rights went for a base price of $33 million per season to a company that also owns the ISL, with reportedly only one other bidder participating in the auction, you can imagine the interest for the international rights. So, the financial risk for OneFootball would not have been significant.
That said, OneFootball does have users in India, although it appears they largely use the app for its live scores feature. One such user is Arjun Kulkarni, a Mumbai-based sales and strategy executive at a tech company, who's a Liverpool fan. "I've been using OneFootball for nearly a decade. I use it to follow live scores and commentary for the Premier League, Champions League, and international matches. The user experience is far better than other apps I've come across, including the Premier League's own app," he says, adding that he's never watched any of the live streams.
Fans of platforms such as ESPNcricinfo and Cricbuzz would resonate with this.
Which platform do you use to keep track of football?
⚡️Quick Singles
🤝💰 It would be the mother of all mergers if it were to happen. The Walt Disney Company has held preliminary talks with potential buyers for its India streaming and television business, including Reliance Industries, reported Bloomberg. The American giant could sell its entire Disney Star business in India or individual assets including sports rights and streaming service Disney+ Hotstar, the report said. With Sony and Zee also trying to merge, are we headed towards a virtual duopoly in the Indian entertainment and sports media landscape?
👕🏏 Indian cricketer Deepak Chahar has launched his own sportswear and sporting goods brand called DNINE Sports, with an initial investment of ₹2.5 crore ($300,000), reported Mint. It will sell affordable cricket apparel, shoes, accessories, and health supplements made by a third party, Weolive. The parent company, LCDC Athletics, is not looking for any external capital at the moment. Earlier this year, Chahar had also launched a separate company, JCDC Sports, that operates a fantasy sports platform called Trade Fantasy Game.
🏏🇺🇸🏆 The ICC has confirmed New York, Dallas, and Florida as the three venues that will host matches during the USA leg of 2024 T20 World Cup. An agreement has also been reached to build a 34,000-seat modular stadium in New York. Grand Prairie in Texas and Broward County in Florida already have existing infrastructure to host matches, although the capacity at both stadiums will be increased. The US is co-hosting the tournament along with the West Indies.
🏏🇮🇳📈 The Indian Premier League's (IPL's) valuation grew by 3.3% from $10.9 billion last year to $11.2 billion in 2023, according to a report by consulting and valuation services firm D&P India Advisory. The Women's Premier League (WPL) is worth $150 million, according to the report. In rupee terms, ​​the WPL is worth ₹1,250 crore, which is almost a fourth of what the IPL was valued at when it launched in 2008—₹4,700 crore.
🇩🇪👟 Adidas CEO Bjorn Gulden doesn't think the rapper Ye, formerly known as Kanye West, meant the antisemitic comments he made on social media that led the sportswear brand to cut ties with him last year. Gulden made the comments, where he also said he doesn't think Ye is a bad person, during an appearance on the In Good Company podcast. Adidas later released a statement saying the company's position on the rapper "has not changed". Last month, Adidas reported that it generated $437 million in revenue from selling discontinued inventory of the Yeezy brand, its collaboration with Ye.
How did you like this edition?
If you enjoyed reading The Playbook, please share it with your friends, family, and colleagues. Please also subscribe to it (for free) if you haven't already.
You can reach out to me at jaideep@thesignal.co with any feedback (good, bad, or ugly), tips, and ideas. I'd love to hear from you!
Thanks for reading, and see you again next Friday!