Discover more from The Playbook By The Signal
A weekly newsletter that goes beyond the headlines and gives you all the necessary signals you need to understand India's sports and gaming industries better.
Over 9,000 subscribers
Legalising sports betting: what India can learn from the US
Americans have spent over $220 billion on legal sports bets in the five years since the US Supreme Court's landmark May 2018 ruling. It's not been all hunky-dory, though
Good evening,
Welcome to The Playbook, a weekly newsletter on the business of sports and gaming. If someone shared this newsletter with you or if you've found the online version, please hit the subscribe button below — it's free! You can unsubscribe anytime.
Sometime last month, while cycling past one of Puducherry's main traffic junctions, I noticed an ad on a huge billboard that featured five celebrities: cricketers Eoin Morgan and AB de Villiers, singer Badshah, and actors Jacqueline Fernandez and Sanjay Dutt. It was an ad by online betting company Fairplay.
The ad copy—oddly enough written in Hindi in a region where the language is barely spoken—said users stand to win lakhs of rupees daily. It also offered a "300% deposit bonus" and a flat 5% "lossback bonus" on every match. Whatever that means.
Right next to it was a slightly smaller ad for a brand called Fairplay News, advertised as "India's biggest and most trusted platform". It featured actors Ranbir Kapoor and Kiara Advani, and cricketer Mithali Raj. As you might have guessed, Fairplay News is the surrogate advertising brand of Fairplay.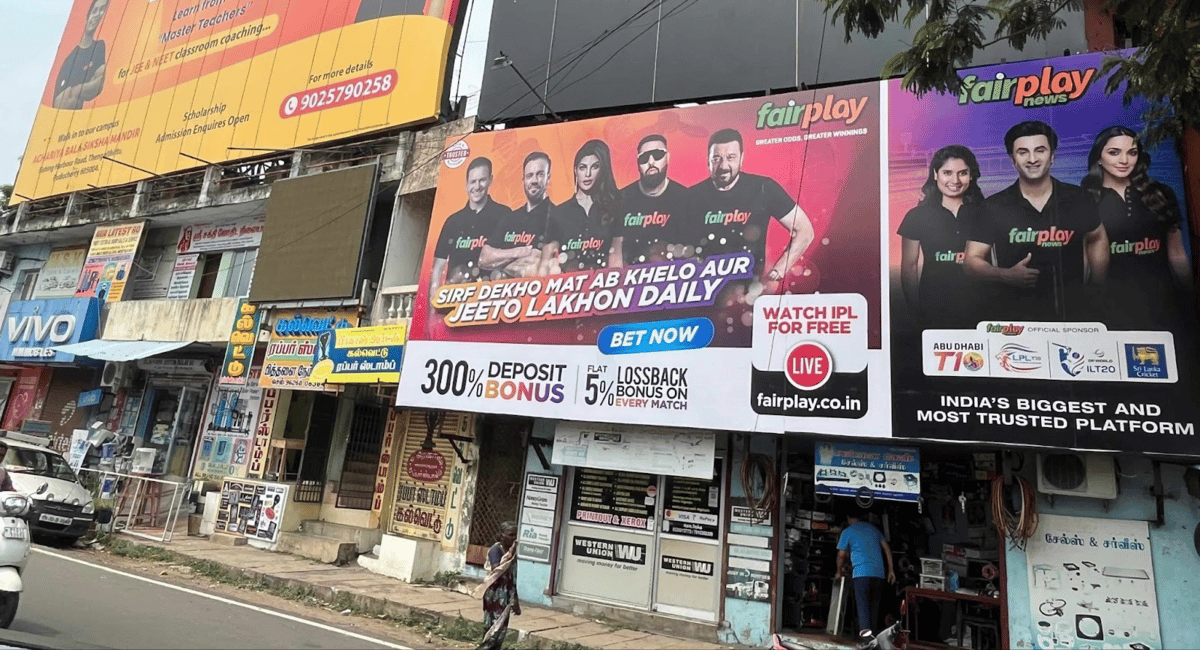 Now, this isn't the first time I have seen Fairplay ads on billboards. I spotted one in Chennai last month as well (this time, the ad copy was in Tamil). And I'm pretty sure you have seen versions of it too, perhaps in your local language. Ironically, the Tamil Nadu government had passed a law against online gambling around the same time.
Now, earlier this month, the chief secretary of India's Ministry of Information and Broadcasting (MIB) wrote to his counterparts in all state governments and union territories regarding outdoor advertisements by betting and gambling platforms. The letter first reminded the states that the ministry had issued three advisories since June 2022 regarding such advertisements appearing in print, electronic and online media, asking companies to refrain from publishing them.
"While such advertisements have been largely curbed in mainstream print, electronic and digital media, it has now come to the notice that some betting and gambling platforms have started using outdoor media such as hoardings, posters, banners, auto rickshaw branding, etc. to promote their websites/apps in India. Accordingly, it is requested that appropriate action may be taken to curb outdoor advertisements of betting and gambling platforms," the letter said.
This letter was dated 2 May, 2023. On Wednesday, 10 May, I passed by the same junction in Puducherry. The Fairplay ad was still there. Puducherry is a union territory, which is administrated by India's president via a lieutenant governor. It also has a legislative assembly, which is currently ruled by an alliance of the All India NR Congress and the Bharatiya Janata Party (BJP). The BJP, of course, is also ruling at the Centre.
It's been nearly a year since the MIB started issuing advisories regarding these betting ads. And just last month, when the Ministry of Electronics and Information Technology (MeitY) amended the Information Technology (Intermediary Guidelines and Digital Media Ethics code) Rules, 2021, it said that intermediaries such as hosting providers, news websites, and social media platforms cannot host any game or publish any ads of a game that isn't approved by a self-regulatory body. The new rules also paved the way for the swift blocking of online betting and gambling platforms.
Yet, these platforms and their ads continue to be in your face wherever you go. I've also seen them in a national English daily, a prominent news website, and on social media recently, which raises questions over the MIB's statement that they "have been largely curbed in mainstream print, electronic and digital media".
Why is this happening?
A lot of it has to do with the fact that the online betting and gambling industry is caught between two central government ministries (MIB and MeitY) and multiple state governments. At the end of the day, gambling is a state subject in India. That's why Tamil Nadu went ahead and banned online gambling, including rummy and poker with stakes, despite the Centre stating in the amended IT Rules that self-regulatory bodies should take a call on whether a real-money game should be allowed in India.
The issue of whether online gaming can be regulated by the Centre or states is pending before the Supreme Court in appeals filed by the Tamil Nadu and Karnataka governments. Until the Supreme Court passes a judgement, there's unlikely to be much clarity on the matter, and states can continue to make their own legislation for online gaming, betting, and gambling.
And with respect to the ads by these betting companies, there's also the small matter of the revenue they bring in. According to the All India Gaming Federation, an industry body, online betting platforms spend ₹3,500 crore ($426 million) annually on ads across media. Are a few government advisories going to be enough for companies to pull the plug on such a steady and lucrative source of ad revenue?
There's an interesting parallel here with the United States. If you're watching any live sports content there, it's impossible to do so without being bombarded with betting ads, some of them featuring big celebrities such as actor Jamie Foxx.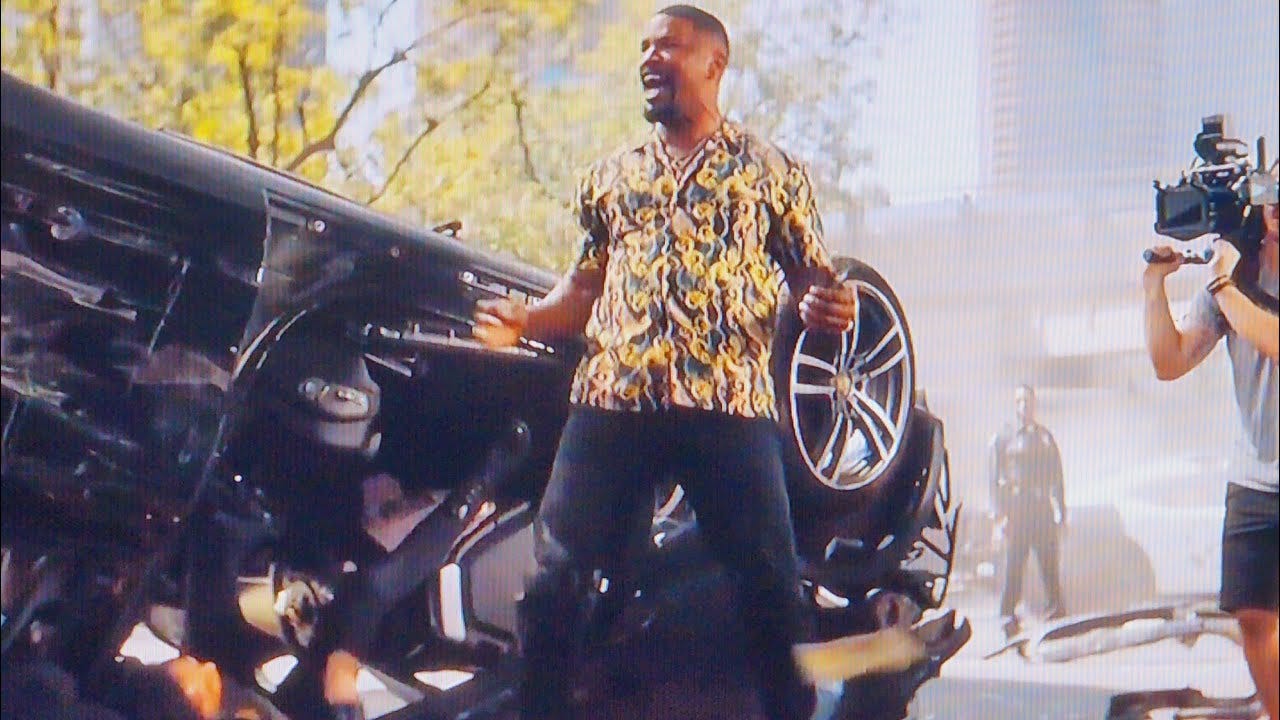 BETMGM | BETMGM COMMERCIAL | JAMIE FOXX | DALLAS COVERED THE SPREAD' | BETMGM THE KING OF SPORTSBOOK
In fact, betting odds are an integral part of sports broadcasting, with presenters and commentators on sports networks even analysing the games from a betting perspective. One sports network is now even named after a gambling company. Top athletes and teams are also paid handsomely to promote sports betting—some teams even have betting parlours in their stadiums.
Now, the difference is that sports betting is legal in the US. Well, to be more precise, the US Supreme Court in May 2018 cleared the way for states to take their own call on the matter. Almost exactly five years since then, 33 states and the District of Columbia have legalised sports betting. And Americans have reportedly spent over $220 billion on legal sports bets in these five years. In the first three months of this year, they wagered over $29 billion, according to SportsHandle, a trade publication. That's nearly $10 billion per month. By 2026, analysts predict it could touch $20 billion a month.
Before the Supreme Court ruling, things were quite similar to what's happening in India. Betting was prohibited in a majority of the country, except Nevada ("What happens in Vegas, stays in Vegas") and a few venues in other states. There was no real interest from the sports industry to legalise betting, especially after the Black Sox Scandal in 1919, when eight members of the Chicago White Sox baseball team were accused of throwing a World Series game against the Cincinnati Reds in exchange for money from an illegal gambling syndicate. In 1989, another baseball player, Pete Rose, was banned from the game for life after it was found he bet on matches, including those of the Cincinnati Reds, for whom he played. Rose recently placed his first legal sports bet.
It all changed about a decade ago, with the rise of two tech startups called DraftKings and FanDuel. They pioneered the business of online fantasy sports involving real money, where users could pick virtual teams comprising real-life players of a sport and get points according to how they performed on the field. More importantly, they could stake money on the performances of their fantasy sports teams. Indian fantasy sports players, I'm sure this rings a bell?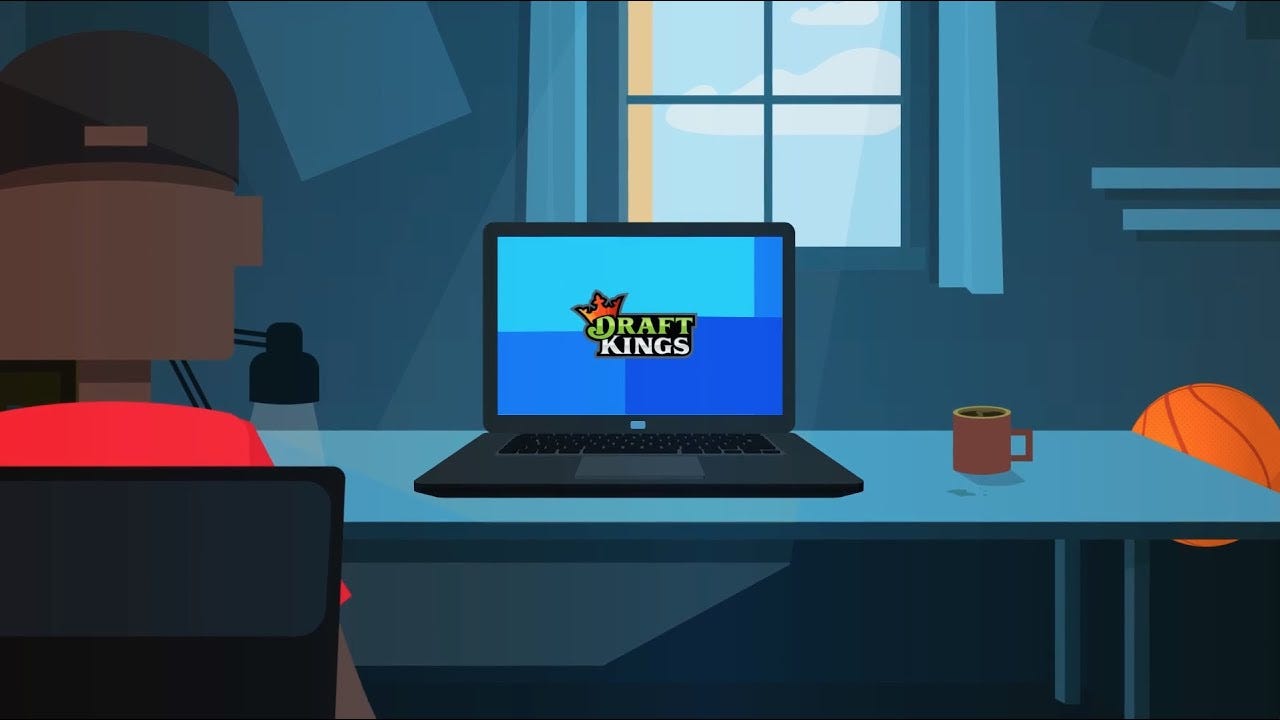 If this business model sounded like pseudo-betting to anyone, DraftKings and FanDuel spent the next few years hiring a team of lawyers and lobbyists to convince state lawmakers that fantasy sports is a game of skill. By the end of 2017, 19 US states had legalised fantasy sports. The two companies even tried to merge before antitrust regulators stepped in to block it, saying a merged entity would control more than 90% of USA's paid daily fantasy sports market.
Then, in May 2018, the US Supreme Court completely changed the game. It all stemmed from a case that had begun four years prior, when New Jersey governor Chris Christie signed into law a bill that legalised sports betting in the state. His objective was to boost the struggling fortunes of Atlantic City, a casino town. Sports leagues and organisations went on to sue New Jersey, with the state law being in direct conflict of a federal law, the Professional and Amateur Sports Protection Act (PASPA), 1992.
Eventually, the case landed up in the Supreme Court. And the top court ruled in New Jersey's favour, striking down PASPA as unconstitutional and leaving it to the states to decide whether they wanted to legalise sports betting.
The floodgates were now partially open for DraftKings and FanDuel. The only thing left to do was to get all the sports leagues and state lawmakers on board.
Convincing the leagues wasn't very difficult, especially since sports like baseball were struggling in terms of viewership. Despite their concerns about sports betting impacting the integrity of the game, they figured they might as well use it to increase fan engagement and make some money off it via sponsorships. NBA commissioner Adam Silver had written an opinion column in The New York Times back in 2014 advocating for the legalisation and regulation of sports betting.
To convince the states, the lobbyists of DraftKings and FanDuel argued that sports betting is already rife illegally through offshore sites and local bookies, and there aren't too many safeguards to check if people are gambling responsibly. So, why not legalise and regulate it, and also make some money off it via taxes? The lobbyists also "wildly inflated" the estimated amount of money states could earn via sports betting taxes, reported The New York Times.
One by one, the states started coming on board. Today, sports betting is legal in two-thirds of the country, with bills pending in many of the remaining states. Once states legalise betting, the operators launch aggressive marketing campaigns, including offers such as: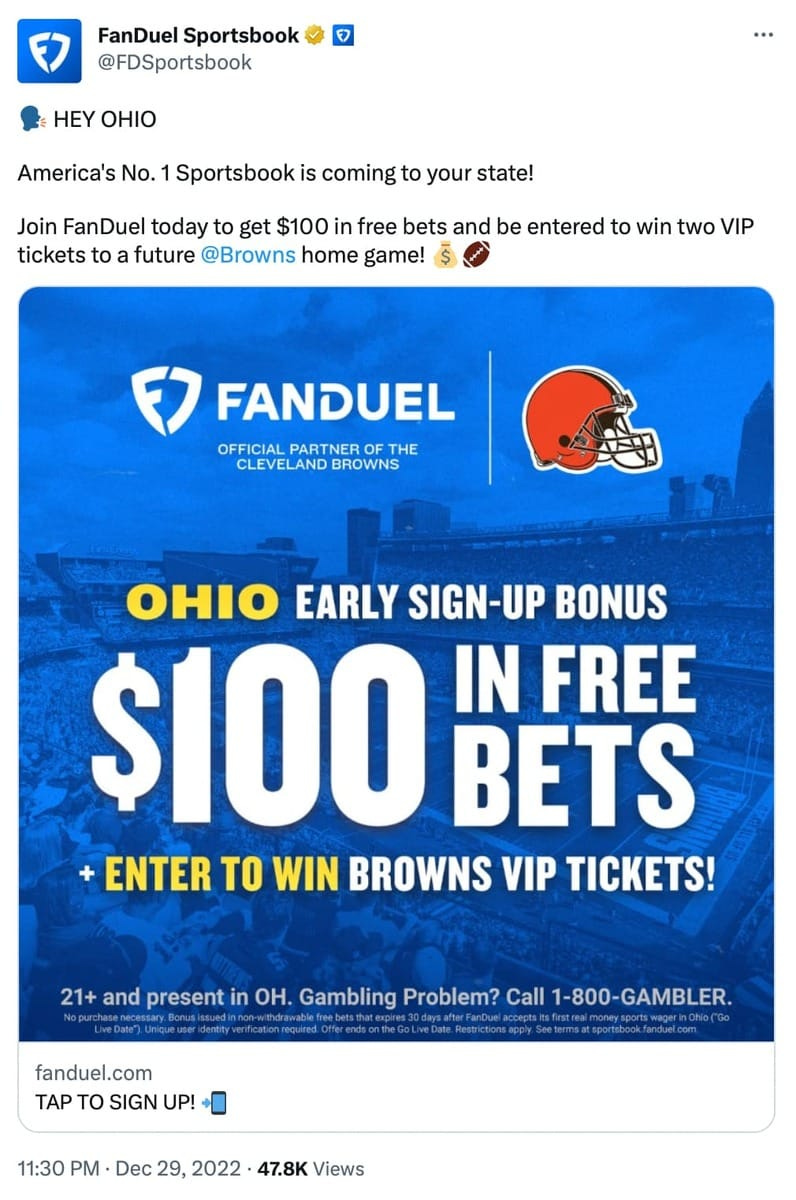 Free bets. Ring a bell?
Many states even funded these promotions themselves. The betting operators were allowed to deduct the cost of free and promotional bets from the amount they paid to states in taxes. In 2021, these promotional bets amounted to nearly $1 billion, with states losing more than $120 million in potential taxes, according to an analysis by The New York Times and Vixio, a gambling industry compliance company. Many states have since either capped or started phasing out these promotions.
Meanwhile, the lobbyists even managed to convince some of the states to keep taxes as low as 10%, saying that higher rates would suppress interest from the sports betting companies. Like Kansas. In the months after it legalised sports betting in September 2022, the state collected less than $271,000 in taxes on $350 million worth of bets, according to the NYT report.
Other states, such as New York, were smarter about it and rejected the lobbyists' advice. New York set a tax rate of 51%. Within a year of legalising sports betting in January 2022, the state collected over $700 million in taxes on over $16 billion worth of bets. It'll soon pass the $1 billion mark.
Then, of course, there's the human cost of betting and gambling.
Those treating compulsive gambling say calls to their hotlines seeking help have increased significantly in the five years since sports betting was legalized and made available on cell phones. Keith Whyte, executive director of the National Council on Problem Gambling, says calls to the 800-GAMBLER helpline have increased by 15% over the last five years as "states began the fastest and largest expansion of gambling in our history."
  Americans bet $220B on sports in 5 years since legalization | The Associated Press
Some of the people with gambling problems told the media that they didn't know where to turn for help. And even if they did, the tools available were not really effective in addressing their addiction. A New York Times investigation found that states have often turned to the gambling industry to help shape consumer protection regulations. While some states require self-exclusion lists, where people voluntarily ask to be barred from gambling more, they weren't quite effective.
Before sports betting began in Indiana, the state created a website allowing people to block themselves. Yet 117 people who enrolled were allowed to create accounts with DraftKings, according to the state's gambling commission.
Twenty-eight of those people ended up wagering a total of more than $731,000.
  Why States Were Unprepared for the Sports-Betting Onslaught | The New York Times
And then, of course, there's the matter of integrity.
In April, the NFL suspended five players for violating its gambling policy. Three of them were banned for at least the 2023 season, while the other two were suspended for six games. Last week, the University of Alabama fired its baseball coach, Brad Bohannon, over suspicious bets involving one of its games. The university said he violated "the standards, duties, and responsibilities expected of university employees," but didn't share any more details. The Associated Press reported that no evidence indicates athletes were involved.
Now, while all this is happening, you might think the likes of DraftKings and FanDuel are laughing all the way to the bank. Well, not quite. In fact, surprisingly, most operators haven't turned a profit. DraftKings, for instance, reported a net loss of ~$1.4 billion for 2022 against $2.2 billion in revenue. FanDuel's revenue for the year was $3.2 billion, with a core loss of $313 million. Its parent Flutter, however, expects FanDuel to become profitable for the first time this year.
One of its main avenues to achieve profitability could be iGaming, which is essentially the online version of casino gambling—users can play casino games such as blackjack, poker, and slots on their mobile phones. iGaming is already legal in six US states: New Jersey, Pennsylvania, Michigan, Connecticut, Delaware, and West Virginia.
So, just like these companies used fantasy sports as a stepping stone towards the more lucrative industry of sports betting, they're now using betting as a stepping stone towards the even more lucrative iGaming. Slot machines and casino table games across the US generated ~$44 billion in revenue in the first 11 months of 2022, a 6.7% jump over the same period in 2021.
It's not hard to imagine Indian fantasy sports and online gaming majors such as Dream11 and Mobile Premier League looking wistfully at what's happening in the US. It also explains why there's a strong lobby against offshore online betting companies from operating and advertising in India. After all, they've essentially jumped the queue and are illegally offering sports betting and gambling services to Indian users, while local companies are barred from doing it.
But considering the challenges the US, a far more mature market, has faced in the five years since the door to legal sports betting was opened, I can't help but think it's still way too soon to do something similar in India. Check out this story in ThePrint about how Indians are addicted to real-money online gaming, including rummy, poker, and fantasy sports, and how they're losing lakhs of rupees.
What do you think?
Should sports betting be legalised in India?
You can also write to me at jaideep@thesignal.co.
⚡️Quick Singles
🏏🇮🇳🤑 The Board of Control for Cricket in India (BCCI) is set to rake in nearly 40% of the International Cricket Council's (ICC's) net surplus earnings from its next four-year commercial cycle, according to ESPNcricinfo. This is per the ICC's new revenue-distribution model, which is currently at a proposed stage. The BCCI stands to earn ~$230 million annually between 2024 and 2027, which is 38.5% of the ICC's annual earnings of $600 million. England and Australia's cricket boards are a distant second and third at $41.3 million and $37.5 million, respectively. Big Three? More like Big One.
👟🇩🇪🇮🇳 German sportswear major PUMA has confirmed recent media reports that Karthik Balagopalan, its global director for retail and e-commerce, will be the new managing director of PUMA India. Karthik replaces Abhishek Ganguly, who is leaving the company after 17 years to start his own venture, which, according to reports, will be in the larger sportswear space. Two other senior PUMA India executives are also joining him—Atul Bajaj, head of sales and operations, and Amit Prabhu, CFO.
👟🇩🇪 PUMA's rival Adidas will not destroy €1.2 billion ($1.3 billion) worth of unsold merchandise from its now-defunct Yeezy partnership with rapper Ye, previously known as Kanye West. The brand will instead look to sell the stock and donate the proceeds to "organisations that help us and that also have been hurt by Kanye's statements," CEO Bjorn Gulden told investors. Adidas cut ties with Ye in October over his antisemitic comments. The unsold Yeezy inventory led to Adidas' first annual loss in 31 years.
⚽️🔵🇧🇷 Manchester City's parent, the City Football Group (CFG), has completed the acquisition of Brazilian top-flight club Esporte Clube Bahia. It's the 13th club to join the group, which includes New York City FC, Melbourne City FC, and Mumbai City FC. CFG is reportedly spending R$1billion ($200 million) for 90% of Bahia's shares, making it the group's second-largest investment in a football club after Premier League champions Manchester City.
⚽️🔴🇬🇧 British tabloid The Sun has reported that Manchester United's owners, the Glazer family, have picked Sir Jim Ratcliffe as the preferred bidder to sell the club. The Glazers will give Ratcliffe's Ineos Sport majority control of the club, while two of the six Glazer siblings, Joel and Avram, will retain small stakes. Ratcliffe is reportedly okay with this arrangement, while his rival Sheikh Jassim wanted to take over the entire club. Ratcliffe's valuation was also closer to the Glazers' demand of £6 billion ($7.5 billion). Fair warning: it's The Sun.
🎮🏆 The International Olympic Committee (IOC) has added Fortnite to the line-up of the Olympic Esports Finals, an invitational event that will be held in Singapore in June. "A specially designed Fortnite Creative Island made to reflect sport shooting competition will put the target aiming accuracy of sharpshooters to the test," the IOC said. The Olympic Esports Series includes nine other games that are roughly aligned with real sports organised by international federations, such as Just Dance, Gran Turismo, and Zwift (cycling).
That's all for this week. If you enjoyed reading The Playbook, please share it with your friends, family, and colleagues. Please also subscribe to it (for free) if you haven't already.
You can reach out to me at jaideep@thesignal.co with any feedback (good, bad, or ugly), tips, and ideas. I'd love to hear from you!
Thanks for reading, and see you again next Friday!