Discover more from The Playbook By The Signal
A weekly newsletter that goes beyond the headlines and gives you all the necessary signals you need to understand India's sports and gaming industries better.
Over 9,000 subscribers
Inside the ticketing chaos in Indian cricket
Selling cricket match tickets efficiently shouldn't be rocket science for the world's richest cricket board. Unfortunately, it is.
Good evening!
Welcome to The Playbook, a weekly newsletter on the business of sports and gaming. If someone shared this newsletter with you or if you've found the online version, please hit the subscribe button below — it's free! You can unsubscribe anytime.
In exactly 20 days, the ICC Men's Cricket World Cup 2023 will begin in India, with the previous edition's finalists, New Zealand and England, facing off at Ahmedabad's Narendra Modi Stadium on October 5.
Did you manage to snag a ticket to any of the matches? Well done if you did! Getting a ticket to an India match has been akin to winning a lottery. Actually, it would have been better if tickets had been allocated via lottery (more on that later).
But if you're an Indian cricket fan who's failing to get excited about a home World Cup, I get you. The events that have transpired over the last couple of months have just sucked all the excitement away, at least for me. From the ridiculously delayed release of the schedule just 100 days prior to the start of the tournament, to nine matches being rescheduled over a month later (including the marquee India-Pakistan clash), to the eventual sale of tickets starting August 25, just over a month before the start of a World Cup, it's all been rather shambolic.
For context, the schedule for the 2019 World Cup in England and Wales, which began on May 30, 2019, was released on April 26, 2018—over a year before the tournament started. The ticketing process began on May 1, 2018. That's how it should be for a World Cup, so that fans from across the world have ample time to plan their trip.
But for India 2023, the scheduling delay was just the first hurdle faced by fans. The second one arrived after the sale of tickets began on August 25, which is what this edition is about. If anything, it was a bigger farce.
'The fans are being robbed'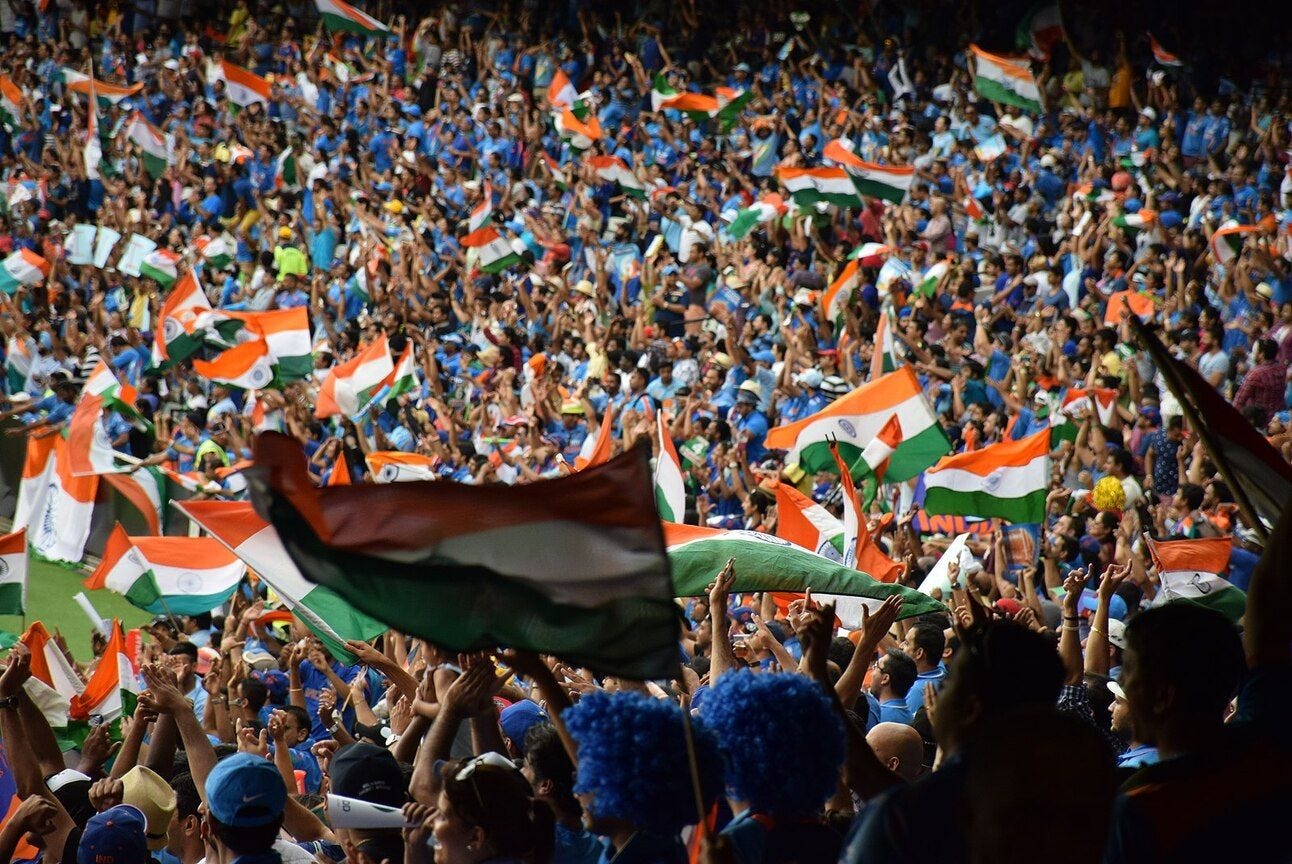 Photo credit: Wikimedia Commons
The social media team of BookMyShow, the official ticketing platform of the 2023 World Cup, deserves a raise. For the last three weeks, they've encountered enough criticism and abuse on social media to last a lifetime. Some of it was for technical glitches, which is perhaps understandable considering there are a potential 759 million Indians with internet access who could have tried buying tickets.
But a lot of the criticism was due to a glaring scarcity of tickets made available for purchase. For instance, a tech-savvy X (formerly Twitter) user pointed out that just over 8,000 tickets were available for purchase on BookMyShow for the India-Pakistan match at the Narendra Modi Stadium, which has a capacity of over 130,000. Others posted videos of how they were unable to book tickets despite getting through to the seat selection page. Few eagle-eyed users even found a command in the source code called "​enableFakeSeatBlocking" that was apparently active for India matches.
Was BookMyShow scamming people, as was the overall sentiment on X?
A product manager at a tech company that has a lot of experience managing a high number of concurrent users told me that "​enableFakeSeatBlocking" appeared to be a flag in the code that allows dummy or bot bookings.
"Generally, when you book a ticket, you get a confirmation from the payment aggregator and a ticket number. But this flag probably allows tickets to be booked without an actual transaction—it's basically a dummy booking that holds the ticket. The organisers are not opening up all the seats to fans because they probably want some for themselves."
The product manager, who requested anonymity as they aren't authorised to speak to the media, added that this practice, called rigging or capping, is common during music concert ticket sales and even big sales on e-commerce platforms. "IRCTC is another classic example: you keep seeing people complaining that they couldn't get any train tickets, but agents have no issue. It's a problem that comes with the first-come-first-serve system."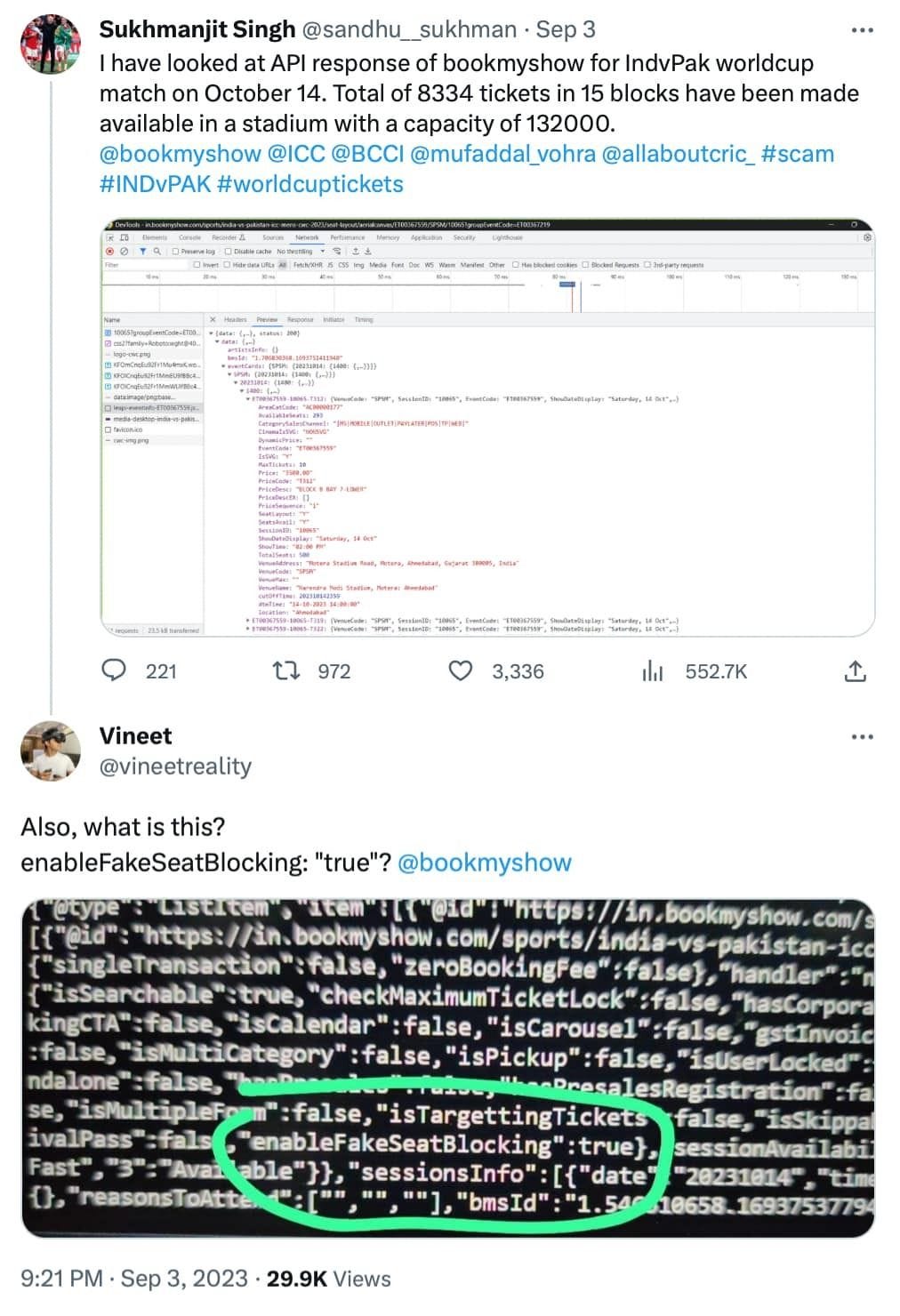 The alternative to a first-come-first-serve (FCFS) system is a public ballot, which is useful when demand outstrips supply. Here's how it works: fans can register their interest in buying tickets for an event by a certain date; the organisers then conduct a ballot and inform the fans whose names were drawn to purchase their tickets in a specified booking window. If any tickets are left after the ballot, they can then be sold via a second ballot or via a general FCFS sale.
The 2019 World Cup had two ballots, followed by a general sale. The tournament received over three million ticket applications for 800,000 tickets. In fact, the 2016 World T20, which was hosted by India, also had a ballot system. I had participated in it too for the India-West Indies semi-final. I got through the ballot and purchased my ticket in the specified booking window with no hassle whatsoever.
This really begs the question as to why the ballot system wasn't used for the 2023 World Cup, for which demand would only have been higher. BookMyShow did not respond to a questionnaire I sent before this edition was published. I'll update the edition online if and when they respond.
But whether it was FCFS or a ballot, the main issue was that there weren't enough tickets available for purchase. And that was not BookMyShow's fault. The platform can only sell the tickets that are allotted to it by the tournament organiser, which is the Board of Control for Cricket in India (BCCI). On September 6, Mint reported that less than 10% of the total number of tickets for the tournament were made available to BookMyShow. Less than 15,000 tickets were available for the India-Pakistan match and less than 10,000 each for the India-Australia, India-Afghanistan, and India-Bangladesh games, the report added.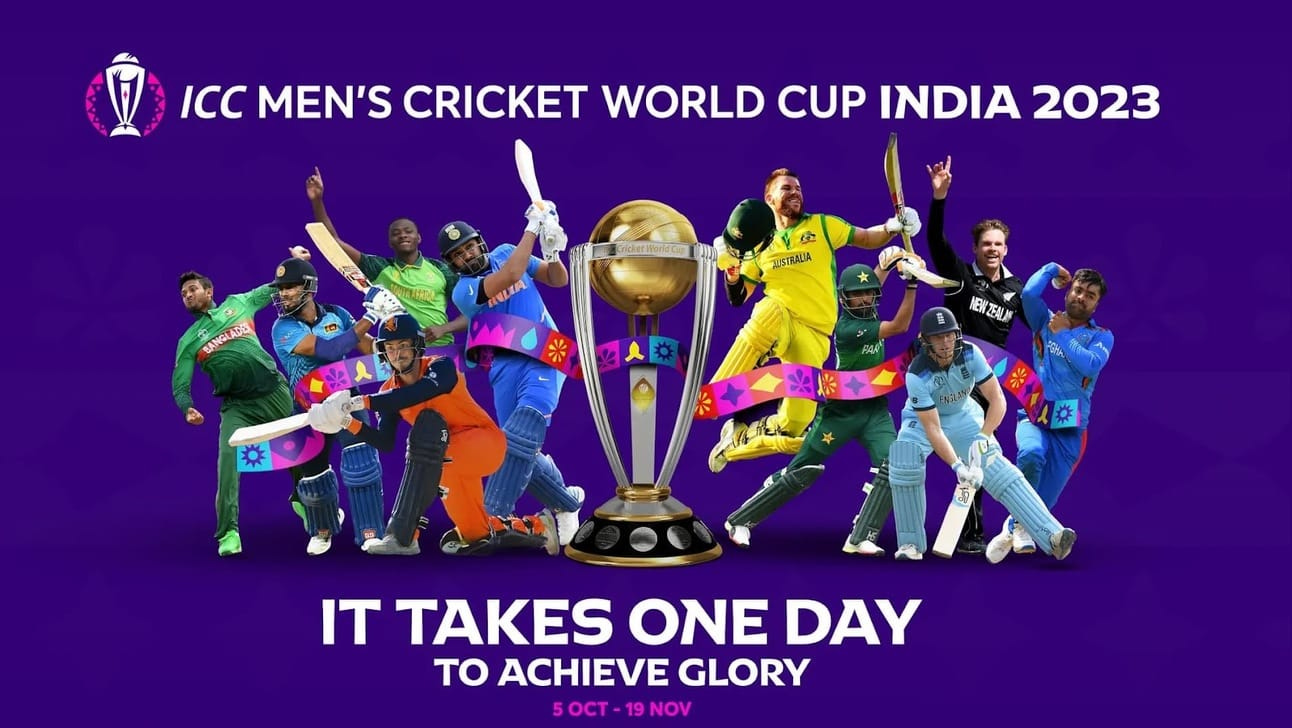 Photo credit: ICC
The scarcity of tickets was also responsible for some of the issues faced by BookMyShow users. Despite getting to the top of the queue, many users were unable to book the tickets because others were booking them faster. "In the IPL, it takes about 15 minutes to sell ticket inventory of 10,000-15,000. For the World Cup, if you assume 10% of tickets are on sale, that's around 5,000 tickets for a 50,000-capacity venue. It won't take more than three to five minutes for 5,000 tickets to sell out for an India match," said a senior sports management executive who's worked in Indian cricket. They requested anonymity as they aren't authorised to speak to the media.
Hours after the Mint report was published, the BCCI released a statement.
The Board of Control for Cricket in India (BCCI) acknowledges the high demand for tickets for the ICC Men's Cricket World Cup 2023. After discussions with the hosting state associations, the BCCI has announced the release of approximately 400,000 tickets for the highly anticipated tournament.
  BCCI statement
However, 400,000 tickets across 48 matches still makes it only about 8,300 tickets per game. There was also no clarity as to whether the 400,000 tickets were equally distributed across all 48 matches or it was based on which teams were playing or which stadium the game was being held at.
By all accounts, it's unlikely that more than 20% of the tickets per match have been made available for purchase. "In the Indian Premier League (IPL), up to 60-65% of tickets go up for sale, while the rest are given to sponsors, the BCCI, its state associations and their various member clubs," said a second senior sports management executive who's worked in Indian cricket. They requested anonymity to protect business interests. "For World Cups, the International Cricket Council (ICC) gets about 2,000-3,000 tickets for itself and its partners. The local organising committee gets some. If the fans are only getting 10-15% of the tickets, where are the rest going?"
Apart from the ICC and its sponsors, the only other stakeholders who can get tickets are the BCCI and its state associations. Whichever stadium hosts a match in India is linked to one of 28 state cricket associations affiliated with the BCCI. And each state body has dozens of district associations and clubs linked to it. Some state associations also give memberships to cricket academies. Of course, not everyone associated with these various bodies is eligible for a ticket, but you get how far the web spreads.
Chennai Super Kings' CEO Kasi Viswanathan told The Times of India earlier this year that the IPL franchise is obligated to give 13,000 tickets per match to the Tamil Nadu Cricket Association's member clubs. That's over a fourth of the MA Chidambaram Stadium's capacity.
And this is by no means a recent trend. During the 2011 World Cup, co-hosted by India, only 4,000 tickets were available for fans to purchase for the final at Mumbai's Wankhede Stadium, with a capacity of 33,000. ESPNcricinfo reported that the Mumbai Cricket Association was contractually obligated to offer 20,000 tickets to its member clubs. That's 60% of the stadium's capacity.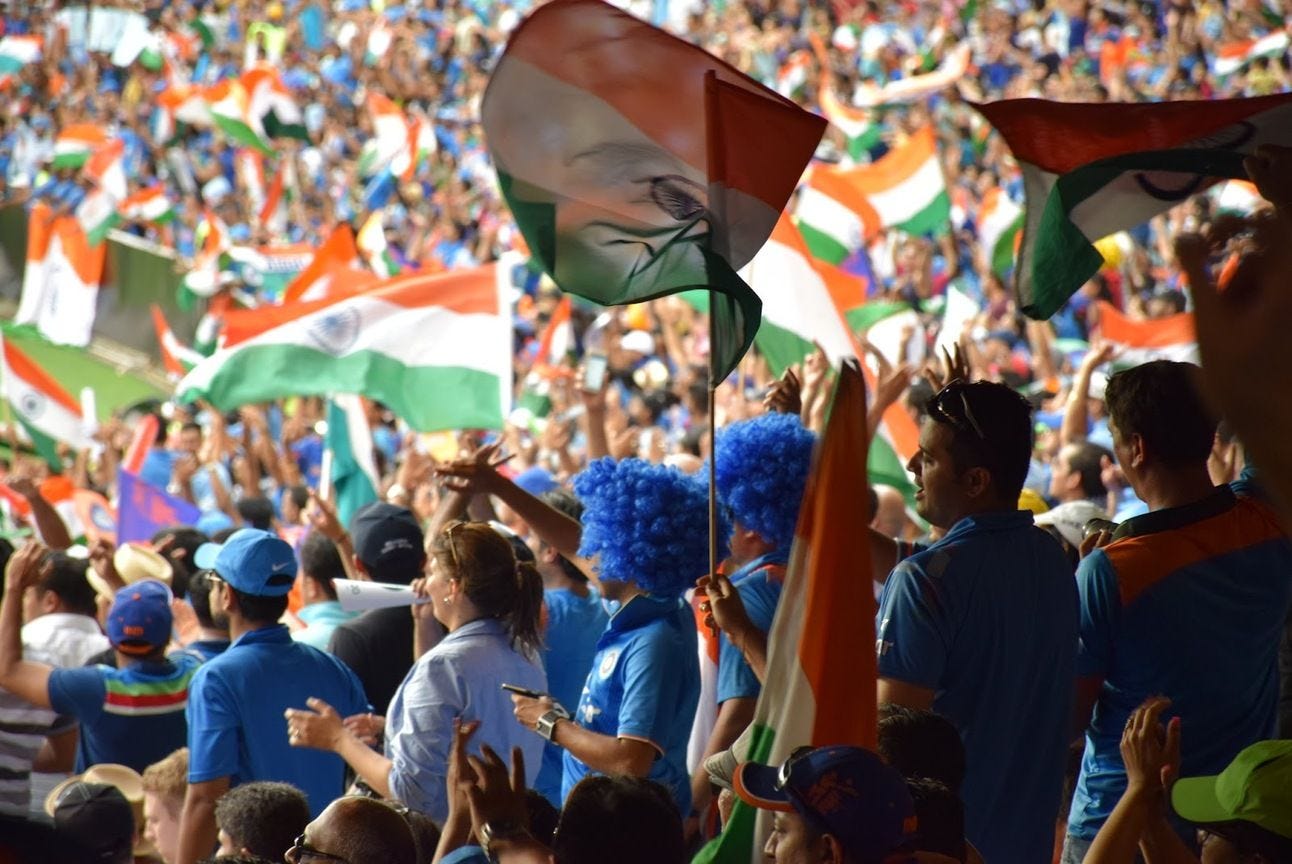 Photo credit: Tourism Victoria/Flickr/Creative Commons
"The fans are being robbed. There is no way for them to buy tickets from the state associations," said the second senior sports management executive quoted above. "The only other available route is purchasing the official hospitality packages, which cost 10-15x the standard ticket price." The ICC has about a dozen official agents who are authorised to sell travel and tour packages for its events. However, with just over two weeks to go before the World Cup begins, the second senior executive added that hospitality tickets are still not available. "There's still no clarity where the hospitality zones will be in the stadiums right now. Everyone is frustrated."
The ICC's hands are tied. For one, according to the usual contract for ICC events, the local organising committee (LOC)—in this case, BCCI—has all the control over ticketing. The LOC decides who gets how many tickets, and how and when the tickets will be sold. "The ICC will have certain requirements, like X number of tickets per venue and an option to buy more if required. That's why tickets are usually released in lots after gauging the demand. The ICC would have got its allotment of a few thousand tickets, and the balance is managed by BCCI and its state associations," said the first senior sports management executive quoted earlier.
Can the ICC not step in when it sees the kind of mismanagement that has transpired over the last few months? Well, not if the LOC is the BCCI, which reportedly accounts for 80% of the ICC's annual revenue.
If you're someone who has attended or tried to attend a cricket match in India, whether it's the IPL, India bilaterals, or the World Cup, you'd know that these are longstanding issues. There have been several reports of mismanagement and chaos while selling cricket match tickets in India over the years. Some have even led to stampedes and baton charges by the police.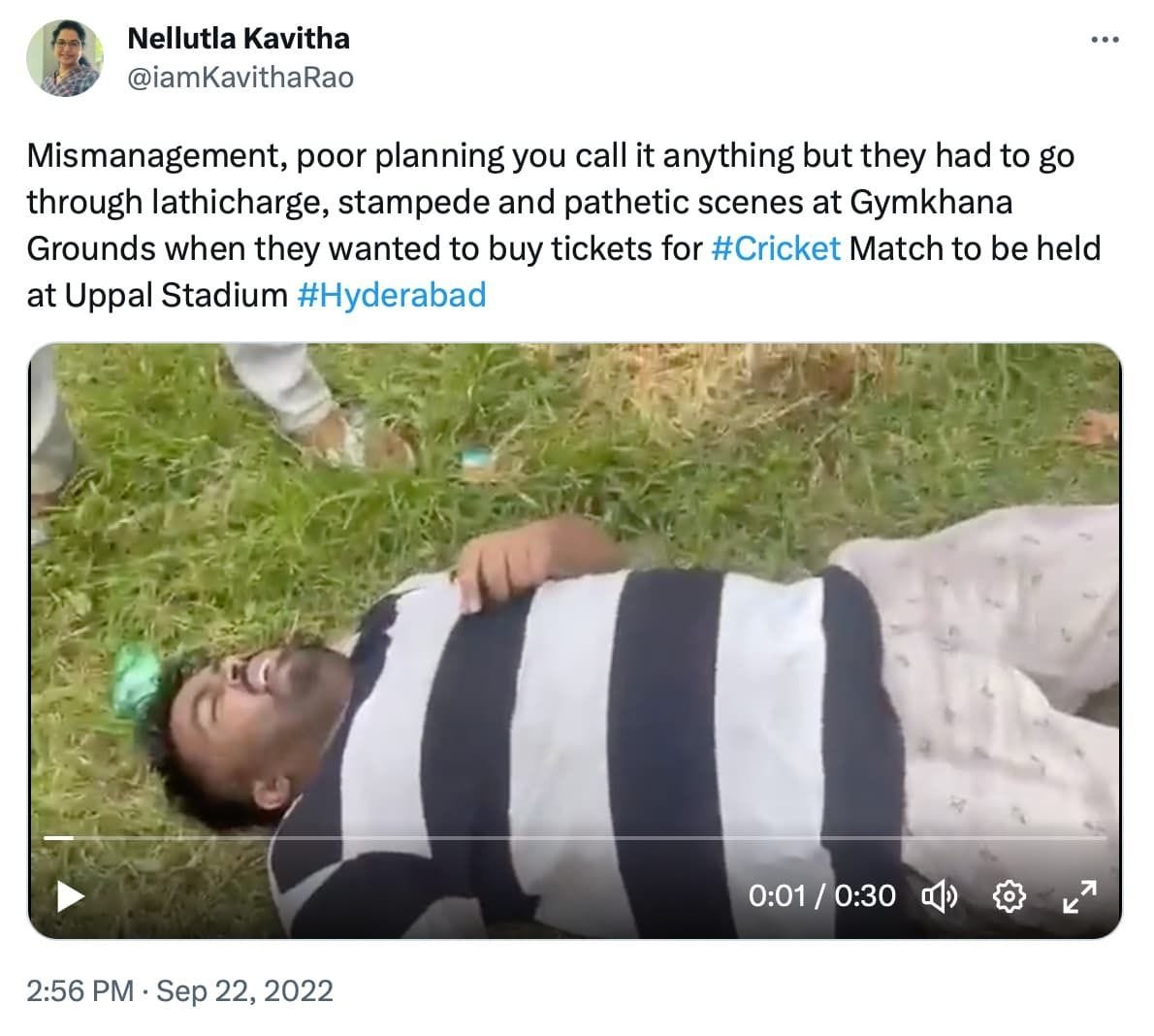 Apart from the scarcity of tickets available for purchase, another reason for the chaos is the incomprehensible fact that fans who have purchased tickets online are also made to collect physical copies from the stadium. This is because of a lack of technology and infrastructure.
"In India, we aren't very tech-driven in terms of ticketing," said the first senior sports management executive. "If you're selling a mobile ticket, you need to have the technology and various checks and balances in place to stop people from taking screenshots of those tickets. That feature isn't available in India."
Sharing screenshots of mobile tickets can be a security concern. "Say you're a corporate client, and you've bought 200 tickets. But who are these 200 tickets going to be distributed to? Who will be the end-user? That's why a physical ticket is preferred," said the first senior sports management executive. "E-tickets are common abroad because their ticketing agencies have more control over piracy and duplication."
Most of the cricket stadiums in India also don't have the infrastructure to facilitate completely online tickets, the executive added. "They only have turnstiles where you need a paper ticket to be inserted in order for the gate to open. Only Ahmedabad, Lucknow, and a couple of other venues have the infrastructure where you can scan a mobile ticket at the turnstiles. Upgrading the older infrastructure comes at a huge cost—in crores. I don't think any of the state associations are in a position to spend that kind of money to do it."
On that note, during the 2023 IPL, I had attended a match in Chennai, where a mobile ticket was sufficient. The ticketing agency, Paytm Insider, had personnel stationed at the turnstiles who were manually scanning mobile tickets. However, the first senior sports management executive said this isn't the most optimal way to do it.
"For e-tickets, the turnstiles should have a combined server that can get the attendance data of the complete stadium in real time. This data—how many people have entered from which gate, and which seating zone has how many spectators—is crucial in terms of emergency evacuations and contingency plans. The limitation of a hand-held scanning device is that its data is restricted to one gate. Collating the data from all gates manually will take 20-30 minutes, which isn't good enough."
Whatever the reasons, it's rather unfortunate that a cricket board that earned revenue of ₹27,411 crore ($3.3 billion) over five years (FY18-22) cannot figure out an efficient way to sell match tickets. Or, as the second sports management executive puts it, the BCCI's financial success, a substantial part of which is down to media rights sales, is probably the reason why it doesn't care much about match-going fans. "In the end, it's all a function of how much fan engagement you want, how many tickets you want to sell and how much revenue you want to generate. Do you think the BCCI needs any more revenue?" the executive said, laughing.
After all, the BCCI knows that come rain, hail, or sunshine, millions of Indians will queue up to buy tickets to go see their heroes in action, no matter how mismanaged the sales process is. According to reports, tickets for the India-Pakistan match in Ahmedabad are selling for as high as ₹56 lakh ($67,400) in the resale market. Sky-high hotel and flight prices are also no bar. The Captable reported that the demand for charter flights to travel for the match is also booming.
Who cares about a few technical glitches and stampedes, right?
Did you manage to get a 2023 World Cup ticket?
⚡️Quick Singles
🏏🇮🇳🇵🇰 Speaking of India-Pakistan cricket, streaming platform Disney+ Hotstar reportedly set a new personal peak concurrency record of 28 million during the Asia Cup Super 4 round clash between the arch-rivals. The platform's previous record was 25 million, set during the India-New Zealand semi-final of the 2019 World Cup. Rival JioCinema has the overall record in Indian cricket—32 million, set during the 2023 IPL final. Like JioCinema, Hotstar also started streaming matches for free beginning with the Asia Cup, albeit only on mobile phones. The platform will stream the 2023 World Cup for free on phones, too.
👟💰 Sportswear company Agilitas Sports, co-founded by three former senior Puma India executives, has acquired Mochiko, one of India's largest sports shoemakers. Gurugram-based Mochiko manufactures shoes for global brands such as Adidas, Puma, New Balance, Skechers, and Asics, reported The Economic Times. Bengaluru-based Agilitas Sports had raised $52 million in May. ICYMI, I had written about the baby steps India is taking towards becoming the world's sports shoe factory.
🃏🏏 The double whammy of the crypto crash and hike in Goods and Services Tax seems to have been too much for cricket NFT platform Rario to take. Dream Sports, the majority shareholder in the company, has fired Rario's co-founders Ankit Wadhwa and Sunny Bhanot, and also laid off 60% of its workforce. This was after some disputes and disagreements related to the fulfilment of commitments by Rario, including the termination of a contract with the organisers of the Lanka Premier League, reported Mint.
🏏🥤 After unseasonal rains in April-June, cola companies are hoping for a better second summer of sorts with the Asia Cup, World Cup, and the India-Australia bilateral series. Pepsi has signed cricketer Hardik Pandya to endorse Gatorade, while Reliance Industries-owned Campa Cola recently launched its own sports drink brand called Campa Cricket. The brand will leverage the Mumbai Indians IPL team, also owned by Reliance, for promotions. Coca-Cola's Thums Up is the official beverage partner for the World Cup, while Limca Sportz is the tournament's official sports drink.
How did you like this edition?
If you enjoyed reading The Playbook, please share it with your friends, family, and colleagues. Please also subscribe to it (for free) if you haven't already.
You can reach out to me at jaideep@thesignal.co with any feedback (good, bad, or ugly), tips, and ideas. I'd love to hear from you!
Thanks for reading, and see you again next Friday!