Discover more from The Playbook By The Signal
A weekly newsletter that goes beyond the headlines and gives you all the necessary signals you need to understand India's sports and gaming industries better.
Over 9,000 subscribers
Fantasy Premier League's growing gambling problem
The official fantasy football game of the Premier League is free to play, but many content creators and websites are carrying advertisements from gambling companies
Good evening!
Welcome to The Playbook, a weekly newsletter on the business of sports and gaming. If someone shared this newsletter with you or if you've found the online version, please hit the subscribe button below — it's free! You can unsubscribe anytime.
Thanks to the dozens of you who voted in last week's poll. A whopping 75% of you do not watch the Indian Super League, which underlines why selling the media rights is turning out to be so toilsome for the owners. The deadline for submitting a bid was August 7, and a shortlist was supposed to be made by August 11, per The Economic Times. There has been radio silence on this front in the last week.
A big thanks also to the 34 of you who have joined The Playbook's FPL mini-league. Meet Kachhy is off to a flyer with 86 points in gameweek 1, and currently occupies the top spot. I'd rather not state my points tally. If you want to join, here's our league code: d5dh3d.
Now, in case the rest of you have been wondering what the hell FPL is, you're in luck. Today's edition is about Fantasy Premier League, the official fantasy game of the Premier League. More than two decades old, the free-to-play, season-long fantasy football game is extremely popular among Premier League fans. This season, there have been over 8.97 million sign-ups at the time of writing. By the time you read this, it's likely to have crossed the 9 million mark. That's 21% of the ~42 million Twitter X followers of the official Premier League handle.
Earlier this week, FPL found itself in a bit of a controversy.
Loading the dice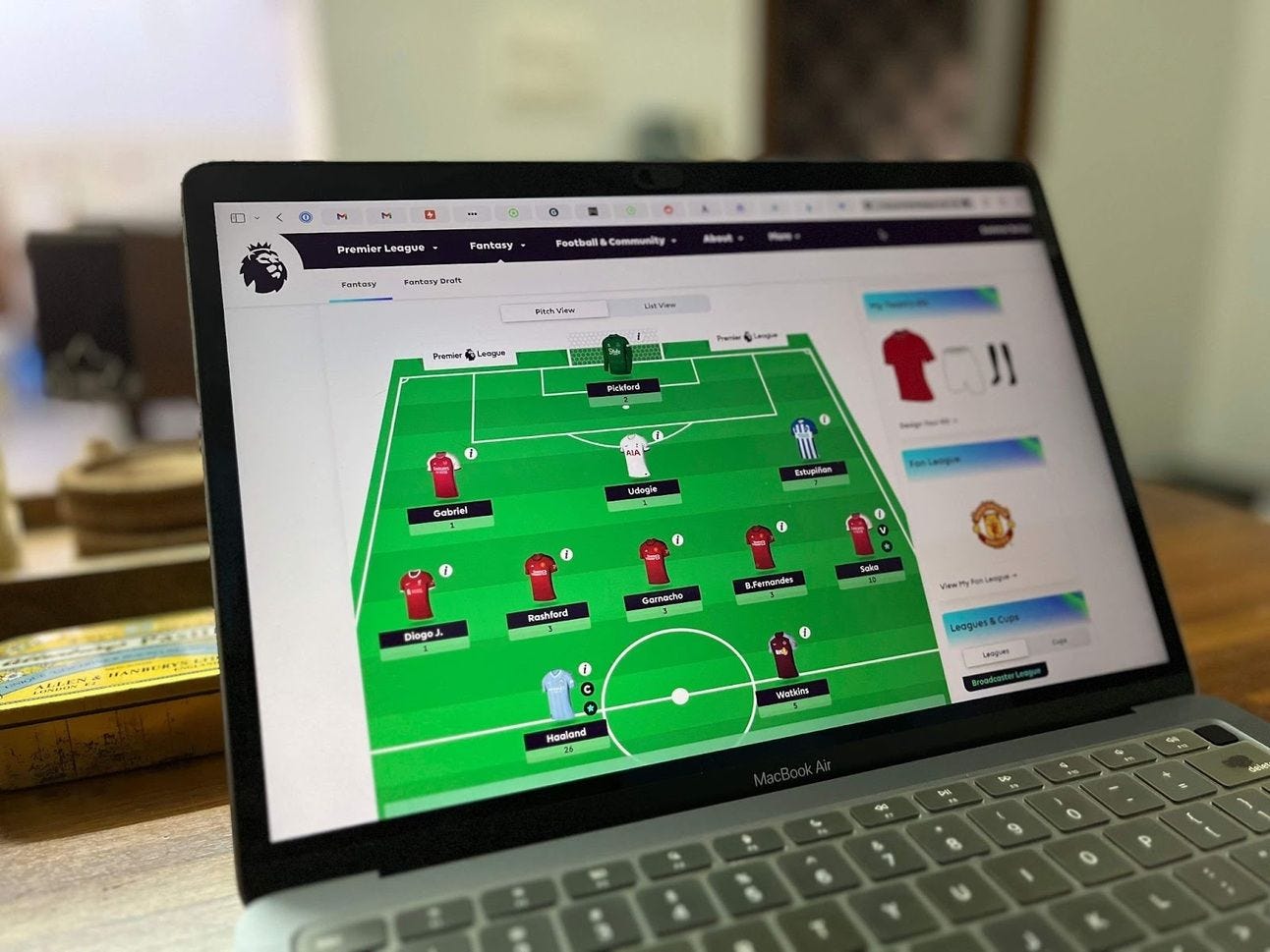 Photo credit: Jaideep Vaidya
On August 12, the BBC published a story that said the gambling industry has been targeting advertisements at players of Fantasy Premier League. "We found gambling ads and promotions on some of the biggest FPL-related podcasts, sites and social media feeds," the report said. This is a huge concern since FPL is open to children—anyone over 13 can play; and if you're under 13, all you need is a parent or guardian's permission.
The Premier League has its own official FPL podcast that's ad-free. However, there are also dozens of other content creators and companies that have made a business out of offering tips to millions of FPL players worldwide. They have tens of thousands to hundreds of thousands of followers. Andy Mears, who runs a YouTube channel called Let's Talk FPL, has ~294,000 followers on X. His YouTube channel has 364,000 subscribers. Mark McGettigan, aka FPL General, has 228,000 followers.
There are a few popular Indian FPL content creators too, such as Pranil Sheth aka Lateriser (~88,000 followers), Utkarsh Dalmia aka Zophar (32,000), and Pras (38,000). The trio run a podcast and YouTube channel called The FPL Wire, which has over 26,000 subscribers.
The FPL Wire was among the podcasts and websites that were mentioned in the BBC story. It was reportedly carrying ads for Fairplay Exchange, a platform that offers peer-to-peer cashless betting. After the story was published, The FPL Wire put out a statement on Twitter saying that it had removed all the tweets and the three videos associated with the Fairplay campaign. It also said it won't be accepting any compensation for this association.
The Fpl Wire

@TheFPLWire
A statement from The FPL Wire: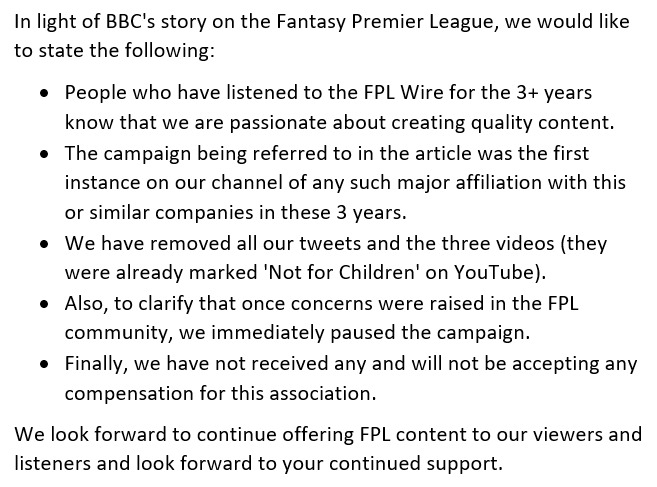 Aug 12, 2023
823 Likes   40 Retweets   86 Replies
There was, however, no apology. And with the shelf life of FPL content being a week at best, since you're supposed to pick a team for every match week, deleting previous tweets and videos would not have served much purpose. The damage was already done. It's worth noting there are currently over 150,000 FPL players from India, where gambling is illegal except for a handful of states. That said, at least The FPL Wire acknowledged what had happened.
FPL General got caught up in this too, since he had appeared as a guest on one of The FPL Wire's episodes that ran the Fairplay campaign. He tweeted saying he was annoyed with the BBC for carrying a photo of that episode showing him in conversation with Zophar, with the Fairplay ad on the screen. McGettigan said he had "turned down numerous offers to promote gambling recently" and had "made it clear that there's to be no gambling ads on my podcast too".
But here's the thing: McGettigan's podcast, The 59th Minute FPL Podcast, is sponsored by Fantasy Football Scout (FFS), one of the largest FPL content websites. It offers articles, news, stats, and tools to help FPL managers get better at the game. It has signed on some of the top FPL content creators out there, including FPL General and The FPL Wire trio. But if you go to the FFS website, you'll see ads from bet365, betway, and DraftKings, which are three big betting companies.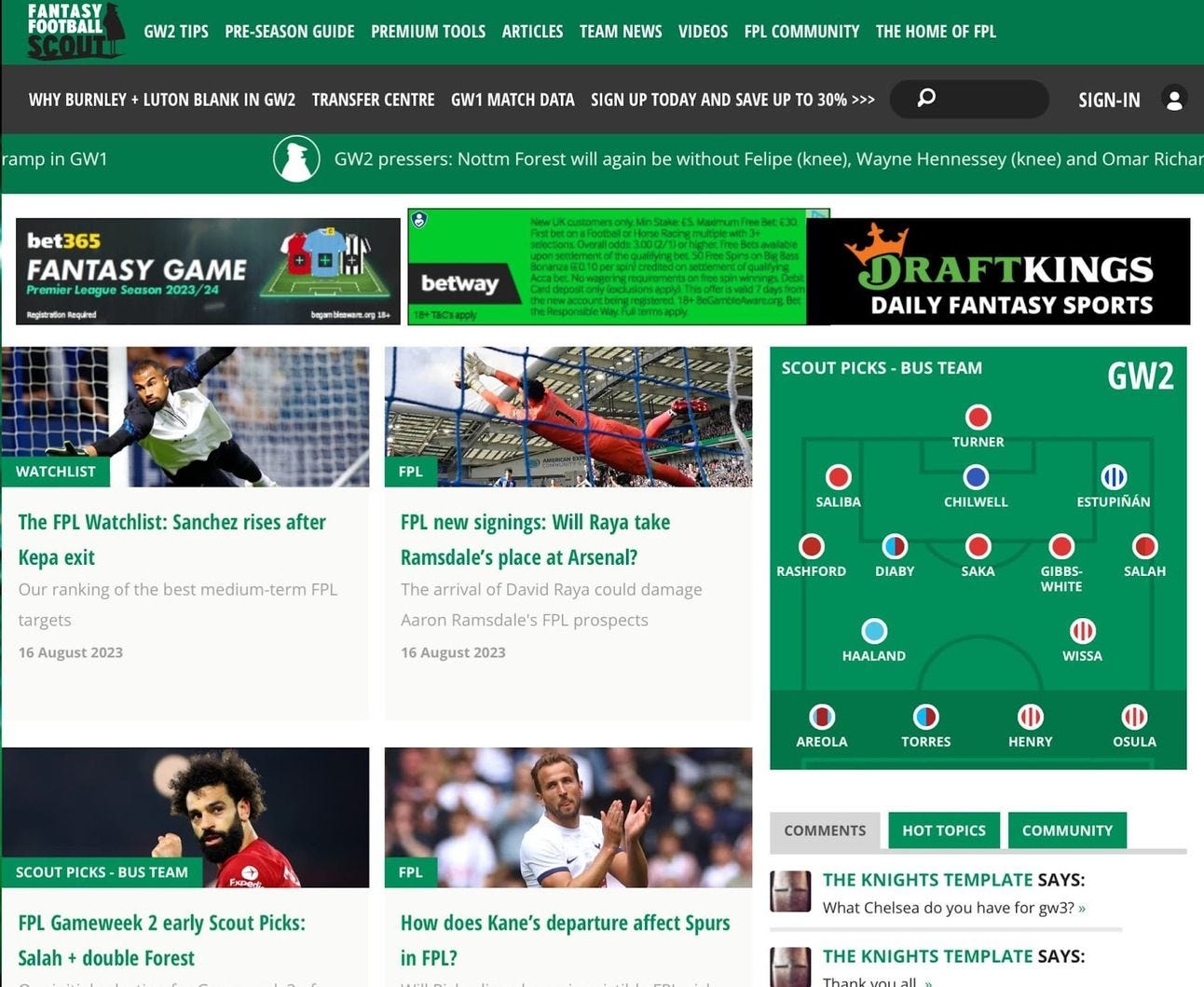 Screenshot of the Fantasy Football Scout homepage
So, where do content creators draw the line? Especially when some Premier League clubs themselves have gambling companies as sponsors. However, in April, Premier League clubs collectively agreed to withdraw front-of-shirt gambling sponsorships by the 2026-27 season.
Robert Wayne, a content creator who runs the YouTube channel FPL IQ, thinks that McGettigan was a bit hard done by because he was only a guest on The FPL Wire show. "He has personally refused gambling ads on his shows. He was just an unlucky victim who has now taught everyone in the community a lesson," Wayne told The Playbook.
I asked Wayne how widespread gambling ads were in the FPL content community. He said that the biggest creators like Let's Talk FPL and FPL General don't do it, but the tier below that is flush with gambling ads. These ads are either of gambling companies or websites set up by gambling companies. And they often are about games that are modelled on FPL but have huge cash prizes.
A popular one is Fantasy 5, where you choose a team of five players instead of the 11 in FPL. If the players beat a certain fantasy points target, you stand a chance to win a big jackpot. "That's an introduction to gambling—it's a free game with a big cash prize," said Wayne. "Fantasy5 is owned by BoyleSports, which is a big bookmaker." FanTeam is another paid fantasy football game that has tied up with FPL content creators.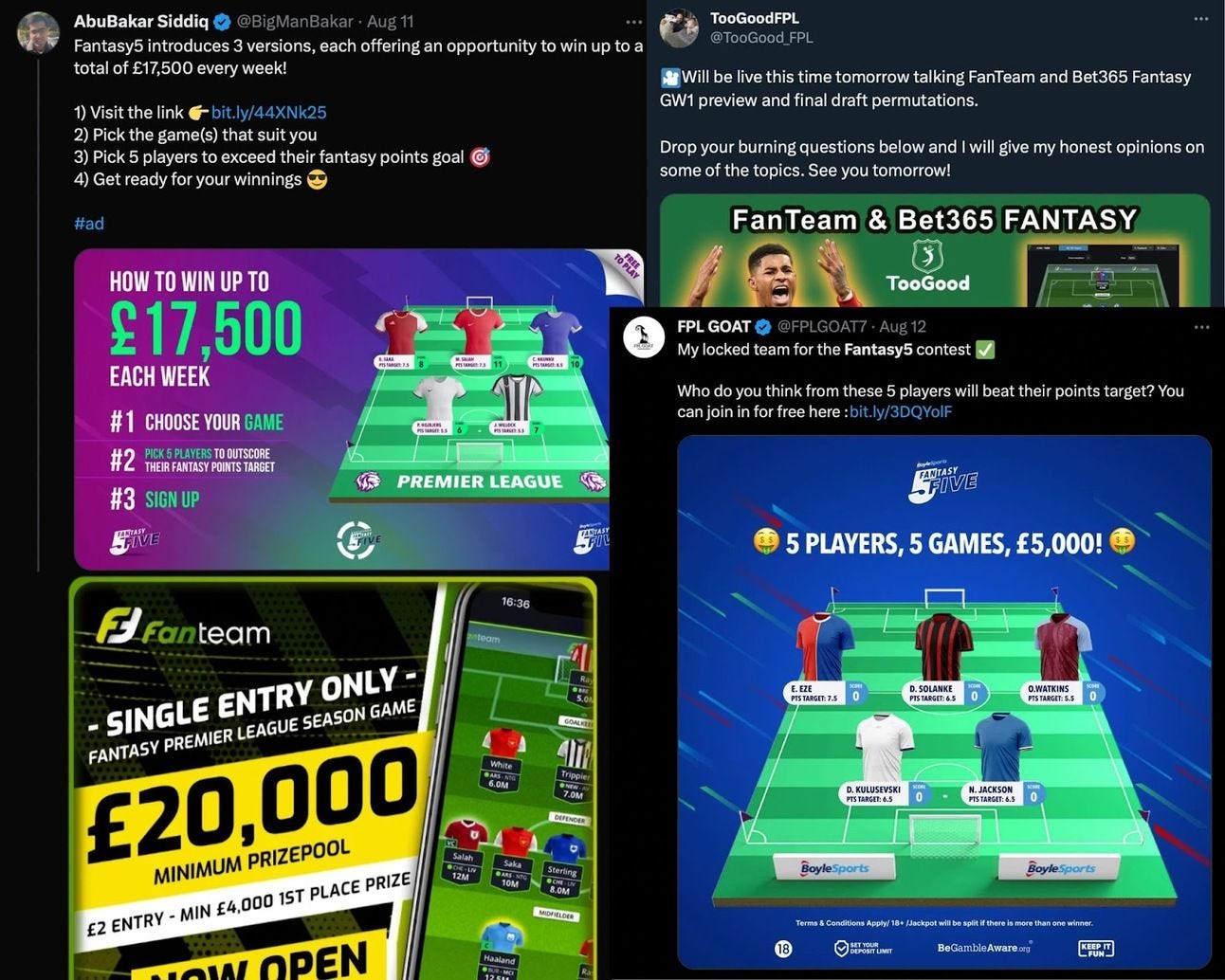 On the FFS website, bet365 is advertising a season-long fantasy football game with a total prize pool of £500,000. Wayne said that this was the second time FFS had tied up with the gambling company. "They first did it a couple of years ago. Back then, the whole FPL community came out and asked them to stop doing it. They did stop, but now they've done it again this year."
Fantasy Football Fix, another big FPL content platform, has a no-gambling-ads policy. However, it has had gambling partnerships previously and even explained to the BBC how they worked:
Its business model relies on users paying for premium content on the best strategies for winning on FPL. A betting company offered users free access to Fantasy Football Fix premium content if they also opened a betting account with them and deposited £5.
For each new customer referred to the betting company, it paid Fantasy Football Fix £90.
  Fantasy Premier League: Gambling industry targets FPL players | BBC
Fantasy Football Hub, the third major FPL content platform, doesn't have a betting sponsor, but it has signed up with individual creators who advertise gambling companies. Like AbuBakar Siddiq, aka BigManBakar, who has over 147,000 X followers.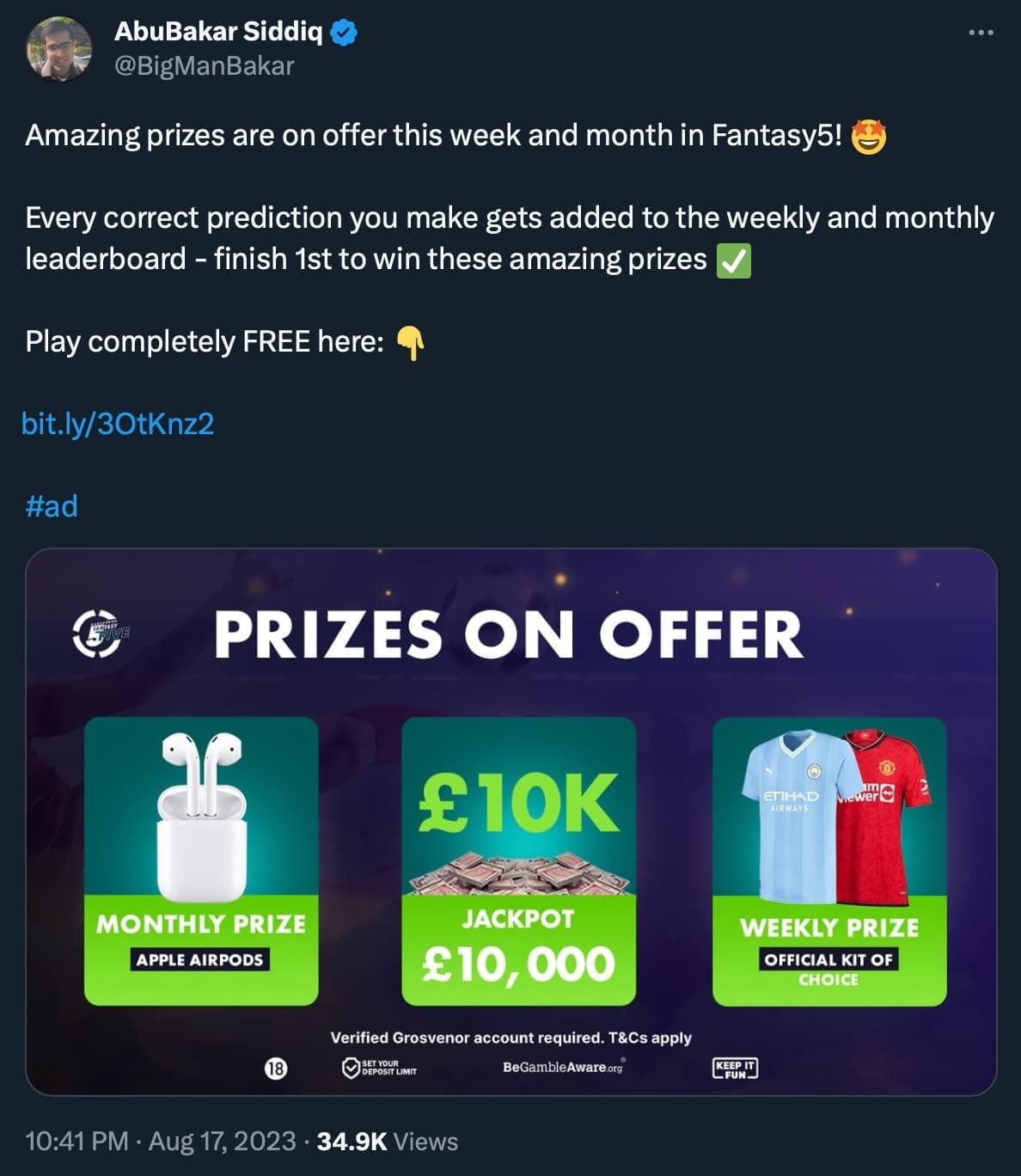 Wayne explained how such partnerships work: "The gambling companies can offer content creators a deal in two ways: one is a flat fee per sign-up. So, the bigger you are, the more money you get. But the main way they do it is to offer you a cut from the rake. So, for instance, if it's £100 to enter a competition, the company keeps £10 for itself, called the rake. The other £90 goes into the jackpot. From that rake of £10, they'll give content creators, say, £3."
Wayne also admitted that he had signed up for such a partnership in the past but stopped doing it after he realised its impact. "I saw someone who clicked on my affiliate link and deposited hundreds of pounds in a gambling account in a short space of time. Some of the content creators probably have no idea of the effects of their gambling partnerships. There are also no warnings or steps to protect children."
People who play FPL, also known as FPL managers, are prime targets for gambling companies because of the nature of the game. While skill definitely plays a part, there's also an element of prediction involved. And while FPL is a free game with no money involved, the gambling companies target FPL managers and try to lure them into their paid fantasy contents, with the ultimate goal of converting them into proper gamblers.
There isn't much that the Premier League can do to regulate external FPL content because it's outside its purview. An FPL spokesperson told the BBC that it reserves the right to "delete the mini-league and suspend or delete the registration of any player who is the administrator of, or a participant in, the mini-league without liability" if it finds out that the mini-league is being run for commercial purposes. But it can't do anything about FPL content creators running gambling adverts. Gambling is legal in the UK.
So, the only way to solve the problem is if the FPL content community comes together and takes a united stand to refuse gambling adverts. What are the odds of that happening? Probably higher than Erling Haaland going goalless for an entire season.
Which fantasy sports game do you play?
⚡️Quick Singles
⚽️🍎🇦🇷 Apple is really squeezing the 🐐 that is Lionel Messi. According to Bloomberg, the tech giant is working on a docu-series about the footballing legend's move to Major League Soccer (MLS) earlier this year. Apple TV+ is already working on a separate series about Messi's journey to the 2022 World Cup win. Meanwhile, Messi is off to a flyer in MLS, scoring nine goals in six appearances for Inter Miami. In fact, the Messi effect is now at such a level that opposition coaches are pleading with their team's fans to not sell their tickets in the resale market. Tickets for games featuring Inter Miami are selling at ~$300 each on major resale platforms, reported Front Office Sports.
⚽️🇧🇷🇸🇦 Brazilian superstar Neymar Jr became the most high-profile footballer to move to the Saudi Pro League this summer, with Al-Hilal scooping him up on a two-year deal worth a reported $300 million, excluding add-ons. With add-ons, the 31-year-old could potentially earn $400 million by 2025. Al-Hilal had already spent €178 million ($193 million) on players this summer prior to the Neymar deal. All Saudi clubs in total would now have spent more than €600 million ($650 million) just this summer. And wait till you get a load of what Neymar's deal apparently includes:
Front Office Sports

@FOS
Neymar's $326 million Al Hilal deal includes a private jet, a mansion, and $546,220 for every social media post that promotes Saudi Arabia 💰
(h/t @footmercato)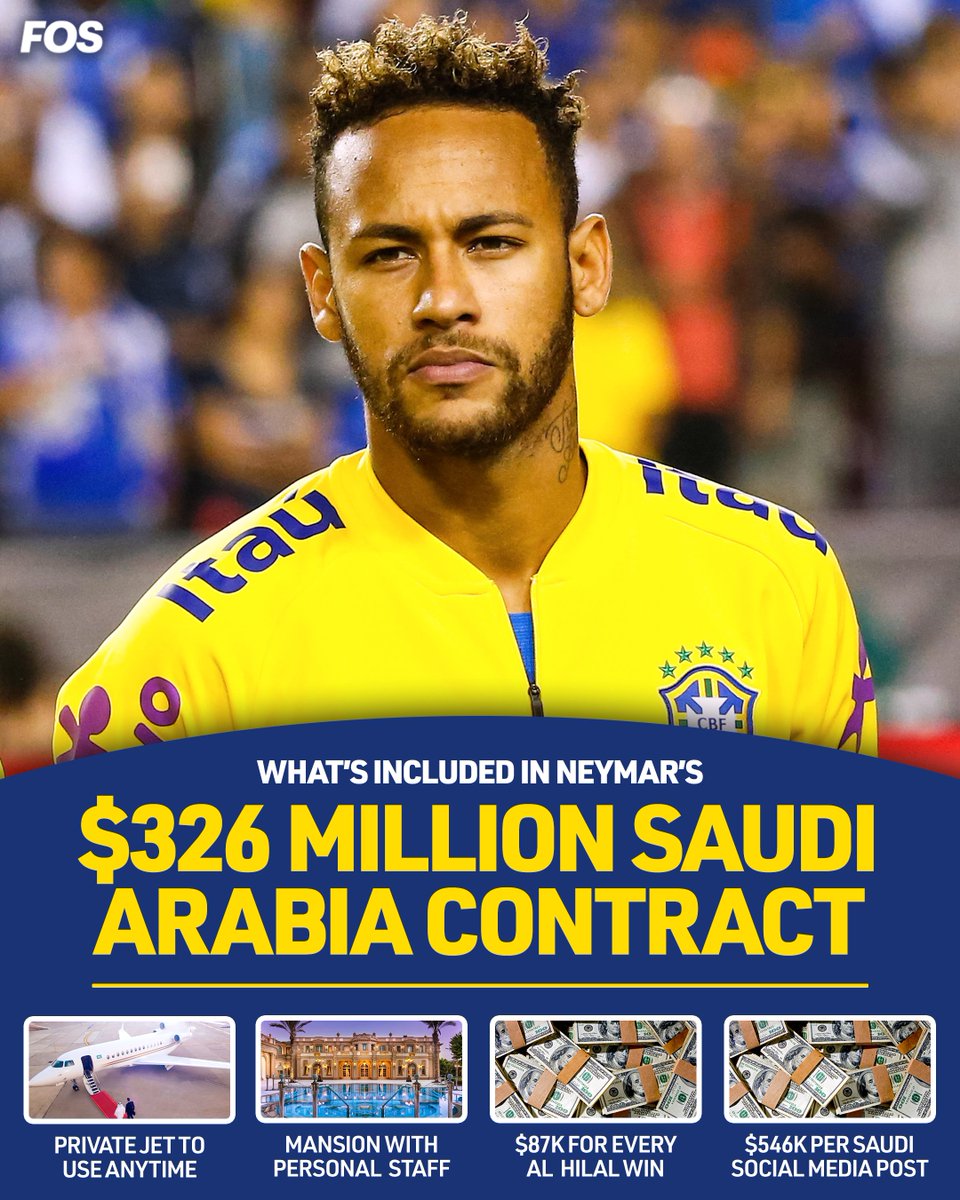 Aug 15, 2023
610 Likes   139 Retweets   15 Replies
🇮🇳🎮📺 JioCinema has joined Star Sports in the esports arena. The streaming platform has partnered with game developer Krafton India to live-stream the official Battlegrounds Mobile India Series (BGIS) 2023. Krafton claimed that over 2,000 teams have signed up for the tournament, which will have a total prize pool of ₹2 crore ($240,700). Star Sports is broadcasting the BGMI Masters Series, organised by esports major NODWIN Gaming, which also has a prize pool of ₹2.1 crore.
👟🇮🇳🇨🇭🇩🇪 Switzerland-headquartered footwear brand Bata is in talks with German sportswear major Adidas for a strategic collaboration in India, reported CNBC-TV18. The primary objective of the collaboration is for Adidas to leverage Bata's extensive retail network of around 2,100 stores spread across 700 Indian cities, the report said. A day after the report was published, Bata issued a clarification saying that the company is "continuing to explore opportunities for strategic alliance/collaborations/tie-ups for the Indian market" and would disclose this information as and when it happens.
🏃📺 After Formula One, tennis, golf, NFL, football, and rugby, Netflix is now working on a sports docu-series on the world of sprinting, reported Deadline. The series will feature athletes from the United States, Jamaica, the United Kingdom, Ivory Coast, Kenya, and Italy. The streaming giant is set to shoot a part of the series at the upcoming World Athletics Championships in Budapest.
😳
Correction
An earlier version of this edition incorrectly stated that Bata is an Indian brand. The error is regretted and has been corrected.
How did you like this edition?
If you enjoyed reading The Playbook, please share it with your friends, family, and colleagues. Please also subscribe to it (for free) if you haven't already.
You can reach out to me at jaideep@thesignal.co with any feedback (good, bad, or ugly), tips, and ideas. I'd love to hear from you!
Thanks for reading, and see you again next Friday!