Discover more from The Playbook By The Signal
A weekly newsletter that goes beyond the headlines and gives you all the necessary signals you need to understand India's sports and gaming industries better.
Over 9,000 subscribers
How FanCode is sachetising sports streaming
The streaming platform owned by Dream Sports has made a mark by offering single-match and tour passes for its sports properties. But does it make business sense?
Good evening,
Welcome to The Playbook, a weekly newsletter on the business of sports and gaming. If someone shared this newsletter with you, please hit the subscribe button below — it's free!
It's great to be a Manchester United fan again. 😄
After the misery and gloom of last season, easily the lowest point the club has been at in my lifetime, and considering how the current season began, with two defeats (including a 4-0 thrashing by Brentford), I had honestly given up hope of United ever being able to bring me joy again.
A little over six months later, United are the only club among Europe's top five leagues to be alive in four competitions. Last Sunday, they won one of those competitions, the Carabao Cup, the club's first piece of silverware in six years. The 2-0 win over Newcastle United in the final capped off a great week for United, which saw them knock out Spanish giants Barcelona from the Europa League.
And although winning the Carabao Cup, which is English football's least prestigious tournament, and playing in the Europa League, the second tier of European club football, is nowhere near good enough for one of the biggest clubs in the world, the thing that pleases me most—more than any trophy—is that I've begun enjoying watching this team play again. And I haven't felt this way for a good 10 years.
Anyway, before I get too carried away and jinx United's season, let's get into today's edition. It's actually connected with Manchester United and the Carabao Cup.
How FanCode is sachetising sports streaming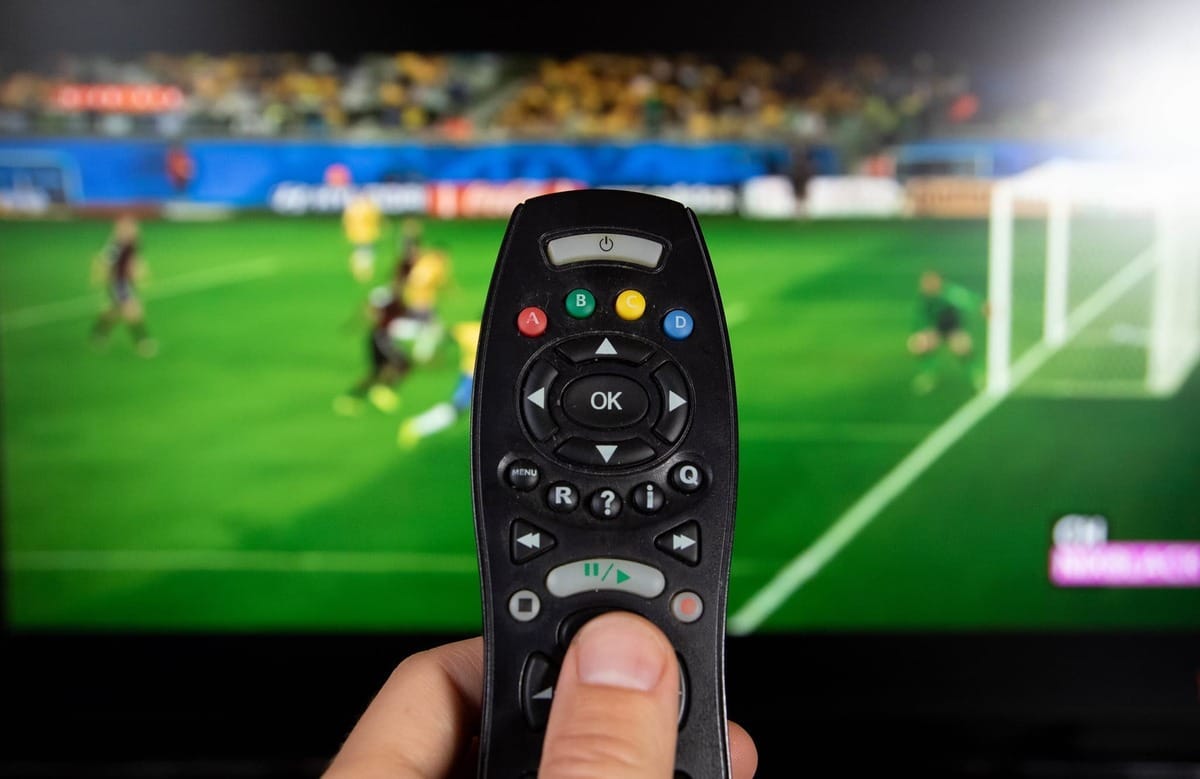 Photo credit: Marco Verch/Flickr/Creative Commons
As Manchester United fans woke up last Friday morning basking in the glory of their team knocking Barcelona out of the Europa League, the attention turned towards Sunday's Carabao Cup final. Soon, many fans, including me, realised that the match might not be broadcast in India. Because the Carabao Cup didn't have an official broadcaster in the country this season.
I remember searching on Google and Twitter for any details about the broadcast. I saw tweets from many United fans asking the same question—how to watch/stream the final?
Eventually, sometime on Friday evening, someone came to our rescue. FanCode, the streaming platform owned by sportstech company Dream Sports, which is best known for its fantasy sports platform Dream11, announced that it'll be streaming the final.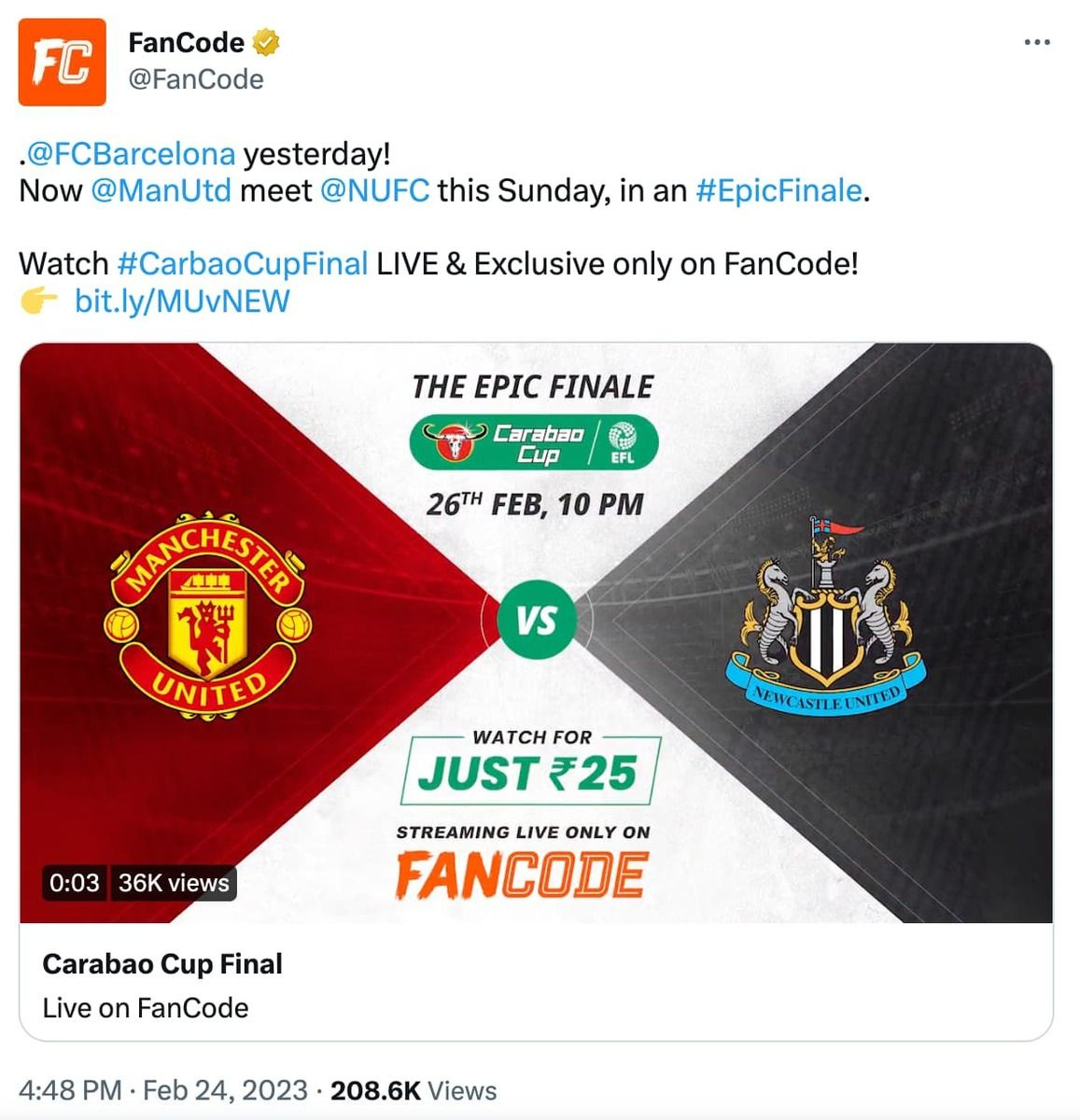 What piqued my interest was the fact that you could buy a "match pass" to just watch the final, rather than having to purchase a monthly, half-yearly, or annual subscription, which is the norm in India's streaming industry.
I tweeted about it, wondering whether it's the first time a streaming platform has offered a single-match subscription. I was informed by many Twitter users that FanCode had been doing this for years. People told me they had previously bought match passes for cricket and football games on FanCode.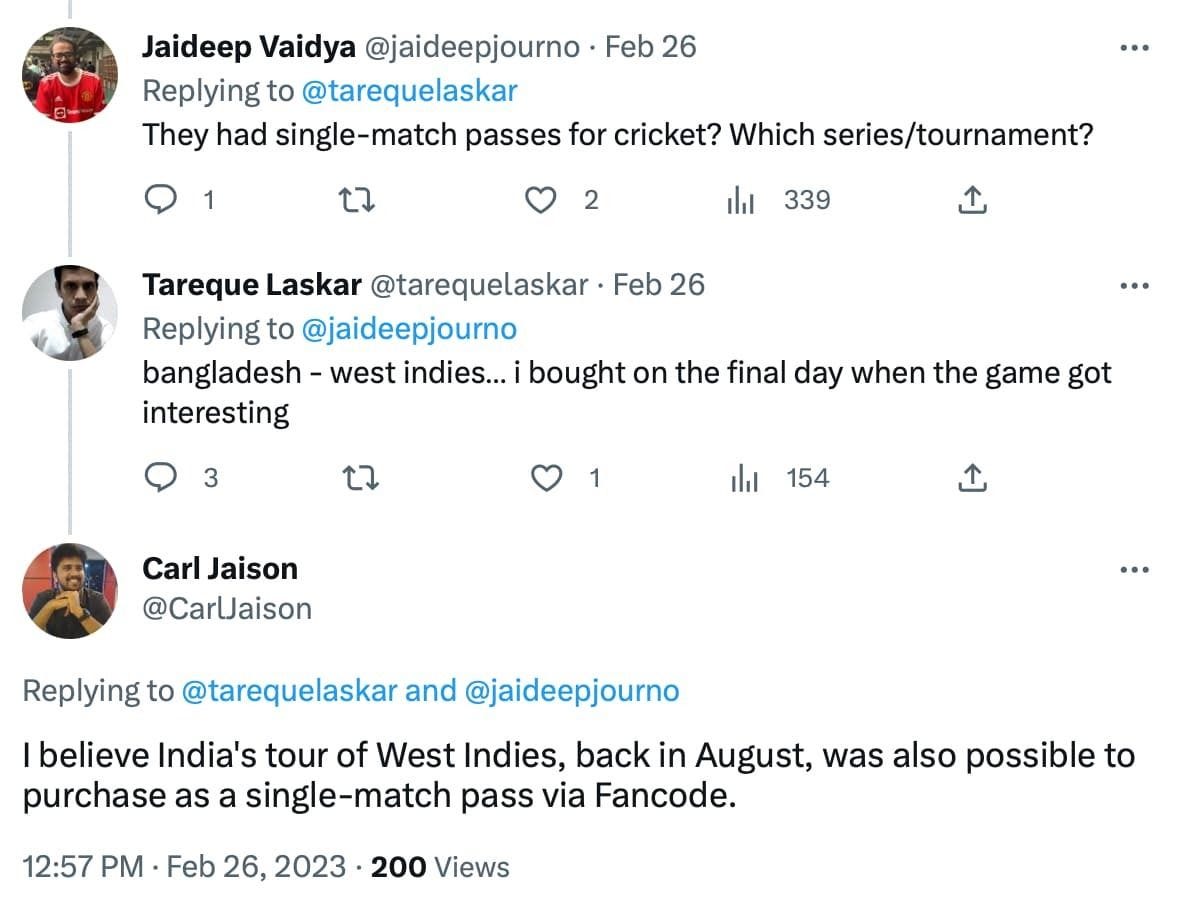 I realised I hadn't come across this earlier because FanCode, which launched in early 2019, usually buys the streaming rights for non-marquee series and tournaments. It's currently streaming England's cricket tour of Bangladesh, West Indies tour of South Africa, the Pakistan Super League, the Copa del Rey, the European Cricket League, the Guwahati Premier League, and the Navi Mumbai Premier League, among others. These tournaments wouldn't be attracting a lot of viewers, but would be cheap to acquire and there are clear synergies with the fantasy games Dream11 offers.
So, I bought the match pass for ₹25 ($0.3) and streamed the Carabao Cup final on FanCode via my connected TV on Sunday. It was a smooth, glitch-free experience. This wasn't the first time I had used FanCode. Last year, I had bought a "tour pass" for India's tour of West Indies for around ₹100 ($1.2). That included eight matches. I don't remember seeing the option to buy a match pass.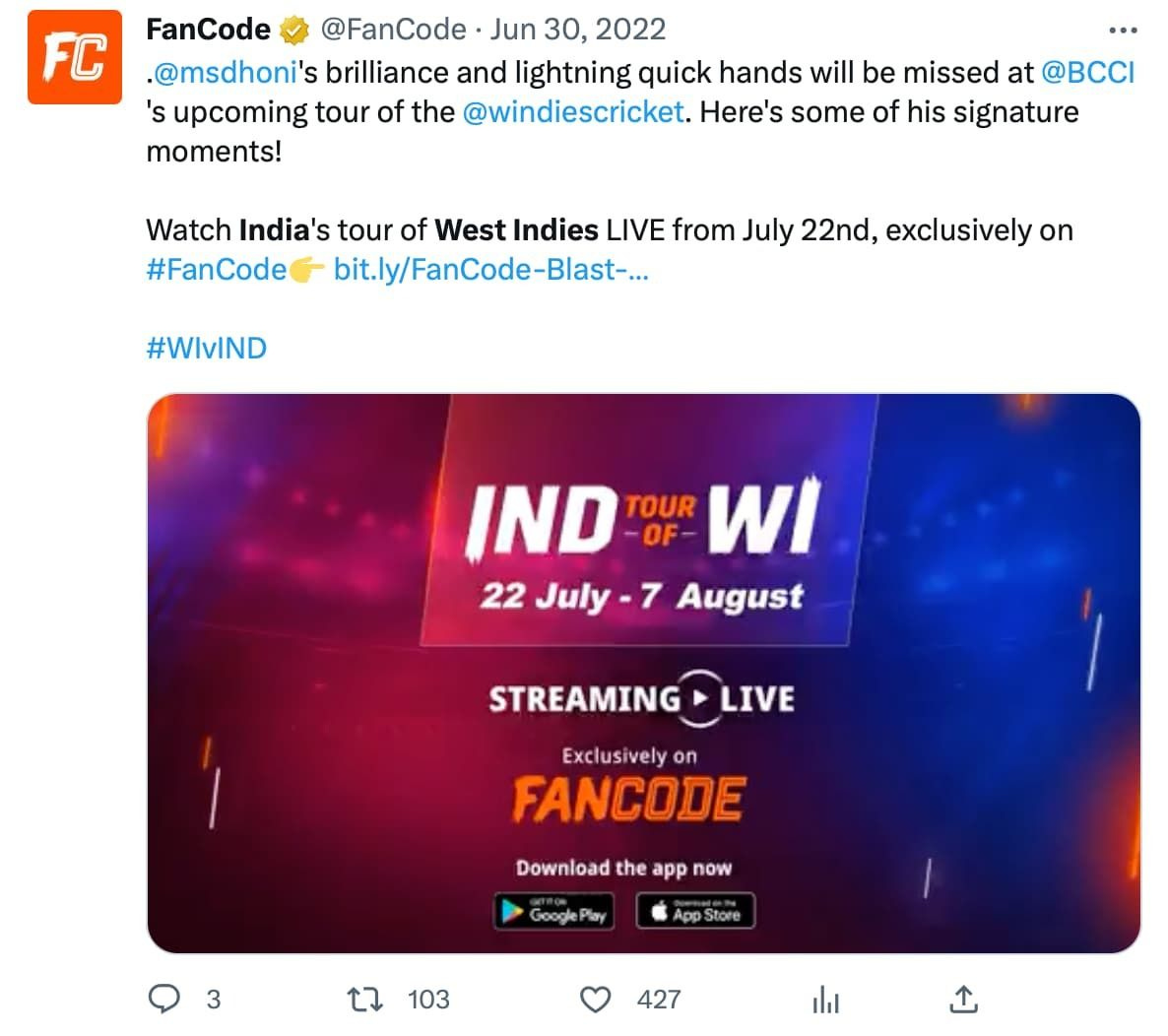 Intrigued by this pricing strategy, I spoke to FanCode co-founder Yannick Colaco, who's a sports broadcast industry veteran, having served as chief operating officer of the now defunct Nimbus Sport. The company had the broadcast rights for India cricket from 2006 to 2011. Colaco was also the managing director of NBA India from 2013 to 2019, before being a part of the founding team at FanCode.
Excerpts from our conversation:
When did you start offering match passes?
Almost from day one. As a sport fan, it's sometimes frustrating to come to watch your favourite team play in an event and be told that you have to buy a monthly or annual subscription of a service just to watch one match. We offer match passes, tour passes, monthly passes, and annual passes. We were very clear from the beginning that users should be able to choose what they want to watch. If you're constantly able to add value to the user, they will upgrade. Staying laser focused on the sports fan and adding value to them are the core tenets of what we started at FanCode with.
We are also very conscious of our role in helping increase the addressable customer base for paid sports content. A few years ago, every premium OTT subscription was going after the same pool of consumers—one who could afford to spend ₹1,000-1500 ($12-18) per year on sports content. Through innovative product packaging, like match and tour passes, we significantly reduced the entry barrier for sports fans to access premium, paid content on digital, thus expanding the addressable consumer base.
So, with match passes, you've essentially brought the pay-per-view (PPV) model to India?
Not in the traditional sense of how pay-per-view has worked in the West. The PPV model was primarily devised to increase the average revenue per user (ARPU). Cable companies charged their subscribers a premium of, say, $20 to watch a special event, like a boxing fight. That fee was over and above what users were paying for their cable bundle. That's how PPV worked there.
If you had to compare our model with something, it's what FMCG brands have done so successfully in India—sachet pricing. They realised that a lot of people can't afford or were just not willing to bear the upfront cost of buying say a bottle of shampoo, so they decided to introduce sachets—lower quantities of the same product, at a lower price. It did wonders to the penetration of these products and changed the FMCG game in India. We've borrowed from the same principles and innovated in packaging around our sports content proposition.
FanCode usually buys the streaming rights for non-marquee series or leagues, where something like a match pass would make sense if users just want to watch a game or two. Do you think something like this will also work for a marquee event like, say, the Indian Premier League?
The core user problem that we set out to solve at FanCode was in providing sports fans access to matches that they love, with a great experience. That's why we've been focusing on so many niche sports events; there are pockets of fans for these events all over the country, but they have limited access to them.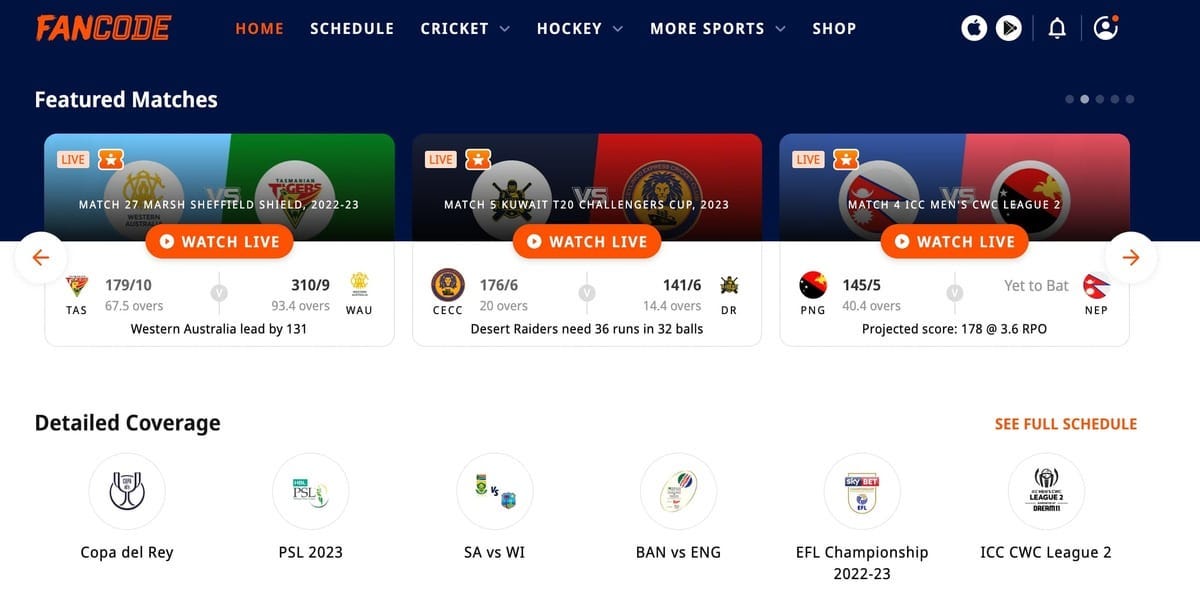 Has buying the rights only for the Carabao Cup final and offering a match pass worked out better for you in terms of return on investment, compared to buying the rights for the whole tournament from the beginning?
No, that was circumstantial. We've done a multi-year deal with the English Football League (EFL). We'll have the entire Carabao Cup next season along with the EFL Championship. It's just that we firmed up the partnership last week. We don't like doing one-game deals because it just doesn't work in digital. Next season, there will be a tour pass for the Carabao Cup, along with some match passes depending on factors like how big the games are, etc.
How do you come up with the pricing of match passes and tour passes?
It's all data-based. At our core we are a tech company, which happens to be run by passionate sports fans. We have an amazing team across product and tech who do a fantastic job in building dynamic models that use consumer data to help us make better decisions. The team is constantly experimenting with various forms of packaging with various price points to help refine our models.
And how do you choose which properties to offer match passes for? For instance, you don't offer match passes for the PSL, but there is a tour pass.
We're driven by a culture of constant experimentation, which helps us learn and improve. We've also been working on personalising user journeys to deliver more value. For example: a first-time subscriber may want to have the option of buying a match pass, whereas a repeat customer may prefer buying an annual pass cause she already knows what the product has to offer and sees value in committing for a year.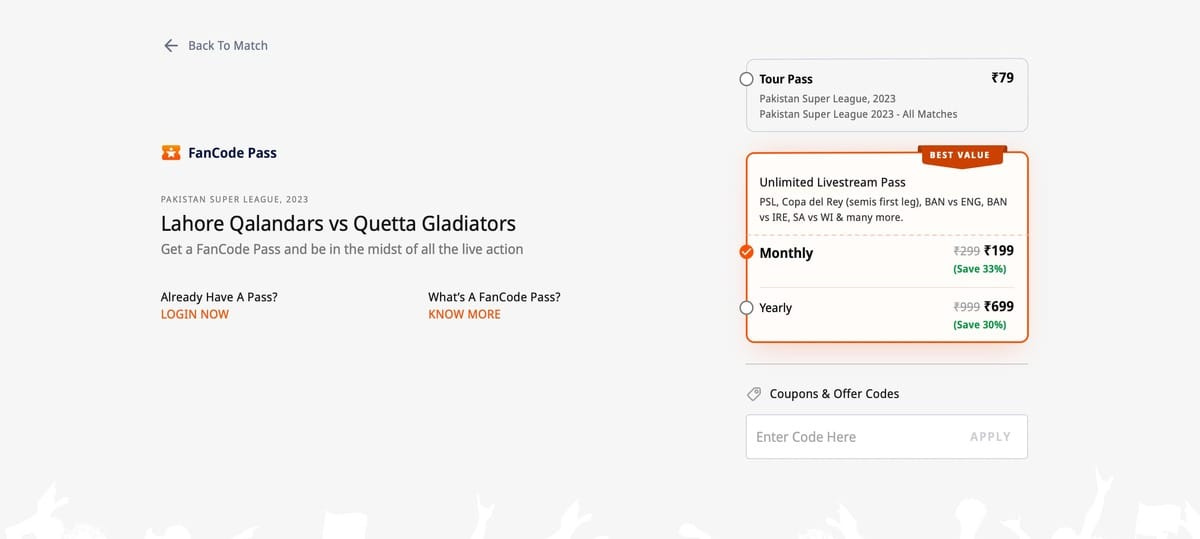 How has the response been for match passes?
It's been great. A lot of users who buy single matches come back and transact again, through match passes or in upgrading to larger packages.
Does offering a match pass work out for you in terms of getting a return on investment?
Without being innovative in this space, you can't be successful. The number of subscribers we have has significantly increased by us being innovative in packaging and on our product. We're constantly getting user feedback and making improvements and I believe that our path to long-term success is firmly linked to the value that we continue to deliver to our customers.
Innovation in product packaging, which is crucial for a number of direct-to-consumer (D2C) businesses, has been missing in OTT in India and even globally.
JioCinema, the IPL's new streaming partner, has made a big splash about its innovative features like multiple camera angles and on-demand statistics and graphics. I remember FanCode was one of the first streaming platforms in India to bring on-demand interactive stats and graphics when you streamed India's cricket tour of West Indies last year…
Again, it's all part of adding more value for consumers. When we introduced interactive overlays, it started from a consumer problem. Our research showed that, for younger audiences, live sports still had lots of dead spaces, especially in cricket. Users watching matches on mobile go in and out a lot more than while watching on TV. You watch, you leave, you come back in, you get an Instagram notification, you pop out again, and you keep losing context of what's happening in the game. That's what we were trying to solve—when a user comes in and out multiple times, how do you allow them to catch up with context immediately.
We looked to solve this by making the experience a lot more immersive through interactive overlays on your live stream. If you enter the match during the 15th over of a T20 game and Virat Kohli's on 49, you want to know how he scored those 49 runs—how many fours and sixes? Who did he score the runs against? You don't want to wait for a director to cue this up for you on the live broadcast. With the overlays, you can just tap one button on the same live-match screen and see all the stats and graphics that you want, as well as access real-time highlights of fours, sixes, wickets, and much more.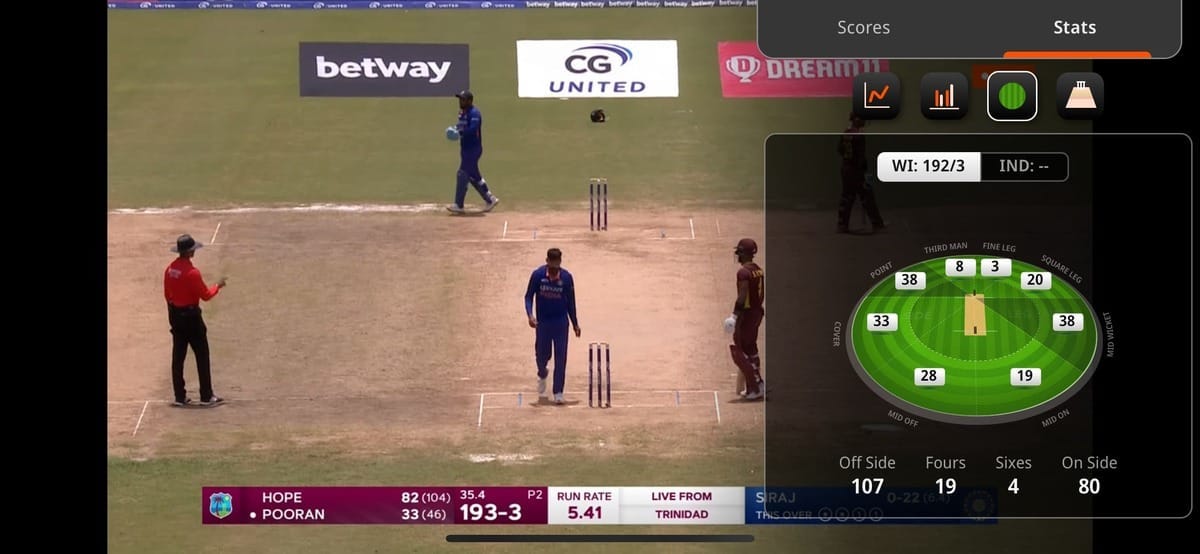 We even had social feeds added to the overlays on the live stream, so you didn't have to exit the app and go to Twitter to see who's saying what about the match.
It's great to see JioCinema now doing this with IPL. I'm hopeful this will soon become a base requirement for sports viewing in India.
How do you choose which properties you want to buy the rights for?
We do a lot of customer research. We've got a pretty good grasp of the response we'll get for different events and as we stream more content, our understanding of what will work with whom gets better. Eventually decisions are a combination of the relevance to our user base, whether the rights are available, and the price.
The 2023 Formula One season begins this weekend, and there's still no broadcast partner in India…
I think Formula One is a great sport on digital. I know they've launched [their D2C streaming service] F1 TV in India. For them to do that is a big shift.
Will something like F1 TV work in India?
It's a great product, but like with everything else, it needs to be customised for Indian audiences for it to be successful. Indian sports fans are very discerning and I think F1 would do well to work with a local partner in gleaning user insights and using that info to properly package and market its product in the country.
⚡️Quick Singles
🇮🇳🏏📈 The Indian sports market will grow at a compound annual growth rate (CAGR) of 20% to be worth $100 billion by 2027, up from US$27 billion in 2020, according to a report by financial consultancy Deloitte. The global sports industry was worth $501 billion in 2022 and is estimated to grow to over $700 billion by 2026, at a CAGR of ~9%.
🚴🏽🇫🇷🇮🇳 French sporting goods major Decathlon is trying to convince the Indian government to allow it to sell products from rival brands at its stores. This would mean it operates as a multi-brand retailer, for which India does not allow foreign direct investment, to protect the interests of small and medium-sized businesses in the country. Globally, rival brands account for a fifth of Decathlon's revenue, reported The Economic Times.
👟🇩🇪📈 German sportswear major Puma reported a ~19% year-on-year rise in revenue for 2022 to ~$9 billion and a 21.1% year-on-year increase in revenue for the quarter ended December 2022 to $2.33 billion. However, the company said that rising costs for materials and freight, a stronger US dollar, inventory markdowns, and higher promotion expenses have hit its margins, reported Reuters.
⛳️🇺🇸🇸🇦 The PGA Tour board has voted to make a series of radical changes to the size and qualifications of events from the 2024 season. There will now be eight designated events with reduced fields of 70-78 players, in addition to the majors, Players, and three FedExCup Playoffs. The designated events will have larger prize purses and won't have a 36-hole cut, allowing every player to compete in all four rounds. The idea behind changes is to help the PGA Tour compete with the Saudi Arabia-backed LIV Golf, which has lured players with high payouts and guaranteed spots at its events.
🎮🏟️ Esports will not feature in the Olympics just yet, but the International Olympic Committee (IOC) has sanctioned a separate event for it in collaboration with international sports federations. The Olympic Esports Series 2023 will feature games across nine sports: archery, baseball, chess, cycling, dance, motorsport, sailing, taekwondo, and tennis. While the IOC has held a similar event in the past, called the Olympic Virtual Series, the new Olympic Esports Series will culminate in live, in-person finals for the first time, to be held in Singapore in June.
🎮📉 The global console gaming market declined by 7.8% in 2022 to $56.2 billion, according to market research company Ampere Analysis. This was due to the lack of availability of PlayStation 5 and Xbox Series X console hardware, some major games releases being delayed, a post-Covid shift in consumer attention, and macroeconomic conditions.
That's all for this week. If you enjoyed reading The Playbook, please share it with your friends, family, and colleagues. You can reach out to me at jaideep@thesignal.co with any feedback (good, bad, or ugly), tips, and ideas. I'd love to hear from you!
Thanks for reading, and see you again next Friday!