Discover more from The Playbook By The Signal
A weekly newsletter that goes beyond the headlines and gives you all the necessary signals you need to understand India's sports and gaming industries better.
Over 9,000 subscribers
Esports' baby steps to the Olympics
The inaugural Olympic Esports Series concluded in Singapore last week, with some pretty odd choices in the selection of games
Good evening!
Welcome to The Playbook, a weekly newsletter on the business of sports and gaming. If someone shared this newsletter with you or if you've found the online version, please hit the subscribe button below — it's free! You can unsubscribe anytime.
Fantasy Premier League, or FPL, is back. I can't believe it. Wasn't it just yesterday that the Premier League season ended? Anyway, with over a month to go before the 2023-24 season begins, the makers of the popular fantasy sports game have already opened up registrations. And after vowing that I wouldn't open the FPL app until the day before the season begins, I couldn't help myself yesterday. I've already created a first draft of my FPL squad 🙈. Terrible, I know.
Anyway, if any of you are interested in joining an FPL mini league with me and other readers of The Playbook, just email me at jaideep@thesignal.co. If you don't know what the hell I'm talking about, apologies. Let's get into this week's edition, which is also about gaming.
Stretching the boundaries of 'esport'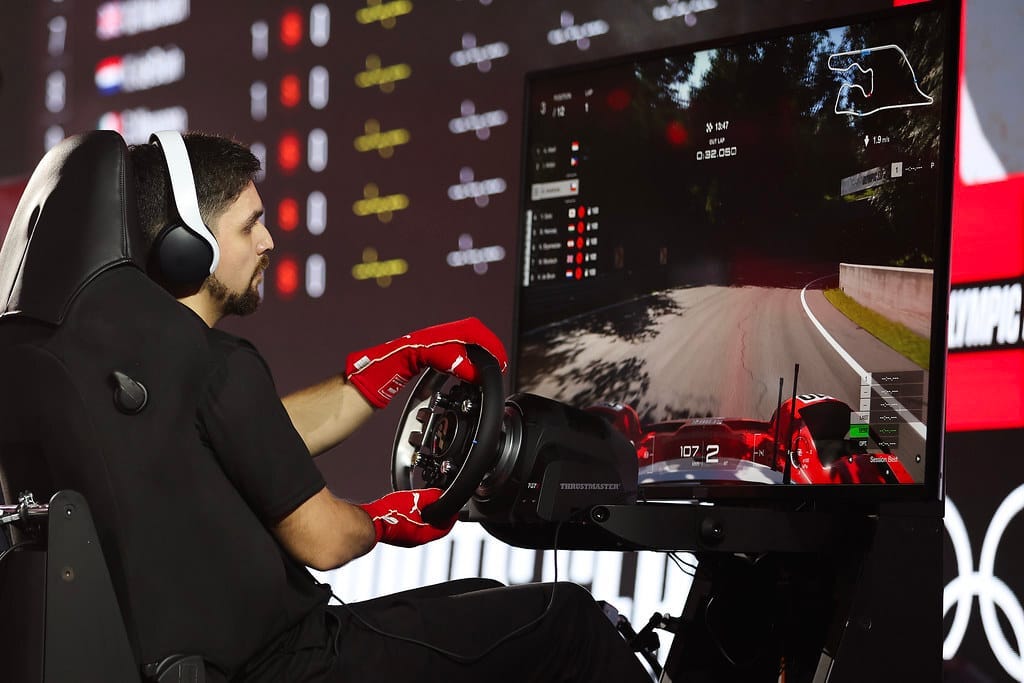 Photo credit: IOC Media/Flickr
It was all down to the men's climb. Lou Bates had put Team Fuego in a strong position in the six-race final by attacking the last ~400m of the 2.7km women's climb up the Scottish Highlands. It meant that her teammate in yellow, Martin Maertens, needed to just avoid finishing last among the four cyclists in the men's climb to secure the top prize.
It was a short but scenic route that started in the city of Glasgow, crossed the River Clyde, and then meandered into the Scottish Highlands. It ended with a steep climb to the summit of the Sgurr, which is Gaelic for "high sharp-pointed hill".
Just like the previous five races of the cycling final, the men's climb saw multiple attacks and counter-attacks, with Maertens even falling to the back of the pack with ~500m to go before recovering ground in a mad dash in the final 300m.
In the end, Team Lava's Lionel Vujasin won the race, while a photo finish had to decide the remaining three places. As it turned out, Maertens finished second, which secured his team the top prize at an Olympic event. "It's insane, insane, cannot believe it," said Maertens, as he finished his cool-down before getting off his stationary bike in the air-conditioned Suntec Singapore Convention & Exhibition Centre.
Confused?
This was what actually happened in the final of the Zwift cycling event at the Olympic Esport Series 2023 last week. Zwift is a multiplayer online cycling game that allows users to compete in a virtual world using indoor training bikes and a screen of their choice (smartphone, tablet, TV). The Olympic Esports Series (OES) is a global virtual and simulated sports competition organised by the International Olympic Committee (IOC), in collaboration with international federations and video game publishers.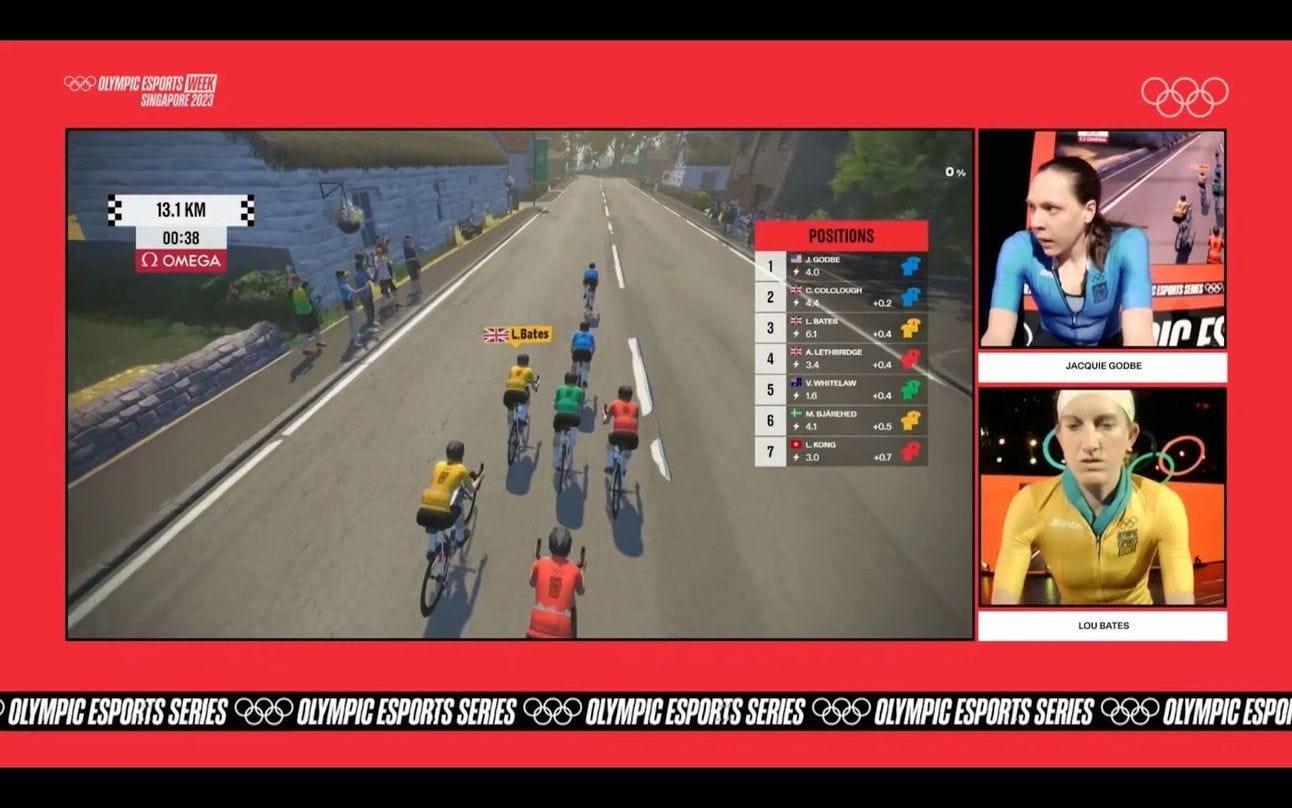 Singapore hosted the first ever OES from June 22-25. It featured 10 games picked by the IOC: Zwift, Tic Tac Bow, WBSC eBaseball: Power Pros, Chess.com, Just Dance, Gran Turismo, Virtual Regatta, Fortnite, Virtual Taekwondo, and Tennis Clash.
If you're not into gaming at all, you've probably never heard of any of these games, except perhaps Chess.com. If you're a casual gamer like me, you probably know of Fortnite and Gran Turismo. More serious gamers perhaps know some of the other titles. But you're probably wondering: where are some of the popular games? Where's PUBG, Dota, Valorant, League of Legends, and Counter-Strike?
Well, they weren't there because the IOC didn't want them there. The organisation wanted only electronic versions of sports that are played in the Olympics—like Tic Tac Bow (archery) and Virtual Regatta (sailing)—and those that have recognised international federations, like Gran Turismo (motorsport) and Chess.com.
"The Olympic Esports Series itself is focused on sports. That's what we're about as the Olympic movement, promoting sports and physical activity, and using these gaming versions of sport to reach out to these new audiences."
  Kit McConnell, IOC sports director, to GGRecon
Another crucial factor in picking the games was the absence of any sort of violence. The IOC has been clear on this ever since it first discussed the possibility of including esports in the Olympics at an official forum, back in 2018. IOC President Thomas Bach had said that "killer games" or ones that promote "violence or any kind of discrimination" would never be suitable for the Olympics. "They would be contrary to our values and our principles."
This eliminated popular first-person shooter and battle arena games such as PUBG, Counter-Strike, Valorant, Dota, and League of Legends, which are hugely popular esports titles worldwide. Fortnite, a Battle Royale game where up to 100 players compete to be the last person or team standing, was only included at the eleventh hour, in May, with some key changes: the Battle Royale element was completely eliminated. A special version of the game was created to reflect only the shooting aspect, where players had to shoot at targets instead of other players.
It made a huge difference: here's a video of the actual Fortnite and here's the OES version.
Unsurprisingly, this dialled-down version of Fortnite barely got any viewership during the OES. The most popular title by far, per esports analytics service Esports Charts, was Rocket League, a game where you can play football with cars 🤪. You might have realised that Rocket League wasn't in the list of 10 games picked by the IOC. That's because the OES also included exhibition matches for popular titles such as Rocket League, NBA2K23, and Street Fighter 6.
Rocket League, which is very popular in the esports circle, garnered a peak viewership of >22,000 during the OES and was the only game that crossed five digits, per Esports Charts. Chess.com and Virtual Taekwondo, which were actual trophy events, were a distant second and third. Exhibition games Street Fighter 6 and NBA2K23 rounded up the top five. Not many people cared about the other games.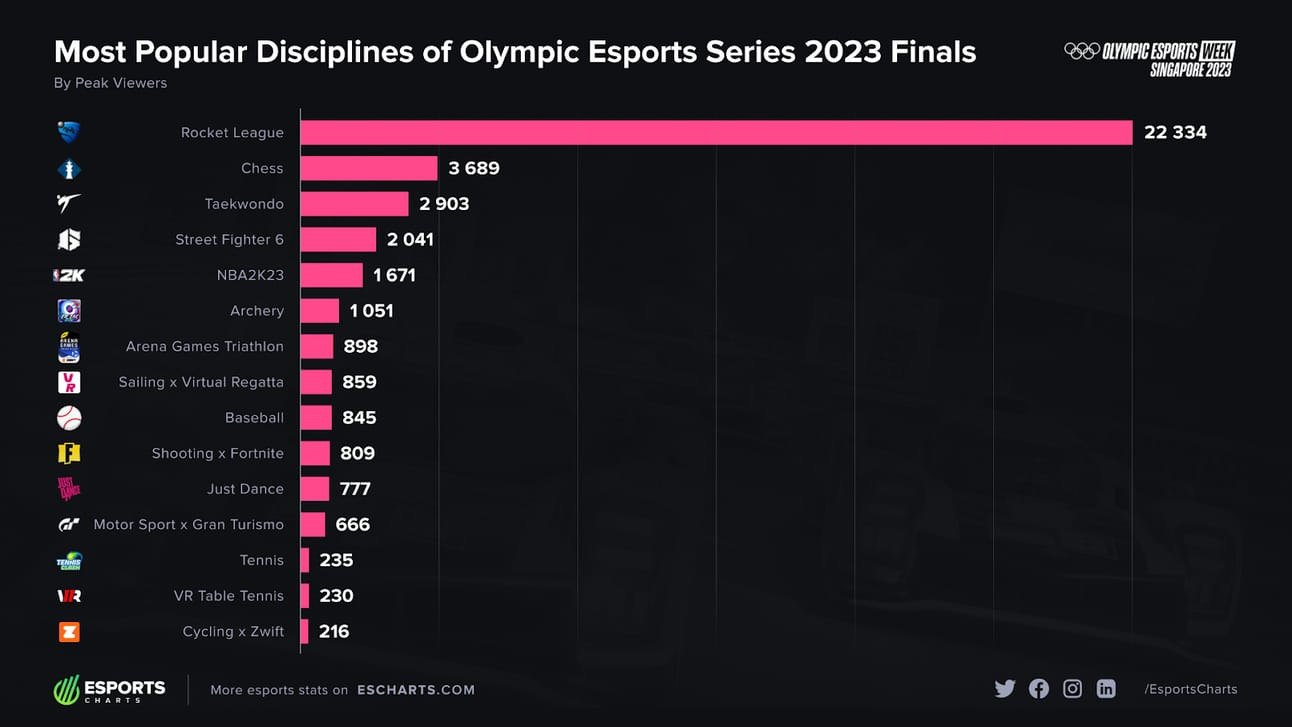 Photo credit: Esports Charts
So, can we call the inaugural Olympic Esports Series a success?
Officials and athletes from India's esports industry prefer to see the bright side, and believe it was a positive first step to legitimise esports. Lokesh Suji, director of the Esports Federation of India and vice president of the Asian Electronic Sports Federation, says the IOC has done a great job in democratising esports, which is an important first step in legitimising it.
"They picked games that the general public can relate to. For instance, in Tic Tac Bow, there's a bow and arrow, and you have to shoot the targets. It's easy to understand. As is Rocket League, where you have cars playing football instead of humans. But games like Dota and PUBG are complex to understand if you're not a gamer," adds Suji.
Animesh Agarwal, founder and CEO of esports talent management agency 8Bit Creatives, says he was disappointed with the choice of games for the OES, but adds that the positives definitely outweigh the negatives.
"It's unfortunate that games that are played across the globe in tournaments with millions of dollars in prize pools are not accepted in their current form," he says. "However, an organisation like the IOC will always have some internal policies. It's a good stepping stone, though. Eventually, gaming is coming into the limelight, which will help the ecosystem in some way. You are also nudging the government to recognise that there is something in this industry."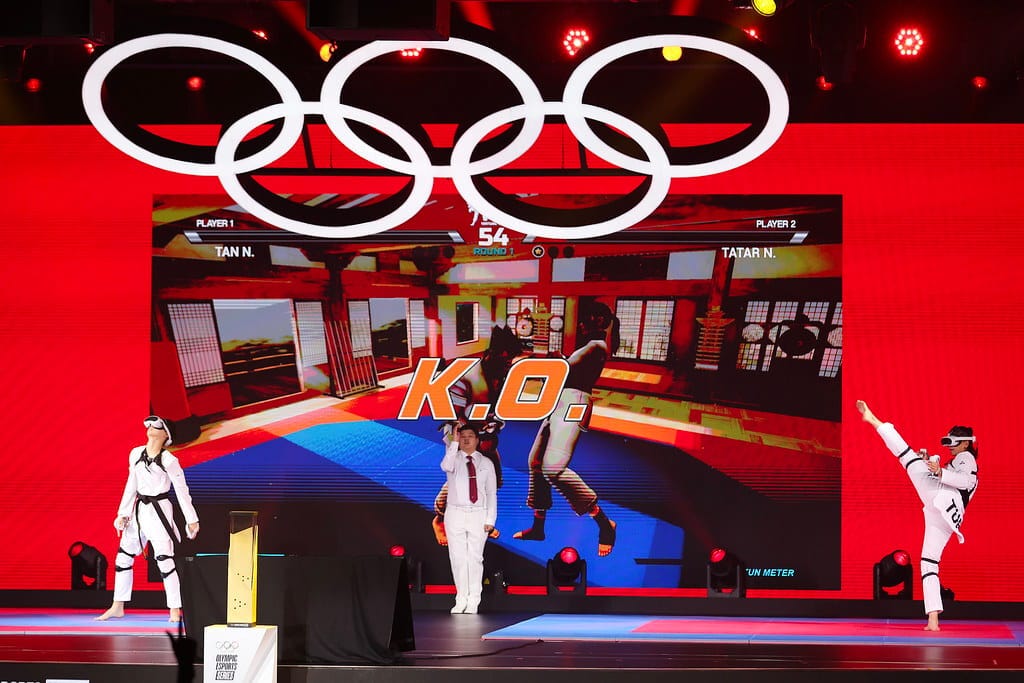 Photo credit: IOC Media/Flickr
This is also why India's esports industry is pinning its hopes on the upcoming Asian Games in Hangzhou, China, where esports will be a medal event for the first time. The Olympic Council of Asia (OCA) has picked eight games: FIFA, Dota 2, League of Legends, Three Kingdoms Dream 2, HearthStone, Street Fighter V, and "Asian Games versions" of PUBG Mobile and Arena of Valor.
As you can see, the OCA has been far more liberal in its choice of games, although, like OES' Fortnite, it has also asked developers to create non-violent versions of PUBG Mobile and Arena of Valor. The PUBG Mobile Asian Games version, for instance, will highlight real-sport game experiences like parachuting, cross-country shooting, and racing, rather than Battle Royale.
"The Asian Games have been truer to the spirit of esports," says Anurag Khurana, founder and CEO of esports company Newgen Gaming. "Although, I wouldn't say they have been liberal. I'd rather say the IOC has been very conservative (laughs)."
He also points out that the Asian Games has a fair headstart over the Olympics in terms of warming up to esports. At the 2018 Asian Games, esports was a demo event, a sort of trial run before becoming a medal event for the 2022 Asian Games, which were postponed by a year due to the pandemic. So, the OCA was far better prepared than the IOC, which reflects in the games they picked.
This has worked in India's favour, too. Unlike the OES, where there was no representation from the country, 18 Indian esports athletes will be flying to Hangzhou: Charanjot Singh and Karman Singh Tikka (FIFA); Mayank Prajapati and Ayan Biswas (Street Fighter V); Shikhar Choudhary and Karthik Varma (Hearthstone); Akshaj Shenoy, Samarth Arvind Trivedi, Mihir Ranjan, Aditya Selvaraj, Aakash Shandilya, and Sanindhya Malik (League of Legends); and Moin Ejaz, Krish, Abhishek, Ketan, Darshan, and Shubham (Dota 2).
Esports in India is booming: it's expected to be a ₹1,100 crore ($137.5 million) by FY25, according to a report by Ernst & Young. The total prize pool for esports tournaments in the country will be worth ₹100 crore ($12.5 million) by that year. ICYMI, in a previous edition of The Playbook, I had written about the return of BGMI and what it means for India's esports industry.
So, with esports already becoming a lucrative career option in India, does participating in events such as the Olympics and the Asian Games matter for Indian professional gamers?
It matters a lot, says Akshaj Shenoy, captain of India's League of Legends team at the Asian Games. "Earlier, I used to play for fun and competitively in tournaments. But now that I'm representing my country, it's a completely different feeling: the opportunity to win a medal for my country. Every second I spend on the game, I focus on improving myself and ensuring I make my country proud," he says.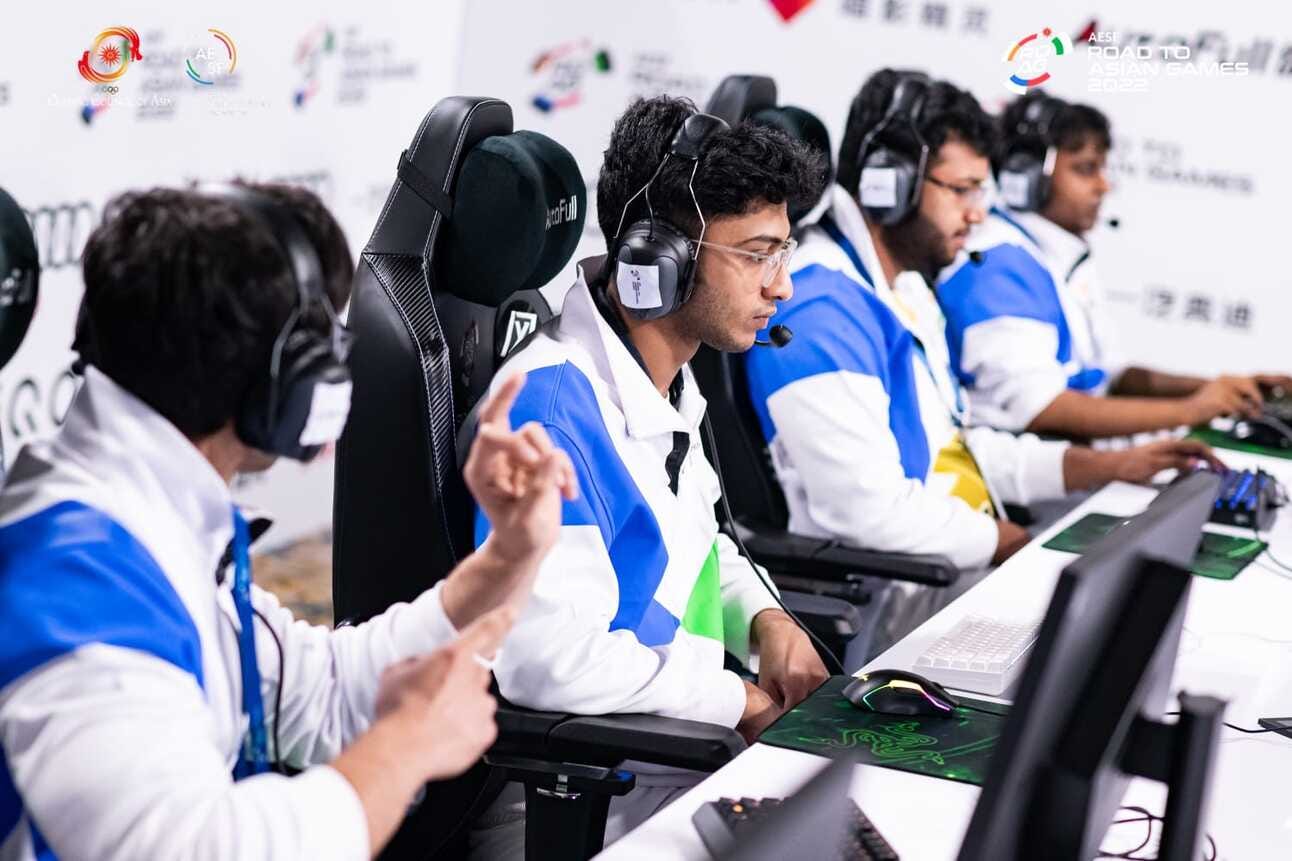 Photo credit: Asian Electronic Sports Federation
I ask Shenoy what he thinks about the decision to disregard or modify games because of their violent nature. The 21-year-old says that the youth find these games attractive, but it depends on how each person describes esports. "I don't think excluding such games makes sense. And if you modify them to remove the Battle Royale aspect, it does take away from the essence of the game. But then, there have been incidents where people get wrongly influenced by such games, resulting in tragedies. So, maybe the publisher can do more to make sure there is a disconnect between the game and reality."
Overall, though, everyone I spoke to believe the OES and Asian Games are helping promote esports. They're helping change people's perspectives about video games, which is important in a country like India, where one of the biggest challenges for esports is getting parental approval, says Suji. "If the Olympics starts including esports, parents will also think that their children can go and win medals for the country."
In the 2018 Asian Games, where esports was a demo event, India's Tirth Mehta won a bronze in Hearthstone, an online digital collectible card game. "Back then, nobody used to play Hearthstone. But because of that medal, people started playing it," says Khurana.
That medal didn't count in India's overall tally, but it will during the 2022 edition. And the good thing for Indian esports is that the five games we're participating in are all proper esports titles. "If everything goes well at the Asian Games, I think it will give a huge boost to the industry. It could lead to a huge influx of players, which directly affects the viewership and audience," says Shenoy.
No pressure.
Do you think "violent" games such as PUBG and Fortnite should be included in events such as the Olympics and Asian Games?
⚡️Quick Singles
🏏🇮🇳👕 Fantasy sports giant Dream11 will be the Indian cricket team's new lead jersey sponsor, replacing beleaguered edtech company BYJU'S. According to reports, Dream11 bought the rights for the next three seasons at the base price of ₹358 crore ($43 million), which is 40% less than the previous winning bid. The firm will pay ₹3 crore for every bilateral match and ₹1 crore for India's matches at the International Cricket Council's and Asian Cricket Council's tournaments. Broadcaster Disney Star was the only other company that had bought the tender document for the auction.
🏏🌏👕 FanCode, the streaming and e-commerce platform owned by Dream11's parent company Dream Sports, has become the official merchandising partner for the upcoming 2023 ICC Men's Cricket World Cup. FanCode will sell official fan merchandise and accessories for all 10 teams participating in the tournament via retail outlets at stadiums and online. The platform also sells merchandise for teams and leagues such as Rajasthan Royals, Manchester City, Liverpool, and the NBA.
🏏🇮🇳💰 The 2023 season of the Indian Premier League attracted advertising revenue worth ₹10,120 crore ($1.2 billion), according to a report by market research firm Redseer. The Board of Control for Cricket in India (BCCI), franchise owners, and broadcasters earned 65% of this amount directly, while the remaining was gathered indirectly. Broadcasters Star Sports and Jio Cinema had the highest share (₹4,700 crore), followed by the franchises (₹1,450 crore) and BCCI (₹430 crore). The same report also said that Indian fantasy sports platforms' revenue grew by 24% year-on-year to ₹2,800 crore during the two-month-long tournament.
🇸🇦⚽️⛳️ Saudi Arabia, which has gone all guns blazing in golf, football, tennis, and Formula One in the last 18 months, now wants to really spell out that it means business in the world of sports. The Financial Times reports that the kingdom is set to launch a multibillion-dollar sports investment group that will be a part of its sovereign wealth fund, the Public Investment Fund. Meanwhile, the Saudi Pro League, which has attracted footballers such as Cristiano Ronaldo, Karim Benzema, and N'Golo Kante, is considering opening itself up to foreign private equity, according to Bloomberg.
🏏🇺🇸📺 The inaugural season of the US-based Major League Cricket (MLC) will be shown on Sports18 and JioCinema in India, with broadcaster Viacom18 winning the media rights. MLC features six teams, out of which four are owned by IPL franchises: MI New York, LA Knight Riders, Texas Super Kings, and Seattle Orcas (Delhi Capitals). The two other teams are the San Francisco Unicorns and Washington Freedom. The first season of MLC begins on July 13.
🏏🇮🇳🏴󠁧󠁢󠁥󠁮󠁧󠁿 RISE Worldwide, the sports marketing and management agency owned by India's largest conglomerate Reliance Industries, has signed a deal with the England and Wales Cricket Board to monetise virtual sponsorship inventory in the ongoing Ashes series for the Indian market. This type of sponsorship will allow Indian companies to advertise their brands on the field and in the stadium during the Ashes virtually on air. Another Reliance company, Jio, had used this mode of advertising during the Premier League last season.
🏎️🇺🇸 After his football club Wrexham's memorable promotion to the English Football League, Hollywood actor and entrepreneur Ryan Reynolds has set his sights on Formula One. Reynolds' investment group, which includes other celebrity American investors, has bought a 24% stake in the parent company of the UK-based Alpine team for $218 million. The deal will value Alpine, which is owned by French automaker Renault, at around $900 million.
That's all for this week. If you enjoyed reading The Playbook, please share it with your friends, family, and colleagues. Please also subscribe to it (for free) if you haven't already.
You can reach out to me at jaideep@thesignal.co with any feedback (good, bad, or ugly), tips, and ideas. I'd love to hear from you!
Thanks for reading, and see you again next Friday!