Discover more from The Playbook By The Signal
A weekly newsletter that goes beyond the headlines and gives you all the necessary signals you need to understand India's sports and gaming industries better.
Over 9,000 subscribers
Disney Star's cricket moat to quell Viacom18 charge
The House of Mouse has been busy ever since it lost the digital rights of the Indian Premier League (IPL) to its new rival.
Good evening,
Welcome to The Playbook, a free weekly newsletter that goes deep into the business of sports and gaming from India and around the world. It will land in your inbox every Friday at 4 pm IST.
I'm Jaideep Vaidya, a Bengaluru-based journalist with over a decade of experience, largely in sports journalism. I've been reporting and writing on the absorbing intersection of business and sports for the last five-odd years, with bylines in publications such as The Ken, Forbes India, Quartz India, Mint Lounge, and Scroll.in. In my previous job, I authored The Ken's weekly sports business newsletter called Moneyball. 
With The Playbook, I hope to take you beyond the headlines in the business of sports and gaming. This newsletter will cover topics such as sports broadcasting, sports sponsorship and marketing, athlete and league management, and the rabbit hole that is online gaming in India. That includes fantasy sports, real-money gaming, and sports betting/gambling. 
So, whether you're a casual sports fan, a hardcore sports buff, or someone who works in the sports and gaming industry, I'm sure The Playbook will have something for you. In case you'd like me to cover any particular topic, or if you have any feedback/suggestions, please feel free to write to me at jaideep@thesignal.co. You can also find me on Twitter @jaideepjourno.
If you're a subscriber of The Signal, you will receive the first four editions of The Playbook automatically. After that, you'll have to sign up separately to receive The Playbook.
Right, let's dive into edition #1. With the ICC Men's T20 World Cup starting this Sunday, I thought it's an opportune time to talk about its broadcaster in India, Disney Star, which has been rather busy in the last three months. 
🐭🏏 Disney Star: down, but not out
It's been a crazy year for the Indian sports industry, which is, of course, dominated by cricket. Broadcasters have spent over $9 billion on two major cricket properties—the Indian Premier League (IPL) and the  International Cricket Council (ICC). A third major property—the Board of Control for Cricket in India (BCCI) rights—will go up for auction sometime next year, so the madness isn't over.
But perhaps more significantly, cricket broadcasting in India is moving away from being a monopoly. Disney Star's reign as the one sports broadcaster to rule them all—with all three major cricket rights—is over. 
In June, Disney retained the television rights of the IPL but lost the digital rights to the new challenger to its throne—Viacom18, backed by India's largest conglomerate Reliance Industries. Both broadcasters paid around $3 billion each for the respective rights. 
And no matter what Disney tells its shareholders on Wall Street—that the decision to let go of the IPL digital rights was a "disciplined" one and the company is focussed on achieving profitability by 2024—losing them would have stung the House of Mouse.
It's no secret that its streaming platform Disney+ Hotstar's subscriptions are disproportionately driven by the IPL. And Hotstar accounts for 38.4% or over 58 million of Disney+'s user base of 152.1 million. Analysts had predicted that Hotstar might lose anywhere between 25% and 50% of its paid subscribers after losing the IPL rights. In fact, during its quarterly earnings call in August, Disney revealed that it had revised its subscriber growth projections for Hotstar from 100 million to 80 million by the fiscal year ending September 2024.
But Hotstar isn't dead and buried just yet. Far from it. 
The fightback
Just days after that earnings call, Disney scooped up the ICC rights (TV + digital) for a cool $3 billion. And then, it bowled another googly by sub-licensing the TV rights to Zee Entertainment. I had posted a short Twitter thread on how this was a smart move by both parties—a win-win:
Jaideep Vaidya

@jaideepjourno
Some initial thoughts on the Disney-Zee sub-licensing deal for ICC rights…
Smart move by both parties. It's a win-win.
Disney+ Hotstar really needed the ICC digital rights after losing out on IPL digital rights to Viacom18. (1/n) #sportsbiz
moneycontrol.com/news/business/…
After IPL streaming rights loss, Disney lowers the subscriber target for Disney+ Hotstar
The entertainment conglomerate expects Disney+ Hotstar to reach up to to 80 million by the end of fiscal 2024
Aug 30, 2022
6 Likes   1 Retweets   1 Replies
But what was really telling was the amount Disney Star paid for the four-year ICC rights. According to industry experts I spoke to, a fair value would have been around $1.5 billion. Which means Disney paid double that amount to secure the rights. I'm told Zee is paying Disney around $1 billion to sub-license the TV rights, which means the remaining $2 billion is being covered by Hotstar. That's at least $1 billion more than what they're worth, according to experts.
Why is Disney overpaying? Quite simply, to prevent the new challenger from making further inroads in the market. 
"Hotstar is willing to absorb a billion-dollar loss over four years to keep Viacom18 weak. That's the broad logic that I see," said one of the experts, who requested anonymity. "If Hotstar wants to grow its 50 million-60 million subscribers, they need cricket. They've already lost IPL, so they thought let's get ICC at any cost." Disney Star did not respond to my request to participate in this story.
This isn't the only example of a defensive strategy by Disney Star. In July, about a month after losing the IPL digital rights, it swooped in at the last moment to outbid Sony Pictures Networks India for the Cricket Australia rights. Disney paid anywhere between $260 million and $280 million for the seven-year deal. In terms of the valuation of India matches—which is the only metric that matters for Indian broadcasters while evaluating rights deals with foreign cricket boards, since non-India matches have negligible viewership—it corresponds to a 2x-2.5x jump.
"It was a clear precursor to what happened with the ICC rights," said the industry expert quoted earlier. "They're definitely not getting their money back even with the Cricket Australia rights. So, it was a clear defensive strategy—whatever rights are available in the market, let's mop them up."
And it's not just Disney Star that wants to keep Viacom18 out of the cricket market. I'm told that Viacom18 almost closed the England and Wales Cricket Board (ECB) rights in August before Sony stepped in and bid higher.
"Basically, everybody has come together to keep the new player out," added the industry expert. "Viacom18 already has IPL, they have huge ambitions, and their strategy will be more digital-first compared to the incumbent players. They would need cricket rights to get subscriptions. So, let them have as little as possible."
The battle royale for India cricket
This sets us up for a fascinating dogfight next year when the BCCI rights go up for auction. It's impossible to call who will win.
On the one hand, it would appear that Viacom18 will be forced to be aggressive, considering their cricket calendar comprises only two-and-a-half months of the IPL (that too, only digital), apart from a couple of smaller T20 leagues (Tamil Nadu Premier League and Road Safety World Series). The BCCI rights would allow it to fill around six more months with India cricket matches, which would give people enough reason to subscribe. 
Disney Star will be more secure considering the wall of cricket it has built in the last few months. The ICC has one marquee tournament every year in its 2024-31 schedule.
ICC

@ICC
Are you ready for the best-ever decade of men's white-ball cricket?
Eight new tournaments announced 🔥
14 different host nations confirmed 🌏
Champions Trophy officially returns 🙌
icc-cricket.com/news/2354682
USA to stage T20 World Cup: 2024-2031 ICC Men's tournament hosts confirmed
The host nations for every major ICC men's limited overs event between 2024 and 2031 have been confirmed.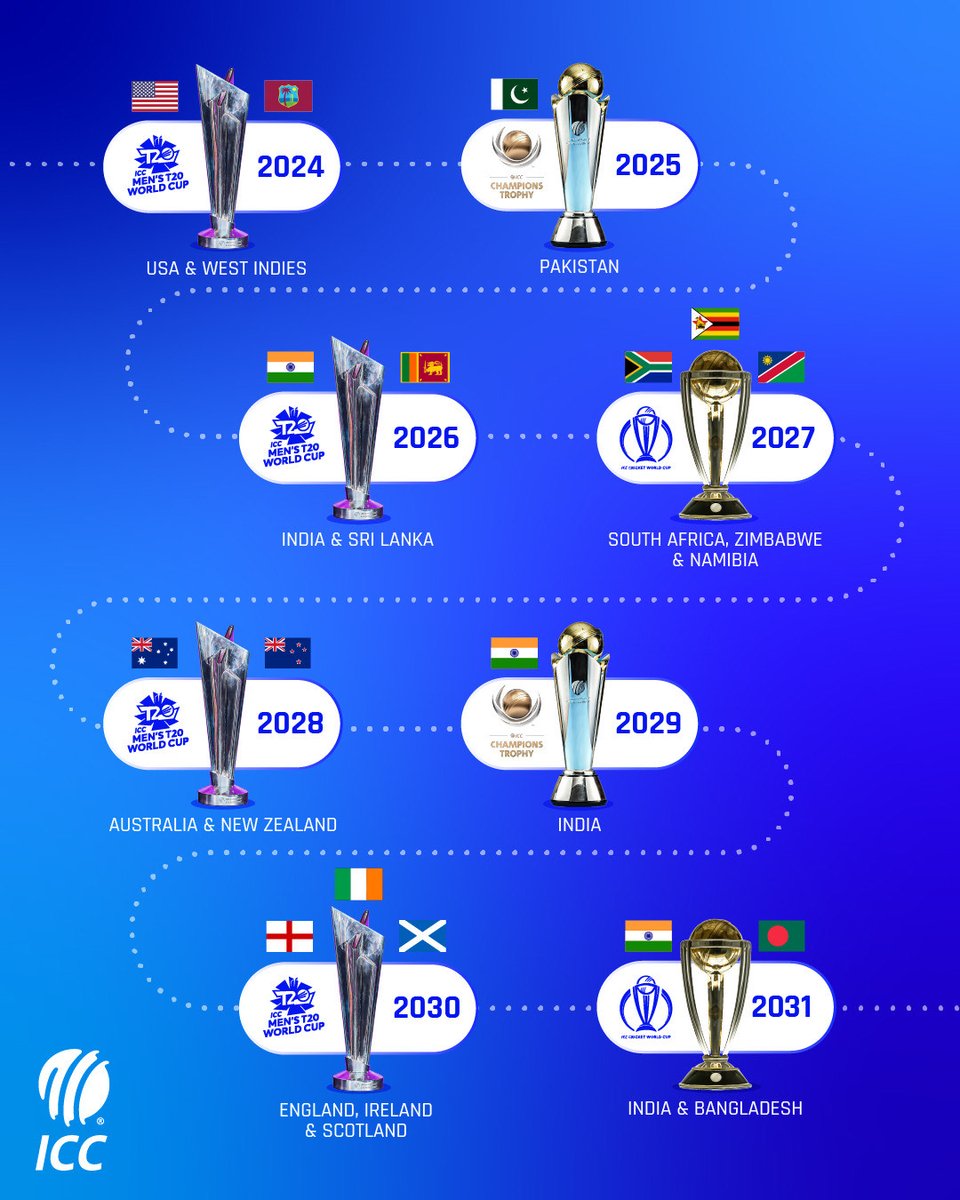 Nov 16, 2021
33.1K Likes   4.13K Retweets   1.02K Replies
However, ICC tournaments rarely last over a month, except the quadrennial ODI World Cup. And in India, viewership spikes during ICC events are restricted to India matches, the semi-finals, and final. And as for Cricket Australia and Cricket South Africa rights, India is touring these countries only once in the 2023-27 period. So, you could argue that Hotstar, in particular, needs the BCCI rights.
And don't forget the new combination of Sony-Zee, who are in the process of merging. In terms of major cricket rights, they only have ICC (TV only) and ECB. They missed out on the IPL completely, so they'll be desperate to get some Indian cricket rights.
It promises to be a gripping triangular battle between Disney, Viacom18, and Sony-Zee.
Content play
Coming back to Disney, regardless of whether it wins the BCCI rights or not, the events of this year and whatever statements the company has made could imply the start of a slow pivot from focusing on live sports to original content. 
Here's what Disney's chief financial officer Christine McCarthy had said earlier this year: 
"One-third of the $32-billion content spend for fiscal 2022 will be towards sports. Of the balance, a meaningful amount will be dedicated to investments in general entertainment that we can leverage across all our distribution platforms. We have about 500 shows in the pipeline for local content outside of the US. Of this, 140 is in Southeast Asia. In EMEA, it is 150, and in India, 100 shows."
Disney could look around and say, let's crack original content. "India isn't the same market that 21st Century Fox was solving for a few years ago," said another industry expert. "Disney's hope is that cricket and original content will ensure there's no drastic fall in Hotstar numbers. Their entire focus would now be to try and preserve their numbers, since India is often the number they cite when they claim they're at par or bigger than Netflix."
Star under Disney today is a completely different animal compared with what it was under Fox (Disney acquired Fox in 2019). Disney isn't going to spend millions of dollars growing domestic sports leagues in India in the hope that revenue generated from cricket helps it cover the costs. Each property it acquires, whether it's sport or entertainment, needs to stand on its own feet.
Sport is now no longer the focus; it's just a part of its overall content portfolio. So, will Disney go big on the BCCI rights? My guess is they won't go beyond a certain limit. But let me know what you think!
⚡️ Quick Singles
🏏🇮🇳 The BCCI is planning to host a five-team women's IPL in March 2023. The tournament will have 22 matches, with each team playing the others twice. Each squad will comprise 18 players, with a maximum of six foreigners. Only five overseas players can start a match, with four from ICC Full Member countries and one from an Associate nation. [ESPNcricinfo]
🏏🇮🇳 Sourav Ganguly looks to have accepted that he can no longer continue as BCCI president. With reports claiming that former India cricketer Roger Binny is set to take over, Ganguly's three-year term might be coming to an end. But you never know when it comes to the BCCI! [The Indian Express]
ANI

@ANI
I was president of Cricket Association Bengal for 5 yrs & served as president of BCCI for 3 yrs. After tenure gets over,you've to go. You can't play & remain an administrator forever. It was great seeing both sides of the coin as a player & administrator: BCCI Pres Sourav Ganguly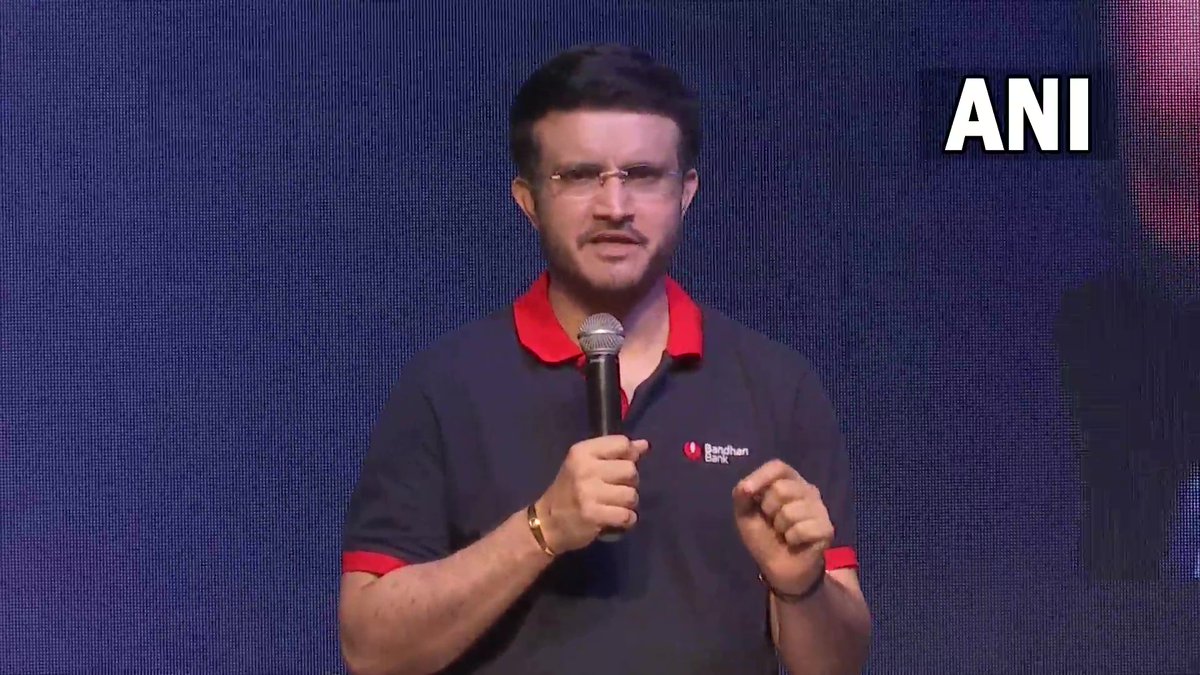 Oct 13, 2022
13.1K Likes   711 Retweets   182 Replies
⚽️🎮 Fifa has announced a multi-year partnership with online game-creation platform Roblox to launch an immersive fan metaverse experience—called Fifa World—ahead of the 2022 World Cup in Qatar. [SportsPro]
📖 Weekend Reads
🏈♟️ Professional athletes often find ways to compete even when they're not playing. A lot of them are into video gaming, darts or other sports like table tennis and golf. The New York Times has a nice feature on the new favourite game among NFL players—chess! The story also has one of the best intros—or ledes, in journalese—that I've read in recent times. 
⚽️🇭🇳 How far can a prank go? In the case of Honduras footballer Alexander López, it changed the trajectory of his career. British journalist Kieran Morris has a fascinating tale in The Guardian about how he and his friend buffed up the online profile and planted tips about an obscure young footballer. Just for laughs. But then, he started going places.
⚽️🏳️‍🌈 Also in The Guardian, Jonathan Liew writes about the ramifications of Spanish footballers Iker Casillas and Carles Puyol's "stupid joke" about coming out as gay.
📺 The Watchlist
⚽️🇪🇸 Get set for the first El Clasico of the season, with Real Madrid hosting Barcelona at the Santiago Bernabeu. With both teams sitting on 22 points at the top of LaLiga, it's a chance for one of them to open up a gap. Live on MTV India and Voot at 7.45 pm IST on Sunday.
⚽️🏴󠁧󠁢󠁥󠁮󠁧󠁿 Over in the Premier League, high-flying Manchester City travel to Anfield to take on a Liverpool side that's going through a bad slump. Jurgen Klopp's injury-ridden team is sitting 10th in the table, but would be buoyed by a 7-1 thumping of Rangers in the Champions League midweek. Live on Star Sports Select HD and Disney+ Hotstar at 9 pm IST on Sunday.
👀 ICYMI
⚽️🏆 Pepsi has just released a fun new commercial ahead of the Qatar World Cup, featuring footballers Lionel Messi, Paul Pogba, and Ronaldinho. It's a nice throwback to those iconic Pepsi football commercials from the 2000s. But I wonder what Fifa's global partner Coca-Cola has to say about a Pepsi ad shot on a set with a Middle East theme. Would you call this ambush marketing?
Pepsi

@PepsiGlobal
Introducing Nutmeg Royale – reserved for those thirsty for the thrills of the game! #ThirstyForMore 🥜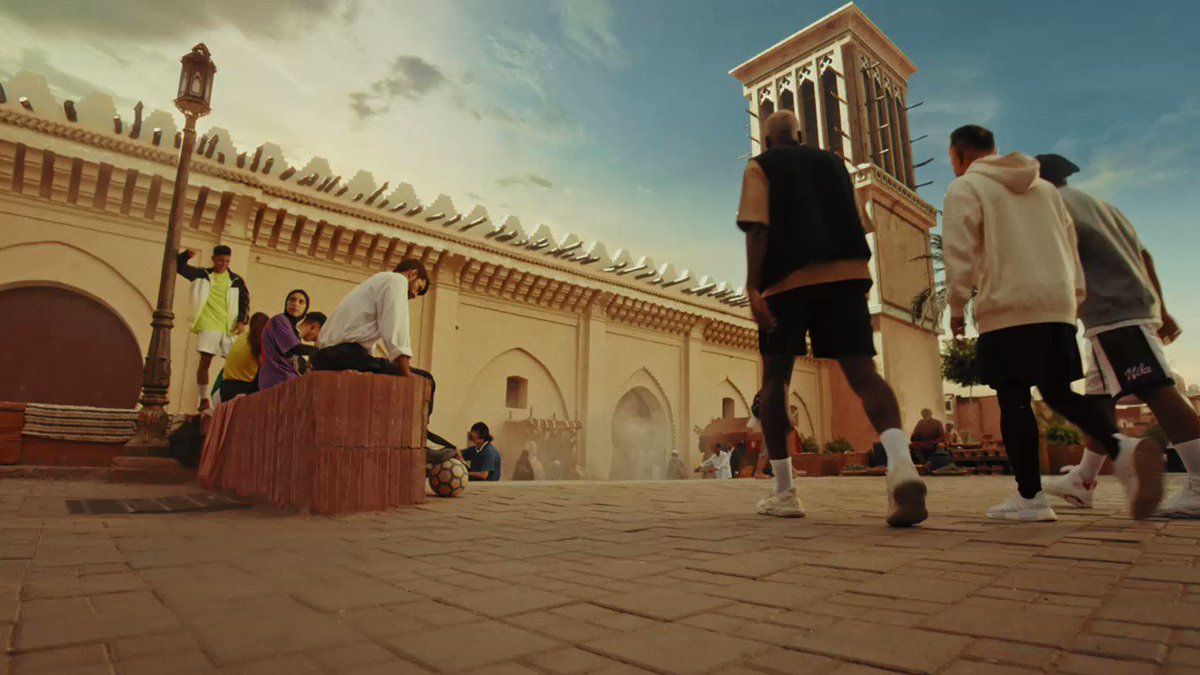 Oct 13, 2022
11.7K Likes   2.66K Retweets   187 Replies
That's all from The Playbook this week. Hope you enjoyed the first edition! See you again next Friday.
Best,
Jaideepjaideep@thesignal.co