Discover more from The Playbook By The Signal
A weekly newsletter that goes beyond the headlines and gives you all the necessary signals you need to understand India's sports and gaming industries better.
Over 9,000 subscribers
Crickpe, MPL Opinio, and skirting the law
The two gaming apps provide services that can be best described as legally grey
Good evening,
Welcome to The Playbook, a weekly newsletter on the business of sports and gaming. If someone shared this newsletter with you, please hit the subscribe button below — it's free!
During every Indian Premier League (IPL) season, there's that one ad that sticks with you like a parasite. Whether it's because of a catchy jingle, a great script, a totally absurd script, or just because it plays so often that it gets ingrained in your head. I haven't watched too much of the IPL so far, so none of the ads have caught me in their net. Yet. What about you? Have any of the commercials stuck out?
Two ads did, however, catch my attention—but this had nothing to do with the actual commercials. It's the products they're advertising, which are ethically, if not legally, rather sketchy. One ad features a controversial celebrity entrepreneur, while the other has a former India cricketer who's now a very popular broadcaster.
Let's dive in, starting with the first one.
Do you want to make cricketers richer?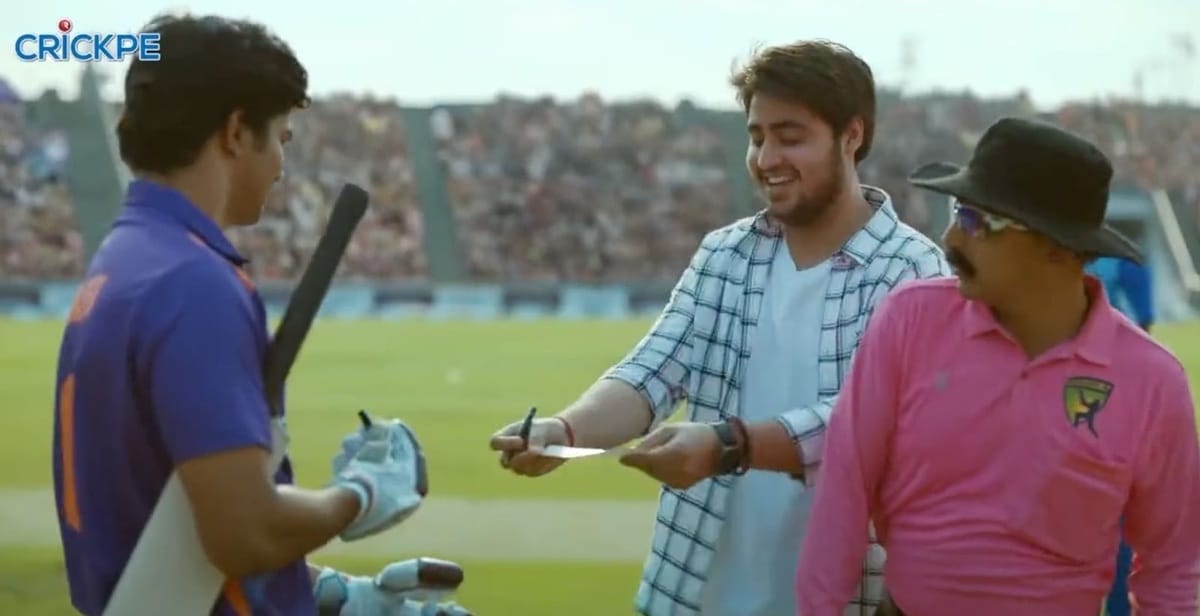 Screenshot from Crickpe ad
On 30 March, a day before the 2023 IPL season began, Ashneer Grover, co-founder of Indian fintech major BharatPe, posted a tweet with the ad for his latest venture—a fantasy cricket platform called Crickpe.
The ad showed a fan invading the pitch during a cricket match and handing over a cheque to the batter who had just completed a century. The cheque is worth ₹1 crore (~$122,000). The fan goes on to thank the batter, saying he had picked him in his fantasy team on Crickpe and won "crores of rupees". The cricketer thanks him, to which the fan replies, "Don't thank me, thank him," and points to the stands. The camera pans to Grover sitting in the stands, who goes on to highlight Crickpe's features.
Yes, Ashneer Grover is the brand ambassador of a fantasy cricket platform launched by Ashneer Grover. But that's hardly the shocking bit.
The reason I've described this ad to you rather than adding a link for you to watch it yourself is because Grover has deleted his tweet. I also couldn't find the ad on any of Crickpe's social media channels or on YouTube. And while Crickpe did not respond to my request to participate in this story, my hunch is the takedown has something to do with its USP—cash rewards for cricketers.
A screenshot of Grover's tweet before it was deleted
Here's how it works: out of the total prize pool for a particular fantasy contest, 80% of the winnings go to the users who win, 10% goes to Crickpe as commission, and the remaining 10% is distributed to the cricketers and organising bodies. Out of this 10%, "1.5% is given to the Board of Control for Cricket in India (BCCI), another 1.5% to [the] two participating teams, and [the] rest will be distributed to the cricketers on the basis of their performance," Grover told Inc42 in an interview.
I know what you're wondering: "why?"
In the same interview, Grover says the idea behind this business model is to "make sports meritocratic". Cricketers should be paid on the basis of their performances on the field, not their looks and "who acts best in front of the camera," he adds. And here's the best part:
"The Supreme Court said [fantasy sports] is a game of skill, but many people still consider it similar to betting, because the prize money is getting distributed among anonymous users. But the moment you add the idea that cricketers are also getting paid, it changes the game."
Yes, it changes the game by bringing major integrity issues. You're essentially enabling anyone with a mobile device to pay cricketers for their on-field performance.
Even if you ignore that, there are other issues with the business model.
For one, the BCCI's anti-corruption code (pdf) states that players have to disclose any gift that's worth more than ₹50,000 (~$600). And even if it is disclosed, players "cannot accept any gift that can bring the sport into disrepute or could be perceived as influencing the outcome of the game," says Jay Sayta, a technology and gaming lawyer.
"Secondly, and on a more practical level, many cricketers already have contracts of endorsement with some fantasy sports platform or the other. So, the question remains whether they will accept rewards or gifts from a rival or competing platform, or whether they would be contractually allowed to do so," he adds.
Dream11, India's largest fantasy sports platform, is endorsed by cricketers such as Rohit Sharma, Hardik Pandya, R Ashwin, and Shreyas Iyer. Virat Kohli is with Mobile Premier League (MPL), while My11Circle has Shubman Gill and Mohammed Siraj.
Dream11

@Dream11
Sale! Sale Sale!🥳🥳
Isse accha mauka aapko shayad hi kabhi milega to win prizes you could only dream of!😍
So, follow these steps and win lots of prizes during the first 5 matches of Tata IPL 2023! 😎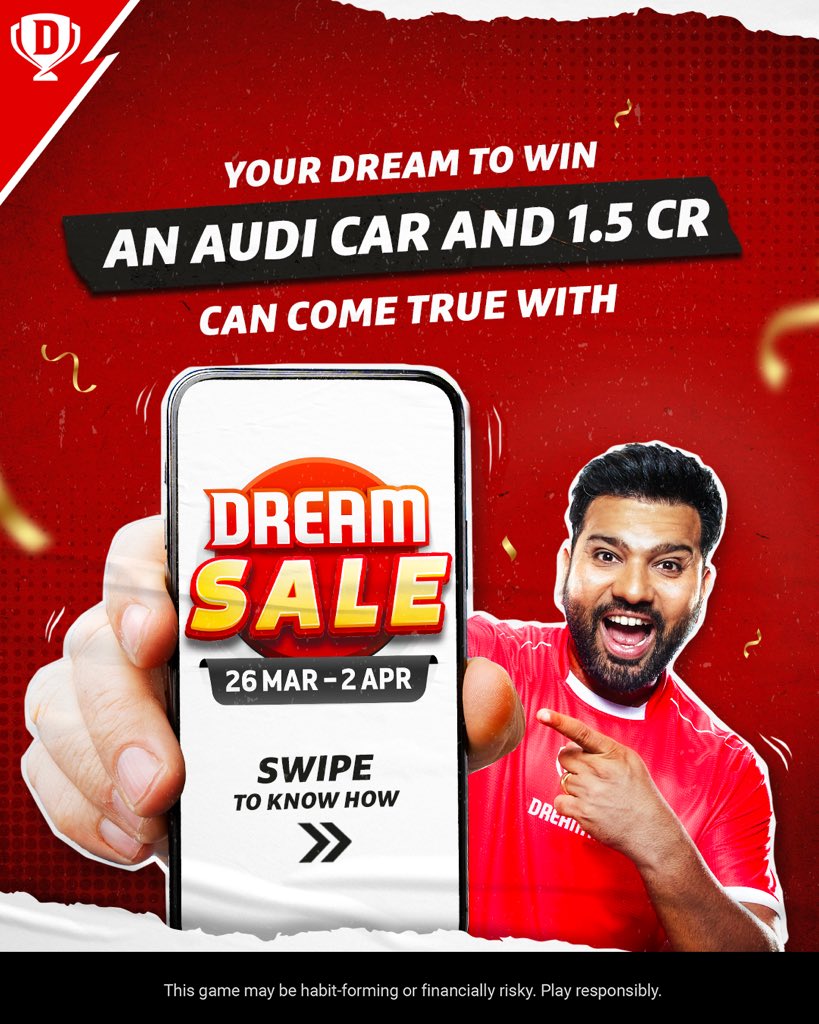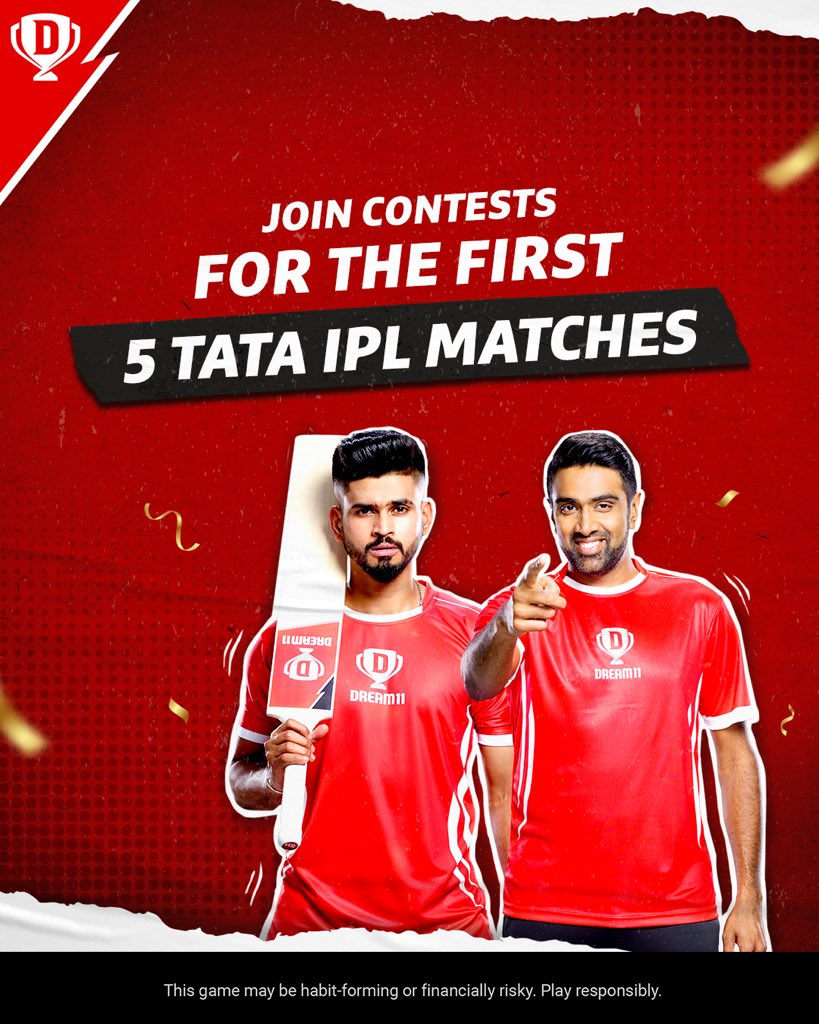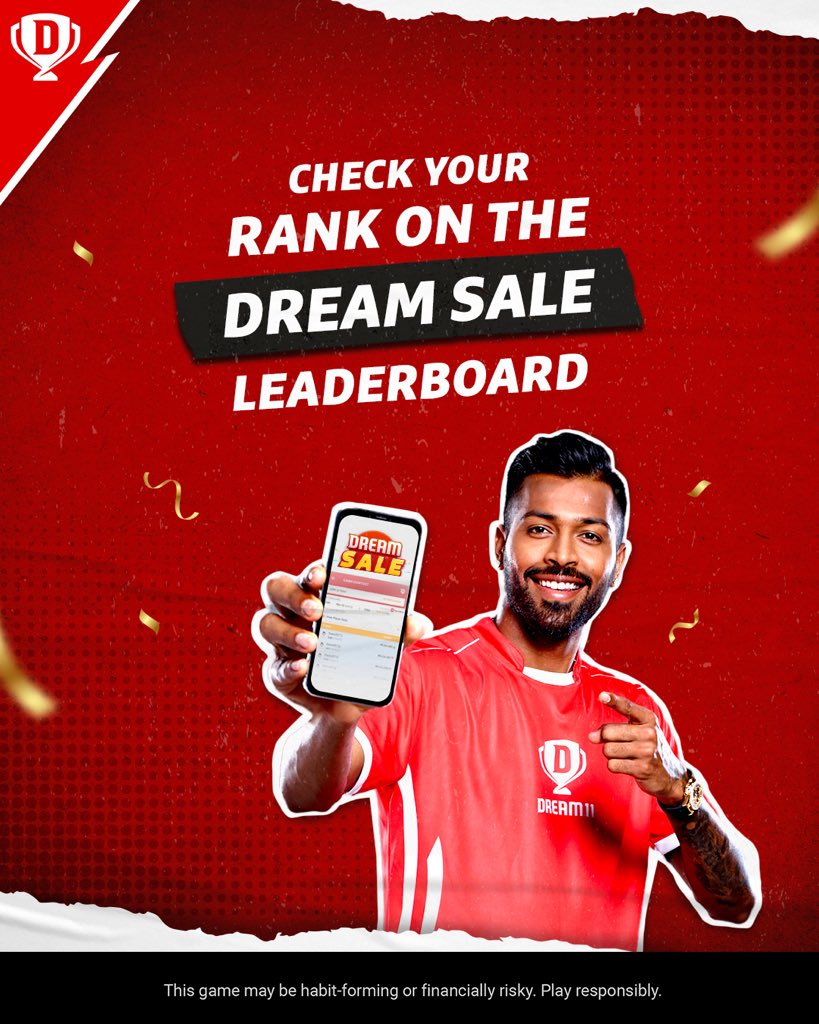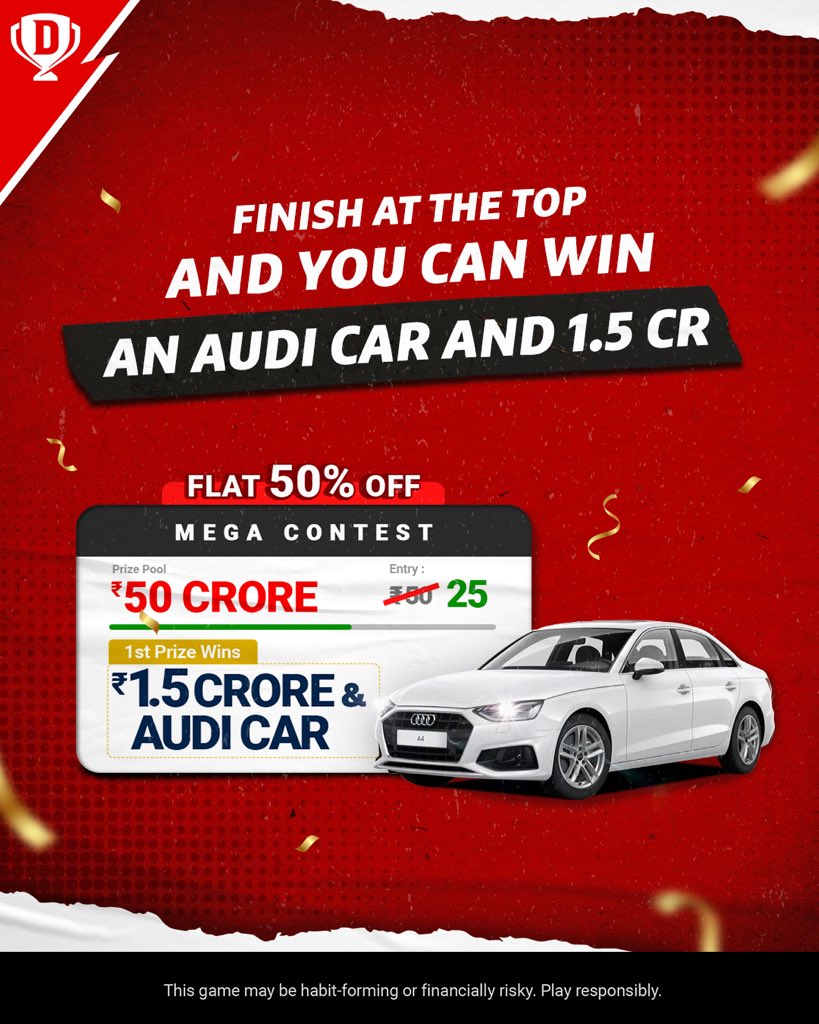 Mar 28, 2023
65 Likes   8 Retweets   32 Replies
Sayta says that it's also not clear how Crickpe will give cash rewards to foreign players, who have to comply with the rules of their home boards. "For instance, in the IPL, there are cricketers from Australia, Zimbabwe, Bangladesh, Afghanistan, and many other cricketing nations. Each cricketing board and league may have its own anti-corruption and other policies pertaining to player conduct."
Grover, though, claims to have done his homework. Here's what he told Inc42:
"I have done enough research on BCCI's anti-corruption norms and hired the best lawyers to ensure that there is no confusion with unethical practices.
What I am essentially giving to the BCCI, any state cricket board and cricketers is a gift from my platform. I would not enter into any direct contract with anyone. It is simply an independent reward from us. We are also going to have TDS for such payouts. BCCI regulations require the cricketers to disclose gifts they have received from third parties, which I will be doing on my app anyway.
Unethical practices like match-fixing arise when one pays cricketers before matches are played to influence the outcome of the game. But in this scenario, there is zero contact with any cricketer. I also don't intend to employ or hire any cricketer as a brand ambassador of Crickpe since I want to maintain the sanctity of the platform."
So, it all depends on how the BCCI and its anti-corruption unit perceives these cash rewards. Sayta says the BCCI's stance on this isn't clear yet. "It remains to be seen on what basis the rewards to the player are being distributed, i.e. whether there is any gift that is possible for non-performance or below-par performance, in which case it raises serious concerns. But if they are distributed only for superior performance, then it may not result in concerns of match-fixing or alteration of outcome of the game."
The BCCI did not respond to my request for comment.
Would you play a fantasy game where the actual players get a part of your winnings?
Comment is free, but opinions are sacred
Now, coming to the second ad. It features popular broadcaster and former India cricketer Aakash Chopra: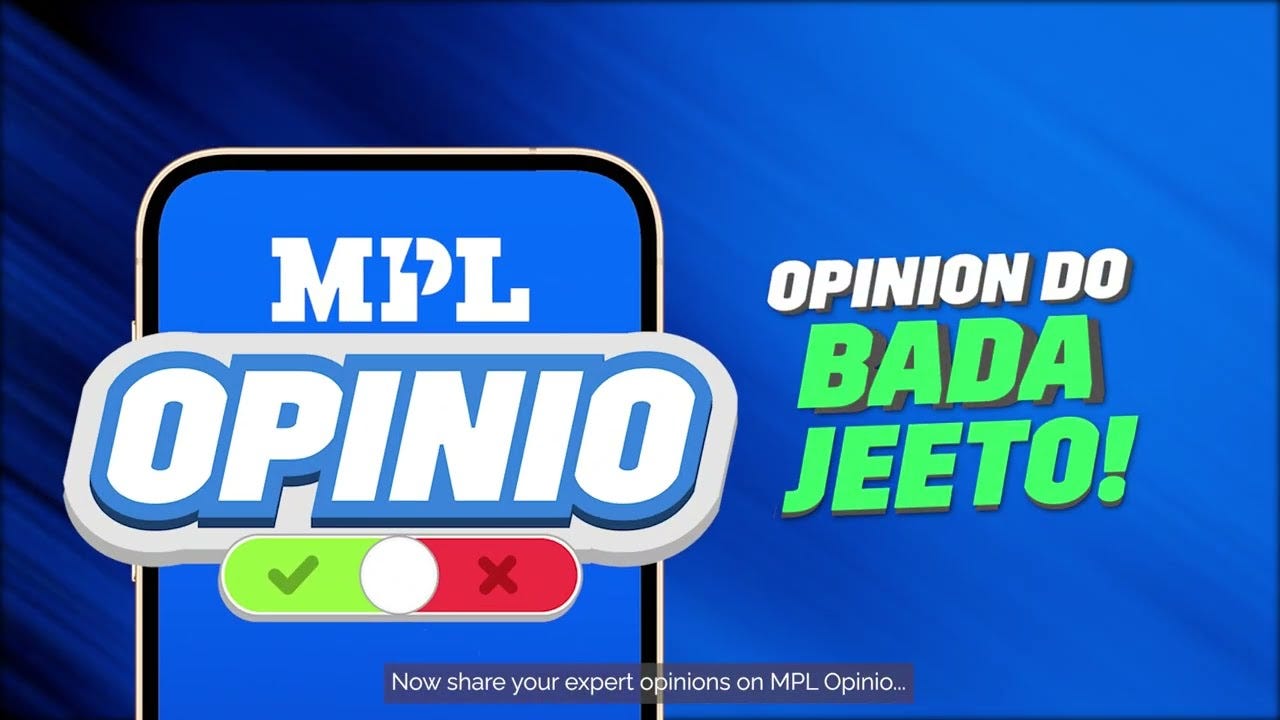 Muft mein opinion kyu dena? MPL Opinio hai naa | Aakash Chopra
Opinio is the latest game offered by mobile gaming unicorn MPL. It's an opinion-trading platform, also known as prediction trading and event trading. It's a type of financial exchange that has been brought to India over the last 12 months by platforms such as Probo and TradeX, both of which raised venture capital funding in 2022.
Here's how it works.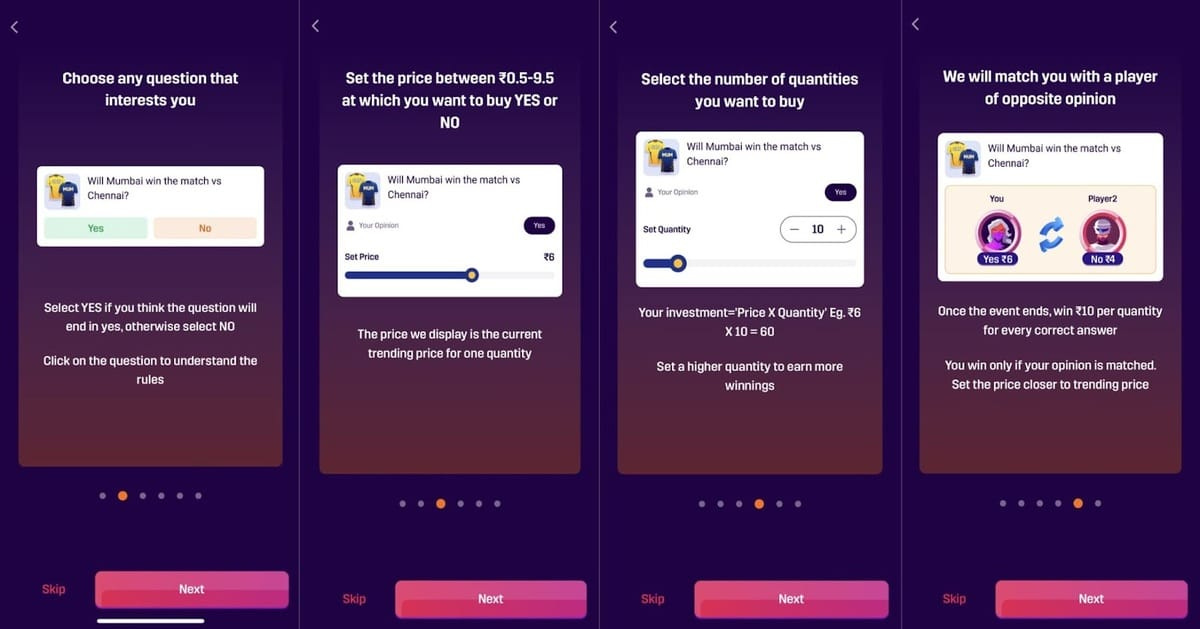 Opinion trading is a variant of binary stock options trading, where you trade on whether the stock market will be above a certain price at a certain time. It's a concept that dates back to the late eighties, when the University of Iowa launched the Iowa Electronic Markets to forecast political outcomes, companies' earnings per share (EPS), and stock price returns. Companies such as Google and Microsoft have used prediction markets to help with internal decision-making.
It's basically crowdsourcing an opinion or prediction on a future outcome. "When investors bet money on the outcomes of their predictions, research shows that those predictions are more accurate in the aggregate," wrote Max Raskin, director of research at investment management company Qvidtvm and an adjunct professor of law at New York University, in a column in The Wall Street Journal.
Platforms such as MPL Opinio, Probo, and TradeX have essentially monetised this concept.
"The basic crux of a prediction market is to collect the wisdom of the masses," says Divij Goyal, co-founder of TradeX. "Making money out of it and all those things are byproducts of putting some financial inclusion into it."
"Will Narendra Modi be our next Prime Minister or not? There are two opinions—yes and no. And the price of the opinion indicates the collective consensus of what people are thinking. It's like a real-time exit-poll scenario," he adds.
  How to make (or lose) money by predicting the future | Moneyball by The Ken
While TradeX and Probo offer categories including politics, current affairs, and entertainment, MPL Opinio is so far restricted to sports.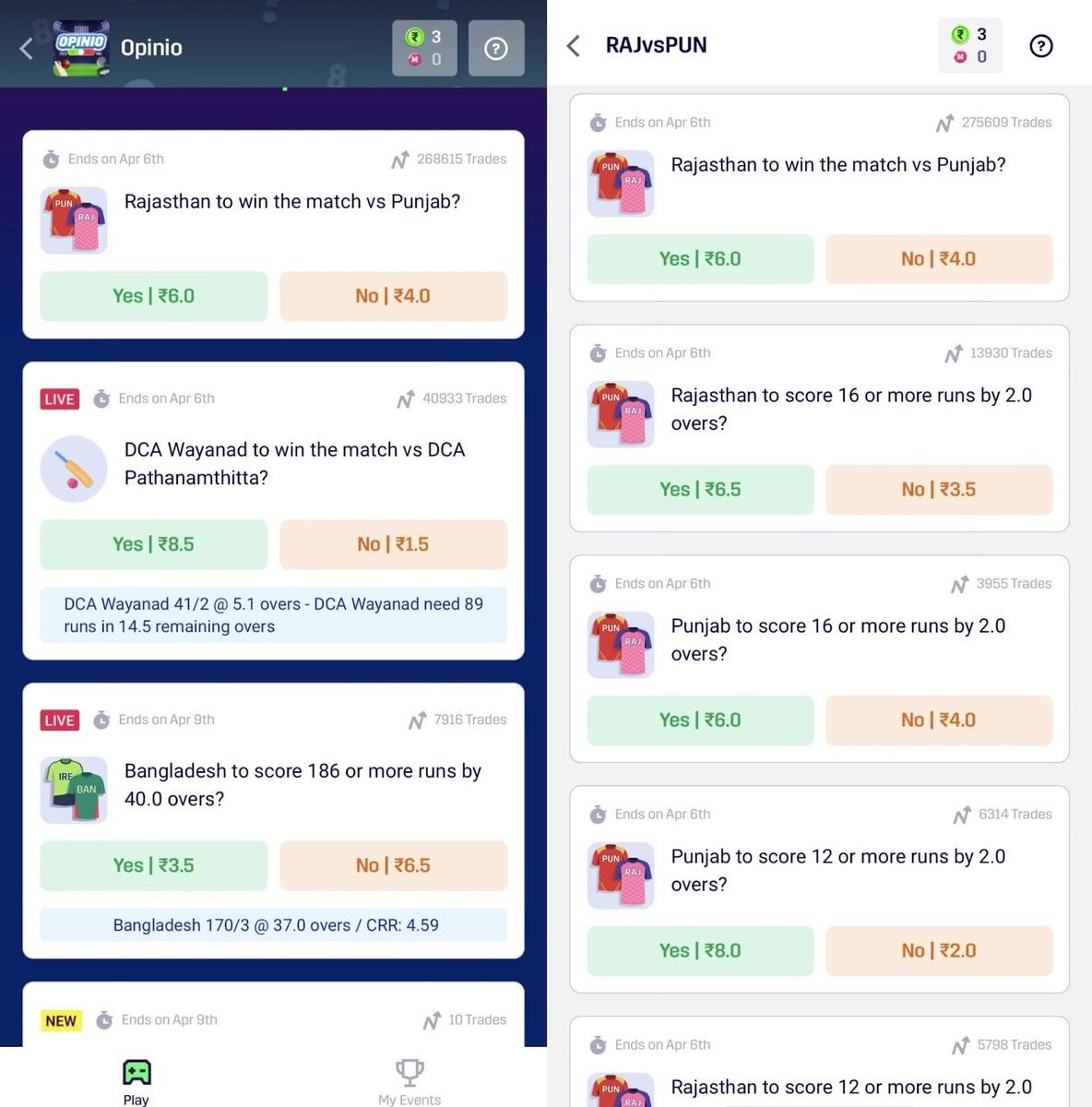 One of the pioneers of this business model is New York-based Kalshi. Founded in 2019, the company has raised $30 million in funding from investors including Sequoia Capital. "We believe this will be bigger than crypto," co-founder Tarek Mansour told Bloomberg last year.
However, Kalshi is regulated by the United States' Commodity Futures Trading Commission (CFTC), which granted it a licence to run a derivatives exchange. It also restricts Kalshi from offering trades in categories such as politics (elections), war, terrorism, assassinations, and gaming. Kalshi also does not offer trades on sports because "that's very much like gambling," co-founder Luana Lopes Lara told TechCrunch in 2021.
In India, there's no one to regulate these platforms. Sports, election results… it's all good. Since gambling and online gaming is a state subject in India, the central government can't step in unless it thinks these platforms are posing a threat to India's sovereignty or national security.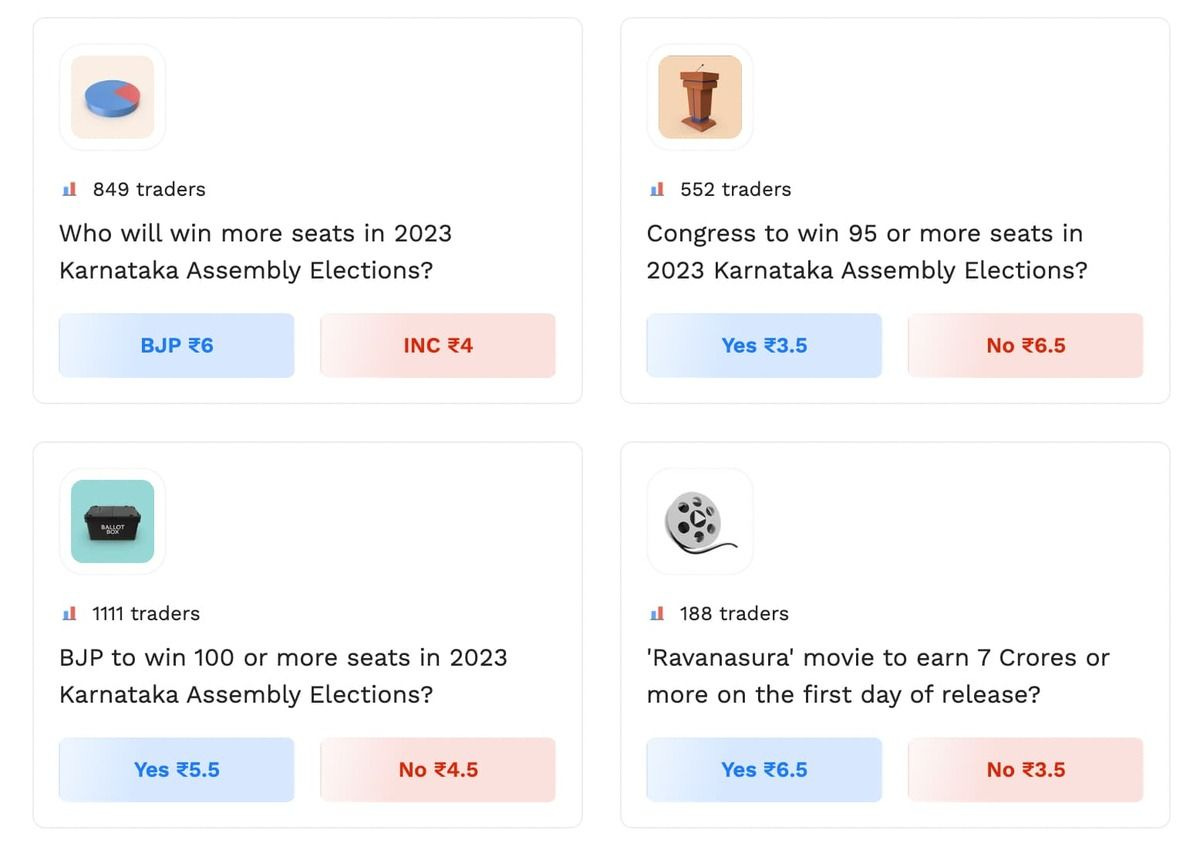 Both Probo and TradeX have claimed they've received legal opinion that opinion trading is a game of skill, which is legal in India. They believe they can't be classified as gambling or betting platforms since there's no "house"—they aren't making money from users' losses, but only charging a transaction fee.
When it comes to sport, the biggest reason why opinion trading isn't betting, according to Probo's co-founder Sachin Gupta, is because users have to do a lot of research to win consistently. "All our events have a preponderance of skill," he told The Ken. "Most people think predicting whether India will score 160-plus in a T20 match is a gamble. I don't think it is. It's a very measured calculation. What's the pitch like? Which ground is it? What's the batting and bowling line-up? A nuanced guy who plays well will win each time versus someone who's not playing it smartly."
However, you can also use the same expertise on a betting platform, which is illegal in India. And just because the house isn't involved, that doesn't mean Indian courts won't consider it gambling or betting. If the matter goes to court, the platforms will have to prove that opinion trading is a game of skill. And the fact is that the game is very similar to betting in terms of it being based on a binary yes/no outcome. MPL did not respond to a questionnaire I sent regarding Opinio.
On Thursday, the Indian government published the latest amendments to the Information Technology (Intermediary Guidelines and Digital Media Ethics Code) Rules pertaining to online gaming. The government has permitted the gaming industry to define its own parameters regarding what should and shouldn't be allowed. Self-regulatory bodies, comprising industry representatives and experts, can decide which games can be offered to users. While the government warned that it won't allow wagering or betting, it did not clearly define what "wagering on an outcome" is.
"The rules do not clearly demarcate games involving a substantial degree of skill, which are legal and constitutional activities, as separate from games of chance or gambling/betting activities. The problem is compounded further by the fact that the rules leave decision as to the permissibility of a game to be legitimate game to the vagaries of self-regulatory bodies, who are further required to not permit any online real-money game that involves 'wagering on any outcome'. Compounding the confusion, the central government has not clarified or made any provision in the rules that state that staking money on games classified as skill-based games would be permitted."
  Jay Sayta, technology and gaming lawyer
So, in essence, both Crickpe and MPL Opinio will be allowed to operate as long as the BCCI or the self-regulatory body that the two platforms fall under does not raise any issue with them. The government has also left it to the self-regulatory bodies to approve each game and format. MPL is a member of the All India Gaming Federation (AIGF), one of the three self-regulatory bodies in the online gaming industry. It isn't clear if Crickpe is a member of any such body.
I sent an email to AIGF asking if it has approved MPL Opinio's format as a game of skill. I didn't get a response before this edition was published. I will update the edition if and when AIGF responds.
Do you think opinion trading is similar to betting?
⚡️Quick Singles
🇮🇳🏏💰 Spending on sponsorships (on-ground, team, and franchise fee), athlete endorsements, and media rights in the Indian sports industry jumped by 49% year-on-year to ₹14,209 crore ($1.8 billion) in 2022, according to the latest annual Sporting Nation in the Making report by media investment company GroupM. Sponsorships saw the biggest upswing, with spending more than doubling to ₹5,907 crore ($748 million) last year.
🇮🇳🎮💰 India's e-sports industry was worth $40 million in 2022 and is expected to reach $140 million by 2027, according to the State of India Gaming Report 2022 (pdf) by gaming and interactive media VC fund Lumikai and Amazon Web Services. The number of e-sports players in India grew 4x from 150,000 in 2021 to 600,000 last year.
🏏🎮💰 Gross gaming revenue of fantasy sports during IPL 2023 is expected to grow by 30%-35% to reach ₹2,900 crore-₹3,100 crore ($354 million-$379 million), according to a report by strategy consulting firm Redseer. The average revenue per user is expected to increase from ₹410 ($5) in IPL 2022 to ₹440 ($5.4) this season.
🇺🇸🤼 American entertainment agency Endeavor Group is merging its mixed martial arts property Ultimate Fighting Championship (UFC) with World Wrestling Entertainment (WWE), which it bought for $9.3 billion. Endeavor will own 51% of the new listed entity, which will have an enterprise value of $21.4 billion. WWE shareholders will retain the remaining stake.
🏏📺📱 The opening match of IPL 2023 between Gujarat Titans and Chennai Super Kings was watched by 130 million viewers on television, per broadcaster Disney Star. Meanwhile, the IPL's digital rights holder Viacom18 claimed that the opening match was streamed by over 60 million unique viewers on JioCinema, with a peak concurrency of over 16 million.
🇸🇦🎮💰 Saudi Arabia is investing a whopping $38 billion to become a global video-gaming hub. The Savvy Games Group, a subsidiary of Saudi Arabia's sovereign wealth fund, Public Investment Fund, is looking to develop, publish and acquire top-tier games and support a gaming industry in Riyadh, reported Bloomberg. Savvy has already invested billions of dollars in gaming companies such as Nintendo, Tencent, and Activision Blizzard.
🏏🇱🇰📺 Sony Pictures Networks India has renewed its global media rights deal with Sri Lanka Cricket for four more years, until March 2027, for a reported cost of $25 million. Sony also owns the broadcast rights of the England and Wales Cricket Board, and the Pakistan Cricket Board.
That's all for this week. If you enjoyed reading The Playbook, please share it with your friends, family, and colleagues. You can reach out to me at jaideep@thesignal.co with any feedback (good, bad, or ugly), tips, and ideas. I'd love to hear from you!
Thanks for reading, and see you again next Friday!