Discover more from The Playbook By The Signal
A weekly newsletter that goes beyond the headlines and gives you all the necessary signals you need to understand India's sports and gaming industries better.
Over 9,000 subscribers
The fanatical world of cricket influencers
A peek inside the lives of cricket Twitter influencers such as Cric Crazy Johns and Mufaddal Vohra
Good evening!
Welcome to The Playbook, a weekly newsletter on the business of sports and gaming. If someone shared this newsletter with you or if you've found the online version, please hit the subscribe button below — it's free! You can unsubscribe anytime.
Thanks to the dozens of you who voted in our poll last week about whether "violent" games such as PUBG and Fortnite should be included in events such as the Olympics and Asian Games. It was tight: "No" edged it with a 54% vote share. But I liked Yash's response the best: "This is literally the same committee that has allowed Adolf Hitler and Vladimir Putin to host the Olympics. Not to mention China. Saying they won't promote violence is a bit rich." Needless to say, Yash voted "Yes". 😄
Meanwhile, The Playbook's FPL mini league is up and running. In case you're interested in joining, our league code is d5dh3d.
So, are you on Threads yet? I signed up last week (@jaideepjourno) to check what the fuss was all about. It was fun at first seeing what others are threading posting about on Meta's new hashtag-less clone of Twitter. But a week in, I'm already starting to get a bit bored.
If you're already on Twitter and Instagram, the accounts you follow are mostly posting the same stuff. And the algorithm also dishes out posts from influencers you don't follow, which can get a bit annoying. Although, I'm really digging the fact that my timeline is not full of hate, abuse, and trolling. Yet.
Right. Before this turns into a tech newsletter, let's dive into today's story. It starts with a thread.
How to be a fanfluencer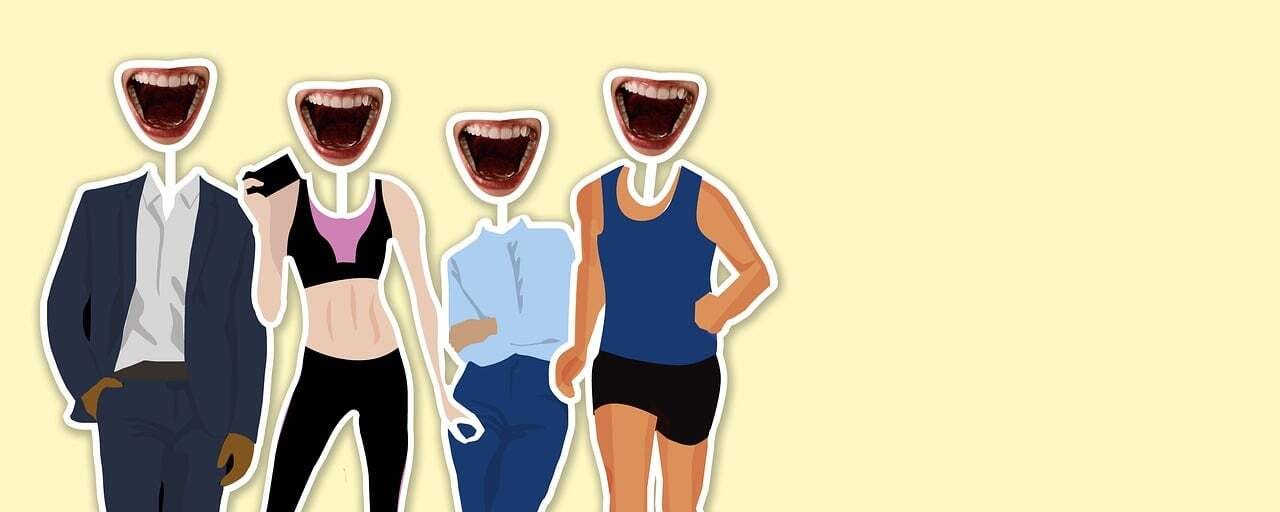 Photo credit: Gerd Altmann/Pixabay
About a week ago, Indian Premier League franchise Rajasthan Royals opened a Threads account. Its first post was this:
"can't promise that we'll be faster than Johns or Mufa but we'll try 👍"
In case you're not on Twitter (in which case I really envy you), Johns and Mufa refer to Johns Benny and Mufaddal Vohra, two of the most popular influencers on cricket Twitter. They've got over 349,000 and 619,000 followers, respectively. According to social media analytics firm Notus, they're the 58th and 53rd most influential people in the world. The only other Indian placed above them on this leaderboard is Prime Minister Narendra Modi (50th), who has 90 million followers on Twitter.
How did they manage to become so influential?
By tweeting relentlessly.
On July 12, the first day of the first Test between India and West Indies, Benny tweeted 52 times. His first tweet was at 7.52 am, which was about news agency PTI's story rubbishing Pakistani media reports that Board of Control for Cricket in India (BCCI) secretary Jay Shah would be travelling to the country for the Asia Cup. His last tweet for the day was at 2.43 am on July 13, with the final score on day one of the first Test. He was up tweeting again at 8.04 am.
On April 29, the day of the Indian Premier League (IPL) final, Vohra tweeted 150 times, starting at 7.41 am with a photo of the early morning sun in Ahmedabad, the venue for the final. His final tweet was at 5.28 am the following day: a photo of Chennai Super Kings (CSK) cricketer Ruturaj Gaikwad and his partner holding the IPL trophy. That was two-and-a-half hours after CSK captain MS Dhoni lifted the trophy at around 3 am, following a rain-delayed final.
What do they tweet about?
Anything and everything related to cricket: pictures, screenshots, videos, stats, news updates, press conference quotes… you name it. And the posts aren't restricted to on-field action. Yesterday, Vohra posted a pic showing cricketer Dinesh Karthik with his family at Disneyland Paris, and another one with a group of kids wearing Sanju Samson masks at an ICC Men's Cricket World Cup trophy tour event. Those tweets were liked by over 13,000 and 7,000 people, respectively.
A lot of their frivolous posts are also centred around stars such as Virat Kohli, MS Dhoni, and Rohit Sharma. If you scroll through Benny's account right now, you'll find a lot of Dhoni stuff. Dhoni fans would argue it's expected, considering it's the legendary cricketer's birthday month. So, I picked a random month: November 2022. Johns and Mufa had posted 34 and 19 tweets, respectively, mentioning Dhoni in that month. These included videos of him dancing at someone's birthday party, photos of him playing tennis, pics of Dhoni fans at the 2022 Fifa World Cup in Qatar, and one just with the caption "MS Dhoni's latest picture".
Of course, not all their posts are frivolous. If you're a hardcore cricket fan and want to keep yourself updated with whatever is happening in the world of cricket without missing a single thing, just create a Twitter list with Johns and Mufa. But you don't really need to follow both of them because there's only so much anyone can tweet about one sport, and they eventually end up posting versions of the same stuff. In fact, there have been instances when Johns and Mufa posted the same screenshot or wrote about the same topic just seconds apart, which led to some followers speculating whether broadcasters send them content to tweet. There is also a conspiracy theory that Johns and Mufa are one person.
"No, no, nothing like that," says Johns, laughing, when I ask him about this conspiracy theory. "When there is a live game, many people end up posting screenshots of the same moments. Broadcasters don't send screenshots. If I need engagement, I need to do it myself."
Johns, 25, hails from the coastal district of Ernakulam in Kerala. His Twitter bio describes him as a fan of the IPL, and actors Mohanlal and Vijay. And in what's probably a self-deprecatory riposte to the haters, he describes himself as a "cringe guy". His Twitter handle, @CricCrazyJohns, is pretty self-explanatory. "I've been crazy about cricket since I was 10-12 years old," he says.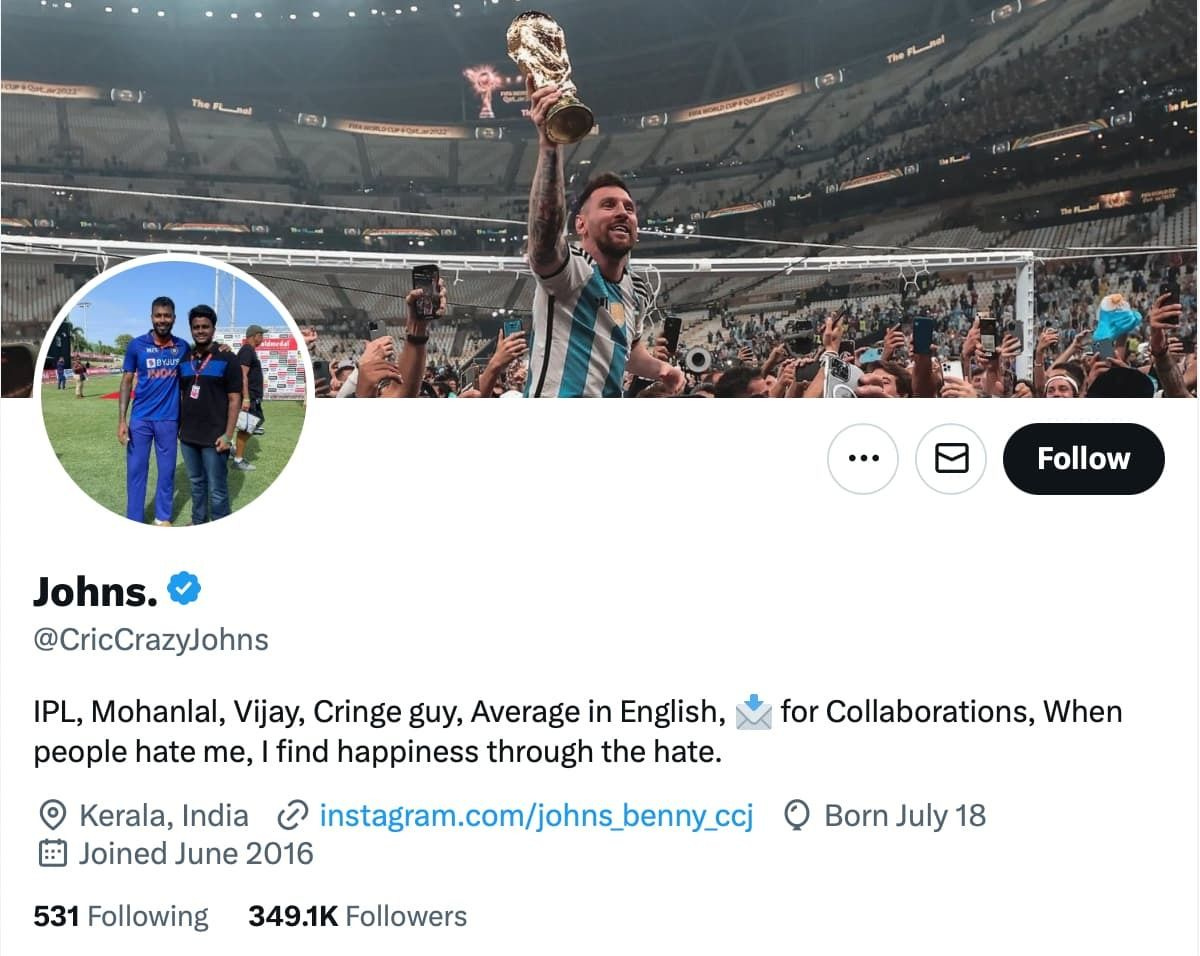 Like millions of Indians, Johns is an engineering graduate who found his calling in a completely different industry. He currently works at sports news portal Sportskeeda on the social media team. "I help update their Facebook, Twitter, Instagram, etc.," he says. It's the ideal job for a Twitter influencer with nearly 350,000 followers.
Johns joined Twitter in June 2016, when he was still studying. Prior to that, he used to be active in Facebook groups related to cricket. But he eventually realised that Twitter was a better and faster source of news since there were more journalists and media organisations active on it compared with Facebook. "It was also easier for people from across India and worldwide to discover you on Twitter, which was not possible on Facebook," he says.
In the initial couple of years after joining Twitter, Johns wasn't very active. His first tweet in November 2016 was, unsurprisingly, a stat during a Test series between South Africa and Australia. He started becoming more active in 2018-19 ahead of the men's World Cup. "But the real boost came during the lockdown, when I became really active and started getting followers. I used to dig up stats before the match and then post them during the game."
Apart from posting a lot more, Johns says that he didn't do anything drastically different in terms of the content. "It's just that many people joined Twitter during the lockdown, and I also posted more frequently. If you are really consistent in posting and interacting with people, you can easily get followers. Earlier, there were only one or two people in cricket Twitter who had over 100,000 followers. But in the last one year, many people have crossed 50k and 100k," he says. Like @CricCrazyNiks (79,000 followers), @CricketMAN2 (120,000), and @FarziCricketer (151,000).
Johns first realised that he had become an influencer when a brand approached him to post a sponsored tweet during IPL 2020. Brands usually pay a few thousand rupees per tweet. Some of them offer bulk packages for 10 or 20 tweets (₹5,000-₹20,000 per tweet) during a big event like the IPL or World Cup.
"Brands use influencers not to 'amplify' campaigns but for a larger narrative-framing exercise leading up to a key event," says Siddharth Raman, deputy CEO at Sportz Interactive, a Mumbai-based sports content and technology solutions firm. "It's not like they just get them to post one tweet. It's about using the influencer to build a narrative over a period of two to three months that'll help achieve the brand objective."
Another way in which broadcasters, teams, and sports event organisers use influencers is by feeding them exclusives. The influencers then "break" the news on Twitter, which helps them build their credibility. And the client is also ensured that the information they've released is reaching that particular sport's or team's community of hardcore fans, rather than a traditional vanilla press release. The exclusives could include news about ticket sales, squad announcements, captain announcements, player purchases, etc.
For instance, Johns "broke" the news about batter Evin Lewis joining the Royals for IPL 2021.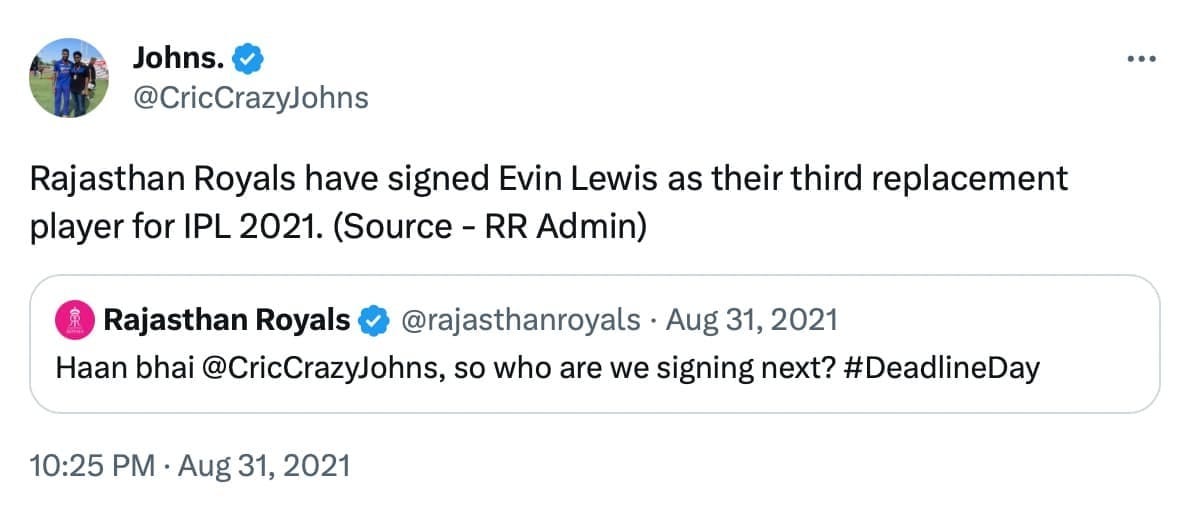 Such collaborations usually do not involve any payment, although clients have been known to send the influencers gifts and merchandise.
A similar collaboration is when broadcasters take some of these influencers on all-expenses-paid trips to an overseas tournament. Johns travelled to Qatar for Legends League Cricket with Star Sports earlier this year, and to the Caribbean for the India-West Indies T20 series last year with FanCode.
"We've always believed that these influencers are much more closely connected with fans," says Yannick Colaco, co-founder of FanCode. "Creating content with them is more likely to engage fans than doing it in a silo. So, for the India tour of West Indies last year, instead of sending a full crew, we partnered with a number of these influencers and took them for the games. We worked with them to figure out how to create content for fans in the digital universe outside what is standard: short-form video content pre-match, post-match, and during the game."
Such collaborations help a broadcaster achieve two objectives, explains Colaco. One is awareness: to make their community aware that the content they want to watch is available on FanCode. And two, it's about engaging with those fans and figuring out what excites them. "We've even used influencers to get feedback about some of our product development. Do they like six-minute highlights or three-minute highlights? Do they like X feature or Y feature?"
I ask Colaco whether collaborating with influencers is more impactful than doing a promoted tweet, which can cost anywhere between $10 and $5,000 per day. He says there's no comparison. "Working with influencers is not about paying them to put up a post. It's about working with them and creating value for their community of deeply engaged and core fans of the sport. If we are able to do that, those fans automatically become more engaged and it automatically creates value for our property."
A senior official working for an Indian sports broadcaster adds that Twitter's ad tech is quite poor compared with Facebook and Google, so it doesn't make much sense to do a sponsored ad on the microblogging platform. "If you ask any chief marketing officer what's their budget allocation for Twitter sponsored posts, it'll be like less than 1% of what they spend on Facebook and Google," says the official, who requested anonymity as they wanted to protect business interests.
Moreover, users have a natural tendency to scroll past a promoted tweet, which isn't as visual or interactive as, say, an Instagram ad. Twitter ads might work well for marketing campaigns during a big launch, when brands are focusing more on traditional media metrics like reach and frequency, and want to reach out to as many people as possible. But the kind of content that influencers usually put out is very different.
After the 2023 IPL, Sportz Interactive did an analysis of the IPL social media ecosystem. There were two billion engagements on social media, out of which 1.8 billion came via Instagram, says Raman. "Twitter just gets that share of mind space because it's breaking news, and tweets very easily become a source of millions of articles and listicles."
Instagram has its own bunch of cricket influencers, such as @cricsledges, @cricketcringe, and other creators who collaborate with cricket brands, such as Danish Sait, Karan Sonawane (@focusedindian), Viraj Ghelani, and Sourabh Ghadge. But unlike Twitter, there aren't any core fans who are popular on the platform, says Raman.
"Given the visual nature of Instagram and popular formats (Reels, Stories, etc), it is more conducive for entertainment and meme-worthy content. So, if you see how brands use influencers on Instagram, it's very different from what they do on Twitter. It's not about access journalism and narrative framing; it's about having fun and sometimes even taking a jibe at yourself as a brand with them," he adds.
Johns has an Instagram account, with over 4,300 followers. But he hasn't posted anything there in the last seven days. It's not like he really needs to, considering he earns anywhere between ₹30,000 ($365) and ₹80,000 ($970) a month from his Twitter account. That's over and above his full-time job.
Even if he wants to be more active on Instagram, it's unlikely he'll find the time. "On most days, I am online from 8 am to around midnight," he says. Where does he get the drive and energy to tweet so much? "I'm getting paid for it, so it's not a big deal," he says, laughing.
I ask him if he has seen posts from users who criticise influencers such as himself for stat-padding and posting too many random things. He replies, rather matter-of-factly, "If you don't post, you won't get engagement and reach. It's not like Instagram where even if you post one video, it gets thousands of views. That's not the case on Twitter, unless it's a post about someone like Virat Kohli or MS Dhoni." His response to haters and trolls is present in his bio, too: "When people hate me, I find happiness through the hate."
How long does Johns plan to carry on being an influencer? He says he's living in the present and concentrating on his job right now, and hasn't thought about what will happen after five years. In five years, he might even reach a point where he won't need a full-time job, considering how his Twitter account is growing. But that's not how he sees it.
"Having a job is a must," he says. "After all, you can't predict when you'll get suspended from Twitter, so you need to have a backup."
Who is your favourite cricket Twitter influencer?
⚡️Quick Singles
🏏♂️♀️💰 The International Cricket Council (ICC) has announced that its men's and women's events will now have equal prize money. The total prize money for the 2022 Women's Cricket World Cup was $3.5 million, while the 2019 Men's Cricket World Cup winners England alone took home $4 million. The gap was narrower in the most recent T20 World Cups, with 2023 women's champions Australia receiving $ 1 million, while England got $1.6 million for winning the men's edition in 2022.
🐭🇮🇳📺 It's looking unlikely that Star India will retain the media rights for Indian bilateral cricket after The Wall Street Journal reported that parent Disney is looking to either sell the business or get into a joint venture. Star India was among the businesses Disney inherited when it paid $71.3 billion for the entertainment assets of 21st Century Fox in 2019. The valuation of the network back then was about $15 billion, but Business Standard reported that Disney is unlikely to get more than a third of that amount.
🎮🇮🇳💸 All hell has broken loose in India's online gaming industry after the Goods and Services Tax (GST) Council announced that companies will be taxed at 28% on the "full face value of bets". Earlier, gambling attracted 28% GST, while platforms offering skill-based games were taxed 18% on their commissions only. It'll be interesting to see whether this decision impacts the process of setting up self-regulatory bodies for online gaming. Or, for that matter, even fantasy sports giant Dream11's new ₹358 crore ($43 million) jersey sponsorship deal with BCCI.
🏏🇺🇸 Yet another franchise cricket league was born today as the Texas Super Kings beat the LA Knight Riders by 69 runs in the opening match of the inaugural edition of Major League Cricket. There are six teams in total, out of which four are owned by IPL franchises. According to reports, the league has been infused with $120 million in funding from influential backers, including Microsoft CEO Satya Nadella. However, the new league, broadcast in India by Viacom18, will fight for eyeballs with India's tour of West Indies and the Ashes.
🏀🏒🇶🇦💰 Sovereign wealth fund money has finally made its way to US sport. The Qatar Investment Authority (QIA) bought a minority stake in Monumental Sports and Entertainment, the owner of the Washington Capitals (NHL), Washington Wizards (NBA), and Washington Mystics (WNBA). QIA is paying $200 million for a 5% stake in a deal that values Monumental at just over $4 billion, reported the Financial Times. The NBA amended its ownership rules to allow sovereign wealth funds to invest in its teams just last year. However, they're not allowed to buy the teams outright. For now.
How did you like this edition?
If you enjoy reading The Playbook, please share it with your friends, family, and colleagues. Please also subscribe to it (for free) if you haven't already.
You can reach out to me at jaideep@thesignal.co with any feedback (good, bad, or ugly), tips, and ideas. I'd love to hear from you!
Thanks for reading, and see you again next Friday!