Discover more from The Playbook By The Signal
A weekly newsletter that goes beyond the headlines and gives you all the necessary signals you need to understand India's sports and gaming industries better.
Over 9,000 subscribers
Chelsea, Saudi Arabia, Lionel Messi and why football is broken
Absolutely crazy things have been happening in the world of football over the last few days. Where do we go from here?
Good evening!
Welcome to The Playbook, a weekly newsletter on the business of sports and gaming. If someone shared this newsletter with you or if you've found the online version, please hit the subscribe button below — it's free! You can unsubscribe anytime.
Quick programming note: there won't be an edition of The Playbook next Friday, June 30, as we at The Signal are taking the day off for Eid.
Two weeks after that blue team in Manchester did something historic, I'm ready to talk about football again. Well, more like I had to. Because every time you open Twitter or check the news, there's something bonkers happening in the football world.
The Saudis are here to stay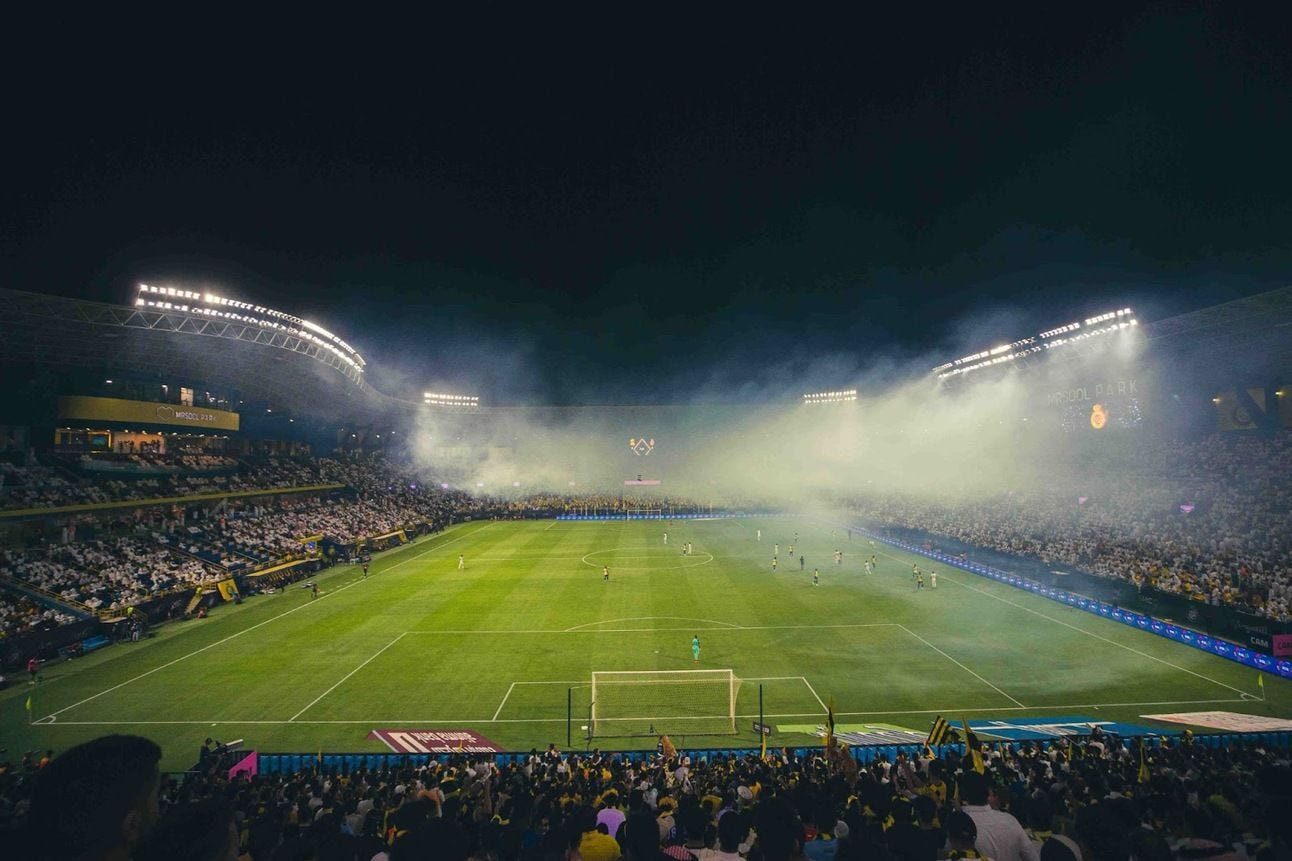 Photo credit: Saudi Pro League
On June 21, sports broadcaster and former footballer Gary Neville went on a bit of a rant, which isn't uncommon. He told BBC Sport that the Premier League "should put an instant embargo on transfers to Saudi Arabia" to make sure the game's integrity isn't damaged.
"Checks should be made on the appropriateness of the transactions. If it comes through that process, obviously transfers could open up again. But I do believe, at this moment in time, transfers should be halted until you look into the ownership structure at Chelsea and whether there are beneficial transfer dealings that are improper."
  Gary Neville to BBC Sport
Later that day, Neville's colleague Jamie Carragher tweeted this:
Jamie Carragher

@Carra23
Bernardo Silva is in his peak years & has been one of the best players in Europe for the last five years!
I wasn't worried about the Saudi League taking players in their 30's, a touch worried with players below the elite (Neves) but if this happens it feels like a game changer… httptwitter.com/i/web/status/1…p
Transfer News Live @DeadlineDayLive
🚨 Bernardo Silva is on the verge of agreeing a deal to move to Saudi Arabia! 🇸🇦🤯
(Source: @marca)
Jun 21, 2023
53.1K Likes   3.53K Retweets   9.52K Replies
Essentially, they're both calling for the authorities to investigate the recent spurt in the world's top players leaving the Premier League and joining Saudi Arabian clubs. But for two different reasons.
Before we get to them, here's what has happened over the last few days: Premier League players such as Ruben Neves, N'Golo Kante, Edouard Mendy, Hakim Ziyech, and Kalidou Koulibaly have either already signed deals with or are close to joining Saudi Arabian clubs. The last four are all Chelsea players, while there have been reports that fellow Blues Pierre-Emerick Aubameyang and Romelu Lukaku have also been approached. Earlier this month, French striker and Ballon d'Or winner Karim Benzema moved from Spanish giants Real Madrid to Al-Ittihad. The Jeddah-based club beat Al-Nassr, where Portuguese superstar Cristiano Ronaldo plays, to the Saudi Pro League title last month.
Now, let's take a look at why the two English pundits are upset over these moves.
Neville, a former Manchester United captain, is suggesting that Premier League club Chelsea may be cheating financial fair play (FFP) rules by selling its surplus players—and there are a lot of them—for inflated fees to Saudi clubs. His concern arises from recent reports linking Chelsea with Saudi Arabia's sovereign wealth fund, the Public Investment Fund (PIF), which recently bought majority stakes in the Saudi Pro League's four biggest clubs. It also owns Premier League club Newcastle United since late 2021.
Here's what we know: a consortium led by American billionaire Todd Boehly bought Chelsea for £2.5 billion ($3.2 billion) last year. But while Boehly was the face of the consortium, the majority shareholder is an American private-equity firm called Clearlake Capital. And the PIF has invested in Clearlake, which was reported by The Daily Mail last year itself.
Chelsea then spent £600 million on buying players over the last two transfer windows. And it didn't have too many outgoings, which led to a highly inflated squad with over 30 senior players. Unsurprisingly, the club finished 12th in the league—the lowest since the mid-1990s—in a season that saw it have four head coaches and ended with one win in its last 14 matches.
Ahead of the 2023-24 season, Chelsea needs to trim its squad and balance its books to meet FFP regulations. And now, just like magic, the PIF-backed Saudi clubs have come and said, "Hey, we'll help you cut your flab and pay you for it."
SPORTbible

@sportbible
The Chelsea clear out is truly underway 👋🤯
Kante ➡️ Al-Ittihad 🇸🇦
Mendy ➡️ Al-Ahli 🇸🇦
Ziyech ➡️ Al-Nassr 🇸🇦
Koulibaly ➡️ Al Hilal 🇸🇦
Hudson-Odoi ➡️ 🇸🇦⏳
Aubameyang ➡️ 🇸🇦⏳
Kovacic ➡️ Man City 🔵
Mount ➡️ Man United ⏳
Havertz ➡️ Arsenal ⏳
Loftus-Cheek ➡️ AC Milan ⏳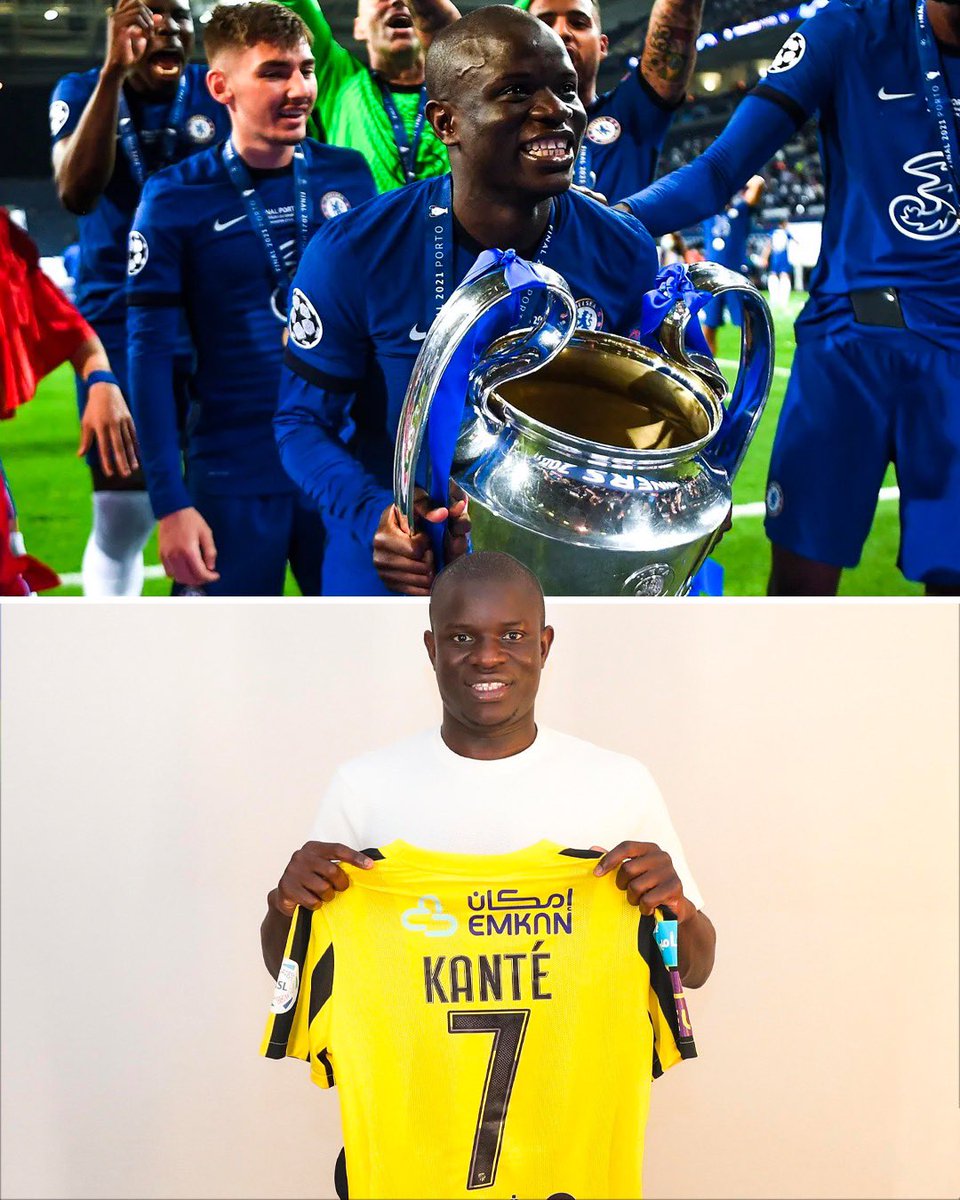 Jun 21, 2023
2.78K Likes   260 Retweets   56 Replies
So, are Chelsea and the PIF cheating? It's surely a conflict of interest, at least? That's what Neville wants investigated. And until then, he wants a ban on player transfers to Saudi Arabia. He also said this on Instagram:
"Any chance the Premier League can look into this Saudi trading like NOW!!! Get a Regulator in asap that's agile enough to stop these things at source! If it doesn't look right it's probably not right! Independence is required asap. The Governance of our game is a mess!"
  Garry Neville on Instagram, as reported by Manchester Evening News
This is why the UK government's recent white paper on football governance includes a requirement for clubs to declare their ultimate owners. And Chelsea have done this. On the website of the UK registrar of companies, the names of Boehly, Clearlake's co-founders, and other individual investors are all present, per The Athletic. Chelsea isn't hiding anything about its ownership.
Which brings us to the PIF-Clearlake connection. Clearlake is the 14th-largest PE firm in the world, per Private Equity International, a data provider for the industry. Founded in 2006, Clearlake has raised nearly $44 billion so far and has $72 billion of assets under management. Reports suggest it has 300 institutional investors, including sovereign wealth funds, spread across six continents. The firm also reportedly doesn't allow any investor to account for more than 5% of a fund, and its average investor owns less than 1% of a fund.
So, even if PIF has invested in Clearlake, it doesn't mean the sovereign fund can do what it pleases. As a partner at a US-based private equity firm told The Athletic, "Wouldn't PIF be using Newcastle United if this was their plan, not Chelsea? The reality is all the sovereign-wealth funds are in all the big, global private-equity funds, from Australia to Abu Dhabi, Canada to PIF."
Also, as CBS Sports journalist Ben Jacobs pointed out in a Twitter thread, Chelsea wanted to keep Kante but lost him on a free transfer. It also "sold Koulibaly and Ziyech for pretty modest fees and at a loss. Mendy turned down a new deal last year so was always likely to leave."
He added that no one has forced the Chelsea players to pick the Saudi clubs, while some like Lukaku have turned down an offer. As did Lionel Messi, who's never played for Chelsea, but we'll come to that later. And none of the reported transfer fees for the Chelsea players who want to go to Saudi are anywhere close to the £47 million ($60 million) Wolverhampton Wanderers got from Al-Hilal for Neves.
Fabrizio Romano

@FabrizioRomano
Documents are being prepared for both Kalidou Koulibaly to Al Hilal and Edou Mendy to Al Ahli. Their agent Ramadani is working on it in London. Chelsea could get around €40m fee for both. 🔵🇸🇦 #CFC
Hakim Ziyech to Al Nassr, being checked and signed soon too.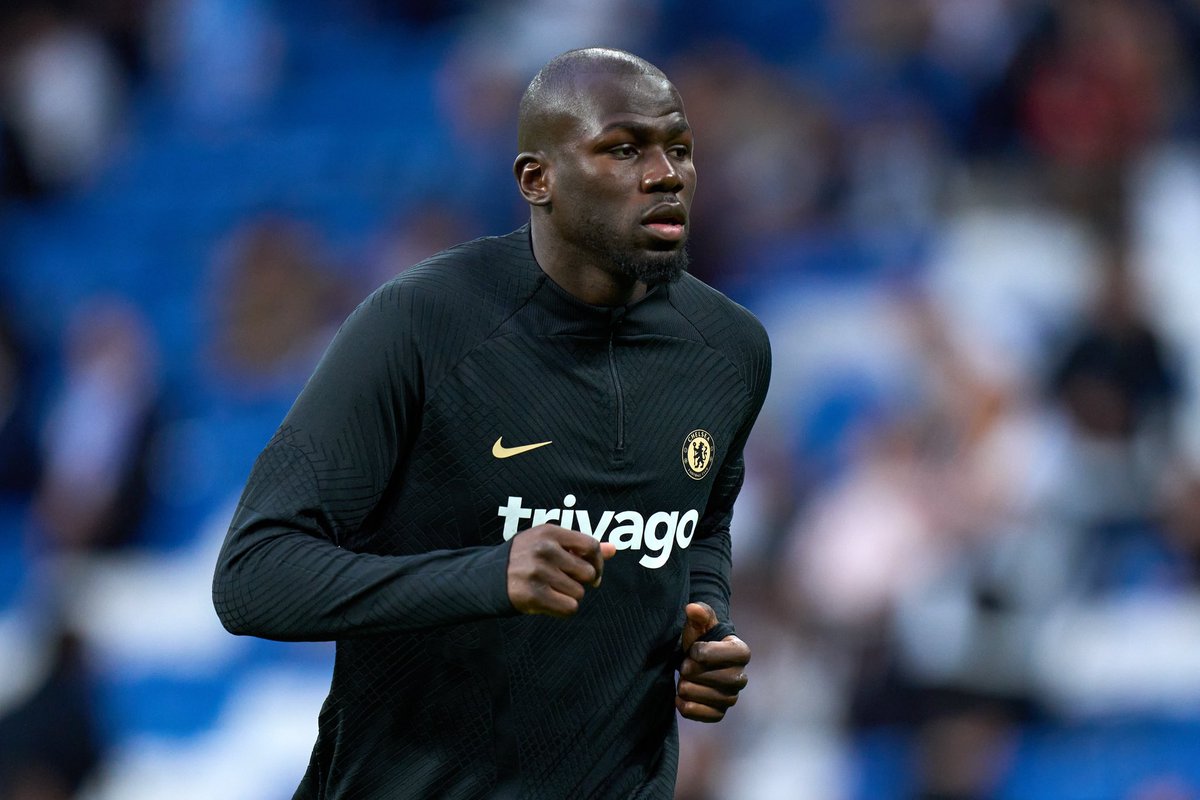 Jun 21, 2023
36.8K Likes   3.02K Retweets   486 Replies
So, it seems like Neville and others talking about the PIF-Clearlake links and conflict of interest are reading a bit too much into it. However, there's no denying that the optics of the whole thing aren't great.
Now, if something like this happens…
The Gallowgate Report ⚫️⚪️

@TheGallowgateR
🚨 | 🇵🇹 | Newcastle United have discussed internally the possibility of sensationally signing Ruben Neves on loan from Al Hilal. #NUFC [@footyinsider247]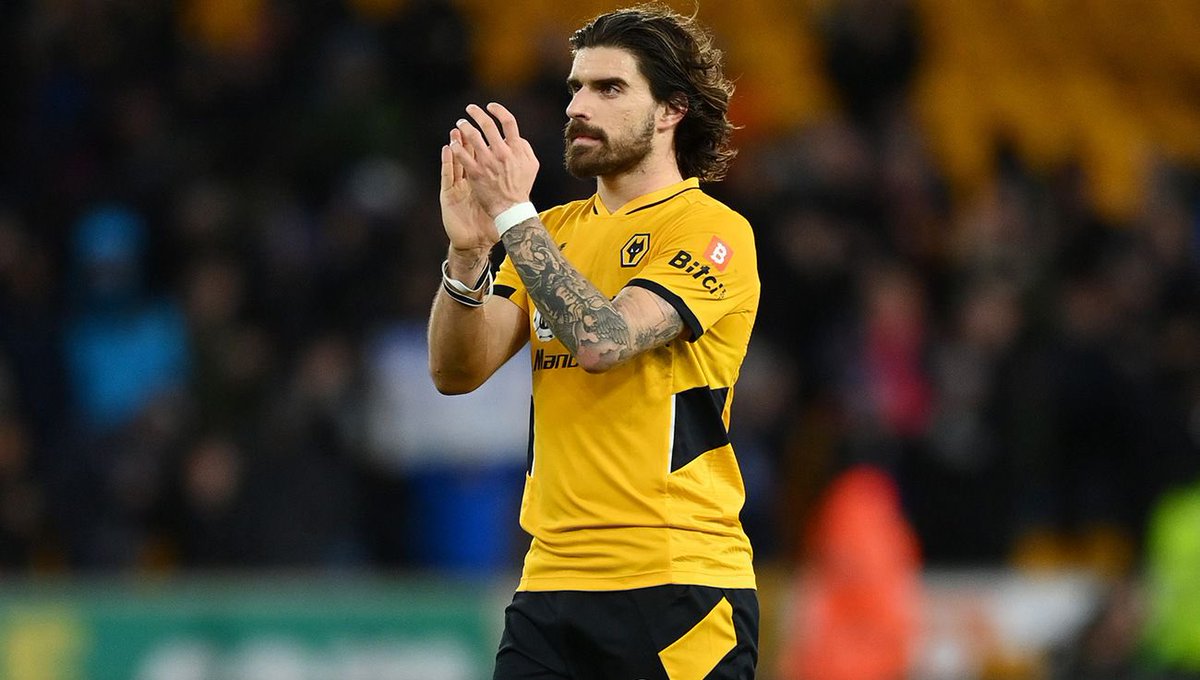 Jun 21, 2023
1.91K Likes   218 Retweets   532 Replies
…then it's a whole different story. And honestly, I wouldn't be surprised if it did happen. Football is, unfortunately, broken.
Which brings us to what Carragher, the former Liverpool defender, tweeted. He's got a problem with Saudi Arabia's sportswashing, referring to the notion that the oil-rich kingdom is using its wealth to invest in sports to whitewash its global image. Saudi Arabia has been heavily criticised for its human rights record, especially the 2018 killing of journalist Jamal Khashoggi in its Istanbul consulate.
It's great that Carragher, who has 2.2 million Twitter followers, is talking about Saudi's sportswashing. But the timing is suspicious. There was hardly any hue and cry about sportswashing when Gulf states with poor human rights records started buying Premier League teams, starting with Manchester City by the UAE in 2008, and bringing the best players in the world to England.
But now that the world's best players are leaving the Premier League and going to Saudi, it's time to cry sportswashing? Note that Carragher and Neville are both contracted with Sky Sports, which is an official broadcaster of the Premier League in the UK. If the best players in the world start leaving the Premier League, Sky is directly affected.
Neville also spoke a lot about Qatar's sportswashing ahead of the 2022 Fifa World Cup, but that didn't stop him from taking on a commentary contract from a Qatari broadcaster during the tournament.
Whatever said and done, there's no denying that the Saudis are here to stay. The country has the money to sign any player it wants. It's just a matter of whether the footballer wants to go play there. It's kind of reminiscent of the Chinese Super League attracting world-class players with lucrative contracts a few years ago. In 2016, China unveiled a plan to make the country a "world football superpower" by 2050. Eventually, it didn't last very long due to poor financial decisions, corruption, and the pandemic.
However, unlike China, the Saudi Pro League is more centralised. The league, and not the clubs, negotiates player transfers and assigns them to the teams. It's a model similar to the MLS. And what's more, four of the biggest Saudi clubs are now owned by the PIF, which has a seemingly bottomless war chest.
The fund has signed 20-year commercial agreements worth tens of millions of dollars with the four most popular clubs in the Saudi Premier League. Those deals will require the teams, two from Riyadh and two from the port city of Jeddah, to play games at new arenas in entertainment complexes being built by PIF subsidiaries. The PIF also sponsors the league itself through one of the companies in its portfolio, the real estate developer Roshn.
According to one of the people briefed on the plans, who spoke on condition of anonymity because they were not authorized to discuss them publicly, the goal is for the four biggest teams to field three top foreign players each, and for another eight players to be distributed among the remaining 12 teams in the league.
  Saudi Soccer League Creates Huge Fund to Sign Global Stars | New York Times
The GOAT goes west
One footballer who has turned down a very lucrative contract—reportedly €400 million ($438 million) per year—to play in the Saudi Pro League is Lionel Messi. Two weeks ago, the footballing 🐐 confirmed his decision to leave Europe, where he was playing for Qatar-backed Paris Saint-Germain, and join Major League Soccer (MLS) club Inter Miami in the United States.
Earlier this week, sports business portal Sportico reported that Messi's two-and-a-half-year deal with Inter Miami, which is owned by fellow footballing legend David Beckham, is worth up to $150 million, including his salary, signing bonus, and equity in the team. It does not include the revenue-sharing agreements the 35-year-old has signed with MLS partners Apple, Adidas, and Fanatics, which are still being negotiated, per the report. The deal also does not include the option for Messi to buy an MLS club, as was the case with Beckham in 2007.
As reported by Forbes, Messi was smart to pick a team based in the state of Florida, which has no income tax. As a result, it also doesn't have a "jock tax".
The so-called "jock tax" means athletes can be taxed where they live, where they practice, and where they play. Each state stakes its claim based on the percentage of time a player spends in their state. (Exactly how this is calculated varies, and has been the subject of litigation.) But what's clear is this: any day Messi is training, playing or just living in Florida, he won't have to worry about state income taxes. Five states don't impose jock taxes simply because they don't impose a state income tax: Nevada, Tennessee, Texas, Washington, and, of course, Florida.
  By Scoring A Lucrative Deal At Inter Miami, Lionel Messi Is Playing A New Financial Game | Forbes
Messi wouldn't want any tax-related complications after what happened to him a few years ago. In 2013, when he was playing for Spanish club FC Barcelona, the country's tax authorities alleged that Messi's father used a series of shell companies in tax havens to evade taxes related to royalties and income his son earned from deals with brands such as Adidas, Pepsi, and Procter & Gamble. Messi used the "I'm a footballer, I don't know anything about taxes" argument, but the court didn't buy it and sentenced him and his father to 21 months in prison in 2016. Of course, the sentence was only on paper.
Now, Messi might have rejected a move to Saudi for a seemingly less lucrative contract in the US, but that doesn't mean he's not getting any money from the Gulf state. As you might be aware, Messi is also a Saudi Arabia tourism ambassador since last year. He even has his own landing page on the Visit Saudi website.
Last week, the New York Times revealed the details of this multimillion-dollar deal. Messi could earn as much as $25 million over three years "for little actual work: a few commercial appearances, a handful of social media posts and some all-expenses-paid vacations to the kingdom with his family and children. He is expected to share images of those trips — marked with a Saudi-approved hashtag — with his vast online following."
And, of course, Messi is not allowed to say anything that could "tarnish" the reputation of Saudi Arabia.
The contract is specific about Messi's obligations, and about the money to be paid for fulfilling each one:
About $2 million, nearly 1.8 million euros, for a minimum of one family vacation annually lasting five days, or alternately two annual vacations of three days each. The travel expenses and five-star accommodations were to be paid by the Saudi government for Messi and up to 20 family members and friends.
Another $2 million for promoting Saudi Arabia on his social media accounts 10 times a year, separately from the promotion of his vacations to the kingdom.
About $2 million more to participate in an annual tourism campaign. (He and the Saudi authority shared the first campaign, an elaborately shot desert video, in November.)
Another $2 million for charitable work and appearances.
  Lionel Messi, Saudi Arabia and the Deal That Paid Off for Both Sides | New York Times
Since when did "charitable work" include compensation, that too $2 million?
Like I said, football is broken.
⚡️Quick Singles
🏏🇮🇳 Stung by the premature exit of BYJU'S, the Board of Control for Cricket in India (BCCI) has reportedly set a low base price of ₹350 crore ($42.6 million) for its lead sponsor rights. In per-match terms, it's ₹3 crore ($366,000) for bilateral series and ₹1 crore ($122,000) for global tournaments, including World Cups and the Asia Cup, per The Economic Times. BYJU'S, which was paying the BCCI just over ₹5 crore ($610,000) and ₹1.56 crore ($190,000) per match for the same categories, pulled out before its contract expired at the end of 2023 due to financial constraints.
🏏🏴󠁧󠁢󠁥󠁮󠁧󠁿🇦🇺 The England and Wales Cricket Board (ECB) sold more than 80,000 advance tickets for the women's Ashes series, which started on Thursday. That's more than 2x the total in the 2019 women's Ashes. This is also the first time the women's Ashes is being marketed jointly with the men's series, which started last week. In recent months, women's teams in England have broken attendance records at tournaments such as Euro 2022 and Six Nations Rugby.
🏀🏒💰 The NBA, WNBA, and NHL are about to become the first American sports leagues to get investment from a sovereign wealth fund. According to reports, the Qatari Investment Authority is close to buying a small stake in Monumental Sports and Entertainment, the parent company of the Washington Wizards, Washington Mystics, and Washington Capitals. The deal will value Monumental at ~$4 billion, per The Athletic. The NBA changed its rules last year to allow sovereign wealth funds to invest in its teams.
🏀🇺🇸🇫🇷 Victor Wembanyama, regarded as the most exciting prospect to enter the NBA since LeBron James, was picked up by the San Antonio Spurs on Thursday as the No. 1 overall pick in the NBA Draft. A generational talent with a wingspan of eight feet, the 19-year-old Frenchman's entry into the NBA comes at a time when the league's current media rights agreement with ESPN and Warner Bros Discovery is nearing its expiry, at the end of the 2024-25 season. It'll be interesting to see how the next media rights battle plays out if Wembanyama lives up to the hype.
ESPN

@espn
THE SPURS GET THEIR STAR ⭐
Victor Wembanyama goes No. 1 to San Antonio in the #NBADraft‼️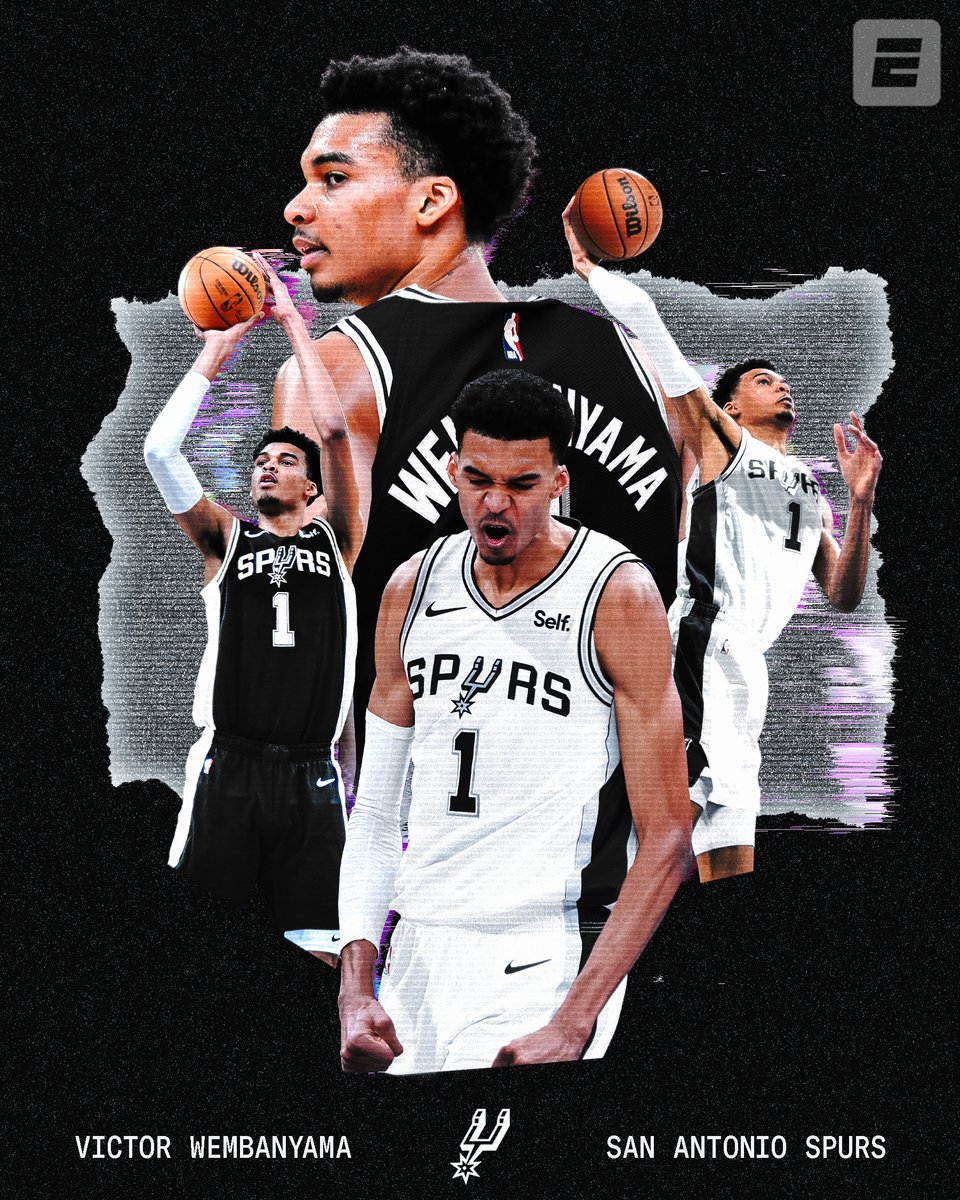 Jun 23, 2023
24.7K Likes   4.68K Retweets   287 Replies
🎮👨‍🔧🍄 Mario, Luigi, and Princess Peach are all set to return in a new Super Mario RPG (role-playing game) later this year, which will be a remake of the 1996 superhit Super Mario RPG: Legend of the Seven Stars. It's expected to provide a further boost to developer Nintendo, which is having a great year thanks to The Legend of Zelda: Tears of the Kingdom, which sold 10 million copies in the first three days after its release in May.
🎮🇺🇸 Electronic Arts is splitting up its game studios into two organisations, EA Sports and EA Entertainment, in a major rebranding and restructuring. With EA Games being renamed EA Entertainment, it suggests that the American company plans to expand beyond games. "We're building the future of interactive entertainment on a foundation of legendary franchises and innovative new experiences, which represents massive opportunities for growth," CEO Andrew Wilson said.
That's all for this week. If you enjoyed reading The Playbook, please share it with your friends, family, and colleagues. Please also subscribe to it (for free) if you haven't already.
You can reach out to me at jaideep@thesignal.co with any feedback (good, bad, or ugly), tips, and ideas. I'd love to hear from you!
Thanks for reading, and see you again next Friday!