Discover more from The Playbook By The Signal
A weekly newsletter that goes beyond the headlines and gives you all the necessary signals you need to understand India's sports and gaming industries better.
Over 9,000 subscribers
The musical chairs in Indian cricket kit sponsorship
The contract for the Indian cricket team's official kit partner has changed hands from Nike to MPL Sports to now Killer Jeans in just over two years. What's happening?
Good evening,
Welcome to The Playbook, a weekly newsletter on the business of sports and gaming. If someone shared this newsletter with you, please hit the subscribe button below — it's free!
It's an action-packed January in the world of sport! 
The 2023 Men's FIH Hockey World Cup begins today in Odisha. From Monday, Novak Djokovic will look to win a 10th Australian Open title after being denied the opportunity last year because of his Covid vaccination status. And the 2023 badminton season is also in full swing, with the Malaysia Open Super 1000 reaching its conclusion this weekend, followed by the India Open Super 750 next week. 
Meanwhile, in the world of cricket, India are playing hosts to Sri Lanka and New Zealand for rather pointless limited-overs series that can be best described as warm-ups for the 2023 men's ODI World Cup in October-November.
I'm not really following the cricket—i'm one of those cynical old farts who thinks there's too much cricket on the television. But one thing did pique my interest when the India-Sri Lanka series began on January 3. The logo on the right upper chest of the Indian team's jersey had changed. That spot is reserved for the official kit manufacturer. But there's been radio silence from the Indian cricket board as to what's going on.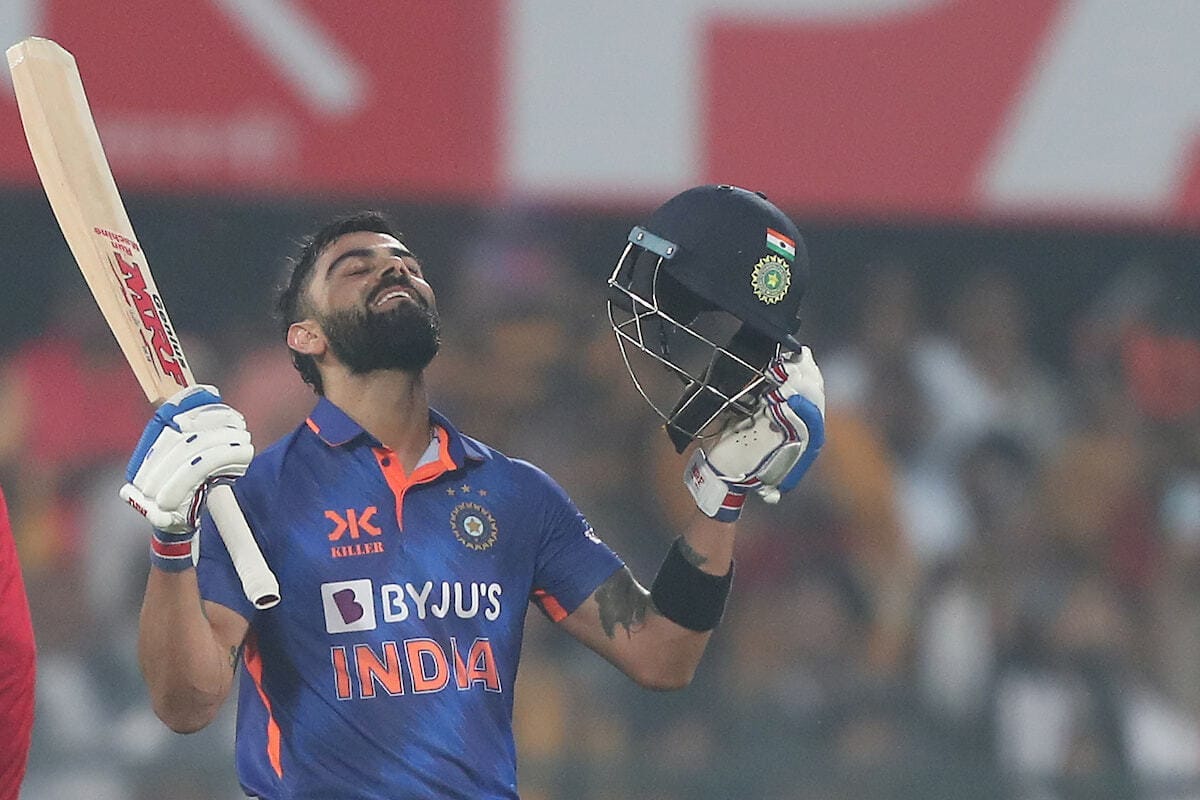 Credit: BCCI/Twitter
It was leg-spinner Yuzvendra Chahal who inadvertently broke the news about the Indian team's new official kit partner. 
On January 2, a day before the Sri Lanka series began, the 32-year-old posted a photo on social media of himself and four teammates wearing the India kit. Eagled-eyed social media users noticed that the logo on the right upper chest had changed from MPL Sports, which was the official kit partner of the Indian team since November 2020, to Killer Jeans.
As social media and the traditional media began to speculate what had happened, you'd think the Board of Control for Cricket in India (BCCI) would soon issue a clarification before the series began. 
It never came.
Finally, Kewal Kiran Clothing Limited (KKCL), the company that owns the Killer Jeans brand, issued a press release around 11.30 am on January 6. That was after the Indian team had played two whole matches with a new kit partner.
The release said that the company had got into a strategic partnership with BCCI as the Indian cricket team's "Official Sponsor". It added that KKCL will don the Killer Jeans logo on Team India's kit until May 31, 2023. Which means it's only coming on board for five months. MPL Sports' three-year contract with the BCCI was supposed to run until December 2023.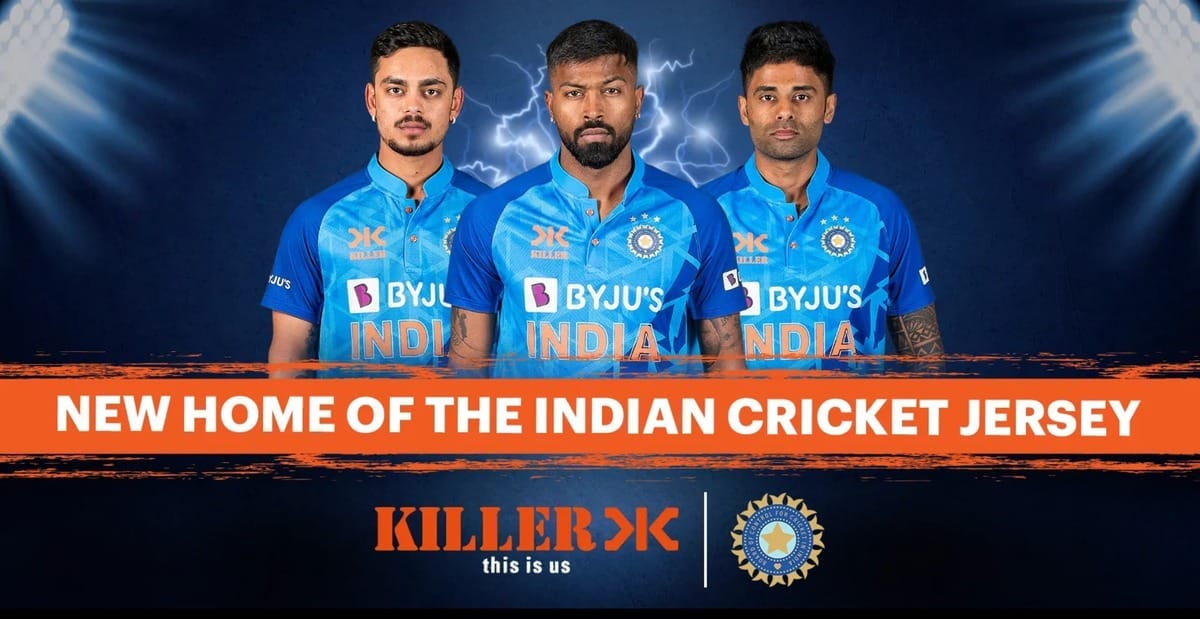 However, MPL Sports had reportedly written to the BCCI early last month saying it wanted to exit the contract, and had found a willing party to come onboard for the rest of the term. A Press Trust of India report last month quoted a "BCCI note" as saying: 
"BCCI received an email communication from MPL sports on 2.12.2022 seeking a complete assignment (team merchandising) at full value to Kewal Kiran Clothing Limited, a fashion wear brand, for the period from 1.12.2023 to 31.12.2023.
"With the upcoming back to back home series and the women's away calendar, it was suggested that the current arrangement should not be hampered as it involves performance gear for the national teams.
"We have asked MPL sports to continue the association at least until 31.3.2023 or look for a partial assignment that would involve only the right chest logo but not the kit manufacturing agreement."
It seems like MPL Sports didn't want to continue even until March, and the "partial assignment" to KKCL has taken place. Which would imply that the Indian team is wearing jerseys manufactured by MPL Sports but with the Killer Jeans logo. At least until May 31. 🤷🏽‍♂️ In return, KKCL is covering the entire per-match fee that MPL Sports is supposed to pay BCCI—₹65 lakh (~$80,000). 
From January to May, the Indian men's team is playing 19 matches, while the women will play at least eight (could be more depending on how far the team goes in the ICC Women's T20 World Cup next month). Which means KKCL will pay a minimum of ₹17.5 crore ($2.1 million) for having its logo on the right upper chest of the jersey for five months.
Apart from the per-match fee, MPL Sports also has to pay an annual fee of ₹3 crore ($368,000) and royalty for every piece of merchandise it sells, which can be anywhere between 10-25%. It's not clear whether KKCL is also compensating MPL Sports for the annual retainer. MPL Sports did not respond to my request to participate in this story, while KKCL declined to comment. 
As for the merchandise royalty, the MPL Sports website isn't selling any jerseys with the Killer Jeans logo. It only has merchandise with its own logo. Killer Jeans, meanwhile, has only put up one piece of BCCI merchandise on its website so far—a jersey that has some resemblance to the India T20 jersey worn by the players but doesn't look exactly the same. It has the Killer Jeans logo and is manufactured by KKCL.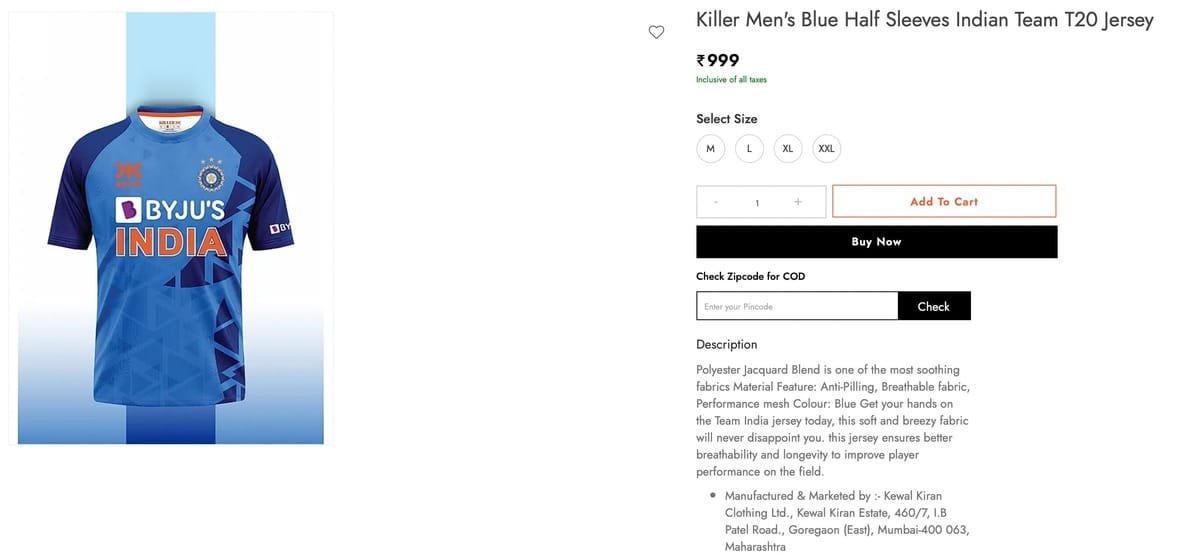 It's unclear whether KKCL plans to launch any more India cricket merchandise, including the actual players' jersey. But it appears that both companies will continue selling BCCI merchandise with their own logos, and pay separate royalties to the board. 
This whole episode raises two fundamental questions:
What happened to MPL Sports?

How is a brand that's known for making jeans and casual wear now the BCCI's official kit sponsor?
MPL Sports: A cautionary tale
In November 2020, the BCCI announced that MPL Sports, an athleisure wear and sports merchandise brand launched by mobile gaming platform Mobile Premier League (MPL), was the new kit sponsor and official merchandise partner for the Indian cricket team. The announcement came after sportswear major Nike decided against renewing its deal with the BCCI, which was worth ₹370 crore ($50 million) a year. Nike had been the BCCI's official kit partner since 2006.
MPL coming onboard as the new kit partner was a surprise move by most counts, given that the company had no prior experience in making any kind of apparel, let alone sportswear. It had sponsored a couple of Indian Premier League teams, while the then-Indian cricket captain Virat Kohli was an investor and brand ambassador. But that was for its mobile gaming platform.
MPL's entry, for most, seemed left-field in classic sporting terms, given that top brands such as Adidas, Puma, Wrogn, and the Walt Disney Company, which had apparel and merchandising experience, had picked up the tender documents but never actually submitted a bid to become the BCCI's new kit partner. 
The BCCI had set a base price of ₹8 crore ($980,000) for the three-year rights cycle, along with a per-match fee of ₹65 lakh. That was lower than what Nike had paid over the previous four years—₹30 crore ($3.7 million) and a per-match fee of ₹85 lakh ($104,000). Even with the discount, none of the interested parties submitted a bid.
Eventually, MPL decided to come on board. "It was almost as if MPL came to BCCI's rescue. The BCCI was literally scrambling when this deal happened, given that Nike was a constant for the past 14 years. It seemed like a stop-gap arrangement, despite the BCCI's detailed criteria for a clothing sponsor," says an industry expert aware of how MPL Sports came into the fray. 
MPL didn't initially fulfil almost every single criterion laid out by the board as part of the tender documents, since it didn't have any apparel-making experience. To become eligible, it set up a company in Bengaluru called Nereus Sports Products Limited, which was exclusively dedicated to manufacturing and selling Indian cricket team jerseys and merchandise. It decided to call the new brand MPL Sports.
Why was MPL getting into sports merchandising? The internal thesis was simple: as a company with a growing online gaming/e-sports/fantasy sports business, it wanted to use the biggest real estate in Indian sport—the Indian cricket jersey—as a so-called flywheel for its core business. It hoped that the BCCI partnership would not just turbocharge activity on its fantasy offerings, but also compel the die-hards to spend more money on a replica jersey. 
"That most of these gaming brands were coalescing around cricket at the time wasn't surprising either. Dream11 had just sponsored the IPL. MPL had to do something, and they went this way," says another person aware of the matter.
With the BCCI contract sorted, next up for MPL was the actual manufacturing of jerseys. How did a company with no prior experience in apparel-making manage this? Two words: contract manufacturing.
Most apparel brands have a contract manufacturing setup, wherein they outsource the manufacturing to third-party vendors. "All they had to do is find the specialised vendors for sports apparel," says an official from the apparel industry. 
"In today's day and age, all manufacturer details of a product are available on the wash-care label and on e-commerce websites. There is a robust manufacturing ecosystem in India, Sri Lanka, Bangladesh, and Southeast Asia. All you have to do is find the right partner to make the jersey for you, put your branding on it, and sell it." 
  An official from the apparel industry
While established sportswear brands like Nike, Adidas, and Puma have their own proprietary technology that they use in their apparel, the actual manufacturing happens in a factory. The vendors would thereby have knowledge of this technology and could apply it to any other client's products provided they make a certain number of tweaks for legal purposes. 
As a result, a vendor can technically create a jersey for MPL Sports or any other brand that has a 75-80% resemblance to a Nike jersey in terms of the quality. "It's like: if you're a data analyst, you can't use your client's data anywhere else. But the analytical skills that you imbibe can be used anywhere," says the second industry expert. 
As MPL Sports launched its Indian cricket merchandise ahead of India's tour of Australia in late 2020, it did rather well to generate a buzz. Its first India jersey was a throwback to India's 1992 World Cup kit, which invoked nostalgia. "The retro jersey was a design success at the time, at least internally," says a person aware of developments within MPL at the time.
Another aspect that MPL Sports got right was the pricing. Its "Fan Edition" jersey, which looked almost identical to the one worn by the players, started from ₹1,600 (US$20). Nike's India jerseys used to retail for around ₹5,000 ($60). MPL Sports also sold a more premium "Player Edition" jersey that retailed for ₹3,500 (US$43), along with a cheaper "Stadium Jersey" for ₹900-1,000 ($11-12), which was a round-neck jersey with the same colouring as the official kit. In terms of variety, MPL Sports did far better than its predecessor.
However, despite the initial buzz, MPL Sports failed to really connect with Indian cricket fans. "Ultimately, people are buying an India jersey. Except, this time, they had no clue about the sponsor," says the person quoted above. Nike is associated with sports apparel, so there is a connect with the consumer if they make the Indian jersey. With MPL, that was missing. 
What was also missing was an offline presence, especially around cricket stadiums in India. "Around 60% of jerseys are purchased right outside the stadium before matches, and none of the BCCI's kit partners have had a presence there. It all goes back to the Indian mindset that is still trying to adapt to buying an authentic jersey rather than a cheap first copy that you get outside stadiums for ₹200-300 ($2.5-3.5)," says another official who has worked in the sports apparel industry.
While it isn't clear how many jerseys MPL Sports has sold over the last two years, parent Nereus Sports Products earned a revenue of ₹11 crore ($1.3 million) in the year ended March 2022, at an expenditure of nearly ₹27 crore ($3.3 million). MPL, meanwhile, reported a 3X surge in losses to $149.3 million in the same year. It earned $63.8 million through online gaming, up from $50.8 million in the year ended March 2021.
That's how MPL's two-and-a-half-year love affair with the BCCI ended in a whimper, particularly with macroeconomic headwinds at play and investors keen to invoke fiscal discipline among their portfolio. All of which now begs the question: in a challenging year for most businesses, who is likely to bite and pay top dollar for the India jersey? 
The answer is unclear, but the Killer Jeans deal may offer a hint or two. "The BCCI will likely make the terms more palatable to attract some of the biggest names in sports business," says the first industry expert. "The Killer Jeans deal seems like another stop-gap. After all, it's better to have someone on board rather than no sponsor at all, considering this is a key revenue stream for the board." 
So that's how and why a jeans brand is temporarily sponsoring the Indian cricket team. For KKCL, a profitable listed company, five months is a good time period to get a sense check of how fruitful a BCCI sponsorship is. In the off chance that the BCCI fails to find a new kit partner post May, and if Killer Jeans is willing to extend the deal, it won't be too difficult for a casual-wear brand to make Indian cricket merchandise. Whether it's a sustainable business, though, is a completely different story.
– With inputs from Venkat Ananth
⚡️Quick Singles
🏏📺🇮🇳 Viacom18 is deliberating multiple pricing strategies for its maiden Indian Premier League (IPL) digital broadcast, including a free viewing option on streaming app JioCinema, according to a report in The Hindu businessline. The broadcaster is likely to bundle free IPL streaming with Jio telecom subscription packages or allow users of rival telcos to access some form of free broadcast on JioCinema. Viacom18 will continue to offer subscriptions for a superior match-viewing experience, the report said.
🏏📺🇮🇳 Disney-Star, Viacom18, Sony-Zee, Amazon, FanCode, and Times Internet are among the companies that have reportedly picked up bid documents for the media rights auction of the women's Indian Premier League for the 2023-27 cycle. They're expected to submit bids on January 16. The BCCI is reportedly looking to make ₹1,100 crore-₹1,250 crore ($135 million-$150 million) from the auction, which is about ₹220 crore-₹250 crore ($27 million-$30 million) annually.
🏈🤑 The United States' National Football League (NFL) made a record $2.7 billion in sponsorship revenue in the 2022-23 season, led by deals in alcohol and tech, according to market research firm SponsorUnited. The league recently signed a deal with YouTube for the NFL Sunday Ticket package of games for a reported $2.5 billion per year. It also earns about $10 billion annually from media rights deals with Comcast, Disney, Paramount, Fox, and Amazon.
🏎️🎰🇺🇸 Formula One is looking to make $500 million in revenue from the Las Vegas Grand Prix in November this year. The sport is returning Sin City for the first time since 1982. Tickets for the night race will cost a minimum of $500 for three days, while the ultra high-end package for five days will burn a $15,000 hole in your pocket. The first batch of tickets were sold out in 45 minutes. 
🎾🇯🇵 Naomi Osaka, the world's highest-paid female athlete, has announced she's pregnant and will miss the entire 2023 tennis season. The 25-year-old recently withdrew from the Australian Open, which she has won twice. She hasn't played a full match since her first-round loss at the 2022 US Open and participated in just 11 tournaments last year. Osaka started her own talent agency in 2022 along with her longtime agent Stuart Duguid. 
That's all for this edition of The Playbook. Please reach out to me at jaideep@thesignal.co with any feedback (good, bad, or ugly), tips, and ideas. 
See you again next Friday!
Best,Jaideep Vaidya